Dalston, in the East London borough of Hackney, is an area that wears both the obvious scars and the shiny adornments of gentrification. Like most of the East side of London, this has long been a working class, racially diverse neighborhood, but with the industrial decline of the UK the old warehouses became squats and studios, and art soon flourished in the area. As the art scene grew, so too did outside interest and investment, and the neighborhood that Dalston once was has slowly slipped away.
It's in the margins, as ever, that optimism exists. Just off Kingsland Road, which recently suffered the indignity of having a talent show boy band share its name, lies a space that captures the conflict of social change perfectly. Down Hartwell Street, behind the in-progress build of a new Premier Inn, is the skeleton of Thames House, now a car park and storage yard. Beneath the steel bones of girders and wrapped in the crumbling brick of the outer wall, shipping containers sit quietly withholding their identity.
There are over 30 storage units in the yard and they all have their own tale to tell, each a tiny engine of industry, crucial to the running of one business or another. You could find a bicycle workshop or a 'pound shop' stockroom, but more than anything you'll find the building blocks of London's street food revolution. The movement has grown rapidly in recent years, and as central London has been blanketed in burger trucks and portable barbecue shacks, vendors have looked to establish footholds in less-traditional areas of the city. Few areas are less traditional than the Dalston container yard.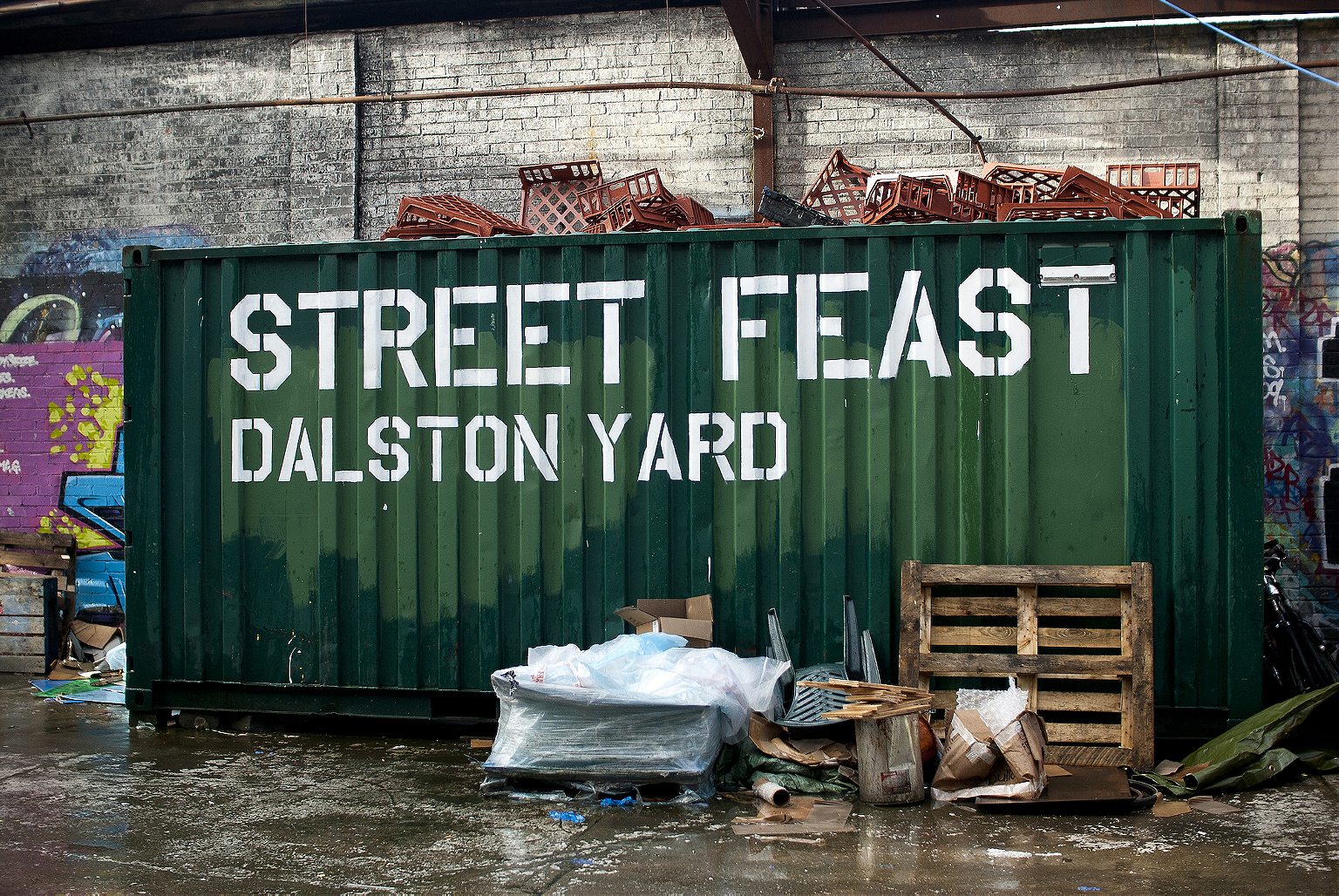 I first came across the place during Street Feast, a roving party night of pork buns, tacos and good times. As a street cook myself, I've been on both sides of the party, stoking wood ovens, flipping burgers and packing salt beef into sandwiches, but have often been away from the bare bones of the business. I wanted to take a look behind these heavy steel doors to see how good food comes together in the most unlikely of places. My interest has only grown since discovering that Dalston is living on borrowed time: A planning application is in place for the existing structure to be replaced by an apartment block. This will comprise 79 homes, only 13 of which fall into the category of 'affordable housing'.
These are the stories of the Dalston street-food vendors, before their steel boxes are replaced with polished glass.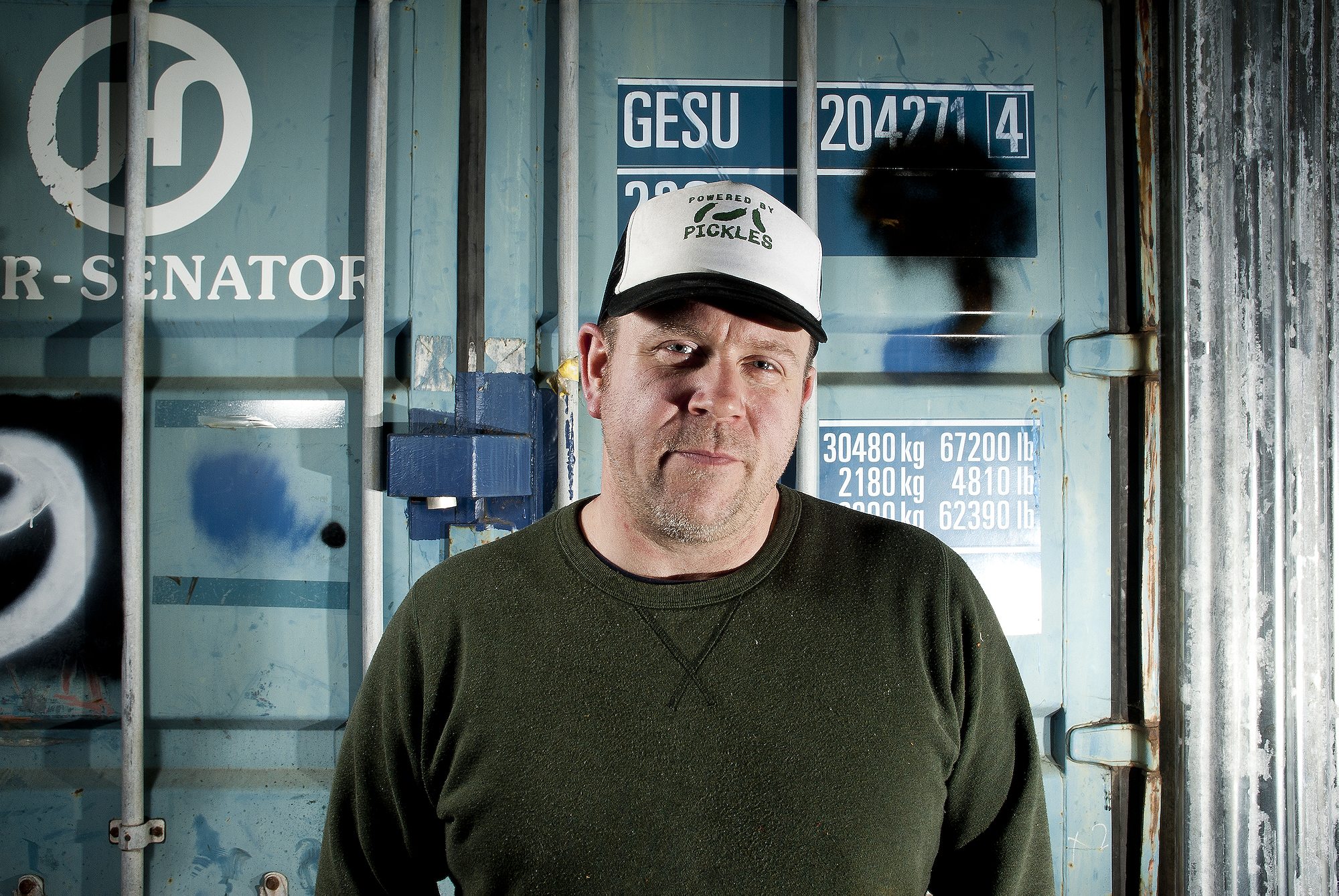 The Fermentation Station
Nick Vadasz spends his container days surrounded by transforming vegetables. Vadasz's unit is used as a fermentation station for his pickle business. He's been in the yard since July last year, but is firmly part of the character of the place. Multi-talented and with a past as an artist, actor and chef, Nick is currently channeling all of his energy into producing a good sauerkraut. I peek into his unit and get hit with an immediate earthy tang. "Can you smell that? It's the lactic acid." Nick puts a gloved hand into a fermentation barrel and shows me a handful of a deep purple beetroot kraut. The container houses a lot of these barrels, all fermenting and pickling different vegetables, which will later be jarred and labeled before being sold to the public.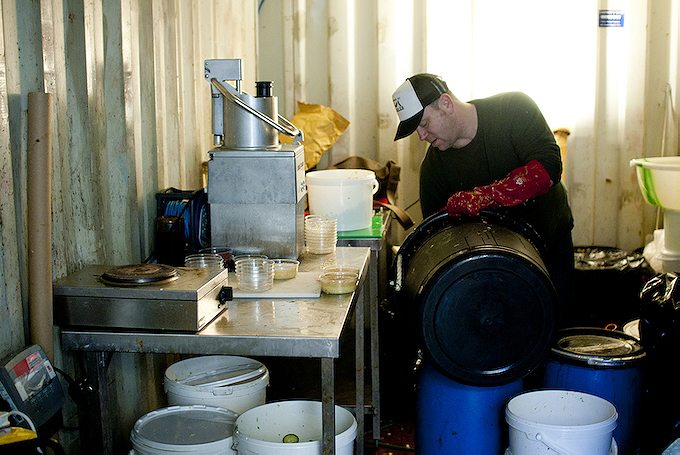 Nick loves the yard but confesses that his container is rather "damp and horrible," so a move away will be welcomed. It's also a problem to upgrade the space to a certified working kitchen, rather than somewhere just for storage and fermentation, he explains while demonstrating his huge pounding pestle made from the wood of a West African tropical tree. "I call it my fufu," Nick says with a smile as he pounds shredded cabbage to make his dill and garlic sauerkraut. There's everything from sweet dill pickles to krauts and various kimchis maturing in there, getting ready to be taken to markets or, as increasingly the case, to be supplied to street-food vendors and even restaurants. Neighboring business The Bell and Brisket uses Nick's gherkins as well as some of his special fermentations, like the dill and garlic effort.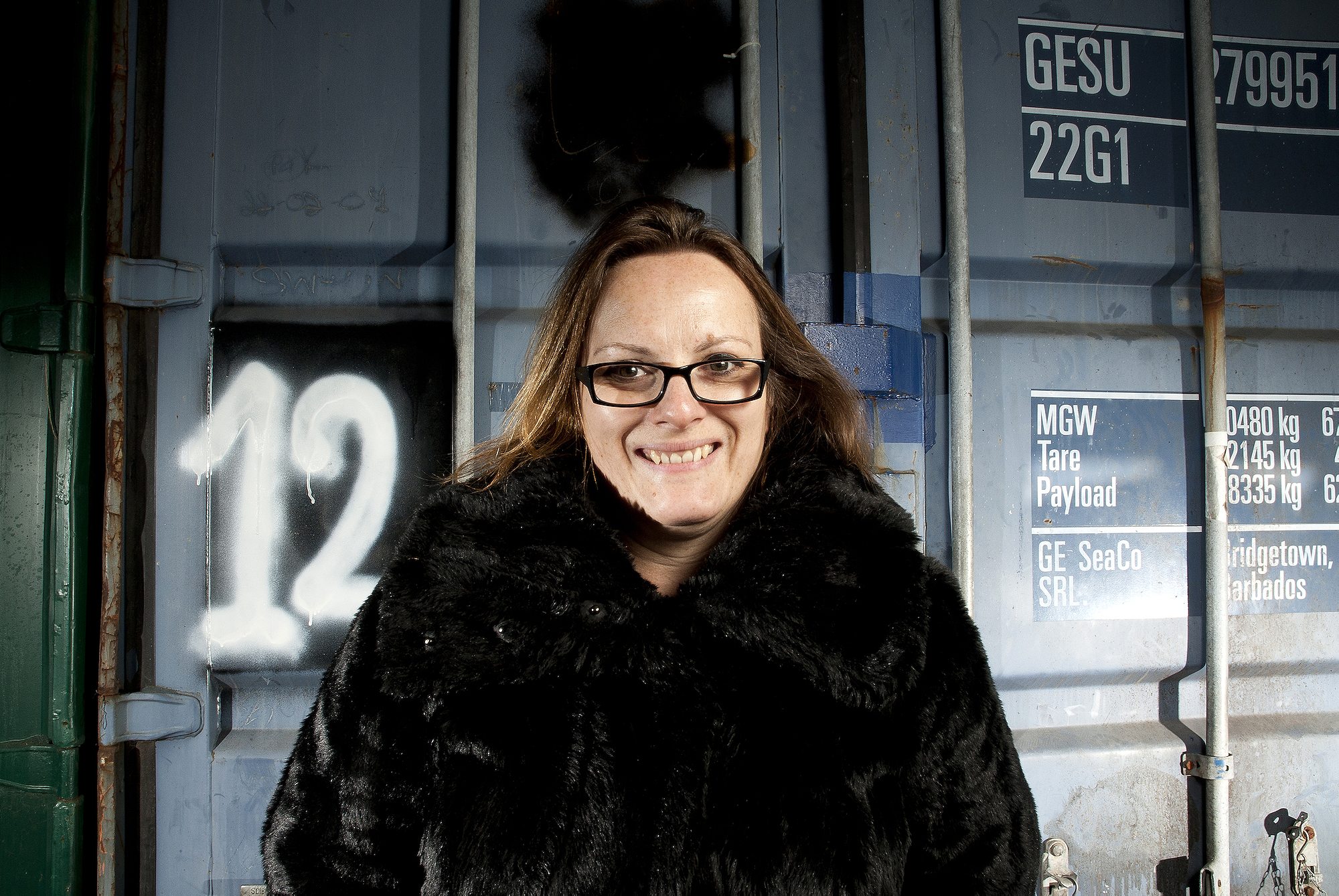 The Bagel Box
The East End of London has a long history with salt beef bagels, but they've become known primarily as late night booze sponges or trashy tourist eats. But Bel Shapiro of The Bell and Brisket is working to change that, combining home-brined brisket, handmade pickles and buns made with sweet black rye to create a more dignified sandwich. When not delivering her creations around town in a converted horse box, Bel can also be spotted at markets from the Gherkin to tourist hotspot the Thames' Southbank, melting mature cheddar atop a packed bagel with a blowtorch.
Bel's been in the yard for almost a year, upgrading from a horrible dark lock-up in Camden that "smelled of piss." I ask Bel what she uses the space for and get a typically cheeky reply from the Londoner. "Snuff movies." Pause and smile. "Not really. I store all my equipment, gazebos and market stall stuff in there, plus I have fridges and freezers in there for cold stock. I use the trailer as a production kitchen so the container is like a big old store room." The trailer lives outside the container, forming a working, if cumbersome, kitchen set up.
Bel talks about her affection for the place, and how the various neighbors come in handy. "I have spent many a happy hour in the yard pottering about, a bit like a demented old lady, pickling cabbage and stuff. It's so cool to be able to pop your head around the door of someone else's container and borrow the proverbial mug of sugar. I'm probably considered the yard irritant as I am always scrounging stuff off someone or other…normally Vadasz." Bel goes on to tell me how the tiny community comes in handy for life's bigger favors like when Bel locked herself in the back of a hired fridge van. "It was freezing cold and pitch black and I had a new phone without any of my contacts on it. All I had was Twitter and a rising feeling of panic. I tweeted Mark to let me out. He took his time and had his camera ready as he opened the door. Such a gent."
Bel's place isn't too tidy and there's little to heat a steel container on a cold morning so surely, I ask, it's not all good down here? "The container has been a great short term solution, a stepping stone from my previous set up, but it now has its limitation not only in size, but in order to produce more of my own salt beef in large quantities, I need a compliant kitchen, running water, big fridges and secure electrics!" These factors have moved Bel to look for an alternate home. She'll be making house with Nick Vadasz in a converted railway arch, a place they've christened the "pickle palace."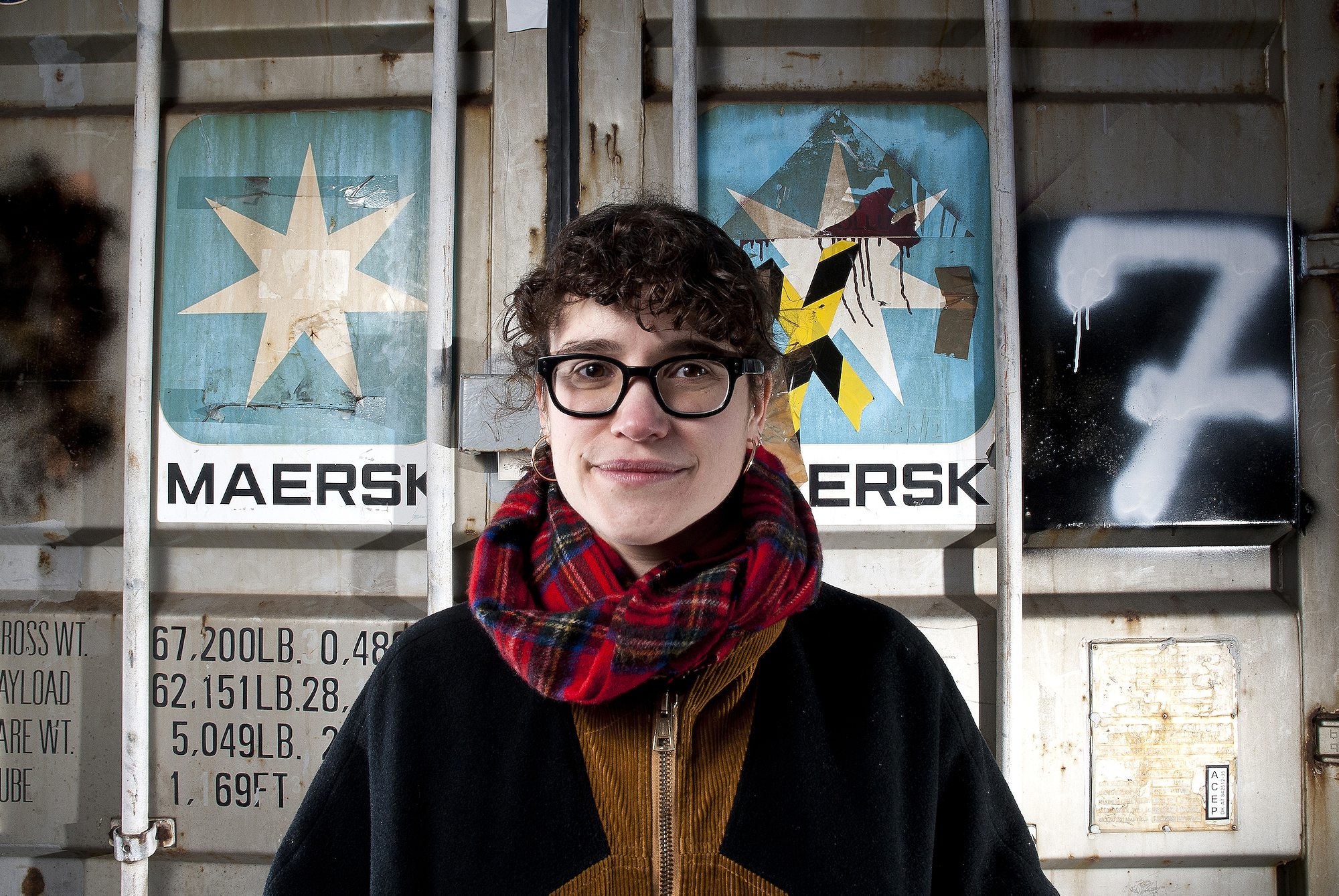 The Inspirational Workshop
After being priced out of a traditional art studio, Morven Mulgrew moved into a container, a change of scenery that eventually planted the seeds for a street food business. A loan and a 3-wheel van followed, and with it the birth of Cast Iron Kitchen. The idea was that the food work pays for the time to work on art projects, and the container space helps with both. Cast Iron Kitchen serves up Scottish steak sandwiches and black pudding rolls at a local market on Chatsworth Road (on the other side of Hackney), so there's no real need for a kitchen to prepare food in ahead of going to market. This allows Morven to use her space to indulge the artistic side of her personality. Walls are lined with plans and shelves house materials for all kinds of wondrous ideas to be executed. At night, the van lives in the container, simultaneously condensing Morven's world to one box and also helping with insurance conditions. This fusion of art and food and good intentions is admirable, and the energy in its execution is great to behold.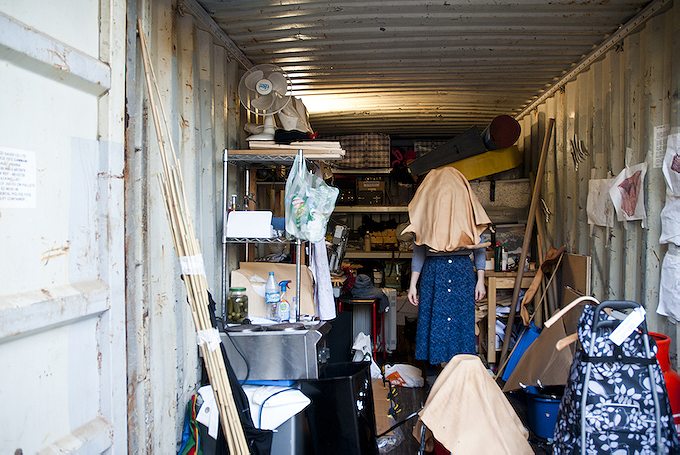 "It feels like it's permanently on borrowed time—like Dalston in general. It's no surprise it's going to be luxury flats," says Morven about the containers' proposed replacement. "It's inevitable." As much as the vendors might want to preserve Dalston's gritty feel, it's events like Street Feast that have sped up the gentrification process, attracting the middle classes that enjoy the sanitized, brightly-lit incarnation of street food it offers. I talk to Morven about her food, and praise her Stornoway black pudding roll I recently sampled, but the conversation increasingly turns back to the issues of the area.
"There used to be all mad folk walking about, dribbling, with no shoes on, but there isn't really anymore. I didn't move to Hackney to be around other white middle class people."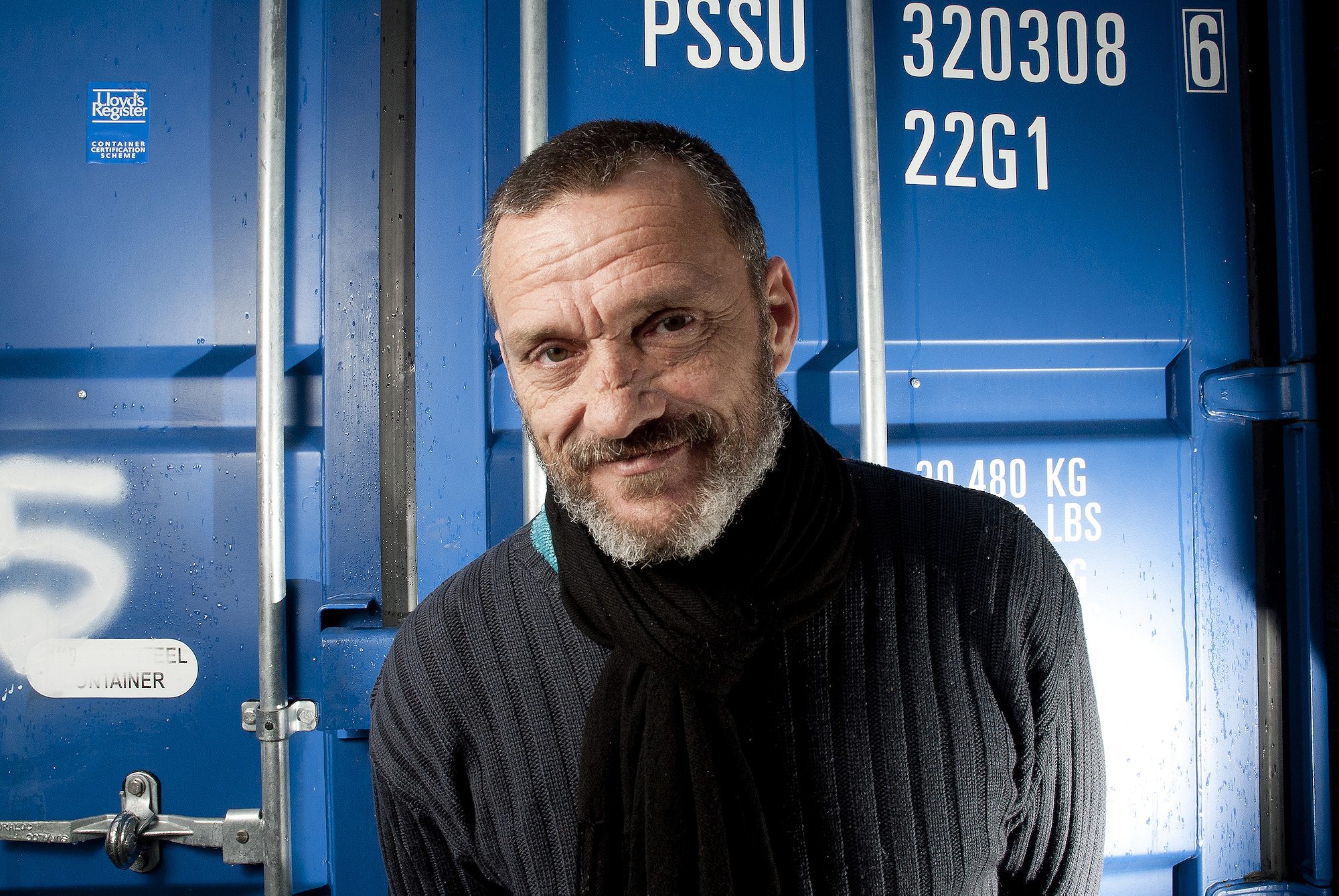 The Spice Kitchen
Away from the damp chaos of the other containers is The Ribman's headquarters. A cult figure on the street food scene, Mark Gevaux is famous for his rib meat rolls and his ferocious "Holy Fuck" Scotch Bonnet sauce. I catch Mark while he's brewing up a batch of his trademark sauce, try not to breathe too deeply and get the story of his container. Far from being simply a storage room (he does have one just across the way), The Ribman's 20-foot unit holds a fully kitted professional kitchen. All steel and sinks, this place even has a walk-in fridge. Having raised an impressive £16,000 via Kickstarter, Mark funneled the cash into his container to help him expand his sauce-making and ease the burden of street food logistics.
"I only have to pick up the meat once a week now, which is massive for me." I peek around the walk in fridge, filled with ribs and chilies. The meat will be cooked over night on an outdoor barbeque area, usually going straight to market still smoking. Mark feeds scotch bonnets into a juicer and the heat catches the back of my throat from across the room, I cough and Mark looks over, "I've had a few seeds in my eye, Naga's are the worst." Street food can be a dangerous game, but Mark wouldn't change anything, "you can get anything you like in the street in London, from anywhere in the world." I ask about whether Mark would do a fashionable residency in a pub but he's not into the idea, "I don't like being indoors; whether it's raining or not, I want to be outside."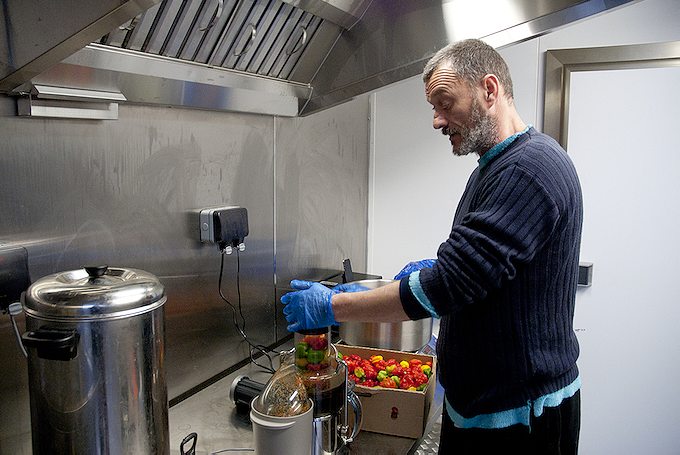 Mark does, however, serve up his rolls at a pub local to the home ground of his beloved West Ham United. There, he's building an entirely different fan base, far removed from the snaking queues of City pitches, but just as important. Like many small businesses the Ribman's online presence is a big part of gathering interest in his work. To engage with the sports fans, he runs competitions whilst West Ham games are being played. Mark sets a challenge, like guessing the first goal scorer or first yellow card, and one lucky winner gets a bottle of Holy Fuck hot sauce.
As with a lot of the other people in the yard, Mark lives in the area and knows that he has to move out when the redevelopment starts. The big difference is that he'll be taking his unit with him, such is the investment he's put into it. There's also a similar degree of affection for the crumbling old yard that's obvious when I ask if Mark's going to be sad to see it go. "I love it, it's part of me. The next place needs to be as much of shit hole."
To see more of Charlie's photographs, visit his website.