At the Twice Bar in Bali, the crowd is local and the rock is very, very hard.
It's 3 a.m. and an Australian man in his early forties is shouting in front of the pizza place on the corner of Poppies Lane 2. This narrow street in the heart of Kuta used to be a haven for foreign surfers who came to Bali in search of a little peace and some perfect waves. Today it serves more as a concrete artery connecting an overcrowded and polluted beach to a dissolute mass of nightclubs, restaurants, trinket shops and cappuccino bars. It's all catered to serve a new very different kind of visiting Australian and New Zealander: the Bogan. They are a rowdy sort, recognizable for their flip flops, Bintang beer tank tops, and tiny hot pants. In the U.S., you might call them White Trash. But in Australasia, they're called Bogans, and love raising hell in Kuta.
"Fuck you!" the man shouts in Southern Australian brogue as he swings his fists at the gridlocked traffic that crowds Kuta's streets even this late at night. "I fucking hate all of you bastards." He's screaming in the face of a Balinese policeman who seems to accept this megaphone of bullshit as ordinary nightshift business. "You are all fuckers… but I love you all bastards," he slurs as he tries to pull at the door handles of every passing car. "You are all my good mates…" He believes that every car is a taxi ready to take him back to kill off his alcoholic demon. All the while, the policeman keeps an affable Indonesian smile on his face without making the slightest effort to help the Aussie get his ride.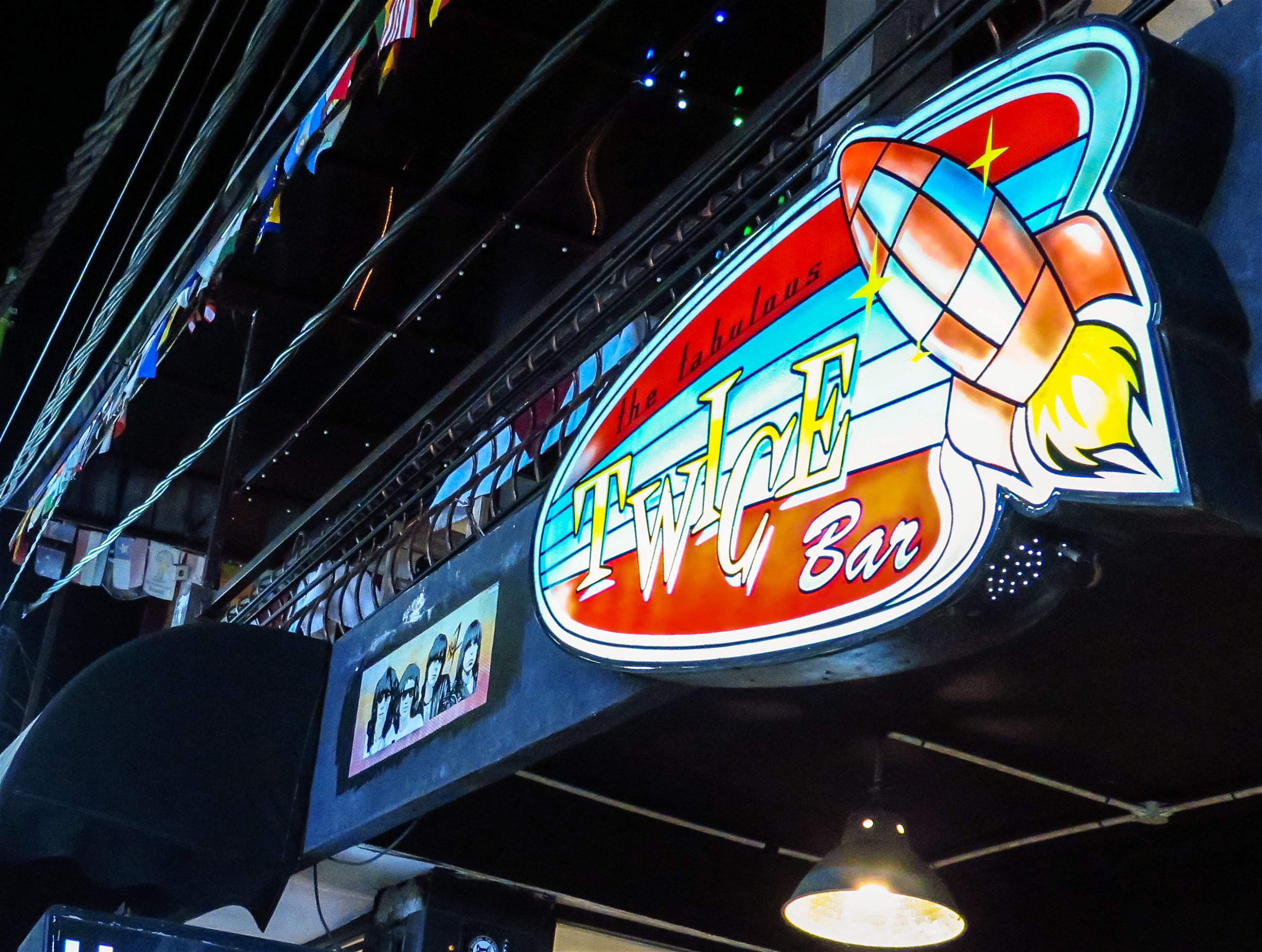 If not exactly Paradise Lost, Kuta is perhaps Paradise drowned in a tub of Jägerbombs. Being the closest and cheapest tropical holiday getaway that Australians have to home, it tends to fill up with the worst quality of bogans and freshly graduated binge drinkers. But as opposed to what Dave Snell reported in his book "Bogan: an Insider's guide to Metal, Mullets & Mayhem", the drunken living dead in Kuta seem uninterested in hard music. Dance music rules the woozy night here. On most nights, in fact, one of the biggest and swankiest night clubs just straight opposite the end of Poppies 2 offers free entry and free alcohol flow until 10 p.m. Inside, more than a hundred lads and lasses with deep white skin tainted by glowing red sunburns, baseball caps even if it's night, and much-too-mini skirts, all stand in awe before two drop dead gorgeous Balinese models. On a high stage, the Balinese part the sea of dissolute whiteness by dancing the sweat off their micro bikinis.
I tried the free drinks: they are laced with something that, after a single cup, seems to transform your brain into moray eels sloshing around in your skull. I know I must get out of here when a drunken and fearless overweight Aussie girl who has had one too many cups climbs on stage next to one of the two models and starts bringing the house down by shaking her cellulite-powered hips. The intoxicated bogans can't tell the difference between beauty and beast anymore, and howl excited encores fuelled by an obvious sense of drunken national pride.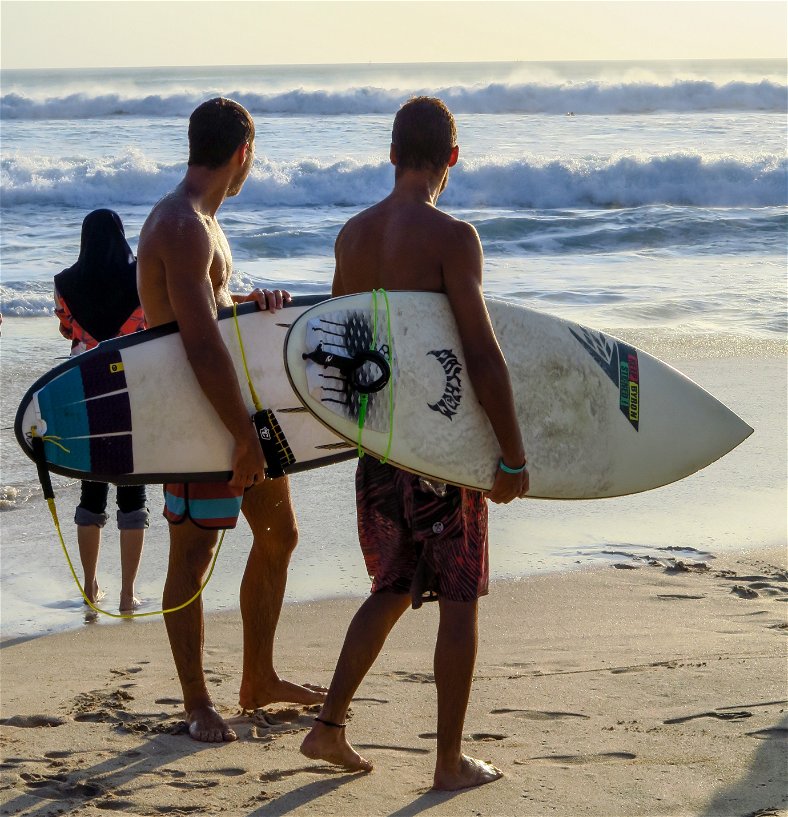 There is a place to flee from all this, however, and it's just halfway down Poppies 2 in the direction of the beach. A live music club called Twice Bar, it sticks out amongst the cookie-cutter bogan watering holes. With a tattoo parlor at its front, Twice Bar looks and feels more like an American roadhouse or biker bar. Inside, a mural of a Social Distortion-inspired skeleton in a tuxedo grins under the words "give 'em enough rope". And were it not for the Indonesian barkeeps, the well-stocked bar on the left side of the room could be easily mistaken for another piece of American memorabilia. It's here that local punk collectives Denpasar Kolektif and Radiasi Industri put on several shows every month, hosting local and international touring bands. In the tradition of most other Southeast Asian punk, underground music in Bali is greatly influenced by the political Anarcho-punk ideologies of the West. Black-clad kids with sleeves of colorful old school tattoos amass in front of Twice Bar showing their Agathocles, Terrorizer, Extortion, Iron Lung and Disfear t-shirts and patches, spiking the bogan dream of Poppies 2 with a dash of hardcore punk darkness.
But if the bogans avoid this spot, it's not because that was the intention. There's even a western-friendly restaurant upstairs. "We started Twice Bar in 1999 to create a space where local and international hard music lovers could meet and mingle," says Jerinx, drummer of Bali's most famous punk rock band Superman is Dead, which released its album "Kuta Rock City" on major label Sony Indonesia in 2003. In a stroke of good fortune for them, in 2001 Twice Bar moved to Poppies 2 from its original position on top of the Twice music shop, which stood right in front of Paddy's Pub, an area now sadly known as "Kuta's Ground Zero". That's where Jemaah Islamiyah's terrorists detonated three bombs on the night of October 12, 2002, killing 200 and injuring 250 people. "If we hadn't moved here, I doubt there would still be a punk club in Bali," says Jerinx.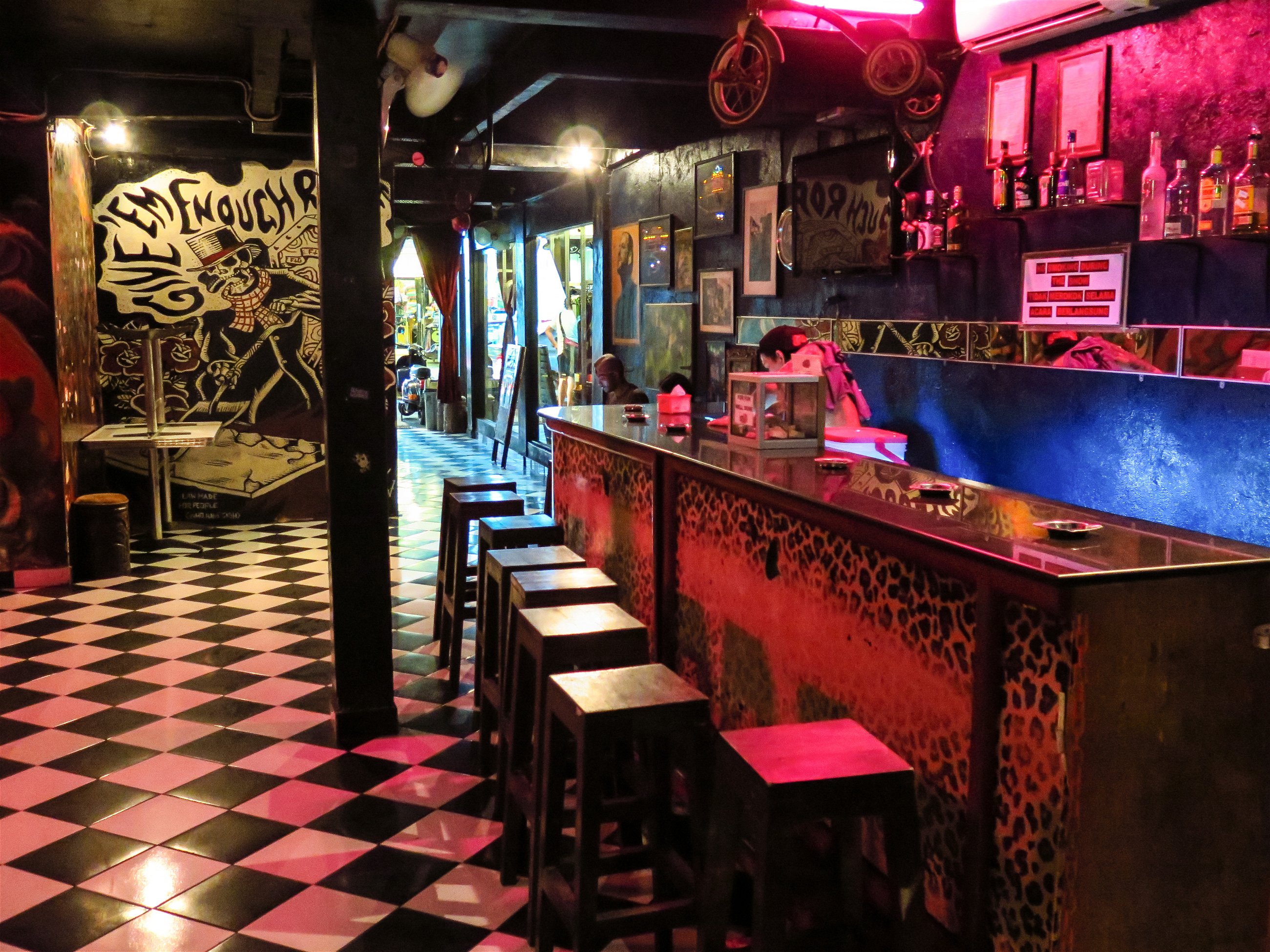 Saved by the timing, Twice Bar continues to host young Balinese punks and their fast and furious sets of raging hardcore punk and grindcore. On a recent weeknight there is a wall-to-wall melee of leather jackets, black pants and skateboarding sneakers surging along with the relentless riffs of the local upstart bands. Ugly Bastard, a fast anarcho-punk-and-roll combo, keeps the crowd at bay with short outbursts of sonic rage.
In here, there is no trace of the alcohol-hooliganism so popular on the outside: only one white guy with long hair and a white shirt, a clear drop in a sea of dark and spiked attire, has been attracted inside, and yet he fits in, twirling crazily amongst Indonesian limbs. "We don't get most of the white tourists in here. They don't like our music that much," a small punk guy tells me while taking a breath after he slammed himself particularly hard against the wall. Regardless of the punishing heat, he's still wearing a leather jacket, long pants and army boots. Soon another believer claws at him, and they both plunge back into the front trench of hardcore devotion.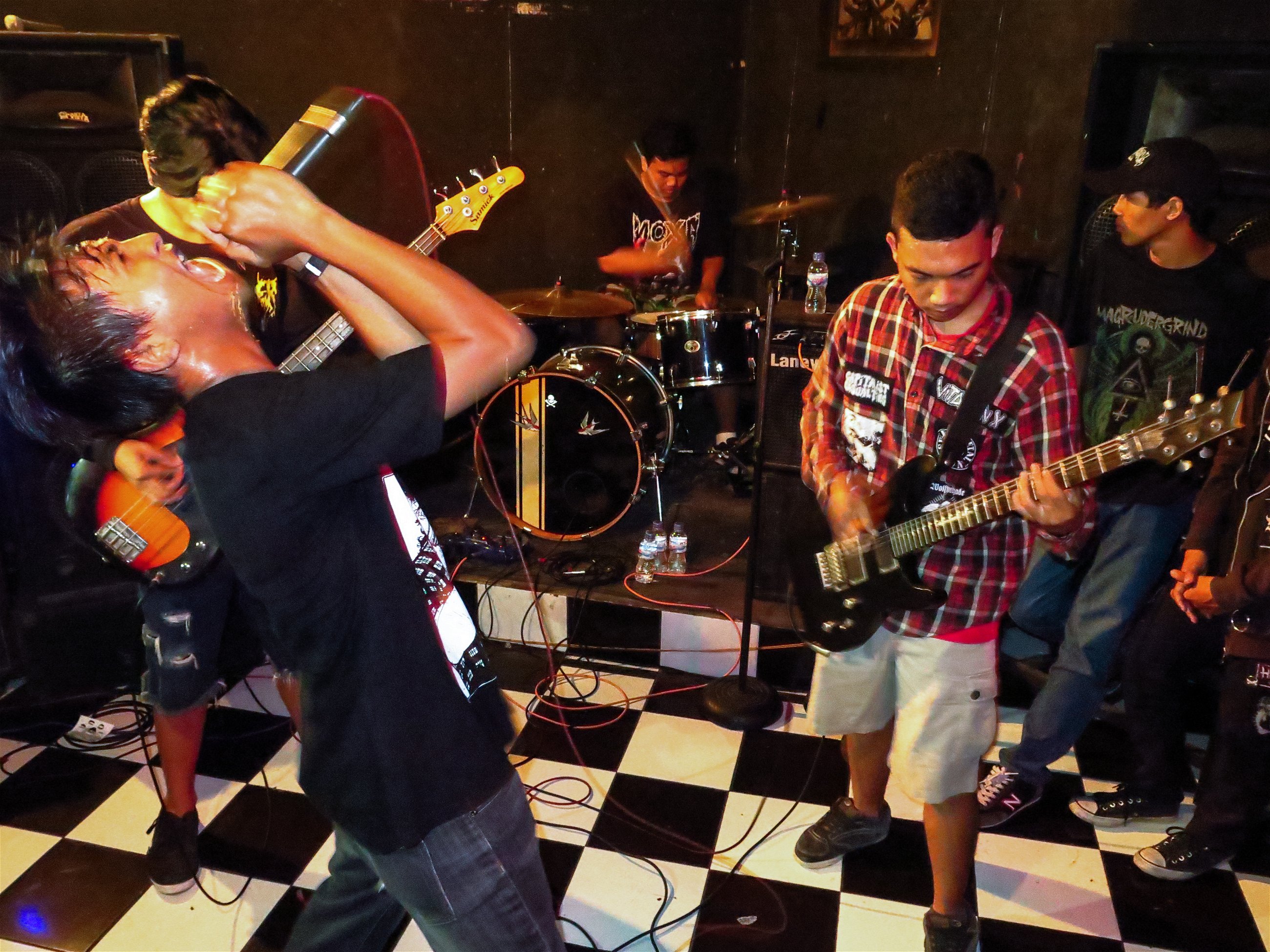 The show ends just before 11 p.m. The punks pour into Poppies 2 to occupy Twice's front sidewalk and the staircase of the convenience store across the street. Just a few doors down, the Bogan hell still burns hot: a couple of muscular dudes wearing skirts try to climb on the handrail of a shop's staircase with beer bottles in hands while a group of intoxicated Indonesians look and laugh at them. "Check this out mate," one of the Aussies laughs while perched dangerously on the metal bar. He spills his drink on the ground below. The Twice Bar's punks, though, are acting as an inadvertent bogan repellent: each group of passing singlet-and-thongs-clad Aussies zooms past with eyebrows raised. Maybe Indonesia's new president Joko Widodo, an avowed heavy metal lover, can find some way of using Balinese hardcore to fight off the bogans and the drunken debauchery that has corrupted this former paradise.