Heroes of the Neighborhood: Can an uneven second-division club save Hamburg's leftist St. Pauli district?

Klaus Störtebeker was not his real name. Any self-respecting pirate of the late 14th century picked his own nom de guerre, and Klaus of Wismar gave himself a moniker that means "empties the mug in a single gulp." According to the legend, the mug in question would be about equal to four liters today.
After a few years of wreaking havoc on the Northern European coast, Störtebeker was betrayed, captured, and brought to Hamburg for trial. He was beheaded along with 70 or so of his pirate brethren. When a Hamburg senator asked if the executioner was tired after all of this chopping, the executioner said he'd happily behead the whole senate as well. So a second executioner was brought in to behead the first. Störtebeker left a trail of blood (and gold: the core of his ship's mast was full of it) in his wake.
Today, this Robin Hood of Germany has given his name to a theater festival, a punk song, and a brand of beer. A statue of the man has graced Hamburg's Maritime Museum for the past three decades, and he has now been relocated—naked, hands bound, and cast in bronze—to the city's swanky new condominium development district, HafenCity (HarborCity). The statue stands with his back turned indignantly away from the steel-and-glass constructions of HafenCity, turned toward the one neighborhood that has so far resisted gentrification: St. Pauli. Let the city keep condemning land occupied by immigrants and squatters in order to sell it off to young professionals and artists. St. Pauli, a redoubt of anarchist politics and anti-state resolve, is fighting to keep a more corporate Germany at bay. And its soccer club St. Pauli—with its supporters flying a skull-and-crossbones flag to remind them of Störtebeker—is leading the way.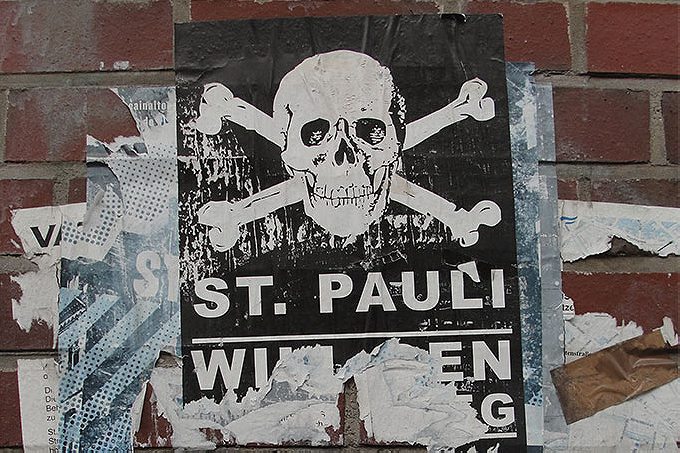 For the course of the last century, soccer in the city was dominated by Hamburg SV, known as "the dinosaur" of German football. Hamburg SV became European champions in 1983 and boasted players of the caliber of Kevin Keegan and Felix Magath. The city's second team, FC St. Pauli was left in the shadows as their local rivals hogged the limelight.
But what St. Pauli lacked in championships, it made up for in spirit. Dockworkers have always lived in St. Pauli, and they made the area a bulwark of the far left in West Germany since World War II. Though protests, squats, and disobedience—both civil and uncivil—are popular throughout these neighborhoods, it is hardly a dangerous place to have a meal or watch a match. Especially if you are watching the team known as the "Freebooters" (pirates) of the league or wearing one of one of FC St. Pauli's mud-brown jerseys that were unveiled with the motto "KIEZHELDEN"—Heroes of the Neighborhood—on the front in lieu of a corporate sponsor (Hamburg SV's current shirt includes the logo of a major Dubai-based airline.)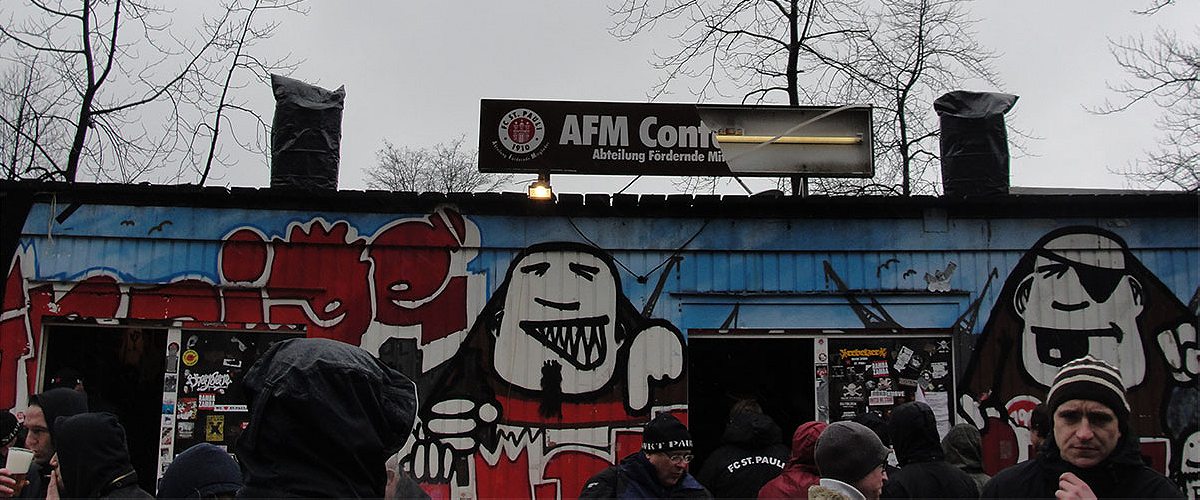 I first came to St. Pauli from the U-Bahn station near the stadium. The station is now known as the Millerntor, after fans complained (correctly) in 1998 that the man it was named after, Wilhelm Koch, had been a Nazi Party member. The first thing I noticed was the graffiti art at the subway stop; not quickly scrawled but carefully contemplated and executed. The second thing I noticed was the giant concrete World War II-era flak fortress towering over Millerntor, looming against the north-German slate sky. As heroic a scale as St. Pauli appears at first, with wide avenues and monumental architecture, walking west from the team's pitch it is apparent how old the neighborhood is. The narrow streets run according to a wholly interior logic, markedly different from the 90-degree intersections made for cars and CCTV in the north of the city.
Most of the graffiti within the quarter is far more discursive and spontaneous than that of the U-Bahn station. And that flak tower, it turns out, hosts a radio station and a dance floor. The graffiti is mostly about FC St. Pauli or the joy of drinking Astra beer while supporting FC St. Pauli, though there is plenty of politics intermixed. One of the most common doodles is the red heart and anchor that is the logo of Astra beer. The lager is a St. Pauli original and revels in its working-class imagery. Beverage giant Carlsberg has brewed it since 2004, but its price point and heritage make it the drink of "real" fans of the club and the neighborhood. This remains true even after the 2010 birth of Störtebeker beer, which may be named after the Hamburg anti-hero but is actually brewed in the eastern German port of Stralsund. Its ethically-sourced ingredients and higher price are pretensions that mark the beer—and its drinkers—as newcomers to the city's ancient drinking culture.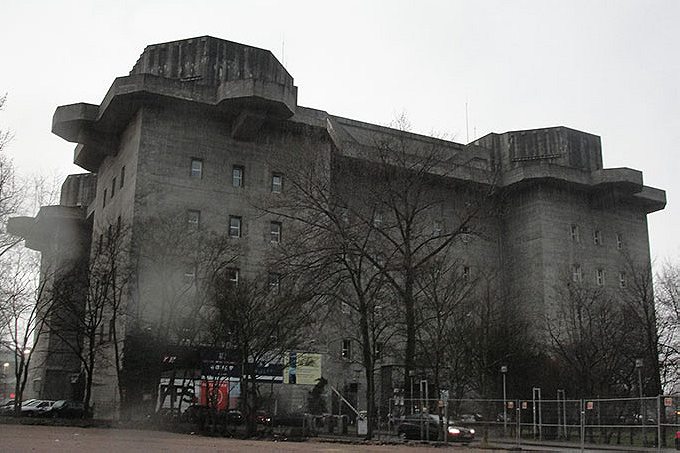 Leery of the Scots at my hostel, who were in town on a Celtic FC-themed tour but who spent most of their time hooting at the female guests, I decided to go elsewhere to spend the night before the match. At the suggestion of a Hamburg-born friend, I went to Fritz Bauch for a drink. Max, my one-man Yelp!, says that this bar is "not so timid about their RAF support," which was my cue to investigate. The RAF, in this case, is not Britain's Royal Air Force, but Red Army Faction, the militant Marxist organization best known for murdering cops, bankers and judges.
Inside Fritz Bauch bar are a dozen or so people, a number of political tracts ranging from Green to Red on the political spectrum, and an awful lot of cigarette smoke. It's in this bar that I first read Not in Our Name, one of many manifestos that begins with the words "A spectre has been haunting Europe." This one has thousands of signatures from a wide swath of Hamburg society denouncing the creation of "Brand Hamburg" as a "socially pacified fantasialand" that will "line the Elbe [that flows through Hamburg] with glass teeth." You can practically feel the raging breath on your neck as you read the manifesto, particularly in a claustrophobic bar like Fritz Bauch. As Not in Our Name puts it: "We think that your 'growing city' is actually a segregated city of the 19th century: promenades for the wealthy, tenements for the rabble."
This rage is carried over to the game-time atmosphere the next day. Millerntor Stadium seats 29,000 but like many football stadiums, the correct verb is probably "stands." Built according to 1990-era architectural standards, the stadium's exterior is mostly decorative brick, cheesy mosaic, and thick panes of glass. The interior corridors are concrete, and the stands are covered. It looks like it could comfortably withstand any attack that the next-door anti-aircraft tower couldn't fend off.
The Astra flows freely at three euros a bottle, and various wursts of dubious breeding go for about the same price. These are all sold from trailers covered in FC St Pauli graffiti and half-broken signage that are, this being Germany, likely approved by health inspectors and licensed by the club, despite their outward shabbiness. I am less sure that the trailers selling supporters' gear in various shades of brown and black are state-approved. Ditto for the musical "stages" of cardboard placed atop mud on the stadium grounds where thrash, metal, and punk bands perform. Metal is very popular with FC St Pauli fans.
On the way to the match I followed a gaggle of supporters from a fan club, "Fanladen St. Pauli" which stands next to a Turkish barber about a kilometer from the stadium. Inside the club were several friendly faces, countless Astra bottles, and crests, banners, and placards from other left-associated football clubs around the globe. In Italian from A.S. Livorno, another in Yiddish from HaPoel Tel Aviv. Local politics can be subordinated to the inclusive, global-left identity that St. Pauli has cultivated. But the air was far less conspiratorial (and a bit more jovial) at Fanladen St Pauli than it had been Fritz Bauch. Even militant anarchists are allowed a good time on match day. The non-German speakers—including the Scots in their green-and-white Celtic gear—were warmly welcomed, provided they could speak the language of the left. Moments after I purchased my scalped ticket from a chainsmoker carrying a deck of them, I saw the same man tell a German in a starchy golf shirt that he was fresh out.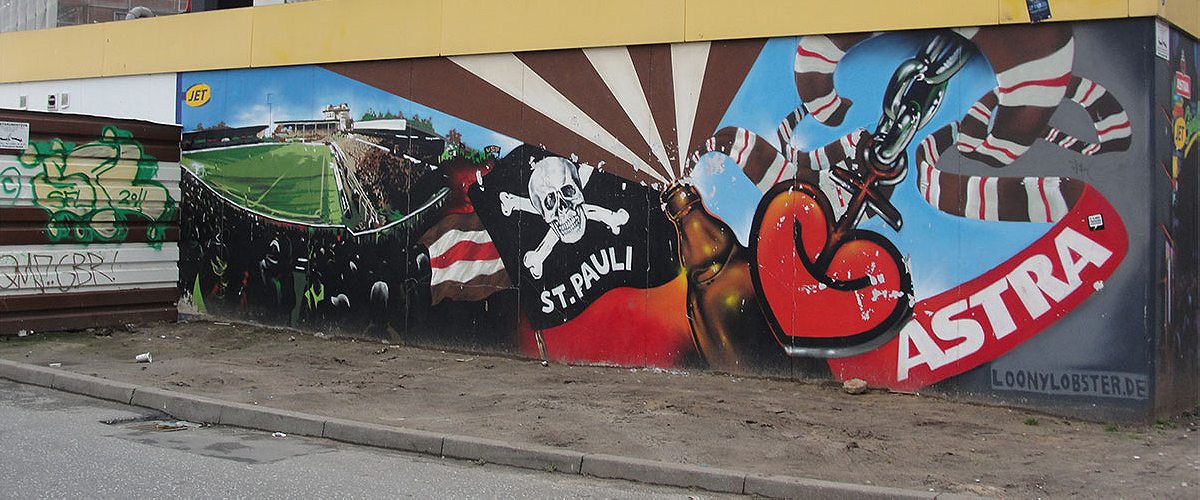 The scene reminded me of the previous night's happy-hour reading. Again, from Not in Our Name, comes the insistence that "you" think that:
"culture should be an ornament for turbo-gentrification. St. Pauli and Schanzenviertel are shining examples of what this means: former working class districts become 'trendy areas' and, in no time at all, exclusive residential areas with adjoining party and shopping neighbourhoods, where food and clothing chains like H&M milk the amusement-hungry hordes."
Soccer is, of course, amusement. But FC St Pauli sees itself as something more than a few hours' pastime. Huge crowds, a branded stadium to hold them in, and top-flight success are all well and good for Hamburg SV across town. In St. Pauli, on the other hand, there were protests against large contracts and stadium renovations when the side made it into the first division of the Bundesliga for 2010-2011. Instead of celebrating the promotion, many fans were wary, preferring to retain a small club run within their control rather than a large one indebted to forces outside the neighborhood. The club's then-owner, theater entrepreneur Corny Littmann, agreed. The side won only eight of 34 matches that season and were immediately sent back to the second division, but many St. Pauli residents and supporters seemed pleased by the relegation. The second division was more their scale. It was comfortable. And they've been there in the two seasons since.
Second division football, even in Germany, is a bit uneven. My scalped tickets were in the south end, and I stood up among the polyester flags and Macklemore-looking fellas leading chants for the most diehard supporters while the home team put three goals past the balding Hungarian in no-brand gray sweatpants who is minding the net for 1860 Munich. It was as much fun as could be had at a match, standing and shouting and drinking and donating some small Euro cents to the St. Pauli charitable wing and their potable water projects abroad.
But after the game-day buzz subsides, the challenges facing St. Pauli remain. Maintaining an authentic club culture, a tight-knit neighborhood, and sustained growth is difficult. The more Hamburg attempts to build a profitable framework around the anti-state culture of the city and its neighborhoods, the more it will try to co-opt the hard-earned symbols and heroes of those neighborhoods. And that's where the club finds its true calling—as a focal point of opposition to growth and development. FC St. Pauli, with its mud-colored shirts, pirate flags, and Astra beer, reminds the people of St. Pauli of who they were, and who they can continue to be.
The club finds its true calling, as a focal point of opposition to growth and development.
Viewed from St. Pauli's Reeperbahn—the street full of sex parlours and drug dealers that hugs the harbor—the cranes and condominium towers of HafenCity loom close. On HafenCity's website, there is a three-paragraph defense of the development against charges of gentrification. The defense boils down to a sort of <em>terrus nullius</em>, that since there were no people living in this warehouse district a stone's throw from the churches of Old City Hamburg, no people could have possibly been evicted. But walking towards HafenCity from the brick warehouses of Speicherstadt (preferably after stopping at Speicherstadt Koffeerosterei, an expansive coffee bar that closer resembles a boisterous Seattle beerpub than anything in Starbucks' wildest fever dreams), it is discombobulating to pass warehouse after warehouse of petty commerce in all its forms and then, suddenly, a new condominium trying to fit into the building code like a hippopotamus in a tutu.
Trying to find the Störtebeker statue—hoping my skull & crossbones St. Pauli shirt will catch his eye—I squint past the reflective glass. And then, there he is, naked, chained, defiant. The 600-year-old pirate has seen the city's booms and other busts, but he will always be welcome among the brick houses and slender streets of St. Pauli, where his fellow freebooters will raise a glass to him and their team. Even if the drink of choice is not the one named after him.