Ocean View is a neighborhood in the city of Norfolk, Virginia. Stretching along seven miles of coastline at the mouth of the Chesapeake Bay, it's a complex jumble of crosscurrents: a place of strip malls and sandy beaches, economically depressed but gentrifying on the edges. In 2009, Pulitzer Prize-winning photographer Preston Gannaway moved to the neighborhood, documenting it through assignments and photo columns published in the Virginian-Pilot. Almost five years later, she's raising funds to self-publish her first book, "Between the Devil and the Deep Blue Sea." She spoke to us from her home in California.
Roads & Kingdoms: When did you first visit Ocean View?
Preston Gannaway: My first visit was when I moved there back in 2009. I remember being immediately overtaken by the beauty of the place and also really struck by the character of the neighborhood. It's quite diverse, both racially and economically, so it feels very accepting and I think I was very much drawn to that. I moved to the Tidewater area to work on staff at The Virginian-Pilot. That part of southeastern Virginia is different from any other place I've lived and I never felt truly at home there. Ocean View just felt like a little oasis to me.
R&K: What had you heard about the neighborhood before getting to know it yourself?
PG: It actually has a rather rough reputation. I remember a few people warning me about living there. It does still have some crime – drugs, prostitution, gangs. But it's much calmer now than it has been in the past. I also started to notice a racist undercurrent to the reputation. It's probably a little more [racially] mixed than other parts of that region.
R&K: Did you get assignments to shoot there from the Virginian-Pilot?
PG: I initially started photographing Ocean View for myself as a personal project. As a staff photographer I covered the whole region, but there were many opportunities for me to weave Ocean View into my daily assignments. In the very beginning I was drawn to doing landscape photography there. Living on the water minded me of Joel Meyerowitz's Cape Light work. It just felt impossible not to photograph. My background in photography is in fine art. I transitioned to photojournalism after school. So this was a way I could hearken back to my fine art roots. But the longer I was there, the more stories I found and my interested shifted from the environment to the people.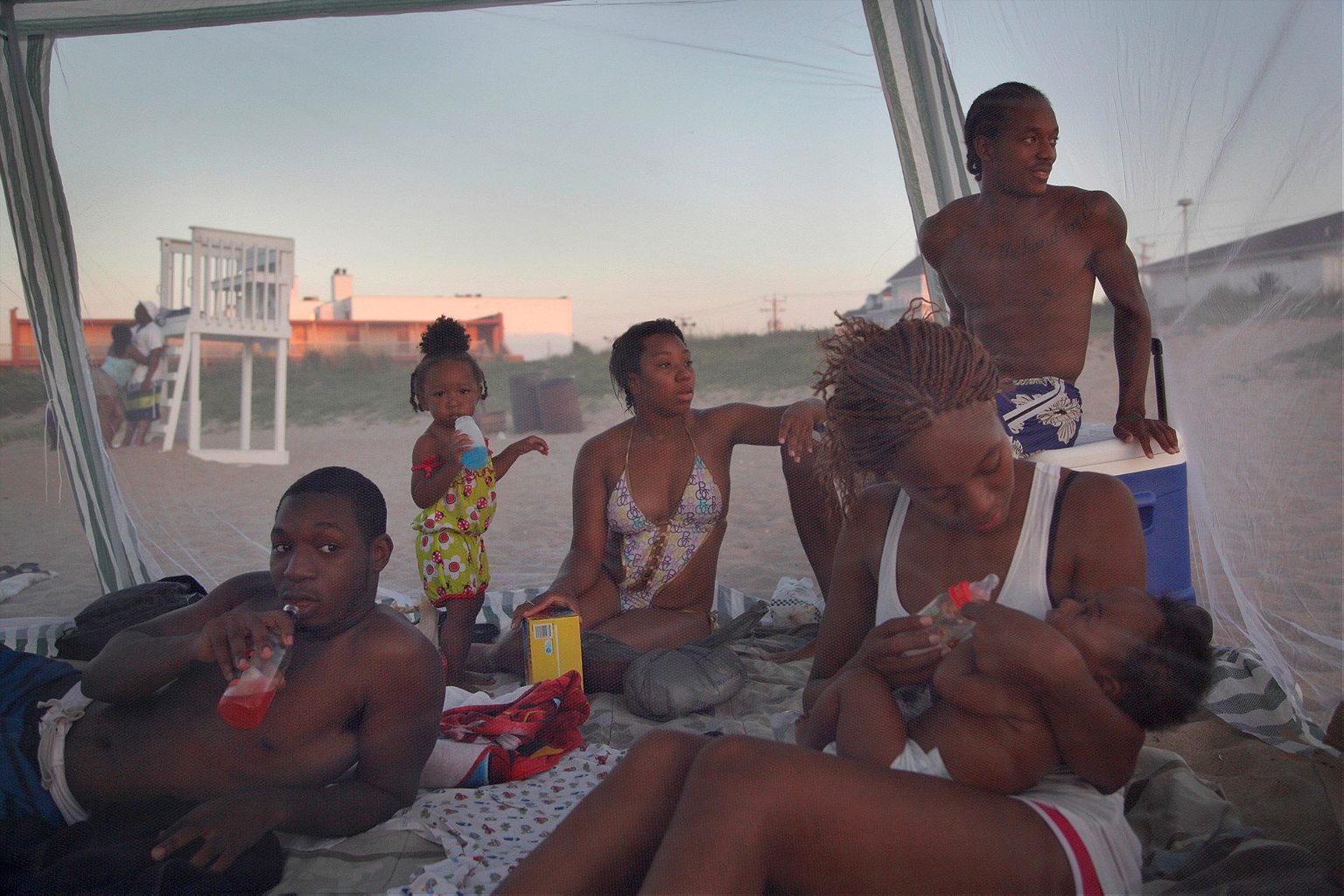 R&K: What were some of the stories that made you concentrate more on the people?
PG: One guy I met early on was a folk artist who called himself the Red Rooster. There were a bunch of quirky characters there. Ocean View also has a fascinating history. It was a beach resort and tourist destination in the early 1900s and it remained touristy up until the 1970s and 1980s. There used to be a huge amusement park right in the center of the neighborhood. It was a big draw for sailors stationed nearby to come party at the bars there. There was just so much below the surface. It's an area with so many natural resources but unable to truly find its place. Constantly changing.
R&K: How did you see this history reflected in today's Ocean View? Were people aware of it? Proud? Or did that Ocean View disappear a long time ago?
PG: The whole Hampton Roads area is very transitory because of the military, so certainly a lot of residents weren't aware of the history. But the long-time residents all were. Yes, people in Ocean View are very proud. If you drive around the neighborhood, it seems like everyone has a vanity license plate. "OV pride," "OV kid," "OV or die"… I actually had thought for a while about a little series of license plates within the larger project.
R&K: Amazing. Where do you think that pride comes from?
PG: I really don't know. The bad reputation is part of it. Some people certainly love it and embrace it. I did meet a couple rich white kids in the affluent subdivision that like flashing OV hand signs.
R&K: So as you were collecting all these small stories, at what point did you think you could bring them together to make this project and tell the larger story of Ocean View?
PG: I did two series of weekly photo columns set in Ocean View while I was at the newspaper. One of the other staff photographers said to me in passing that I should do a book. Many things around Ocean View are unique but many are universal too. As with all documentary photography, we're looking to tell one story that gets at larger, broader themes. I think the process of gentrification is very relatable, and that's certainly one facet of the "Between the Devil and the Deep Blue Sea" project. And also people's connection to the natural world–who has access to it and how they use it.
It was so amazing watching people interact with the beached whale. It was part circus sideshow, part science.
R&K: How did gentrification play out in some of the stories you covered?
PG: One woman I spent some time with this year, Jennifer Osborne, was a prostitute in Ocean View and a crack addict for many years. But she grew up there and strongly identifies with the neighborhood. Just loves it. She got married, cleaned up and had kids but they still struggle. Now she lives a few blocks outside of Ocean View because they can't afford to actually rent. Housing prices are going up slowly. But much more slowly than the city and realtors would like, I'm sure! So with Ocean View, it's more an impending threat. At least, that's how I see the time period that I've documented.
R&K: One thing I love about the project is that nature is a constant theme throughout. It's both a threat and a strength in Ocean View, right?
PG: Yes, even if the natural world isn't embraced, it can't be denied. It's this beautiful coastal area and natural beach. But with that also comes the threat of hurricanes which is so much a part of life for residents there. So while the area can feel suburban with its strip malls and highways, you would often get these reminders about how vulnerable you are in front of nature. One time while I was living there, a huge fin whale washed up on the beach. That's pretty rare, but it can happen. And it was so amazing watching people interact with it. Everyone came out to see it. It was part circus sideshow, part science. People reacted in different ways. I photographed these two guys who decided to have their buddy take a picture of them 'planking' on the dead whale. But other people would come out to admire it – and just touch it gently. Biologists came out to dissect it to determine a cause of death. They did this all right there on the public beach and people flocked to watch it. It seems to me there aren't many opportunities like that left in this country. To interact with nature on that scale. And at one time, that sort of thing would have been a daily occurrence.
It's so easy now to get disconnected.
R&K: Do you feel like the residents sometimes forgot their proximity to nature?
PG: Of course. Don't we all? It's so easy now to get disconnected. In Ocean View and other seaside areas, there are more reminders.
R&K: And surely, access to this incredible nature is one reason why gentrification is so rampant?
PG: Definitely. That's one of the things I love too about the project and why I chose that title. There are so many things that can been seen as both an asset and a drawback. When the city 'cleans up' the neighborhood, they're pushing out gangs and drug dealers, but they're also pushing out working-class families.
R&K: Who are the new residents of Ocean View?
PG: The newer residents have more money. Maybe they live in the area and just love the beach or maybe they see it as a property investment… Luckily, it's still mostly year-round residents as far as I can tell. But there are also many people who are still moving to Ocean View because there is a bunch of low-income apartments and rent is still pretty cheap. It's a really fascinating mix. I think many of the newer, richer residents have a lot of respect for old Ocean View and embrace those differences. "Spirit" is how one woman described it to me. But there are some who would love to have the whole neighborhood be high-end properties and affluent people.
R&K: Your project overall, though, isn't just about gentrification…
PG: No, I don't think so. Where I live now is in the process of being gentrified and that feels very different. To me, Ocean View is a celebration of diversity and humanity in one neighborhood. And an illustration of this culture of working-class people who live in coastal areas, which is at risk of being lost.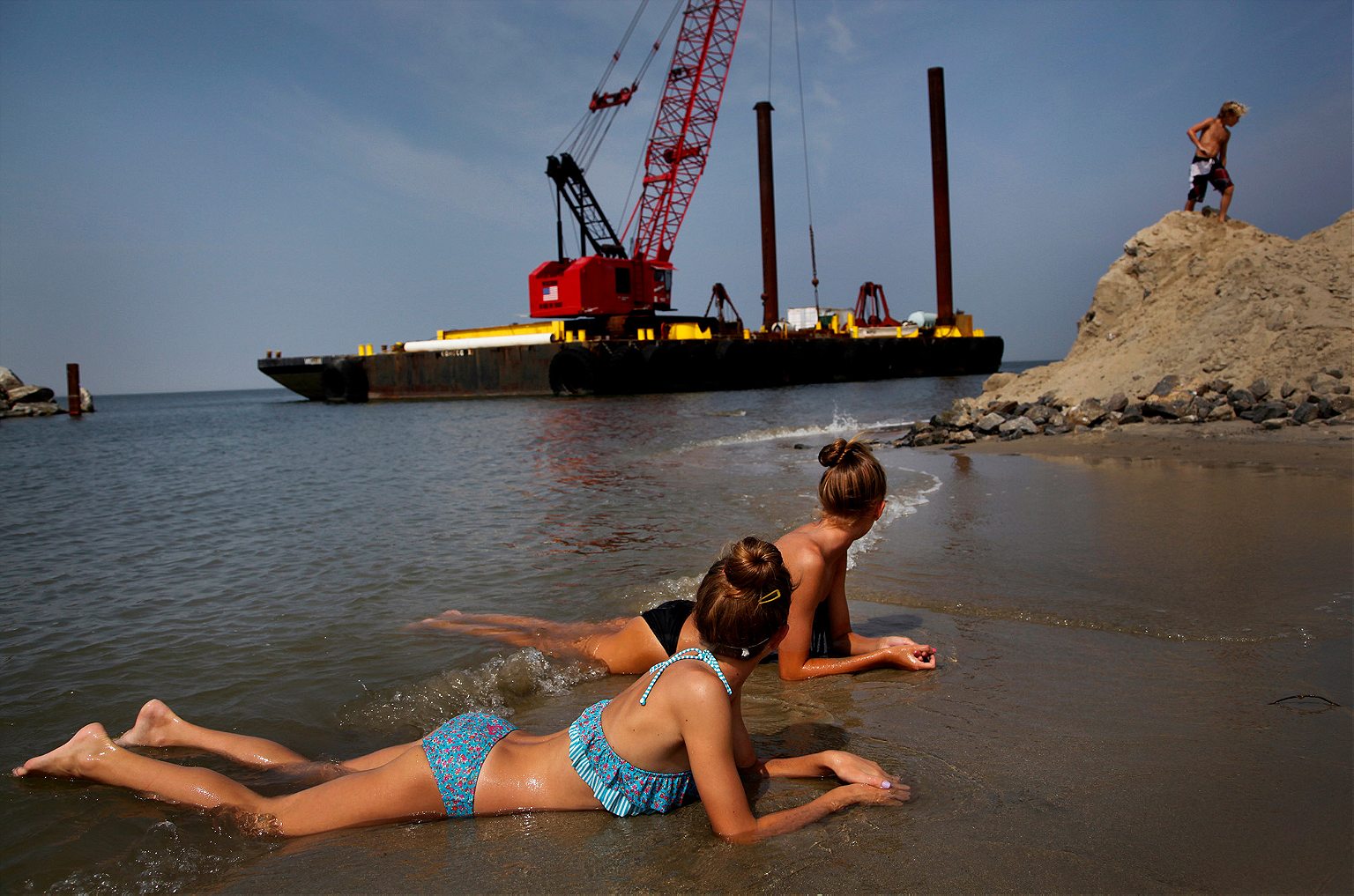 R&K: Is there anything we can do to protect it? (and I mean we in the largest possible sense: people, governments, journalists…)
PG: I wish I knew. I think as journalists, just sharing stories is so important. When people get to know each other, either through personal interaction or stories, we have more empathy and make better decisions. [Doing this project] is my way of saying look how wonderful and amazing this community is. And honestly I relate much more to the working-class from an economic standpoint. I was a newspaper journalist making a very modest middle class salary and I was so amazed that I could afford to rent a cottage on the beach. Amazed and grateful. Wealthy people should not be the only ones to be able to do that.
You can help Preston Gannaway self-publish "Between the Devil and the Deep Blue Sea" by donating to her Kickstarter campaign, which ends tomorrow.