From Palestine to London: Sami Tamimi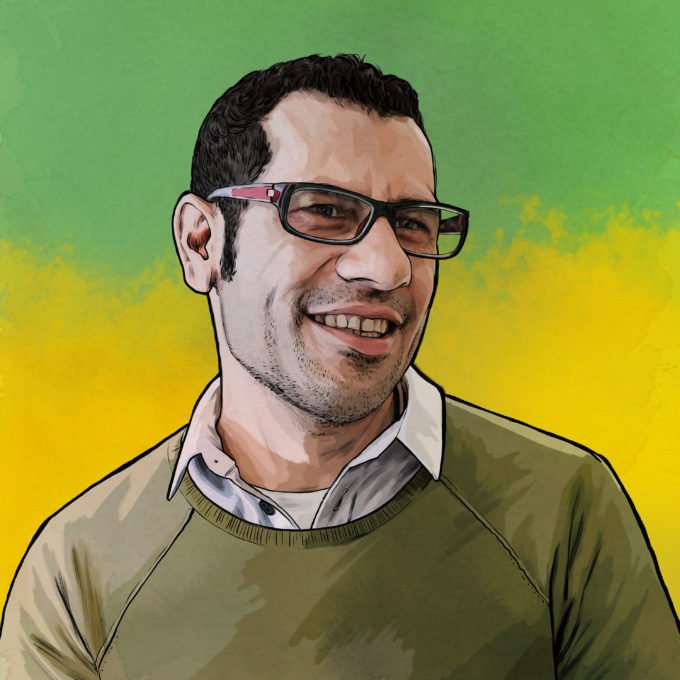 Palestinian chef Sami Tamimi on pioneering high-end Middle Eastern food in London with the Ottolenghi brand, navigating the tensions of the Middle East, and why hummus alone won't solve our problems.
Let's talk for a moment about Royal Warrants. I am slightly fascinated by this because—and now I'm going to brag for a second—Roads & Kingdoms' latest book, Pasta Pane Vino: Deep Travels through Italy's Food Culture, written by Matt Goulding and edited by me, just won best food book of the year from Fortnum & Mason in London. Now, Fortnum's sells things like teas and jams and something they call Luxury Hampers, and they have a Royal Warrant, which means that they are certified providers to high-ranking members of the Royal Family. So I thought it would be a fancy thing, this award ceremony, but it went way beyond that. It was an ocean of butlers and crumpets and deep red pile carpets and Prince Charles made a good-natured speech and Dame Judi Dench was there drinking white wine, and it was all so goddamned British that it nearly gave me spontaneous rosacea.
HOWEVER. That kind of posh and plummy Britishness is far from the only thing about London. Take that Royal Warrant. It's not just for luxury goods markets. I didn't ask, but I'm sure that Prince Charles also needs toilet paper and Pall Malls, not just luxury hampers. And for that, there is Waitrose, and Little Waitrose, which is something like a Safeway or D'Agostinos in the States, but in England has a Royal Warrant of Appointment. The Little Waitrose bodega across from the Bankside Hotel London, where I bought the prosecco for this episode, is filled with people from all over the world, displaying a dozen different versions of Britishness. Same goes, actually, for those Fortnums awards, where British-Bangladeshi Nadiya Hussein won Food Personality of the Year this year, and where the guest of today's episode, Sami Tamimi, had Jerusalem, the book he cowrote with his business partner Yotam Ottolenghi shortlisted for the Food Book of the Year award a few years back.
People like Sami, who came to London to cook over 20 years ago, make this city astonishing, complex, cosmopolitan, delicious. We talked about his history with food, his upcoming book Falastin, and about that Waitrose prosecco, scanned by self-checkout aisle, by royal warrant of appointment to her majesty Elizabeth the Second, by the Grace of God, of the United Kingdom of Great Britain and Northern Ireland, and of her other Realms and Territories Queen, Head of the Commonwealth, Defender of the Faith. That's her real title. But let's hear it for the actual royalty of the realm, the cooks and poets and activists and journalists who came from all over the world to make London the city that it is.
Here is an edited and condensed version of my conversation with Sami. You can listen to the full episode, for free, on Apple Podcasts, Stitcher, Spotify, or wherever you get your podcasts.
Nathan Thornburgh: I'm very excited about the drink. I heard you're a fan of prosecco.
Sami Tamimi: I am.
Thornburgh:  I went right across the street to Little Waitrose and found the prosecco they have. And they're actually in the mini-fridge.
Tamimi: It's a good prosecco, you know? I've never seen it in one-portion bottles. In most fancy places in London, they serve prosecco in a Champagne glass. But actually, you should have it either from a water glass or a white wine glass.
Thornburgh: So I'm ahead of the curve here.
Tamimi: Cheers.
Thornburgh: Cheers.
Back when we started Ottolenghi, Middle Eastern food was cheap, Doner Kebab, and really bad Lebanese restaurants in London
Thornburgh: Tell me about the book.
Tamimi: The title is Falastin. Falastin means Palestine. It's going to be published in fall 2020. It started with an idea. Back when we started Ottolenghi, Middle Eastern food was cheap, Doner Kebab, and really bad Lebanese restaurants in London. And somehow we started a whole wave of quality Middle Eastern food. And then the book came out, and then another book, and then another book. And the market wasn't then ready for Middle Eastern food cookbooks. And now Middle Eastern food is very popular and people eat it and want to cook it. Palestinian cookbooks just started to come into the market about four, three, four years ago.
Thornburgh: Like Zaitoun.
Tamimi: Yeah. Like Palestine on a Plate, Baladi, The Palestinian Table. All these really wonderful books.
Thornburgh: And yet here you are,  along with Yotam Ottolenghi, running the premier Middle Eastern high-end. The pioneers in that space in London. Yotam's Israeli, you're Palestinian. Ottolenghi is his last name. It's the name of the flagship restaurant. It's the name of the first book, right?
Tamimi: It's a brand as well.
Thornburgh: It's a brand as well. Right. So now, Falastin is not your brand.
Tamimi:  No it's not, and it won't be.
Thornburgh: Right. You're not opening the Falastin restaurant.
 Tamimi:  Well, you never know.
Thornburgh: I won't get any firm denials here. But this is the first time that you're doing a big project, a book project that is not directly stamped Ottolenghi.
Tamimi:  Yeah. It's a very sensitive subject, being Palestine and Israel. And also I see it as something that I wanted do without being—although it is—under the Ottolenghi umbrella. Because I wanted it to be translated to Arabic. And if Ottolenghi is involved in it, then it won't be.
Thornburgh: Right. So that's one aspect of branding that—it feels like an understatement to say it's complicated.
Tamimi:  It's certainly complicated, because our books also sell in the Arab world. I know they do, but it's all hush-hush. They sell them in book shops. But they don't have representatives, and also they don't get translated because of how sensitive it is. I want my book to be, hopefully translated, but also legally sold.
Thornburgh: Books marked Ottolenghi are sold, are for sale, but they're not translated into Arabic. A book called Falastin, that is your project, you feel has a better chance being translated into Arabic.
Tamimi: I hope so. And you know this is not the only reason behind that. It's because it's a really sensitive subject, you don't want Yotam Ottolenghi in the book or Ottolenghi as a company. Because a lot of people think Ottolenghi is an Israeli company. They don't know that it's a juggle between a Palestinian, an Israeli, one Swiss. And most people that work for us… it's a melting pot. They come from different parts of the world.
Thornburgh: But this word Israeli attached to Yotam, you know, it sounds like that does have a gravitational force, or it blocks out the rest. Which is, I would imagine, the opposite of why you guys are in this business.
Tamimi: We are good friends and we are business partners, and we don't really get into politics. We don't talk about it. We accept each other and the way we are. And not what you believe or what side of the country you're born [in]. But people choose to choose a side.
Thornburgh: Let's get into Falastin and the cooking that went behind it. So how are you telling the story of the Palestinian kitchen? The more I read about it, it's very diverse for an incredible small, packed place. How do you go about turning that into a singular thesis in a singular work?
Tamimi: First I need to mention that Tara Wheatley wrote it with me. She's got a big part in the writing. All the cookbooks in the market, they are written by women.
Thornburgh: All the cookbooks in the Palestinian market?
Tamimi: Yeah. They're all written by women. These women were told by their moms, and the mom was taught by the grandma, so it's a generation of learning these dishes. I'm a man. I wasn't allowed in the kitchen. I was always shushed out.
I have both sides. I love cooking, but I also love feeding.
Thornburgh: Really?
Tamimi: Well, when women get together and start to cook together… In this society they talk about a lot, they have to cover talking about sex and talking about this and that. So they don't want the little kids standing there listening.
Thornburgh: It's for them, a safe place to just talk.
Sami Tamimi: Yeah, exactly, they want to feel free. But also, men don't cook. My father was a food buyer, and also he learned butchery. And he used to cook at home. But he did it for his own pleasure. He did it because he liked cooking and he used to share the food with us. My mom, on the other hand, loved cooking, but she wanted to share all the cooking. She didn't want to eat, almost. So we got a good balance where my father wanted to cook for himself, and my mom [cooked] for the pleasure of feeding others. So I have both sides. I love cooking, but I also love feeding.
Thornburgh: But these are not recipes that you learned at your grandmother's knee in the kitchen growing up.
Tamimi: No.
Nathan:  For the reasons that you're talking about.
Tamimi: I think because I was quite young when I left Palestine, or Jerusalem, let's say, what kept me connected to the place and to my family is the food. But also people that know me, they know that my mom was always [there]. Whenever I cook something I always think what my mom did with this ingredient, or say, cauliflower. I'm a trained chef, but I have an amazing food memory. And I can trace back. Without even knowing how to cook the dish, I would just recreate it.
Thornburgh: So you have this food memory. So of course that's the natural way, when you leave Jerusalem, to keep in touch with your memories of it and your feelings about the place.
Tamimi: Yeah. And you know it's also the flavor, it's the aromas, the smells, it's a lot of thing that, you know, keep you connected to the place. Phone calls don't do the job. And when I've felt a little bit nostalgic… I can actually cook the dish. So I will stand in my kitchen and recreate it or on the phone with my sister, how do you do this?
Thornburgh: When did you leave Jerusalem?
Tamimi: '97.
Thornburgh: '97. And you went where?
Tamimi: To London. Straight to London.
Thornburgh: Straight to London.
Tamimi:  Yeah. I was already a chef when I arrived to London. I actually started work early. I started when I was teenager in a hotel in Jerusalem on a school summer holiday. I wanted just to do something to earn a little bit of money. And I was put in this kitchen washing dishes. And then I was so curious about the whole cooking, and it's just a different way of cooking than I [had seen]. Where there are sections. Everybody does one part of the cooking. And later on this big party comes in and they all have to work together to create this feast.
Which is something that sticks in your head. Because at home, my mom and maybe a couple of aunties come and cook together and they just feed everybody. But in a hotel, [there are] levels of preparation, and each person have a role. The head chef was a German. His sous-chef was also German. So they had this really strict way of working.
I'd have to wake up at three o'clock in the morning to be able to scramble eggs for 150 people.
Thornbugh: Oh my. That's an education for a teenager.
Tamimi: Well, he liked me. He saw a potential in me, because I was so curious and really fast-learning. In a couple of weeks, I was running the breakfast section on my own. And I was 18, I think.
Thornbugh: That's amazing, because in the early '90s I too had washed dishes. And all I could think about was how do I get out of this entire industry?
Tamimi: I didn't have such a big dream. I was so curious about it. And I knew, when I started doing the breakfast, it was hideous. It was so horrible. I'd have to wake up at three o'clock in the morning to be able to scramble eggs for 150 people. That's tough for an 18-year-old. But you learn quite a lot. And then I realized that actually I loved this. It's so much fun. And I want to know more. So I was leaving my home cooking and learning new techniques and cuisines. But only just before I left to London in '97, I realized that I actually have all the right elements to work between what we call Western and Middle Eastern.
Nathan:  Right. This hotel in Jerusalem. That's a Western breakfast you're talking about.
Tamimi: It's kind of a mix. But when I started here in London, I worked in a food truck. A little food truck behind Harrod's in Knightsbridge. And they did pastries and bread, and she wanted me to create some kind of tartar section. So I just did a huge salad. Very colorful, very flavorsome. Similar to what we do at the moment at Ottolenghi. Only the best ingredients. Very heavily Middle Eastern. And people were queuing for it.
Thornburgh: Really?
Sami Tamimi:  Yeah.
Thornburgh: And she had not asked for that, necessarily.
Tamimi:  She didn't know what I'm capable of doing, and it took her by surprise. And I was her  almost—if you ask Yotam—I was her spoiled child.
Thornburgh: Right. She allowed you to do whatever you wanted.
Tamimi:  Yeah.
Thornburgh:  And it turned you into somebody who went out and did what he wanted and brought these things to life. That's how it's supposed to work, right?
Tamimi: Exactly. And I'll turn up in the morning, I'll cook, I'll make dishes that I just want to do, and then they sell really well. Sometime they didn't, but you know you didn't care, you just go and give it to the staff.
Thornburgh: And move onto the next.
Tamimi: Yeah. So it created this wave of… before that in London there were just Italian delis and really sad food, sandwiches wrapped in cling film. Baker and Spice was the beginning of this quality home-cooked, wholesome, flavorsome, Middle Eastern food.
Thornburgh: London, and I want to be careful because anything I say about the UK is super presumptuous because we have all of our own delinquencies and deficits in the United States, and I haven't been here in a God's age. But I always thought of it as a place where the people were much more interesting than the food. Because even in the '90s, you're saying London was an incredibly diverse, cosmopolitan, multicultural thing. And one thing that everybody had in common is they had to eat this crap. Broadly speaking, sandwiches in cling film. And I just walked down the street for lunch and had a goat curry from a Jamaican box on Blackfriars. And it was great. For me that's what London, I hope, is doing now. It's what you and Yotam are doing. It's the ability to actually take the resources that you have here and create really good, and in this case, cheap and accessible and affordable, and in your case, really refined food, and just push the envelope to make it reflect the people who are actually here.
Tamimi: Yeah. London in that sense, it's a great place. I can't see it happening anywhere else. Even New York, for me it's a little bit reserved. There is South American, Italian, but nothing like London. In London, it's the ability for people to accept you, even if you open a new concept with a different flavor, people will go and eat. They're thirsty for new flavors. And they will try everything. And it's also to do with the structure of London. We have amazing places now. And everything is booming.
You can listen to the full episode, for free, on Apple Podcasts, Stitcher, Spotify, or wherever you get your podcasts.