A money-saving, sanity-preserving, pleasure-maximizing guide to Denmark.



Denmark is expensive. Japan expensive. Here's what $5 will buy you: a cup of coffee, a soft drink at a restaurant, a single metro ride, a postcard, half of an open-faced sandwich, two beers at a 7-11, a few minutes on a public phone. Just thought we'd let you know that up front to save you the sticker shock we felt nearly everywhere we went.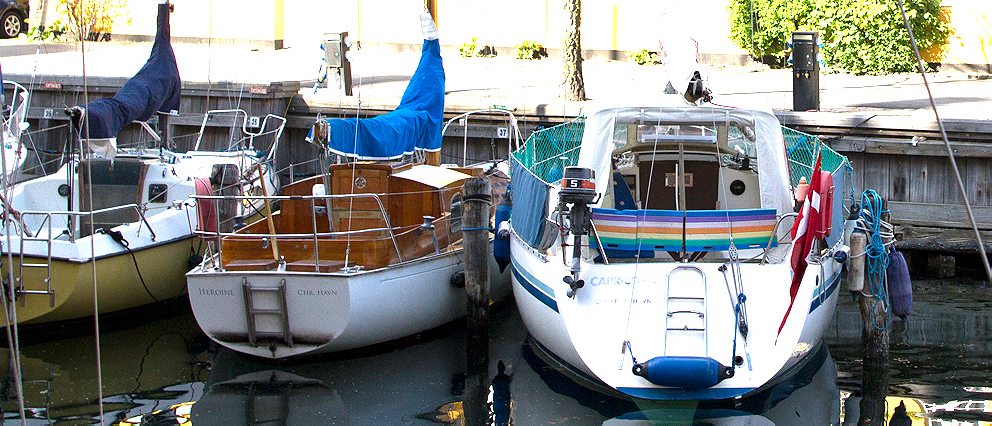 AirBnB is your best friend in Copenhagen. Spartan hotel rooms come with Manhattan price tags and preciously little personality. Using the online private booking system, we scored our first place, a small apartment near Christiania, for $120 a night. Our second place was a boat on the canals of Christianshavn. Spending the late evenings on the back of the boat drinking beers and watching the sun turn the water a thousand shades of orange was one of the great pleasures of our week in the Kingdom of Denmark. It cost us $65 a night—the price of a cheap bottle of wine in a restaurant. The cash we saved on hotel rooms paid for the boozy 26-course, four-hour Noma feast.

Everybody takes plastic, but nobody takes credit cards. If your card doesn't have a pin, it won't swipe in most Denmark establishments. Pack your debit card or keep your wallet thick with kroner.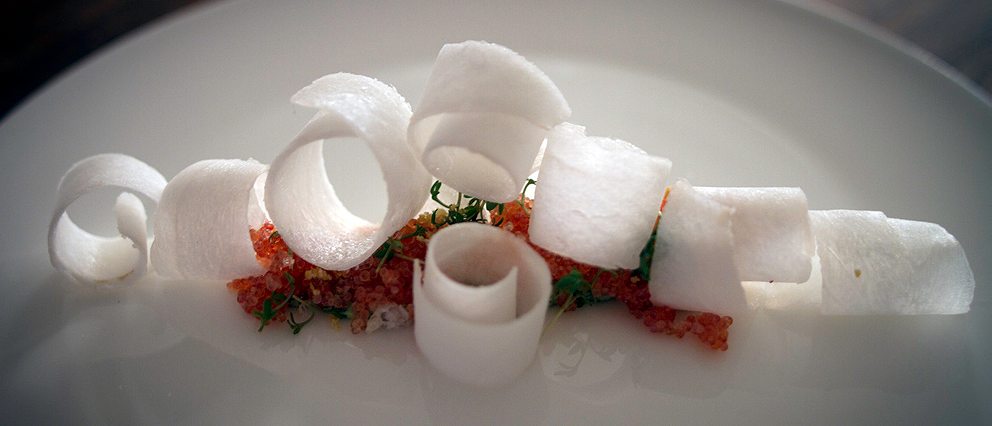 You won't get into Noma. Statistically speaking, your chances of getting into "the world's best restaurant" are about 1 in 200. Not lottery long shot, but pretty damn close. Don't fret. The explosion of top-tier Nordic restaurants in the wake of Noma's ascendance means that there are at least a dozen exceptional places in Copenhagen alone that will give you some insight into why this city has suddenly become the world's hottest dining destination. The popular bets are Radio and Relae, both run by heavyweights from the Noma system, both offering vegetable-heavy menus deeply dedicated to seasonality for about a quarter of the price of admission at Noma. For our kroner, though, AOC is one of the most exciting restaurants in the country. Chef Ronny Emborg, an alum of Iberian titans elBulli and Mugaritz, is mixing Nordic ingredients with Spanish avant-garde technique to create dishes like frozen halibut curls with lump roe, egg cream and fresh horseradish. It's the kind of dish that makes you forget about all other restaurants (even Noma)—at least for a little while.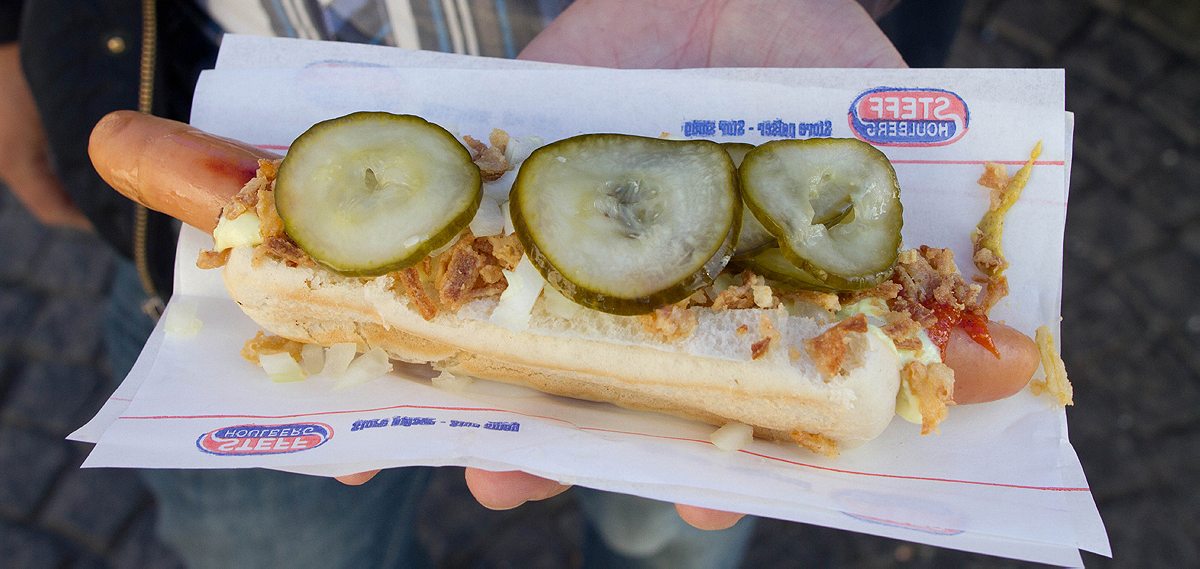 Hot dogs are king. Seriously, in Danish they're sold from things called sausage wagons, which was reason enough to make encased meat the first meal we ate after landing in Denmark. But if you need more motivation, how about this: The quality of the meat is exceptional, the snap of the griddled dog is almost audible as you bite down, and the condiments—crispy fried onions, bracing slices of pickle, creamy remoulade—put New York street vendors to shame. Our overarching road food philosophy can best be summed up as follows: eat high and low. Tasting menus and street dogs.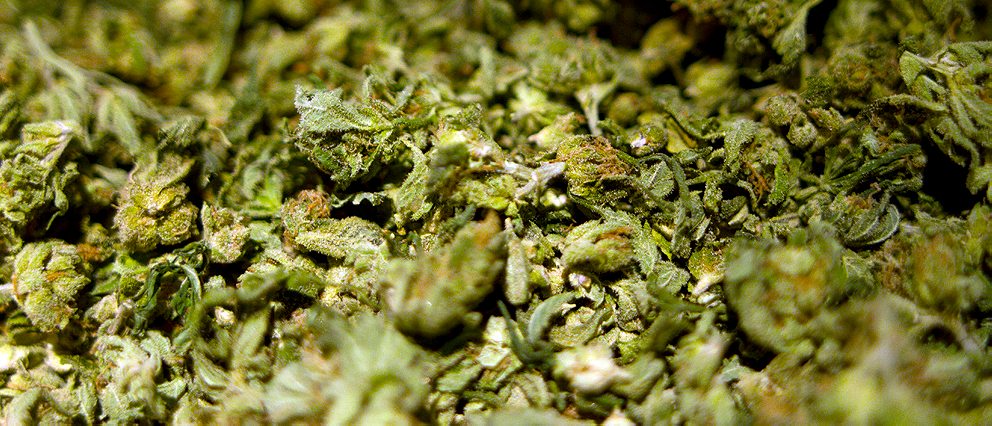 Nope, weed isn't actually legal in Christiania. The post-hippie enclave in central Copenhagen seems to exist outside of Danish law, but it doesn't—not on paper anyhow. "I think the general idea is that it's legal inside Christiania," says one resident. "It's not. It's just that police don't come that often here." The police, by the way, don't come in because the biker gangs who control drugs in Christiania tend to put up a big fight, as do the independent-minded, rock-wielding residents. All of which is to say, enjoy yourself in Christiania proper, but don't be a dumbass and take the joint outside the gates.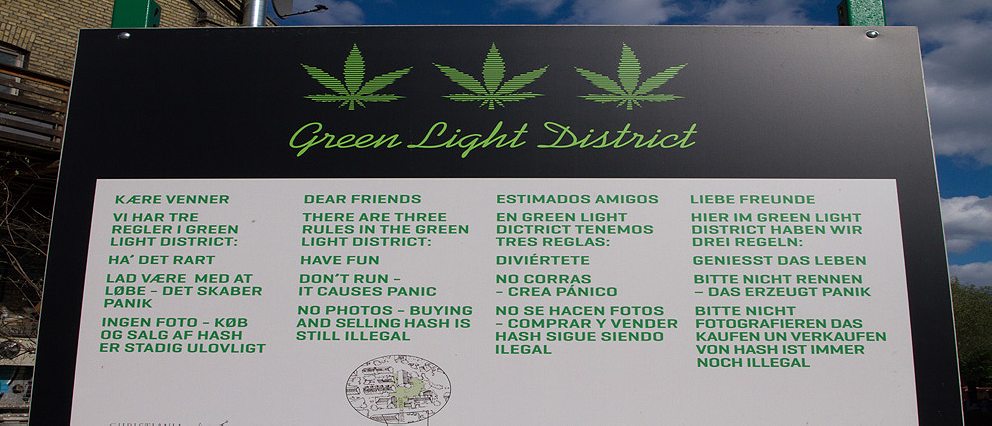 No pictures on Pusher Street. Market-photography is a time-honored genre among travelers: just search Flickr for la Boqueria, Pike Place, or Spice Market Istanbul for a quick overdose on market photography. Nathan is no less a sucker for the form, having succumbed to the temptation of massive beef hearts on hooks and the general slaughter of Sukhumi's main market. But on Pusher Street, the open-market weed-and-hash bazaar in Christiania, even he kept his camera holstered. That's because of the huge signs everywhere saying No Photography and the legions of lanky, dodgy runners and thuggish bodyguards to help enforce the rule. The great irony, of course, is that Danish police are surveilling the hell out of Pusher Street with all the tools available to the modern panopticon state. Good luck getting the police to stop taking market pictures, gents.

Get out of Copenhagen. Damn fine city, but much of the real Denmark lies just on the other side of the island of Fyn. Go to Jutland, particularly the western stretch that locals call the Rotten Banana (self-deprecation is a refined art in Denmark). Nothing rotten about it: just a captivating landscape of heaths, fjords and peat bogs. Better yet, bring bicycles and ride the rolling hills. And the end of your trek, take the ferry from Ebeltoft back east, not just because it's a very fast boat, but because Ebeltoft is also home to what we believe might be the world's only hot dog stand that doubles as a Thai massage parlor.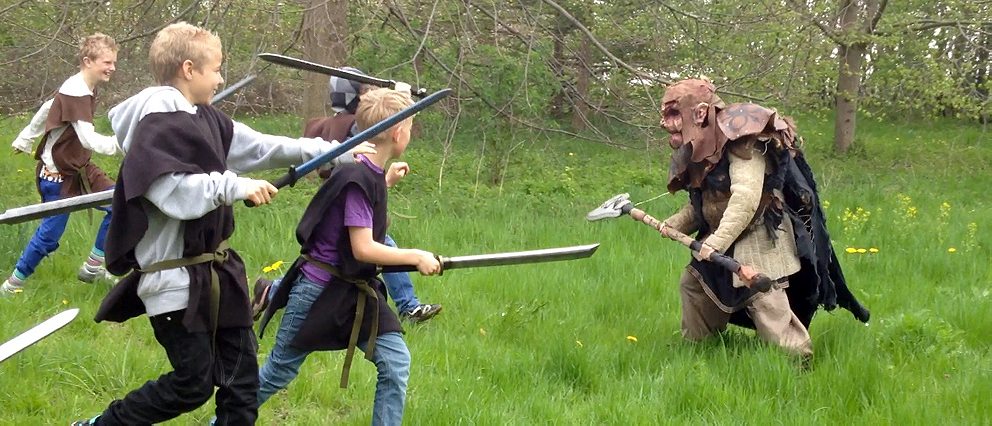 Bring your battleaxe. Live Action Role Playing (LARPing) is serious stuff across the Kingdom. Think of a Star Trek convention crossed with the Battle of Helm's Deep and you can begin to imagine the insanity of LARPing. Come weekend, Danes take to countryside in full costume to play out incredibly complex scenarios ranging from multi-layered World War II reenactments to prisoner-guard phantasmagoria that are more psychological experiment than lighthearted pastime. We got in on the action one morning with a few hundred Danish school children, Nathan as an evil solider destined for death and Matt as a forest-dwelling monster with a 12-foot battle axe and a tear-inducing belly growl. Check in with the Rollespils Fabrikken to see if any LARPing is going down during your time in Denmark.

The Danes consume more pork than anyone in the world. The average citizen packs away 142 pounds of pig a year, outpacing freakish porcine addicts like the Spaniards by a full 20 pounds. (They also drink more than Americans and live longer, too. Why aren't you there right now?!?!) While there are many delicious ways to get a pork fix in this country (roast pork with cracklings being perhaps the greatest), we suggest you pay special attention to the many delicious things Danes don't eat, namely the world-class oysters, razor clams and blue mussels from the Limfjord in the north. That's right, in a country surrounded by water the greatest treasures of the sea are largely ignored in favor of pork. But places like Fiskebaren in Copenhagen are doing their best to change that, offering the best of the aquatic bounty with light touches (lumpfish roe with smoked cheese, mussels steamed in apple cider)—a strong reminder that there is life beyond bacon.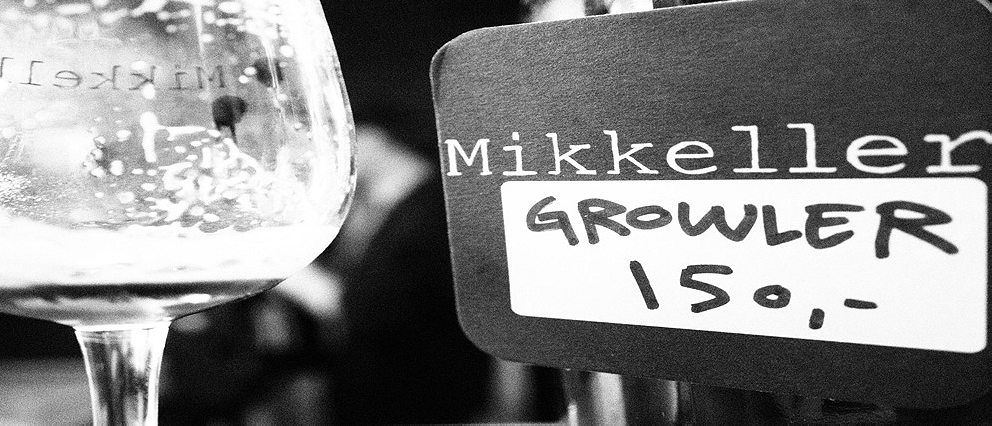 Drink good beer. Carlsberg is the Danish powerhouse, but it's only a small step above Budweiser on the suds scale. On the flip side, tiny Mikkeller is one of the world's most innovative breweries, known for putting out the kinds of potions beergeeks take to forums to discuss ad nauseam. Stop by their bar in central Copenhagen and taste what happens when someone (in this case, former physics teacher Mikkel Borg Bjergsø) brings the imagination of a modernist chef and the precision of a scientist to the brewing process. Their bottle list is 10 pages long and includes $700 bottle of Mikkeller 2007 Barrell Aged Imperial Stout, but we were happy enough with $5 12-ounce pours of Super Galena, a bright single hop with a crisp, bitter bite, or Texas Ranger, a dark, brooding chili porter that scratches lightly at your throat on the way down. (While you're there, be sure to order a pint of Cantillon Kriek if they have it on tap. One of the finest achievements of Old World brewing, a bottle of this at a bar in the States and most parts of Europe will set you back $25. At $5 a pour, it represents one of the few genuine bargains in the entire country.)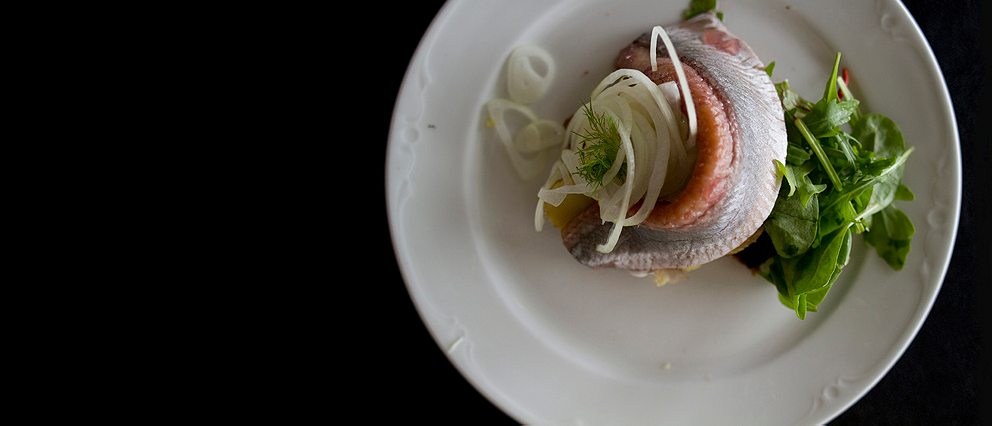 When you're not eating street dogs, Michelin-starred feasts, raw oysters, and Danish home cooking, be sure to squeeze in some smørrebrød. The national sandwich of choice is built on a single slice of dark buttered rye, a dense and satisfying launch pad for tiers of elaborate toppings: beef tartare, cut with red onions and capers, crowned with a raw egg yolk; thick slabs of pate covered with sautéed mushrooms, smoky bacon and a wobbly rectangle of jellified gravy; or, the granddaddy of them all, the stjerneskud, the "shooting star" of the smørrebrød discipline that pairs half of the ocean's creatures—crispy fried white fish, ruby curls of smoked salmon, sweet baby shrimp, salty orbs of caviar—with cucumber and dill and wedges of hard-boiled egg. It's a death-star shot at hunger and the most potent example of the smørrebrøod ad campaign slogan we created on the road: half the bread, twice the sandwich.

Akvavit, Denmark's national spirit, may be falling out of favor with young Danes, who'd rather pound Red Bull vodkas than drink the stuff their parents keep in the liquor cabinet, but that just means there's more for you. Traditionally it's sipped during lunch, paired like wine with a variety of dishes heavy on salt and brine and spice which the akvavit—heavily charged with caraway and dill—plays off perfectly. Best to try it in Aalborg, where Danish akvavit was born. At Restaurant Elbjørn, a converted steamboat floating not more than a few hundred meters from the Aalborg Akvavit factory, you can taste nearly a dozen types as you work your way through lunch. A pickled herring smørrebrød and a few ounces of Danish firewater around noon will set you free.

Take to two wheels. Estimates have it that one third of Copenhagen commutes on bike, and if you're out on the street at 8am, dodging thick packs of pedals and spokes, it's easy to believe. Join the urban fray and explore the capital on wheels, or better yet, grab a bike and get out of town. Denmark is one of the world's flattest countries and everywhere you turn will remind you of the Shire. Try the Lammefjord area just north of Copenhagen, where the roads are gentle and meandering, the fields are painted yellow with rapeseed flowers, and the towns are studded with country cooking taverns perfect for fueling the adventure. If you ate and drank as much as we did, you're going to need the exercise.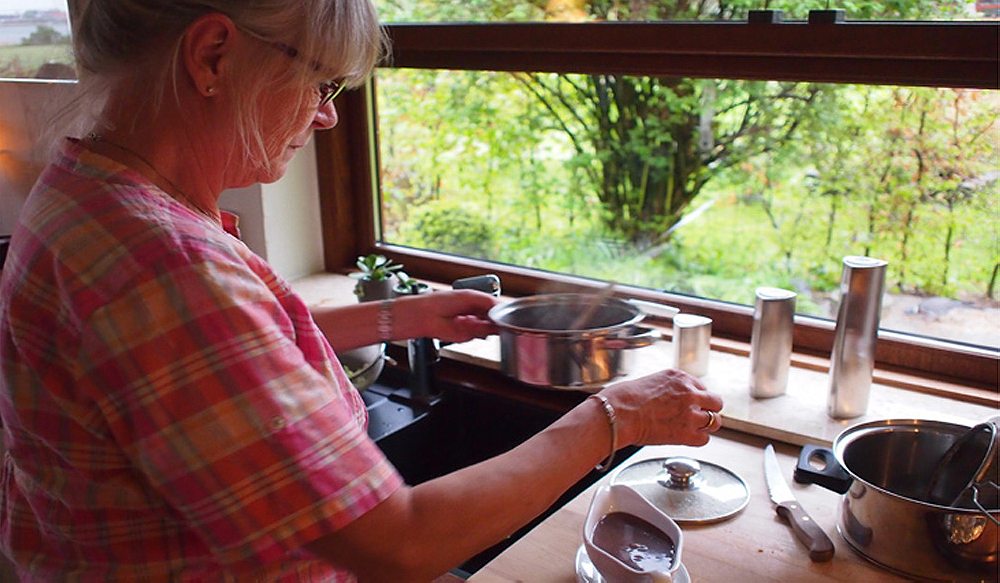 Get invited to dinner. It's a smart strategy no matter where you find yourself in the world, but it's particularly genius in Denmark, where many of the deeply satisfying comfort dishes of the country are found exclusively on the family dining room table. We learned this lesson the best possible way, from Solveig Brask Christensen, mother to Kristian (aka the Ambassador of Pleasure), a guy whose generosity and passion for Denmark showed us more about that country than we could have ever discovered on our own. Chief among those discoveries was his mom's exceptional cooking: a simple salad of sweet shrimp, mayonnaise and lemon, creamy boiled potatoes, and, glory of all glories, a perfectly roasted brisket, rosy red, skirted with fat, and redolent of garlic and a mother's love. Heavy on wine and long with lovely conversation, it was one of the best and most meaningful meals in a week of magical eating.


Danes speak English better than you do. Okay, not all of them, but the countrywide mastery of the language is pretty startling, even if you've spent time in northern Europe before. We meet oyster fishermen and rural farmers and drug dealers who all spoke it with ease. When Danes drop words like "incendiary" and "lament" casually into a conversation, you know these dudes have grown beyond the "English-from-the-movies" fluency level found in most countries around the world. So go ahead, learn those five words and use them as often as possible (we'll help you get started: hello = "hej"); just don't be surprised when supremely polished English is volleyed back at you.