In the wake of last night's Best Restaurants in the World announcement, we offer a taste from the "second best restaurant in the world".
When it comes to culinary innovation, the Spaniards left the French in the dust sometime around the turn of the century. Whereas young aspiring chefs used to flood the vaunted kitchens of Lyon and Paris hoping to learn how to turn fattened duck liver into 24K gold, they now turn to the galaxy of Michelin-starred restaurants in Catalonia and the Basque Country, Spain's northern regions widely known for ushering in the era of Modernist cuisine (aka Molecular Gastronomy). Yup, these days when jet-setting gastronauts are looking to unload a few thousand bucks on a big meal, they set their spaceships' coordinates for the Iberian peninsula.
Which brings us to this plate. At Roads and Kingdoms, we usually take our beef still sizzling off a street-corner grill, preferably with a watermelon Four Loko to wash it down with, but we clean up nice, too. This dish is one of 22 I had last fall at El Celler de Can Roca, 90 minutes north of Barcelona in the medieval town of Girona. Now that El Bulli, the great progenitor of avant-garde cooking, has shuttered, El Celler is considered by most to be the best restaurant in Spain, if not the world.
More than anything, this high-flying tartare represents the purest proof of Spanish culinary dominance I've ever tasted. The long pink rectangle of tender beef is bound together by a homemade "ketchup" enhanced with pureed capers and lemon. At the base is a puddle of bearnaise, a lusty amalgamation of red wine, egg yolk, and melted butter; on top are four perfect pommes souffles, each crunchy potato sphere coated in a different spice: chives, yellow curry, smoked paprika, and ground Sichuan peppercorns.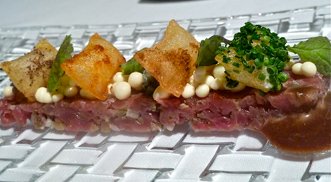 Wait, there's more: Little balls of mustard ice cream cover the plank of beef like so many yellow Dipping Dots, crowded out only by the occasional raisin, stuffed to the point of bursting with a reduction of 50-year-old sherry, the very same ancient sherry that is poured at the table the second the plate is set before you. If I've tasted a dish that more successfully balances a high-wire act of texture and flavor, it was banished from my memory the second one of those sherry raisins burst in my mouth.