"Happy" Hour in D.C.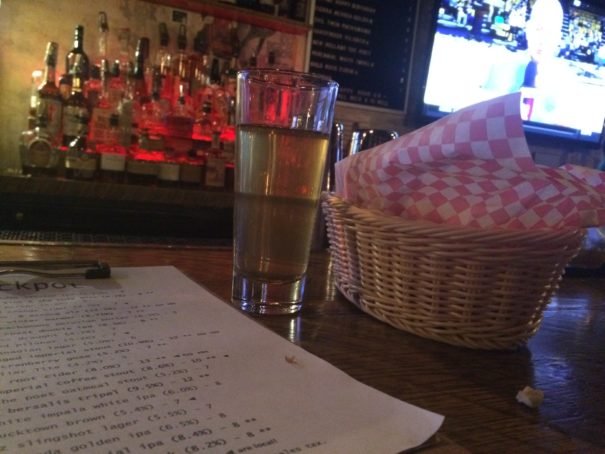 "Happy" Hour in D.C.
Beer in DC
In America's capital city, nothing is more predictable than Happy Hour.
D.C. is not a city of politicos, necessarily, but rather of exceptionally motivated professionals. People put their work slacks on Monday-to-Friday, grind through their day, and rely on alcohol to return their body to a sustainable level of calm when their time in the office is done.
Tonight I'm drinking in Jackpot, a neighborhood dive, or so the bartender tells me. You can find it via an inconspicuous door off 7th Street in Chinatown, which leads down to a dim-lit basement. A warm glow emanates from low-hanging light bulb, but the contours of drinkers' faces are mostly lit by blue glow of the three flatscreen TVs behind the bar (all playing sports). Bare walls are flanked by stacks of spent kegs. Drinkers gather and talk about their bosses and failed Tinder dates as they nosh on baskets of free popcorn. This is not a tapas crowd. This is a drinking crowd.
Not ready for hard liquor, I order a Gose from the ample beer selection. The bartender, his voice hoarse from shouting over the noise every day, tells me that today is slow.
"Happy Hour is usually off the chain," the bartender tells me as I sip on a $7 Gose. (That's not a bad pricetag for this city.) But today, Jackpot is far from full. I slid into a spot at the bar with no trouble.
I ask him if he thinks business will pick up tonight. It's only 6 p.m., but he says he doesn't know. "Most of our customers left for the weekend, I think."
On the eve of Donald Trump's presidency, Washington is not humming the same way it did last Thursday. The streets are flush with visitors, with fewer J Crew-clad paper pushers.
The buses crawl between motorists clogging the roads, clustered on a portion of the city's throughways thanks to the guarded red and green zones–the areas shut down by security for tomorrow's event. On foot, movement is much easier. Wide-open streets, bare enough to see strewn trash blow over their asphalt surfaces, funnel into the clogged corridors. Thirty-somethings in sports coats hold iPhones to their ears, commuter backpacks slung over just one shoulder as they strut. They command their route, I thought, as I made my way to 7th Street, with their familiarity and lack of regard. They know exactly what they're doing.
I ask the paralegal ordering a drink to my left if she's going to the ceremony tomorrow, and she says no. "I would have, because it's, like, historical, you know?" she says. "But I heard it's going to rain. Darn."
She smiles.