Maboneng is one of Joburg's more recent urban renewal projects, offering shared office spaces, restaurants, bars, shops, and entertainment venues.
When I first moved to Johannesburg as a young student over 10 years ago, the Newtown Precinct was the up-and-coming area, the perfect location for creatives, students, and hustlers alike. But these days, it's Maboneng, a compact neighborhood in the eastern end of Johannesburg's central business district, a former industrial precinct that had become dilapidated and dangerous by the closing years of the 20th century. Maboneng (Sotho—a language spoken in the high grasslands of southern Africa—for "the place of lights") is one of Johannesburg's more recent urban renewal projects, and now has a carefully crafted reputation as a magnet for the city's creative set, offering shared office spaces, restaurants, bars, shops, and entertainment venues. The force behind its rebirth is the Propertuity development group, which bought a cluster of 1900s-era warehouses in 2008 and fashioned them into mixed-use cultural and arts spaces and transformed the area into an investors' haven.
In Joburg—as in other cities around the world with neighborhoods being revamped at a dizzying pace—the unevenly distributed benefits of this urban renewal success story means the new Maboneng is a topic that fiercely divides opinion. But, it is a pretty safe and walkable grid of streets in a large, sprawling city where most transit is, by necessity, by car.
To get there, you can take the scenic drive around the city on the M2, and make the exit onto M31 Joe Slovo Drive, which will lead you to Fox Street. Alternatively, take the inner city route on the M31, that goes past the iconic Ponte Towers in Yeoville and Alhambra Theatre in Doornfontein.
Maboneng by day is very different to Maboneng by night, when restaurants turn into low-key nightclubs filled with a mixture of seedy characters, debaucherous tourists, and budget-watching students. During the day, Fox Street is a market. The pavements are lined with vendors selling all sorts of things ranging from tie-dye Steve Biko t-shirts to African print waistcoats with the matching accessories, and second-hand books. Bumper-to-bumper traffic of waiting Ubers and self-driving patrons streams upward, guided by car guards hoping to make a buck a two by assisting drivers with parking and offering to watch the vehicle. Everybody and their mama carries a DSLR camera; the graffitied walls and brown brick buildings serve as the perfect backdrop for Instagram-worthy poses.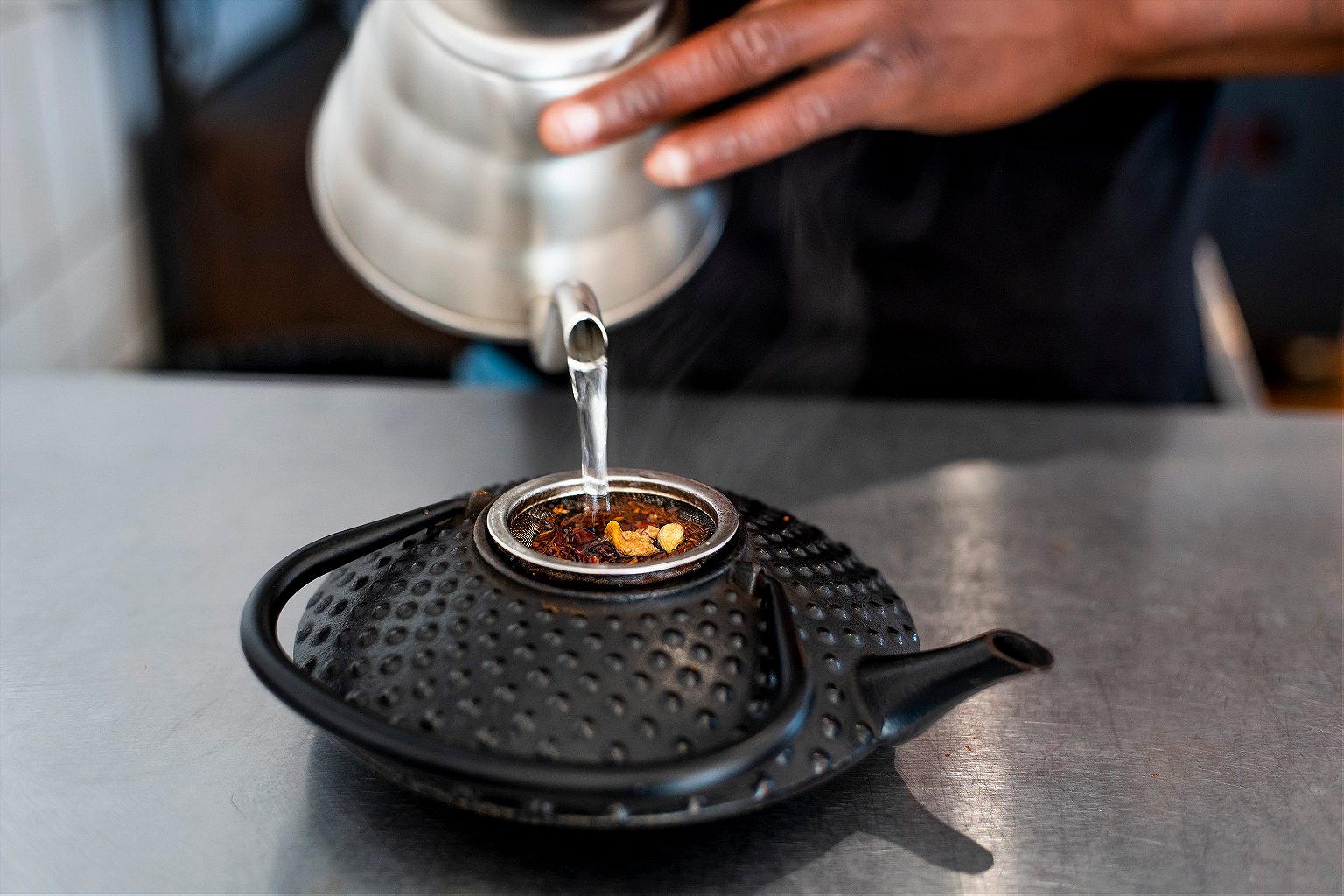 Starting at the top of 1 Fox, you'll find a little brick coffee shop called Origin, where warm light beams through the industrial windows bouncing off the high ceilings and oak wooden floors. They serve a selection of artisan coffees, from beans sourced all around the world and then roasted at the headquarters in Cape Town. A tall cappuccino with almond milk will get your synapses firing, but if you're in the mood for something more decadent, the choccachino will change your life. The young barristers are warm and passionate about building a coffee-connoisseur culture in Johannesburg. (If coffee is not your thing, try a selection of their exotic teas.) You can expect to pay a premium for a cup, but the inviting atmosphere, friendly service and tranquil working space definitely make the price worth it.
Right next to Origin is a tiny Mexican restaurant called Mama Mexicana. At first it might feel rather cramped, with dark wooden tables and long benches glued to the sides of the white washed walls, however, the smell of warm tacos and melted cheese will invite you right in. If you're in the mood to share, go for a plate of chicken and cheese nachos and a side of chilli poppers. Otherwise, go big with a generous serving of enchiladas. While you're there, have a tequila with orange juice. Try not to have too many, though, because there is always a lot to see and experience in Maboneng and although it is reasonably safe, you want to be alert enough not to get pick-pocketed or lose your keys.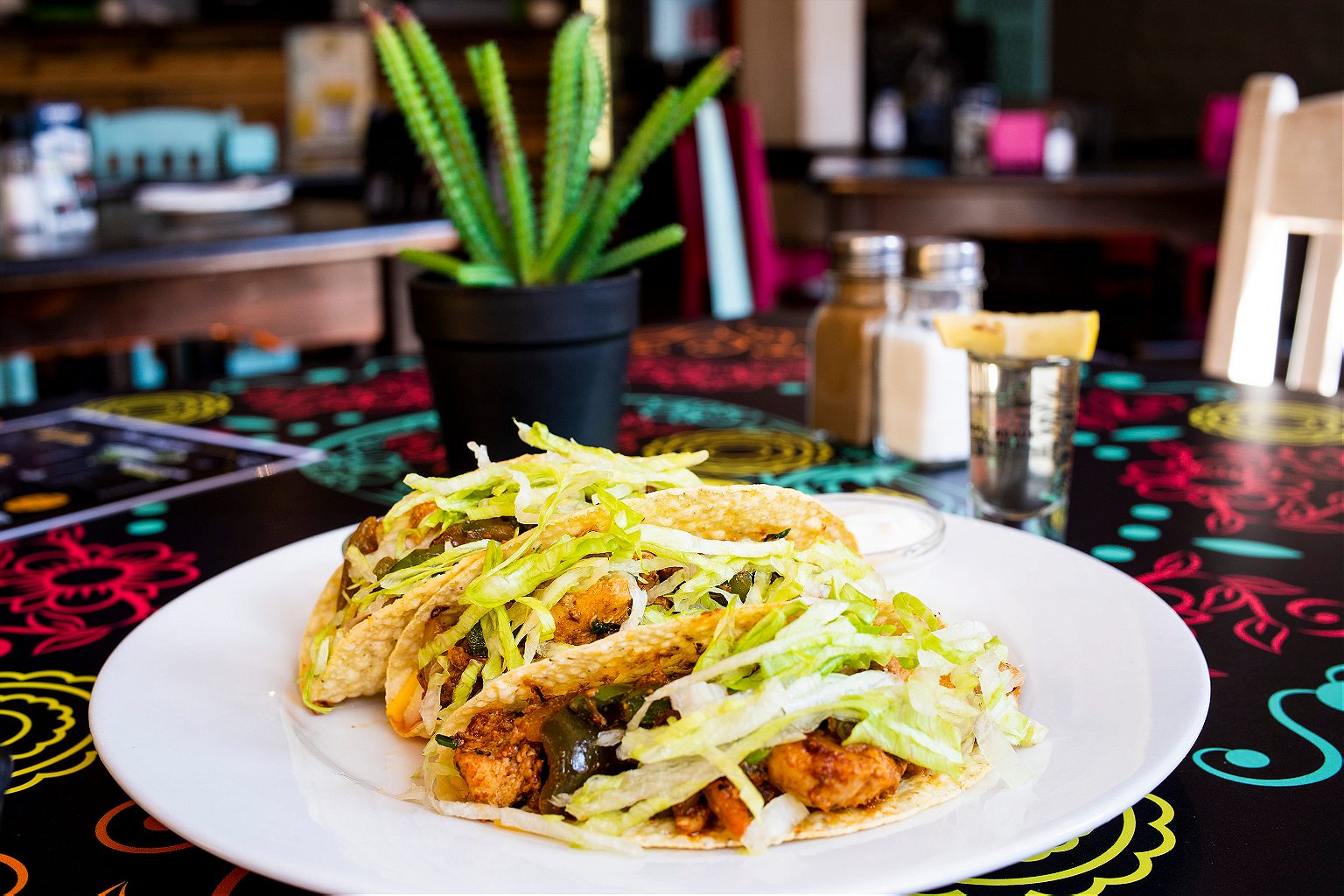 A walk down the red-brick pavement will lead you to 264 Arts on Main. Like many of the other buildings in the area, this industrial warehouse dating back to the city's gold-mining roots was revamped to serve as a multifunctional space with a gallery, a restaurant, a photography studio, and clothing boutiques. The brick facade leads you to a pebbled courtyard full of lemon and lime trees.
Under the trees, you'll find a French-styled restaurant called The Canteen. (But note that it might be hard to find a table on rugby days, when the middle-aged enthusiasts venture out from behind their high walls in the northern suburbs to watch the game, drink, cheer, jeer, and interact with people they would otherwise find unsavory.) If you are fortunate enough to go on day where you don't have to contend with rowdy game-watchers, it's the perfect location for a boozy long lunch (their ribs and potato chips are legendary) with jam-jar cocktails or punch made with their homemade lemonade.
While you're in that complex, visit the David Kruts Projects and Bookstore, named after a top South African art book publisher specializing in hard-to-find local and international titles. Up the green staircase you will find a neat little store and studio called Iwasshotinjoburg. It was established in 2009 as a short-term community project to teach homeless kids photography skills and give them an opportunity to tell their own stories about Joburg. The foundation produces and sells a range of products from these photographs which include t-shirts, notebooks, cushions, and photo frames.
Back out on Fox Street, along the red brick path, stop for some spicy barbecue chicken wings at JJ's pop-up food stall. His menu consists of beef, pap, spinach, chicken wings and samp—all for under 50 rand (US$3). This type of street food doesn't come with a perfect location or ambience, but what makes this place popular is the different preparation styles infused into South African dishes, such as creamed spinach. You can also tell that it is really part of the community by the way JJ, the head chef, greets and interacts with some of the passersby or fellow street-preneurs hustling him for change.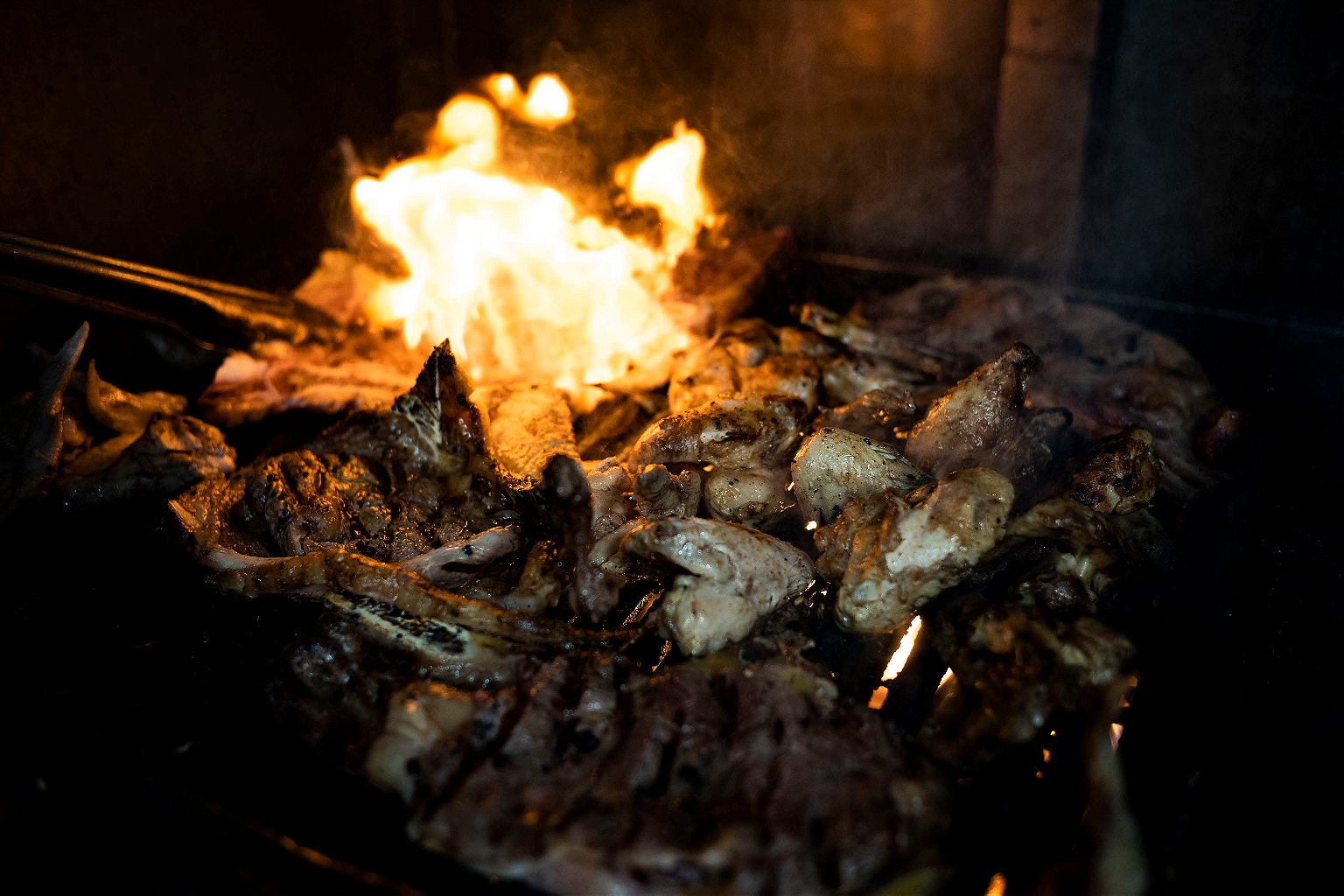 If healthy sandwiches and smoothies or freshly baked cakes and croissants are more your thing, stop at Uncle Merv's Original Shakes, a neat roadside cafe on the corner of Fox Street and Kruger Street. Uncle Merv's is not only a famous spot for grabbing a quick bite while people-watching; they offer a rent-a-bicycle service for people who are looking for an alternative way to explore the city.
Further east and across the road on Commissioner Street, find a drinking hole inspired by Soviet nostalgia: Lenin's Vodka Bar, tucked away in a more quiet courtyard, perfect for lounging to some reasonably priced cocktails and hubbly (our local term for a shisha/hookah pipe).
Walking back out on Commissioner Street and turning left on Albrecht Street will lead you to Pata Pata, a large, 1960s township-inspired restaurant, serving everything from traditional South African dishes such as mogodu and samp to pizza. The name comes from singer Miriam Makeba's iconic Pata Pata (which means "to touch" in Xhosa), a song about a dance popular in the late 1980s, in which you stood in front of your partner and did a body-search kind of move on them to the music.
The interior is a monument to Sophiatown nostalgia. (Sophiatown was a famous multicultural suburb and black cultural hub destroyed in the 1950s under apartheid, its population forcibly removed and the area demolished and rebuilt for a white population.) The concrete floors, second-hand sofas, tables, and chairs are reminiscent of township living rooms. Like Sophiatown was, Pata Pata is an epicenter of black culture and experience in Maboneng, where you are likely to run into famous South African writers, artists, and musicians. At night, it transforms into a candlelit venue for live hip-hop, jazz, and Afro-pop bands.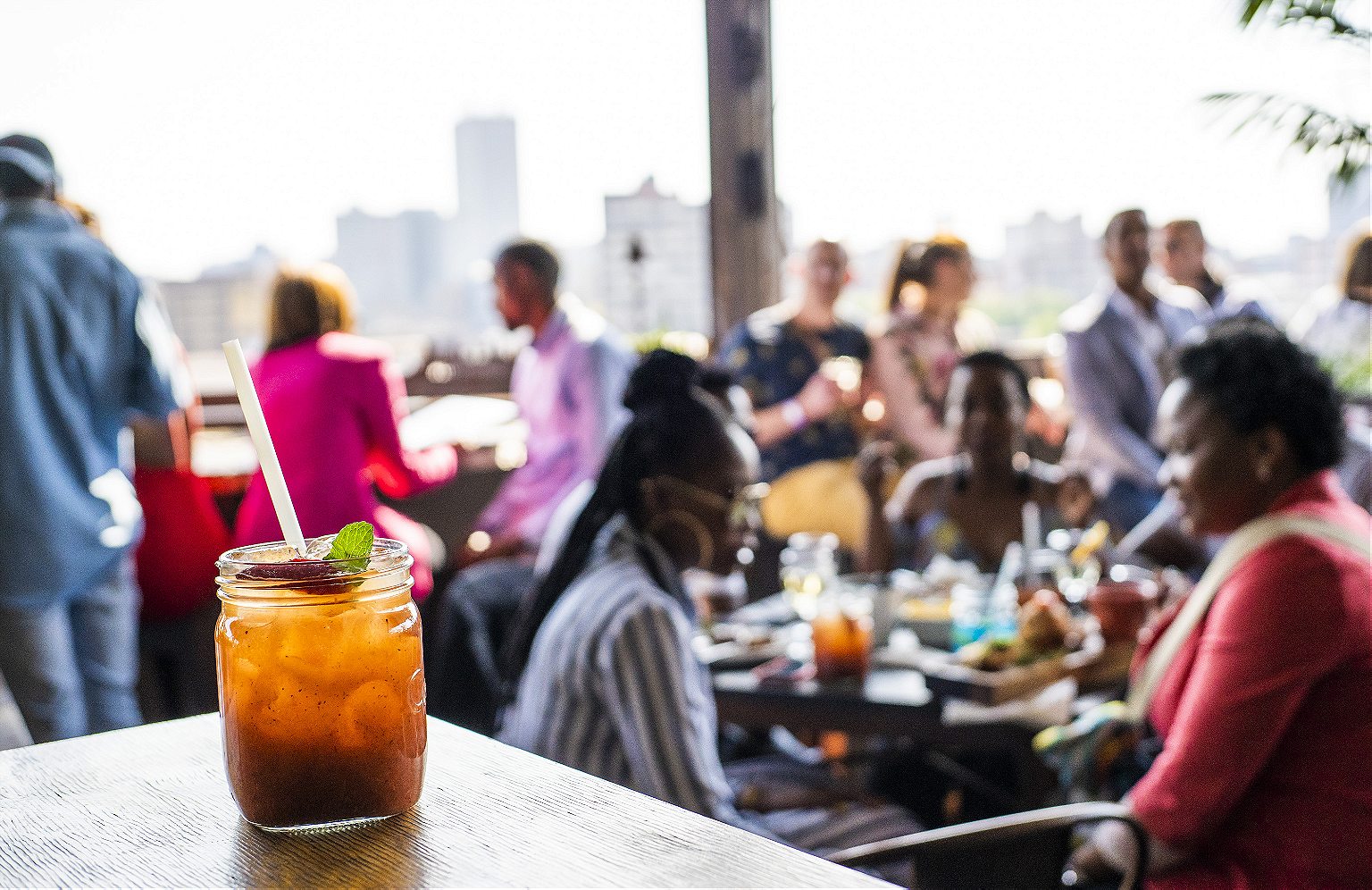 After a long day of hopping around Maboneng, you might want to end at The Living Room. This rooftop bar, restaurant, and lounge is on the fifth floor of the Main Change Building, facing westward on 20 Kruger Street. On weekends, you'll have to pay an entrance fee, but it is worth experiencing—if not for the views of Johannesburg's golden sunsets, for the electronic or drum and bass beats. If your outfit includes black tights, a crop top and a parka jacket, you'll fit right in.