At Barcelona's El Quim de la Boqueria, a simple plate of eggs and squid becomes so much more.
Nearly every big memory I have in Barcelona begins in the Boqueria. More specifically, it begins at El Quim de la Boqueria, the bustling tapas bar in the center of the city's most famous market. This is where I came in 2002, a student abroad too broke to afford the exotic food devoured on stools by hungry Catalans. But I came anyway, to watch the cooks dance around the tiny kitchen, turning seafood and vegetables from the market into plates I'd try to replicate back in my even tinier apartment. When I came back in 2010, on my way to Italy in search of a new life, I came here first, finally able to afford a meal that would convince me to stick around Spain a little longer. Not long after, I had a breakfast date at El Quim with my wife-to-be, who convinced me to never leave. And this is where we take nearly everyone who has come to visit us in the seven years since.
The menu at El Quim is suspiciously long, an edible encyclopedia of classic Spanish and Catalan cooking, but everything that comes out of the kitchen lands on the wooden bar with a sense of purpose: fried artichoke hearts with frizzled edges that shatter on contact; gambas al ajillo, plump, red shrimp bathed in olive oil redolent of garlic and cava; wild mushrooms blitzed over an angry flame and goosed with port and melting nuggets of foie.  
Nothing, though, compares to the huevos con chipirones, Quim's famous fried eggs and baby squid, the dish that has fed me and my loved ones for years. On paper, it reads like a twisted breakfast combo plate, with tiny tubes and tentacles of squid standing in for crispy curls of bacon, but the reality is something different altogether: the eggs fried, as only Spaniards know how, in a pool of ripping hot olive oil that leaves the edges crisp and the center molten, the squid tiny and tender with only the faintest suggestion of the sea. Both are stunning on their own, but together they form a more powerful union—a savory, sweet, spicy, drippy tribute to the market at its very best.
The Mercat de Sant Josep de la Boqueria has lived many lives over its 800-year run as the city's central food source. It started out as a goat market in the 13th century ("boc" is Catalan for goat), a one-item stop for medieval cooks positioned at the city gates. Later it moved up La Rambla into the convent of Sant Josep and grew, stand by stand, into a full-fledged home for farmers and butchers and fishmongers. Throughout the 20th century, it stood as the largest and most vibrant market in all of Spain, if not the world, with a constant stream of home cooks and chefs frequenting its 300 stalls. The ingredients here have given birth to a Milky Way of Michelin stars, plus millions of home-cooked accomplishments.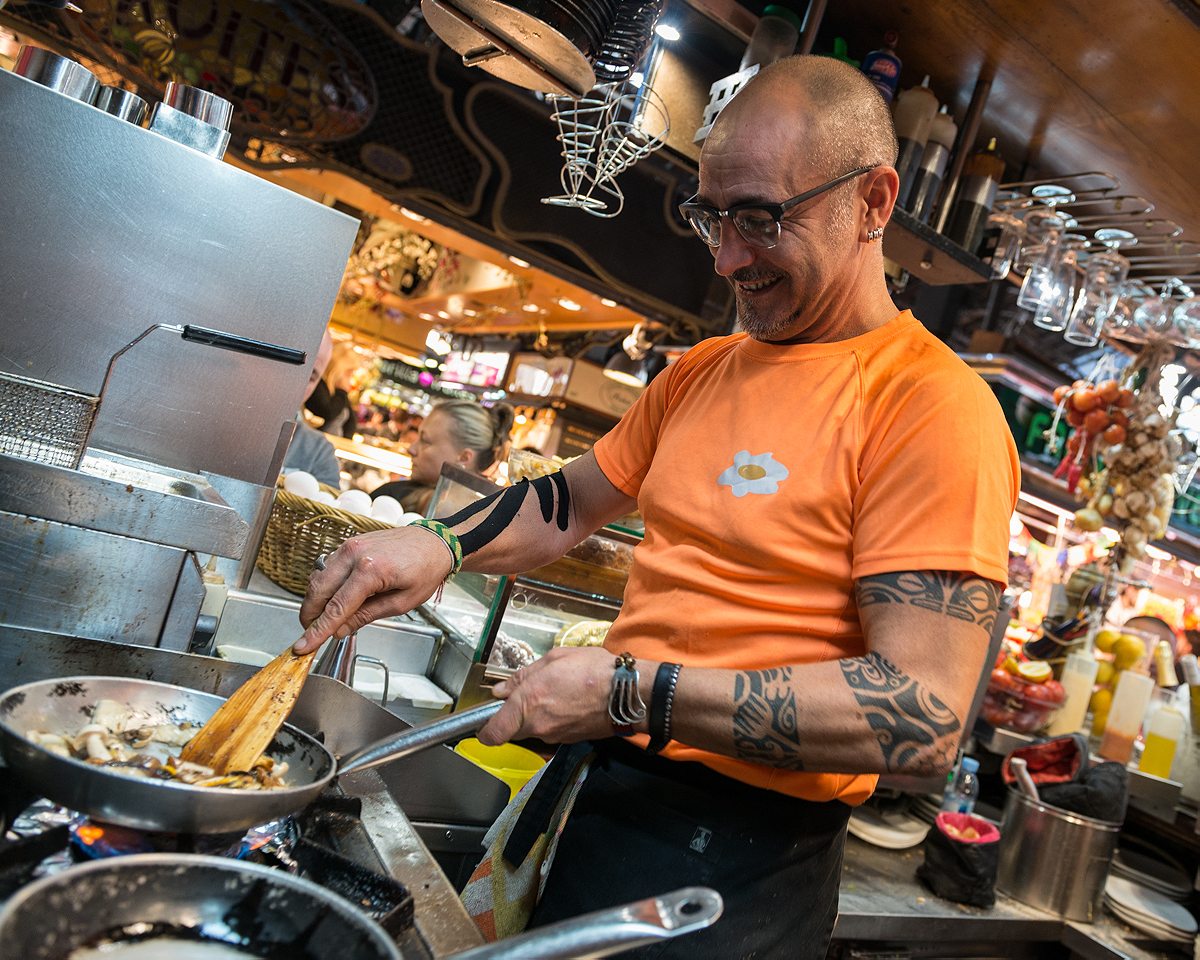 But the Boqueria has been hit hard in the past decade, like the city itself, by the encroaching forces of mass tourism. Its latest life is as a circus tent for curious cruise-ship visitors looking for an easy food memory. One by one, the old stands around El Quim have given up the ghost, traded raw fruits for processed juices, sparkling seafood for platters of limp sushi, hand-carved jamón for cured pork on a stick. Most do this simply to survive, but the damage to the market is all the same.
If you look hard enough, there is still beauty to be found in the Boqueria, remnants of its former greatness scattered across the market like autumn leaves: Petràs, Spain's king of mushrooms, whose wicker baskets of forest treasures and other delicacies (truffles, snails, baby vegetables and micro-herbs) make the stand an indispensable part of Barcelona's restaurant culture; Aroma Ibèric, purveyors of the finest porcine products, from five-year acorn-fed Joselito jamón to fat-rippled fresh cuts like secreto and pluma; and just beyond the market roof, the collective of farmers beyond the market roof, building monuments to the seasons: pyramids of baby artichokes, thickets of endive and escarole, rainbow walls of root vegetables with dirt still clinging to their flesh.
As the market has transformed, so too has El Quim and its crew of rowdy kitchen warriors. In 2016 they annexed the neighboring stall, turning what was once a tiny kitchen requiring extraordinary feats of synchronicity to execute its sprawling 50-dish menu into a relatively spacious operation with twice the seating. But the place still exudes the infectious spirit that makes it a honey trap for locals and travelers alike—the FC Barça chants the cooks will sing in the run up to a big match, the symbiotic relationship between cook and purveyor, the new friendships forged from one stool to the next.
As everything else bends and buckles and breaks around the center of this city, the huevos con chipis refuse to budge an inch. When those crisp-edged eggs are gone, when those thumb-sized cephalopods in their cloak of olive oil and molten egg disappear, when the last drops of cava have dried on the long wooden bar, then the Boqueria will truly have lost its soul. And Barcelona will be a much sadder place. But until then, this market will still be home to the food that moves me most.