Brooklyn bartender and rum expert Shannon Mustipher on Caribbean rums, tiki culture, and making the rum industry a more inclusive place for women.
Shannon Mustipher describes what she does as "spiritual advising." That's spirits of the alcoholic variety. After bartending full time for several years, she landed the role of beverage director at Glady's, a Caribbean restaurant in the Crown Heights neighborhood of Brooklyn, which led her towards a career in cocktail and brand consulting, specifically for rum and cane spirits.
Mustipher's role as an educator hasn't prevented her from bartending the occasional pop-up. She uses her interest in rum to experiment with tiki drinks—a style that has recently had a resurgence. Many people, like Mustipher, are focusing less on the kitschy Polynesian decor that amused post-war Americans, and more on using rum and other tropical flavors to their full potential. Such is the topic of her new book, Tiki: Modern Tropical Cocktails, which comes out in the United States on March 19th.
Mustipher talked to Roads & Kingdoms' Emily Marinoff about changes in the rum industry, engaging with Crown Heights' Caribbean community through Glady's, and her pop-up Women Who Tiki.
Marinoff: How long have you been bartending?
Mustipher: I've been bartending full time for six years, and began working at Glady's when it opened in 2013. By April of 2014, I became the beverage director.
I grew up in Charleston, South Carolina, with a large extended family so, food, cooking, and hospitality were a large part of my upbringing. Eight years ago, when I was transitioning out of a job as a styling assistant in the photo industry, I knew I wanted to work in hospitality with a focus on consulting and education.
Marinoff: How would you describe what you do now?
Mustipher: I'm a drink guru and "spiritual advisor." That's a term I started using when I stepped away from bartending at Glady's about three years ago to focus on brand work. I still curate the back bar and I'm still involved in the background, but I'm not physically present. So, that's where that term came from. I essentially tell people what to drink and I orchestrate getting it into a glass for them.
Marinoff: When did you realize you wanted to transition away from bartending and work more specifically with rum?
Mustipher: When I was leaving work as a styling assistant, I knew I wanted to work in hospitality, focusing on consulting and education. I didn't know how I was going to get there, though.
Initially, when Glady's opened it was a "New American" restaurant. Around six months after opening, one of the partners relocated. The remaining partner decided to change the direction of the restaurant to a Caribbean theme and approached me about curating the bar to reflect that. I was tasked with setting up a bar that had at minimum 50 rums by the glass. I had never done a project on this scale and I didn't know anything about rum. I took a month to taste about 200 samples, and it was in that process of discovering the range and the diversity of rum that I became fascinated with the production methods and cultures attached to it. Because I love to educate and share things, people started to notice that I could be consulted about rum. I was just sharing my passion and apparently, it was contagious.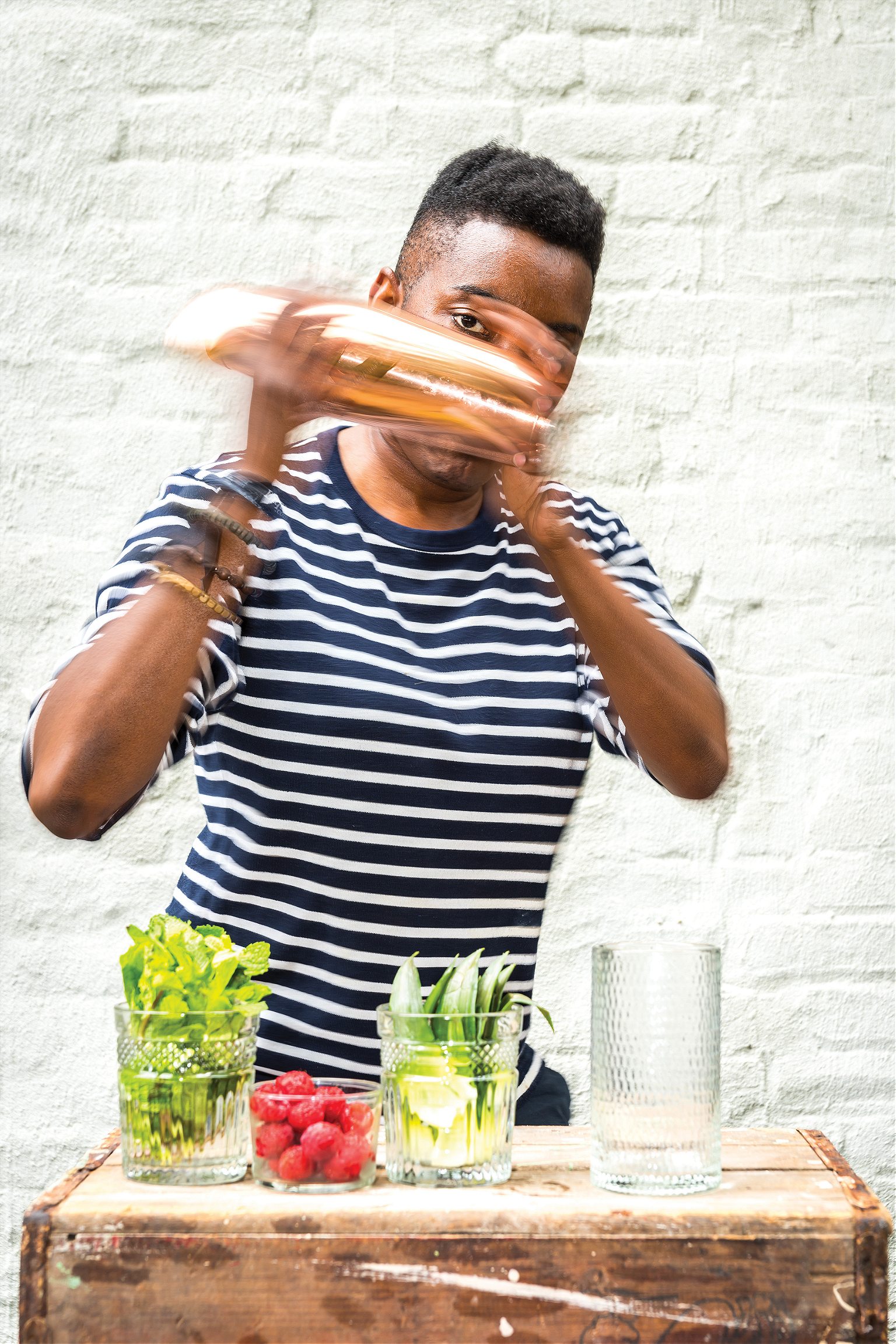 Marinoff: What's something about rum that you want people to know?
Mustipher: Well, the popular perception is that rum is of low quality. A lot of people's first exposure to rum is in high school and college, and you're generally not drinking the good stuff. When I started at Glady's, the easiest rums to find were Bacardi and Captain Morgan, which are not necessarily the rums that I would drink and enjoy on their own, much less in cocktails. Over the last five years, I've seen tremendous growth in the quality and diversity of rum. We're starting to see rums from smaller islands like Haiti, Fiji, Hawaii, and other Caribbean islands.
Rum is a byproduct of sugar, and the sugar industry was the largest industry in the Americas in the 18th century. But rum wasn't being sold on the islands. Until recently, some of the more iconic distilleries like Hampden Estate in Jamaica did not bottle their own liquids for sale but sold them in bulk to merchant bottlers in Europe, who blended rums from various islands to create their own brands. Now we're getting more rums from single distilleries sold in the Caribbean and United States that are more a reflection of their place of origin, like the St. Lucian brand, Bounty.
Marinoff: Glady's is in Crown Heights, a neighborhood that has a large Caribbean community. How has the neighborhood reacted to seeing Caribbean rums in your bar?
Mustipher: There wasn't a lot of rum available directly from those islands at the time, but I made an effort to use common brands like Wray & Nephew and Worthy Park from Jamaica. I bought some of the first bottlings of Worthy Park that appeared in America. The minute I started shelving Clairin, which is a small batch village bound rum from Haiti, Haitian customers immediately recognized it. No else had it in my area, so it was really important to me to do that.
Marinoff: There's been so much conversation about neighborhoods like Crown Heights in Brooklyn where local communities are being driven out by gentrification, so it's really refreshing to hear about a restaurant that's trying to engage with the existing community.
Mustipher: We didn't want to be foreign to people. We want it to be authentic and comforting. Of course, there were some things I did that weren't traditional to an island. I don't stick strictly to the script, but it's important to connect back to real places and experiences.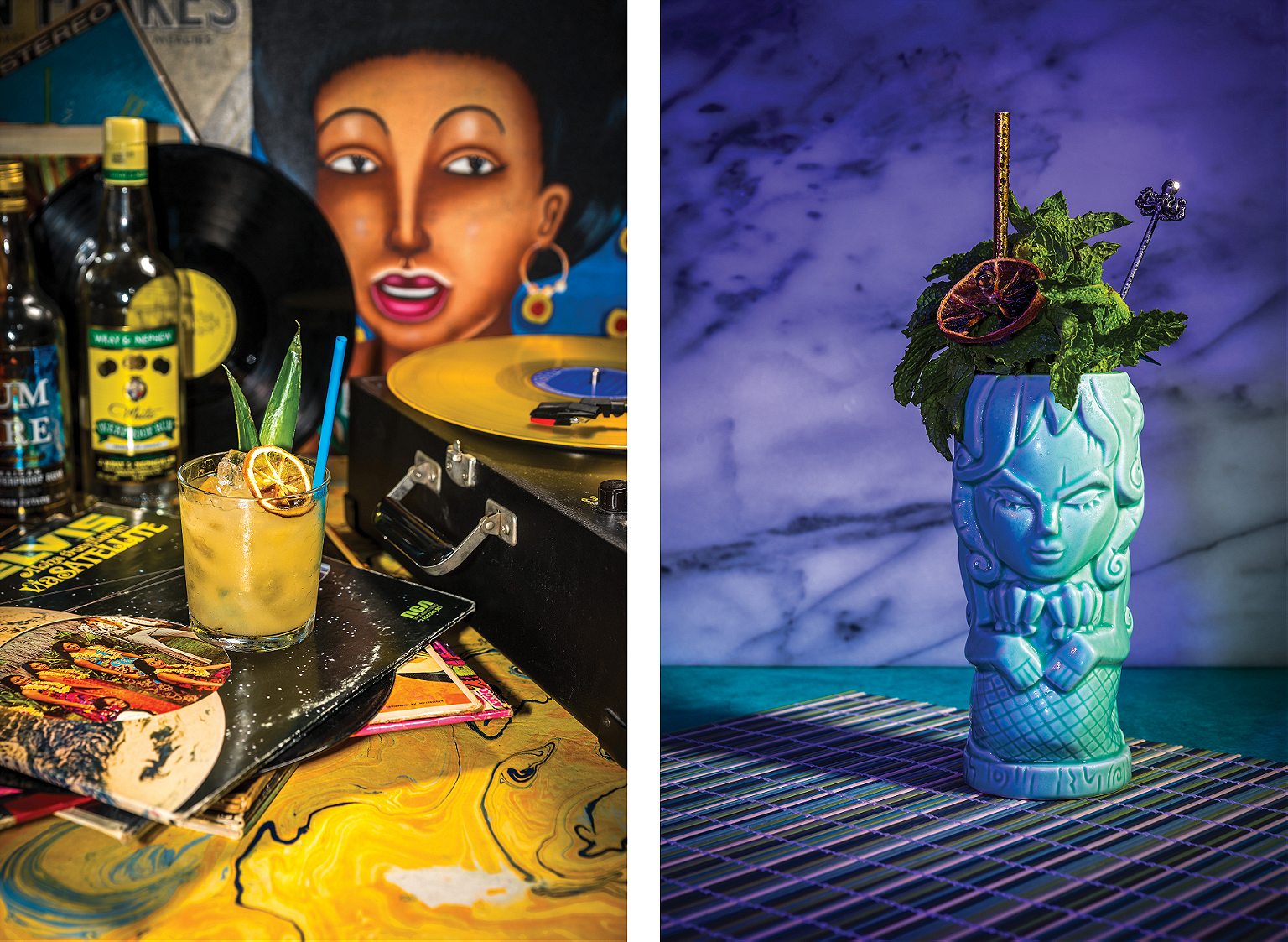 Marinoff: Your upcoming book is about tiki-style drinks. When did you become interested in Tiki culture?
Mustipher: Around four years ago I went to a seminar called "Tiki by the Sea" led by Brother Cleve, who has been seminal in the Boston bar scene for the last 3 or 4 years. It was there that I realized I have the best selection of rums to execute tiki drinks with so I thought, "I gotta do it."Up until that point, I focused on really dry, clean, classic-style Cuban cocktails from the 1930s and 40s. I started there because I knew that those were on the other side is the "sweet spectrum" that I know a lot of my guests had an aversion to. I wanted to convince them that sweet drinks could also show off the quality of rum.  
Marinoff: How do you define tiki culture?
Mustipher: Tiki spaces are fantasy driven. It has a connection to a particular type of vibe or decor that other styles of cocktails don't. Tiki environments are really extravagant and there's a big focus on hospitality. We're going the extra mile to show a guest something that's extra special, from drink garnishes to the bathrooms. Aloha means welcome, right?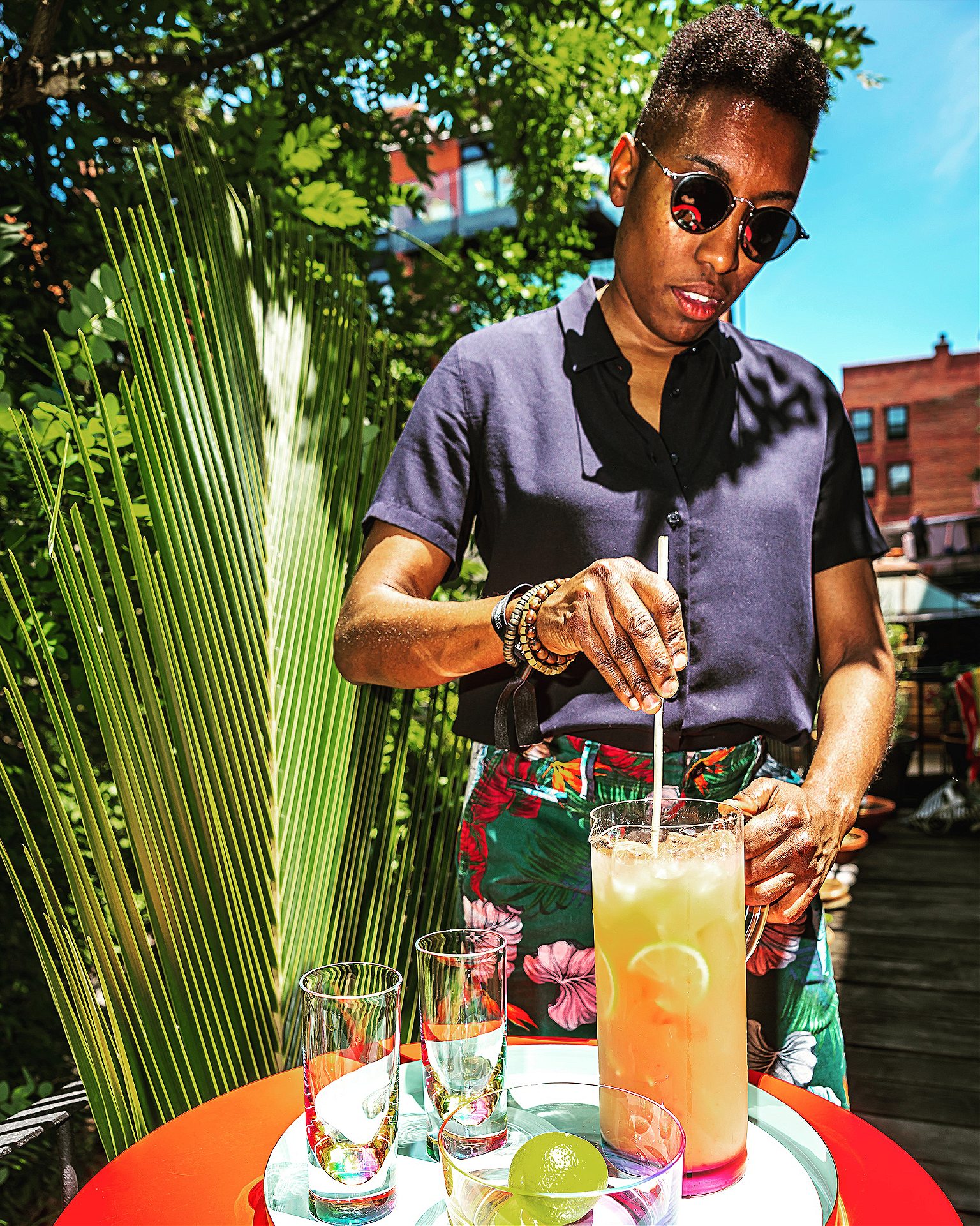 Marinoff: Tiki culture has been criticized for exoticizing Polynesian culture, so I find it interesting that you define tiki as an idea rather than connecting it to a certain place.
Mustipher: I think tiki culture is heading in the direction I described because the young people participating in it are no longer the generation of post-war Americans watching, learning about that part of the world through Elvis surf movies. Our perception of what is exotic and interesting has shifted. It is always rooted in Polynesia, but our cultural understanding has changed and I think tiki is changing along with it.
Marinoff: Tell me about your pop up, Women Who Tiki.
Mustipher: It's my passion project. It started when I was invited by a friend to do a pop up at their bar. And when I was meeting with the owner, I realized that Dani De Luna who goes by @homebargirl on Instagram lives across the street and we'd collaborated before. So I said, all right, let's work together. The vibe during the popup was the most upbeat and cheerful bar events I'd ever done before or since. I knew I had something special there so I decided to let it grow organically. My concern from the beginning was creating an opportunity for women to showcase their creativity and settings outside of their normal bar and usual customers.
I will be doing Women Who Tiki popups at a few rum and tiki festivals where I've been given a space to present. I'm moderating some panels that will be about being a woman working in the rum industry or tiki cocktails from a woman's perspective.
Marinoff: What kind of challenges have you faced as a female bartender that caused you to see the need to create this space?
Mustipher: Actually, I think more than most people, I've had a lot of support. I became beverage director early in my career and now I consult on brands. I think for me the challenge is to find a way to continue to give back because it's not enough for just me to be successful. There aren't a lot of models for women to connect with each other. It's a challenge, but I think it can change.
This conversation has been edited and condensed.