Don't Let a Little Thing Like the Law Stop You From Opening Your Dream Mezcal Bar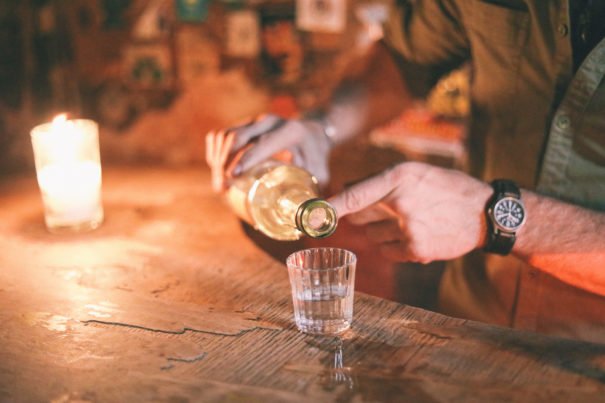 Don't Let a Little Thing Like the Law Stop You From Opening Your Dream Mezcal Bar
Mezcal in Guatemala
Even in daylight, candles are necessary at Café No Se. The bar is a bit of a vortex: a dingy-yet-charming cave with no natural light in Antigua, Guatemala. Following the path of Café No Se's several windowless rooms and through a crawlspace door will eventually deposit the adventurer at yet another bar, where they serve only mezcal. In this room, I met with John Rexer, head honcho of not just the bar, but his own mezcal brand.
Yes, mezcal is still made in Oaxaca, Mexico, and not in Guatemala. And no, John Rexer is from neither. He's originally from New York and migrated to Antigua around 2003, penniless and disillusioned with America and its politics after 9/11. Soon after arriving, he ducked into a closed-up doorway with a "for rent" sign during a rainstorm and subsequently found himself the new proprietor of an agave spirits bar. The only problem was that there were no agave spirits to be had in Guatemala and mezcal, Rexer's elixir of choice, wasn't yet legal for exportation out of Mexico.
Not one to be inconvenienced by technicalities such as laws, Rexer began a complex "creative importing" scheme from Oaxaca to Antigua that involved subverting borders, piloting moonlit barges down the Suchiate River, and occasionally dressing like a priest in order to get mezcal into Guatemala. Because of his efforts, Café No Se grew into a well-stocked staple of the city and Rexer, a local fixture.
When mezcal became available for legal export in 2006, Rexer and his consortium of mezcaleros in Oaxaca were ready. The brand name was obvious: Ilegal Mezcal. Now one of the largest producers out of Oaxaca, they promote sustainable economic and environmental practices. Ilegal also manages a socially-progressive marketing campaign in the United States, focused on combating Donald Trump and his policies. In particular, Ilegal donates proceeds from sales of its "Donald eres un pendejo" T-shirts to Planned Parenthood, the ALCU, and other organizations.
Antigua, Guatemala is a strange place. An idyllic-looking town under the shadow of three active volcanoes, it's become a magnet for do-gooder and shady gringos alike, both of whom are in this impoverished and complicated country either running towards or from something. Most usually end up at Cafe No Se at one point or another—sometimes they're carrying guns, and often they've had a lot to drink.
As we closed in on mezcal shot number five, sipped out of a candle votive identical to those lighting our corner of the bar, we were getting to that point in the conversation where one ponders the meaning of life and the future of humanity. Rexer and I recalled that not only were we from the same town originally, but we had attended the same Catholic high school, though 15-20 years apart. And here we were, clinking glasses of Mexican agave juice in Antigua, Guatemala.