For 25 years, the Punjabi Deli in the East Village has been a safe haven for New York cab drivers. But despite the efforts of activists and celebrities, this Lower Manhattan institution may be at risk of disappearing forever.
F
or the five years that Kulwinder Singh spent behind the wheel of a cab, grocery stores and delis across New York turned him away from their restrooms, even when he was a paying customer. Cab drivers he knew would go the entire day without a bathroom break, and there were rarely designated parking spots for longer periods away from the road or in case of emergency. When he took over a small storefront shop called Punjabi Grocery & Deli on East 1st Street in 1994, his first thought was to offer cab drivers a 24-hour restroom, free of charge—a place to decompress during or after a long day behind the wheel. Twenty-five years later, Punjabi Deli is a neighborhood institution.
Punjabi Grocery and Deli is a typical South Asian canteen, serving a simple menu of rice, chaat (a variety of snack food common across the Subcontinent, consisting of fried doughs and chutneys), and a collection of staple vegetable dishes like saag (spinach), chana masala (spiced chickpeas), yellow dal, and curried potatoes with bell peppers. The dark green awning that reaches out over the sidewalk bears only the word Punjabi, the demonym for people from the region of Punjab, split between northwestern India and eastern Pakistan, where Singh was born.
The East Village today is a wildly different neighborhood than it was when Singh started his business, crowded with high-end restaurants and bars, its streets torn up for seemingly endless construction and development projects. In even less time, New York cabbies have seen their livelihoods upended by ride-share apps such as Uber and Lyft. Still, Singh's Deli has remained a constant in a city, neighborhood, and industry unsettled by monumental change. Those changes could now pose a serious risk to the Deli's future.
"In the mid-90s this neighborhood was all over the place," Singh told me recently, his tone as careful and considered as his tidy graying beard and neatly pressed trousers. On a routine cleaning inspection during his first year, he found bags with concealed items wrapped in newspaper tucked away on top of the awning. Assuming it was narcotics, he promptly removed and discarded them. Food, too, required wrangling. He could not afford his own cooks, or even to rent a kitchen, so he turned to outsourcing the daily menu, which involved six years of constant negotiations with a number of caterers in Queens.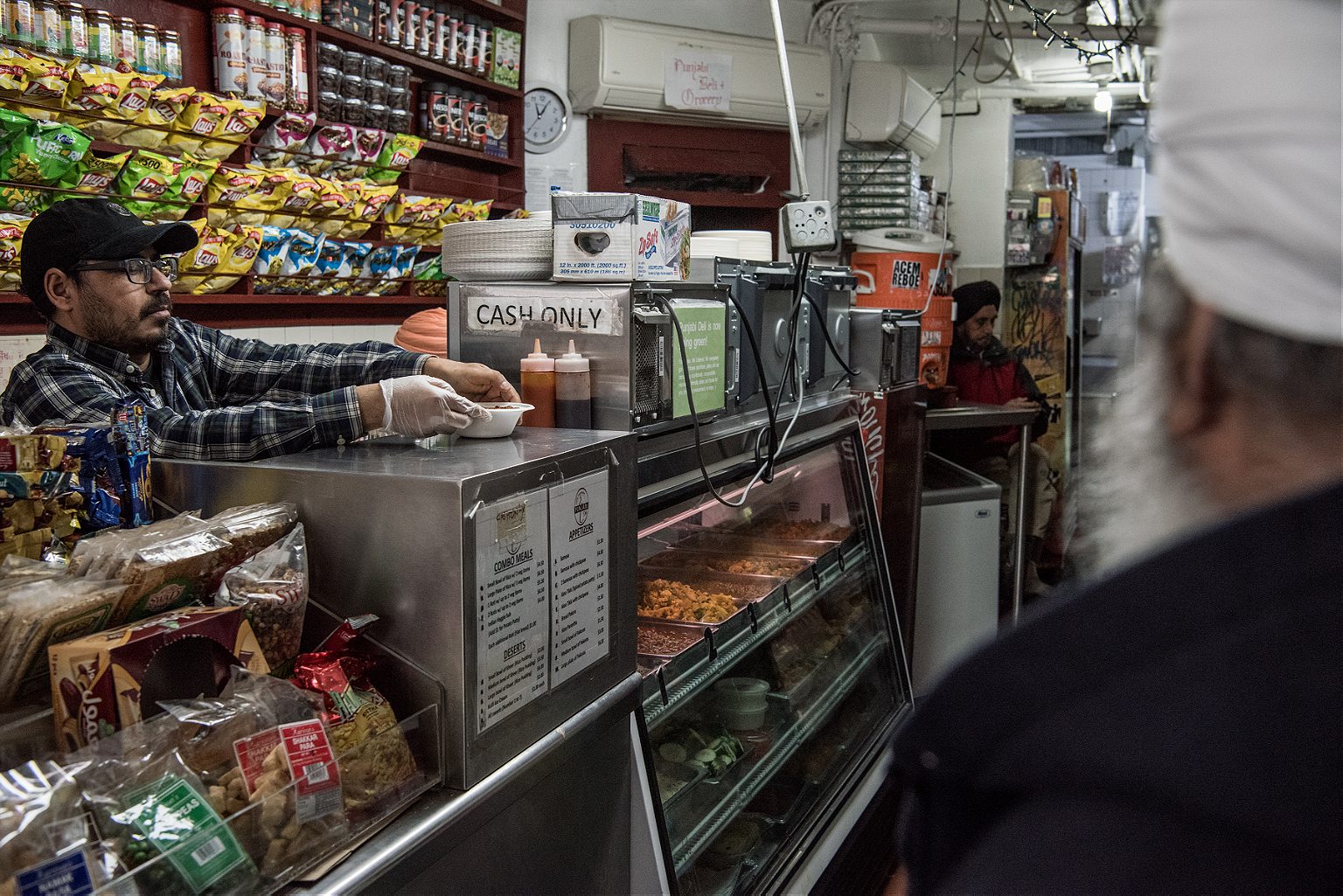 Over the years he's made subtle upgrades. He's tiled the whole place, doubled the number of microwaves, and added a second restroom, reducing wait times for visiting cabbies. In 2000, he started rented kitchen space and employing cooks. In 2010, Singh purchased a space on Jamaica Avenue, Queens, and, after two years, opened his own commissary kitchen. Now, Singh ferries large metal pots of food and trays of snacks from his kitchen to Manhattan every day. A large plate of rice, with three vegetable dishes costs $6.50, cheap by any standard, and particularly in this costly part of Manhattan.
Today, cabbies share their tables with artists, lawyers, musicians, and tourists. Food critic and writer Peter Meehan, one of the deli's more prominent acolytes, told me via email, "It's not my culture, but in the 20-plus years I've lived in New York, I've always been going there. It is just part of my diet, the way some people would need to go to their mom's for spaghetti or something."
Despite its fame and the occasional name-drop on food-TV programs, Punjabi Deli & Grocery remains, first and foremost, a space dedicated to the diaspora communities who, for years, have kept New York moving. As an immigrant and a former cab driver, Singh still feels connected to the thousands of South Asian cabbies working New York's streets, and who come to his Deli. According to the 2018 Taxi and Limousine Commission Fact Book, 30 percent of the city's 185,000 licensed drivers (including drivers of yellow cabs, green street-hail liveries, and for-hire vehicles) were born in South Asia—14.5 percent in Bangladesh alone.
"We are all brothers in this community," Singh said. As rampant development and unresponsive city government puts his business at risk, he also, more than ever, feels connected to professional drivers' struggle to stay afloat.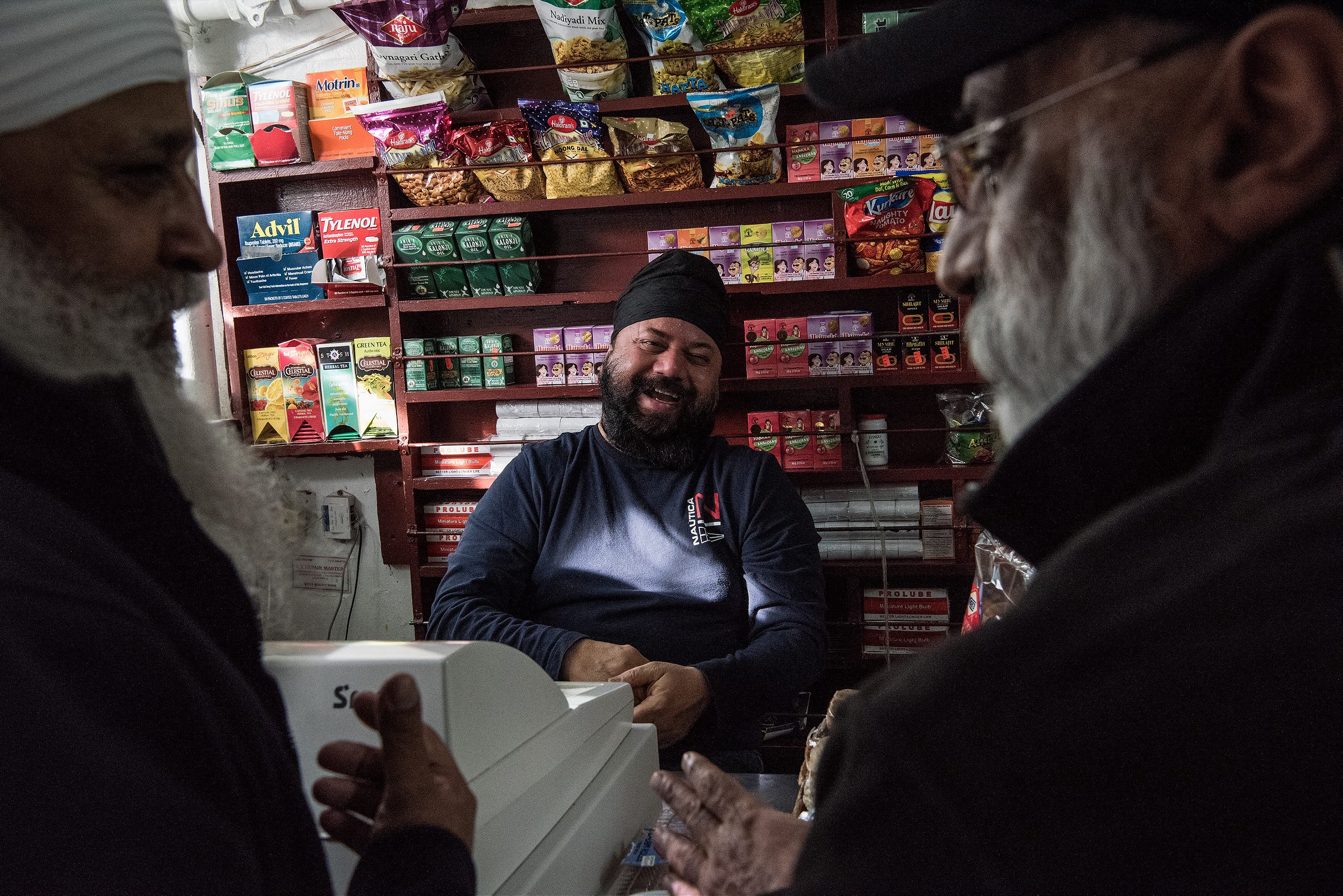 Singh left his home in Raqba, then a village of 3,000 people in the agricultural Ludhiana district of Punjab, in 1973, when he was 16 years old. After a short stint at a naval training institute in the port city of Visakhapatnam on India's east coast, Singh followed the advice of his extended family, many of whom had settled in East Africa and the Americas, and traveled to Europe in search of work. He arrived in Greece—after brief stops in Delhi, Tehran, Turkey, Yugoslavia, Bulgaria—at 16 and soon got a job working as a mess boy for a shipping line. Over the next seven years, he worked on three different Greek ships out of Piraeus, working as an assistant cook, a sailor, and a greaser—the term for unskilled laborers in the engine room—on bulk carriers and passenger ferries between Europe and the United States.
In 1981, he moved to New York City. With proficient Greek, he managed to land a job as a cashier at a Greek diner in Ditmars Boulevard in Queens. By the time he left six years later, he'd graduated to the position of head chef. Throughout those years, he always kept his eye out for opportunities to start his own business and eventually left the diner to start a construction company. About two years later, Singh lost $180,000 in a bad business deal. "I went from employing ten people in my company, to not being able to pay my house rent," he says.
Facing serious financial difficulties, he returned to India in 1989. While back home, he got married and, shortly after, returned with his wife to New York to start a new life, yet again. He immediately started working as a cab driver, initially leasing a taxi medallion—the permit that allows cabs to operate—and putting in hourly shifts. A year later, he purchased a medallion with a friend. Five years after that, he bought the Punjabi Deli, investing $87,000 in a long-term lease.
Amad Ilyas, an artist and design consultant based in New York, said of the diner, "There wasn't much at that time where you could get good desi food at an affordable price. You could venture more uptown or even into Queens, but back in the late '90s and early '00s, it was hard to find good food." Ilyas went for the first time at the recommendation of a friend whose parents worked as cabbies. He's been a devotee ever since.
In mid-2010, around the same time that Singh bought the space in Jamaica, the Deli suffered a setback. The East Houston Street Corridor Reconstruction—a development project that involved resurfacing roads and replacing curbs and sidewalks between the Bowery and the FDR drive—dumped construction materials outside Singh's front door and left the block unrecognizable. The sidewalk was dug up, and the spots designated for cars were occupied by heavy machinery and debris. "Business was so bad, it was tough to pay rent," said Singh.
Punjabi Deli is a real neighborhood institution
Ali Najmi, a criminal justice attorney based in Midtown, and his childhood friend Himanshu Suri, a rapper and curator from Queens (formerly half of Das Racist), went from being patrons to activists. Five years after the East Houston Street reconstruction first started, the two worked with Kulwinder's son, Jashon, to petition for an interim taxi relief stand where drivers could park. They got one installed in June 2015, on Avenue A. The 'interim' stand is still in operation, because the one on East 1st street still hasn't been built.
"[Punjabi Deli] is a real neighborhood institution. In the community board, you really need the public behind you, and it became a cause on social media, and in the press," Nahmi told me. "It was gratifying to see so much support."
After years of delays, the East Houston Street reconstruction project looked to be nearing completion towards the end of 2018, but debris and construction from the project still blocks car- and foot traffic to businesses in the area. Though the interim Avenue A relief stand opened in 2015 has been a success, the Department of Transportation continues to park machinery on East 1st Street, making it tough for cab drivers to park at the deli. An official at Councilwoman Carlina Riviera's office, representing New York's 2nd district, said the machinery would be "removed shortly" when asked for an updated timeline, but offered no more details. [UPDATE: As January 2019, the debris on East 1st street has been cleared.]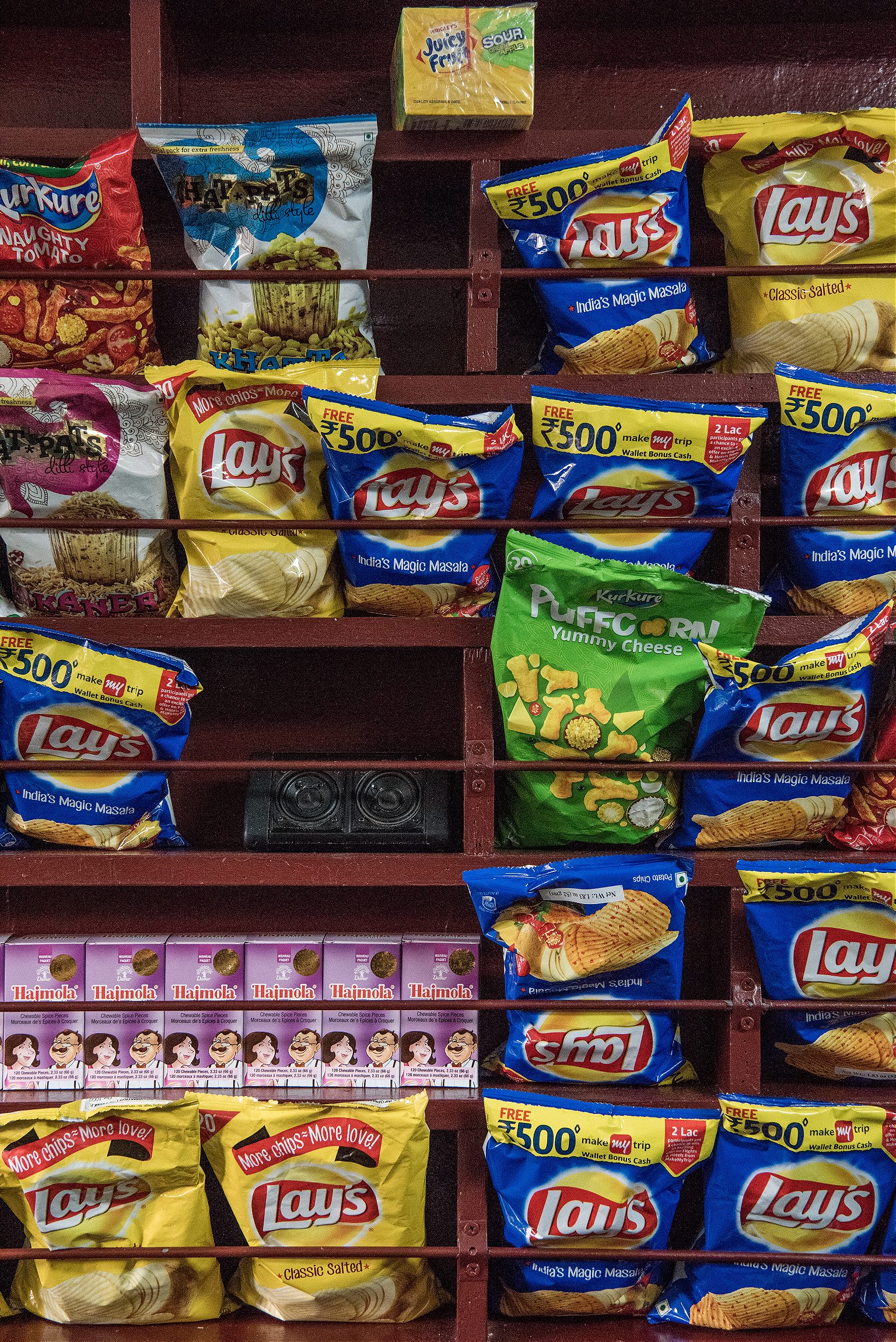 Meanwhile, Singh's core clientele faces its own challenges. In May 2011, the app-based ride-hailing company Uber started operations in New York City, and over the last eight years, Uber and other ride-hailing apps such as Lyft have disrupted the yellow-cab industry. In 2018, eight professional drivers committed suicide. Increasing financial burdens and debt, and the diminishing value of a taxi medallion—which drivers spend years paying off—has led to stress and depression among the city's yellow-cab community, who have struggled to make a living as they compete for customers with ride-sharing apps at their fingertips. In 2017, the number of registered ride-hailing cabs was four times larger than registered yellow cabs.
Both yellow-cab and ride-hailing drivers frequent the deli, and it is business is usual, though the factions are evident. Ride-hailing drivers have no fixed routines, or breaks, and often stop by after long shifts behind the wheel. Singh has seen the effect this has had on professional drivers first-hand. He says ride-hailing apps incentivize drivers to remain logged-in and to work continuously, sometimes putting in 10-hour shifts without breaks, which takes a toll on their mental and physical health. Thanks to greater competition, yellow-cab drivers now feel pressure to take longer shifts too.
"When there were no Uber taxis on the road, yellow-cab drivers had a good routine. Morning they'd have have chai, stop for lunch a few hours later, and return for a chai break in the evening," said Singh.
Singh has observed an undercurrent of animosity between the two sets of drivers, though he also notes that a number of ride-hailing drivers previously drove yellow cabs.
"It's hard[er] to hail a yellow-cab in the city now. The real problem is not the drivers, but the city government. They need to help us with better regulations that make our safety a priority."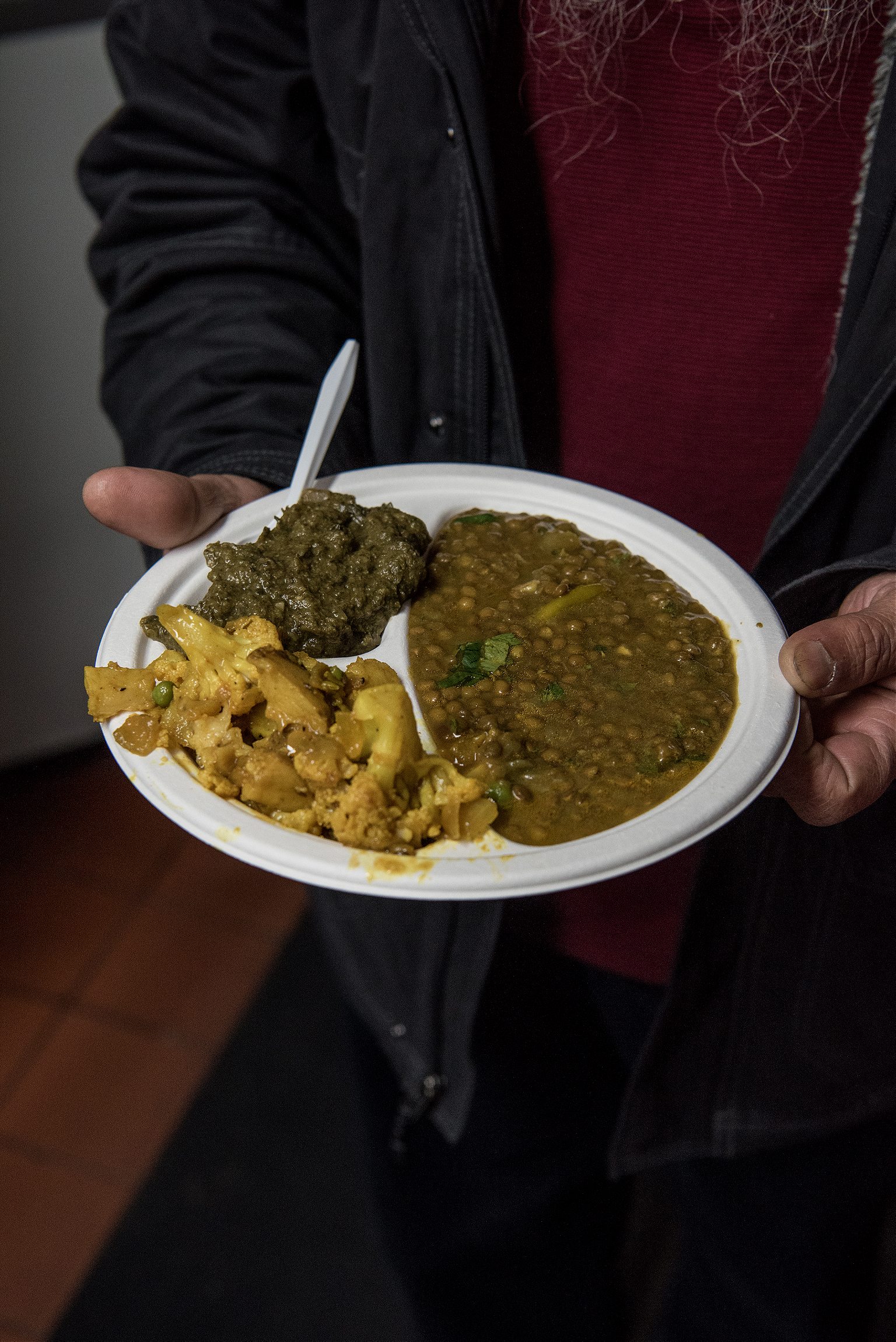 At peak hours—late on weekend nights, or early on weekday mornings—the deli can feel like a railway platform back in Singh's native India. Friends catch up over a cup of chai, Singh or someone from his staff explain the menu to confused travelers who end up there thanks to a recommendation, and the sweet smell of tamarind chutney fills the room. The staff urge patrons to make way for the next customer as a constant stream of bodies shuffle in and out of the door, often bumping shoulders while trying to maneuver through the narrow passage.
Singh still has five years on his current lease, but as the deli inches toward its third decade, its future is less certain than ever. This institution that, for decades, has transported an immense diaspora back home may soon be yet another file in the archive of a lost New York.