From cheese to beer and architecture to lake life, a complete guide to Wisconsin's largest city.
Wisconsin's largest city (nearly 600,000 in the city proper, and rings of suburbs that make it a 1.57 million metro population) is taking on a confident swagger. Blocks of local cheddar are now world-champion cheeses, and it's no longer associated with just the 'Fonz and Happy Days (but if you're into that, there is the Bronze Fonz statue on the Riverwalk). During the mid-to-late 1800s, beer barons from Germany emigrated here—90 minutes north of Chicago, hugging Lake Michigan—establishing household beer names such as Schlitz, Pabst, Old Milwaukee, and Miller. "Cream City" or "Milwaukee Brick" buildings and Frank Lloyd Wright-designed homes had given the city a name in the architecture world, and this reputation has only grown since Spanish architect Santiago Calatrava (known for his the Oculus in New York City) designed the Milwaukee Art Museum's Quadracci Pavilion in 2001. The city's neighborhoods still celebrate the cultures that settled here: The downtown cobblestoned streets where German settlers bought their bratwursts; Brady Street, still packed with bakeries and cafes that Italian immigrants built; and Mitchell Street, on the South Side, packed with Syrian, Serbian, Mexican, and Pakistani restaurants—and many more.

Embrace cold dessert. Frozen custard (made with egg yolk, cream, and sugar) is big in Wisconsin, the unofficial frozen custard capital of the world. The lore is that around 1919, vendors in Coney Island, NY, found that adding egg yolk to ice cream made the texture smoother—although custard-based desserts date back a few more centuries. Frozen custard is said to have spread through the Midwest soon after, food historians say, to the state's steady supply of ice  high-quality dairy. But don't go just anywhere to try it, and look beyond vanilla or chocolate. Kopp's three locations have flavors such as "ants in your pants" (Oreo cookies are the insects). (Check the online menu.) Just don't go on a Saturday afternoon during summer or a warm weeknight in spring or fall, when all the kids' sports teams swarm there. Leon's Frozen Custard on the South Side is unchanged—including the neon sign—since it opened in 1942. Leon's didn't even close during the polar vortex in January 2019.

Fly and buy (books). Milwaukee's Mitchell International Airport is the home of one of the only used bookstores (Renaissance Books) inside an airport. You'll find hardback, coffee-table books about art and design, plus a shelf dedicated to Wisconsin topics and authors near the front of the store. If you want to browse more independent bookstores, try Boswell Book Company—which sells new and used books—on the East Side, which brings in famous authors regularly and is owned by a former Brooklynite.

You can skip the car rental… Public transportation is convenient and cheap (The Hop, a new streetcar, is free through fall of 2020, and a Milwaukee County Transit System bus fare runs at $2.25), but this is a compact city, ideal for bicycles. (Yes, even year-round: just switch to fat tires.) If you visit during the warmer month, Bublr's sky-blue shared bikes are at stations all across the city, perfect for exploring the 96-mile-long Oak Leaf Trail. For a city of this size, public transportation is excellent, servicing not only Milwaukee but nearby 'burbs, such as Shorewood, Whitefish Bay, St. Francis, Oak Creek and Wauwatosa. Because unless you're skilled at driving through ice and snow, leave driving in the winter to the pros. But if you do rent a car, parking even in congested areas isn't as horrible as in larger cities. Street parking is almost always available and meter fares aren't too high.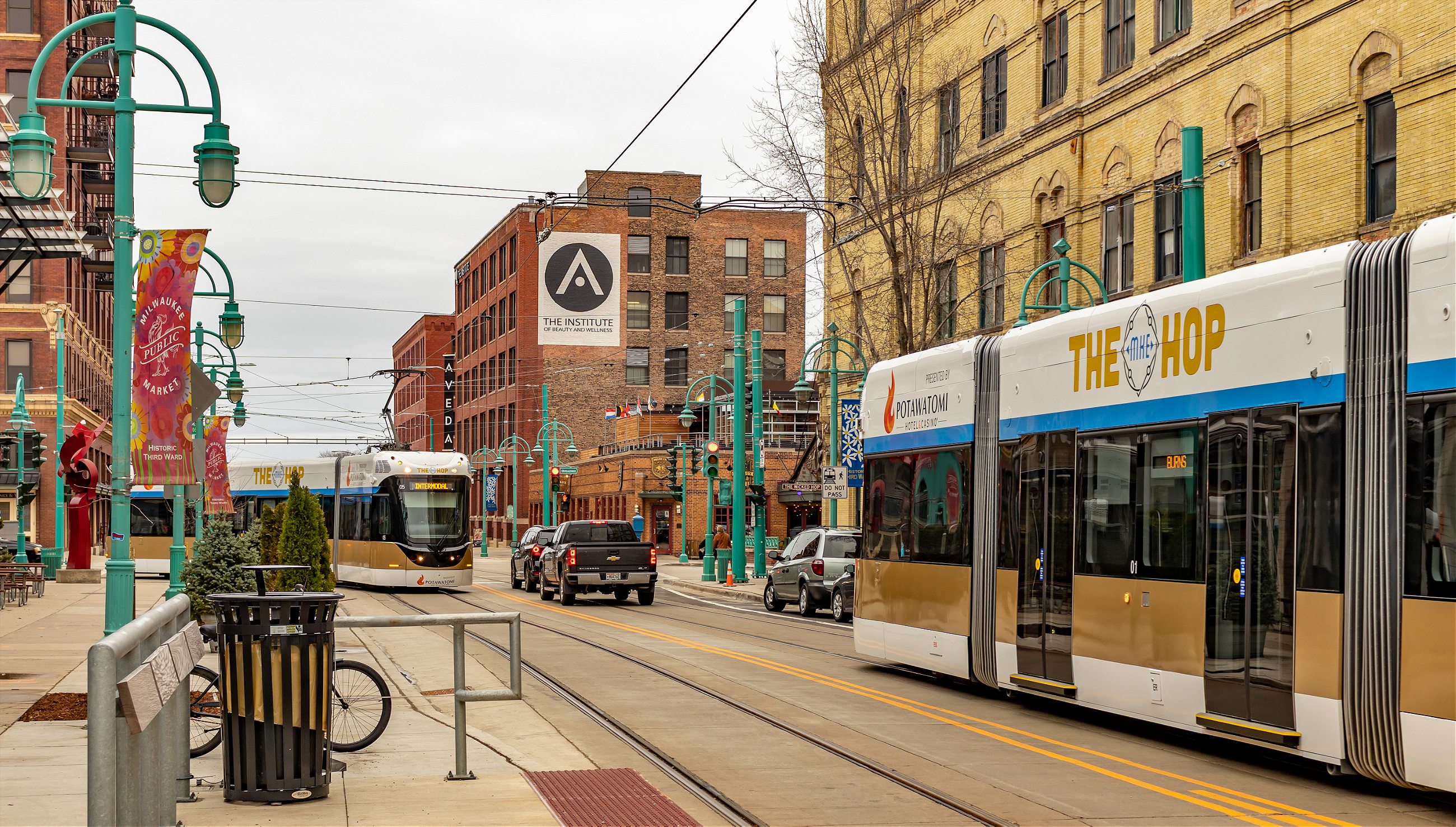 … and avoid driving on Wisconsin Avenue during rush hour. Unless you want to make a dizzying series of right-hand turns, skip downtown Milwaukee's Wisconsin Avenue altogether during morning and evening rush hours, when left-hand turns are prohibited to coax traffic flow. Also, because this is a river city, on a sunny day between late spring and late fall the drawbridges on Milwaukee and Menomonee Rivers open often, which could add between five and ten minutes to your drive. Plan accordingly.

Proceed with caution in winter. Snowbirding (wintering in a warm climate) is a popular phenomenon among Wisconsinites, who tire of long winters shoveling snow and feeling sub-zero wind chills. Either pack warm clothes (layers!) or be prepared to cross-country ski to get around (many shops—as well as the Urban Ecology Center—rent out skis and boots). That said, chunks of ice on Lake Michigan are a beautiful sight. Also, winter's brutal reality is why Milwaukeeans celebrate so hard in the summer. On that note: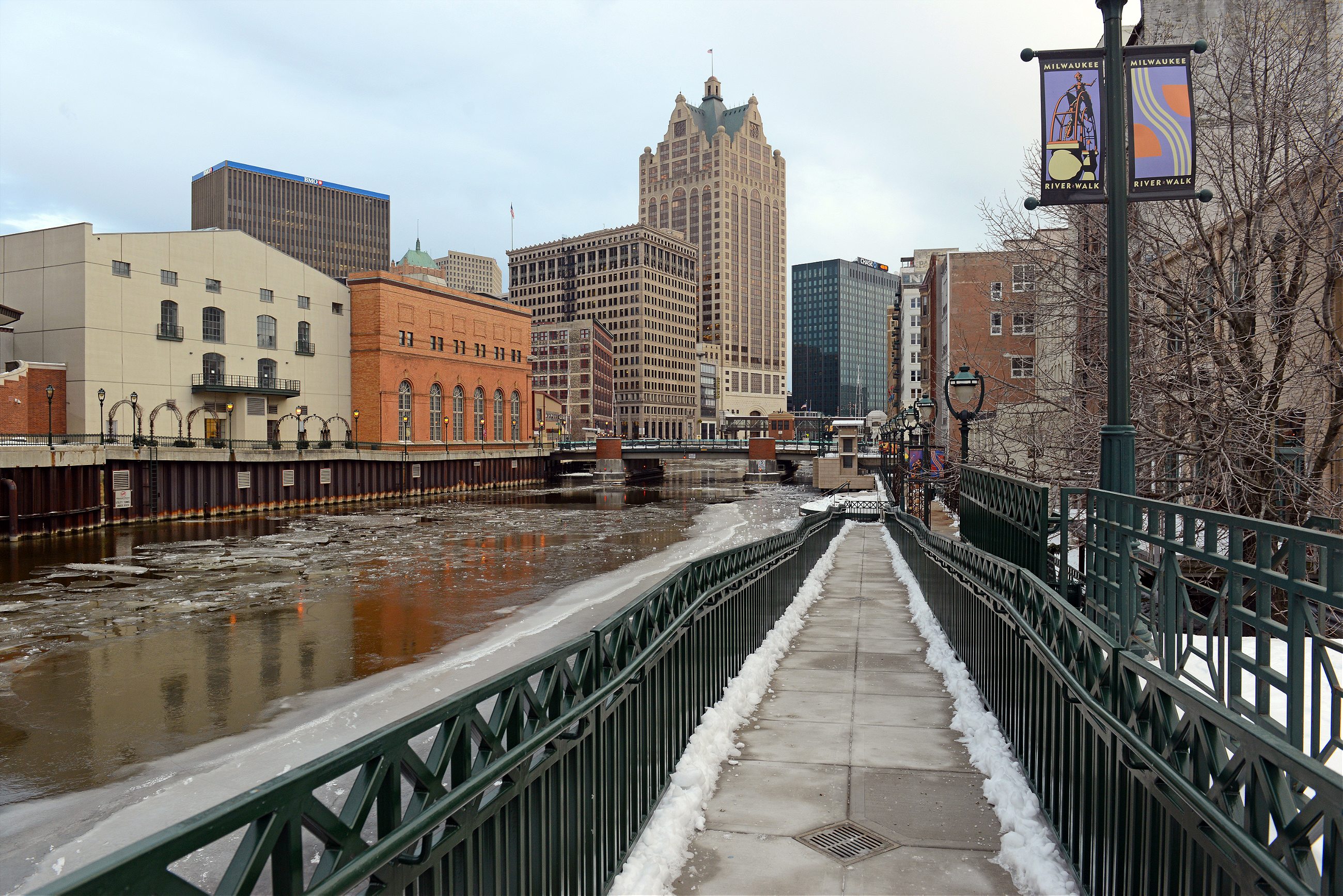 …celebrate in summer. Milwaukee, rightfully, is also known as the city of festivals, and between June and September, every weekend there is a different festival celebrating the many cultures that formed the city, from Bastille Days in mid-July (in downtown Milwaukee's Cathedral Square) to the country's largest Irish and German festivals (both are hosted at Henry Maier Festival Park along the lakefront in downtown Milwaukee). Take advantage of long days of sunlight: Riverwest hosts two street festivals with food, music, and local characters: Locust Street Festival of Music & Art in early June and Center Street Dazes Festival in mid-August.

Get out on the water. Between spring and late fall, kayak, canoe, or stand-up paddleboard through downtown Milwaukee along the Milwaukee and Menomonee rivers, either with a guided excursion by Milwaukee Kayak Company or a self-guided rental. Boats leave from the Harbor District, just south of downtown Milwaukee. Once on the water, you can tie up at many restaurants' and breweries' docks en route. Tours at Lakefront Brewery, in Brewers Hill and accessible via the Milwaukee River, run daily nearly every hour on the hour.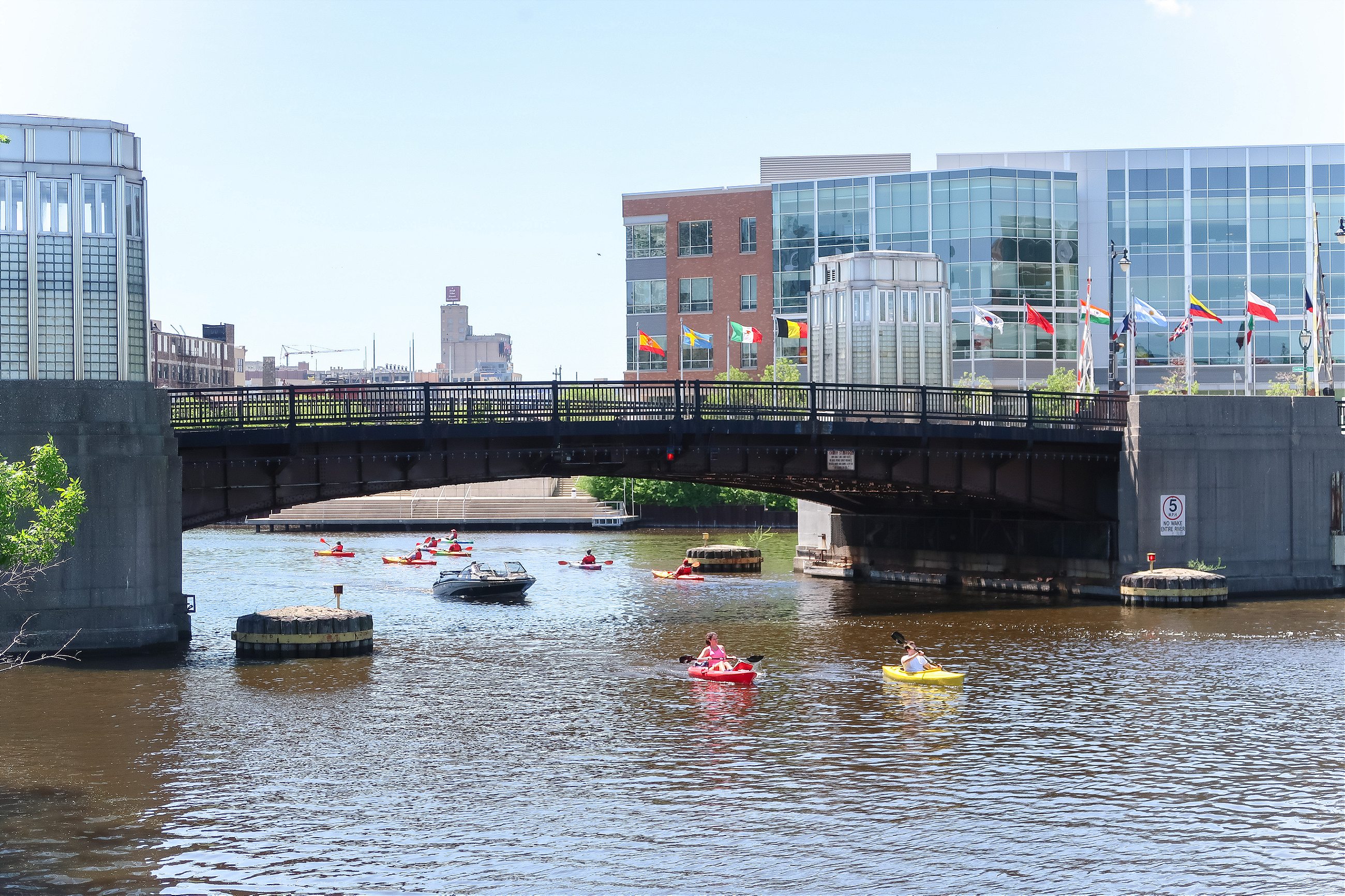 Eat local. Wisconsin ranks second in the country—after California—for its number of organic farms. Support farm-to-table restaurants such as Braise in Walker's Point and Odd Duck in Bay View, where the menu changes daily. Or shop one of the many farmers markets, including indoor markets during the winter. Among the summer's most popular markets is South Shore Farmers Market in Bay View, with live music and Lake Michigan views from the park, and where you can find things such as foraged mushrooms and handmade popsicles.

Don't miss Mitchell Street. One of Milwaukee's most diverse neighborhoods is on and around Mitchell Street, on the South Side. This means many food options, including Pakistani, Serbian, Syrian, and Mexican. If you have only one day, grab churros and pan dulce at Lopez Bakery, run by the descendents of a master baker from San Luis Potosí in Mexico. Have lunch or dinner at Damascus Gate (which Syrian refugees opened in early 2019) and get fried kibbeh balls—beef, lamb or goat mixed with spices and bulgar, or hit Old Town Serbian Gourmet House for chevapchichi and goulash.

Drink nostalgia. At bars around Milwaukee, bartenders serve classic and local cocktails such as the ice-cream-like Pink Squirrel (part milkshake, part crème de noyaux) and Grasshoppers. Local John Dye revived Bryant's Cocktail Lounge (Milwaukee's oldest cocktail lounge, dating back to 1938) on the South Side—velvet walls and all—followed by Jazz Estate on the East Side and, as of late 2018, At Random in Bay View. If you like sinking into half-moon-shaped leather booths under dim lighting to Patsy Cline tunes, these joints are for you. Bryant's doesn't have a printed menu—just tell the bartenders what spirit and flavor notes you like and they'll do the rest.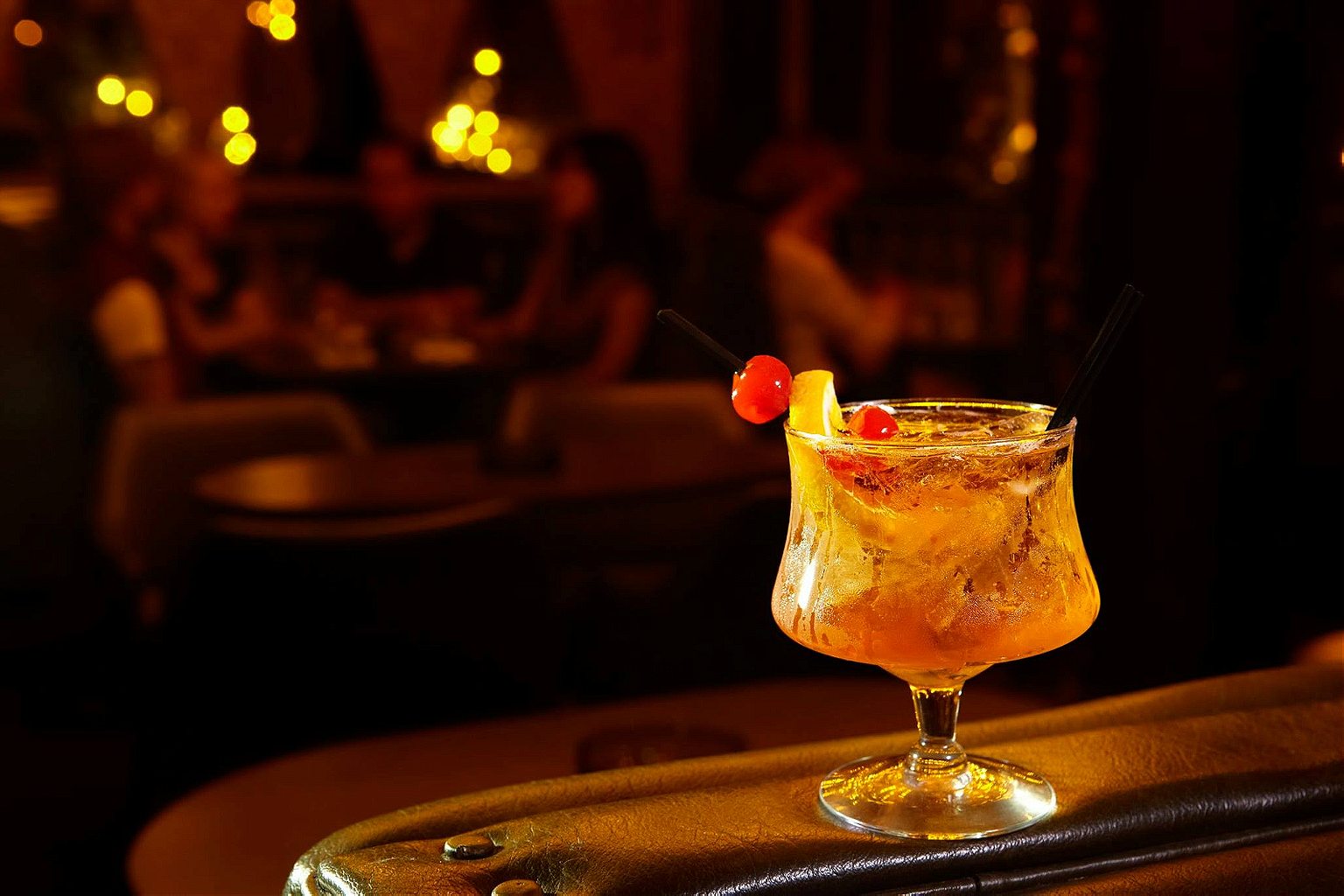 Don't forget the cheese. Wisconsin makes a staggering number of award-winning cheeses, according to US Championship Cheese Contest and World Championship Cheese Contest results. (These two contests are only held in Wisconsin—rotating between Green Bay and Madison.) As of November 2018, that's 5,552 awards. Buy and sample some of the best (including Marieke Gouda's Gouda, La Clare Family Creamery's chèvre, any Hook's aged cheddar, and Emmi Roth's Private Reserve) at Village Cheese Shop in Wauwatosa or West Allis Cheese & Sausage Shoppe inside the Milwaukee Public Market. Clockshadow Creamery is a rare urban creamery—view the curd-making process through glass windows in Walker's Point.

…and beer. Miller, Pabst, and Schlitz were all established here by immigrants from Germany, but craft beer—like almost everywhere else—is big here too. And it's not just taprooms. Around 15 craft breweries have opened in Milwaukee within the last five years, offering yoga classes at Mobcraft in Walker's Point and knit nights at Vennture Brew Co. in Washington Heights. But check out the original breweries like Miller via its tour (ends with free beer, of course). If it's between May and October, find a beer garden in Milwaukee County parks. As one of the first craft breweries in Milwaukee when it opened 32 years ago, Lakefront Brewery's taproom on a Friday night comes with polka music and a fish fry.

Get your art. Like any big city, Milwaukee has an arts scene, but not every city has Santiago Calatrava's first U.S. project: the Milwaukee Art Museum, which has one of the world's best collections of Haitian art. Also, The Pfister Hotel owns—and exhibits—more early Victorian art than any other hotel in the world. Check out new artists at Gallery Night & Day, a free event the third Friday and Saturday of the month in the Third Ward. For a one-stop approach—particularly if it's cold out—visit The Marshall Building, six floors of studios home to artists working in jewelry, painting and sculpture. Pro tip: Friday night is crowded at any gallery so if you want to avoid the crowds, go on Saturday during the day.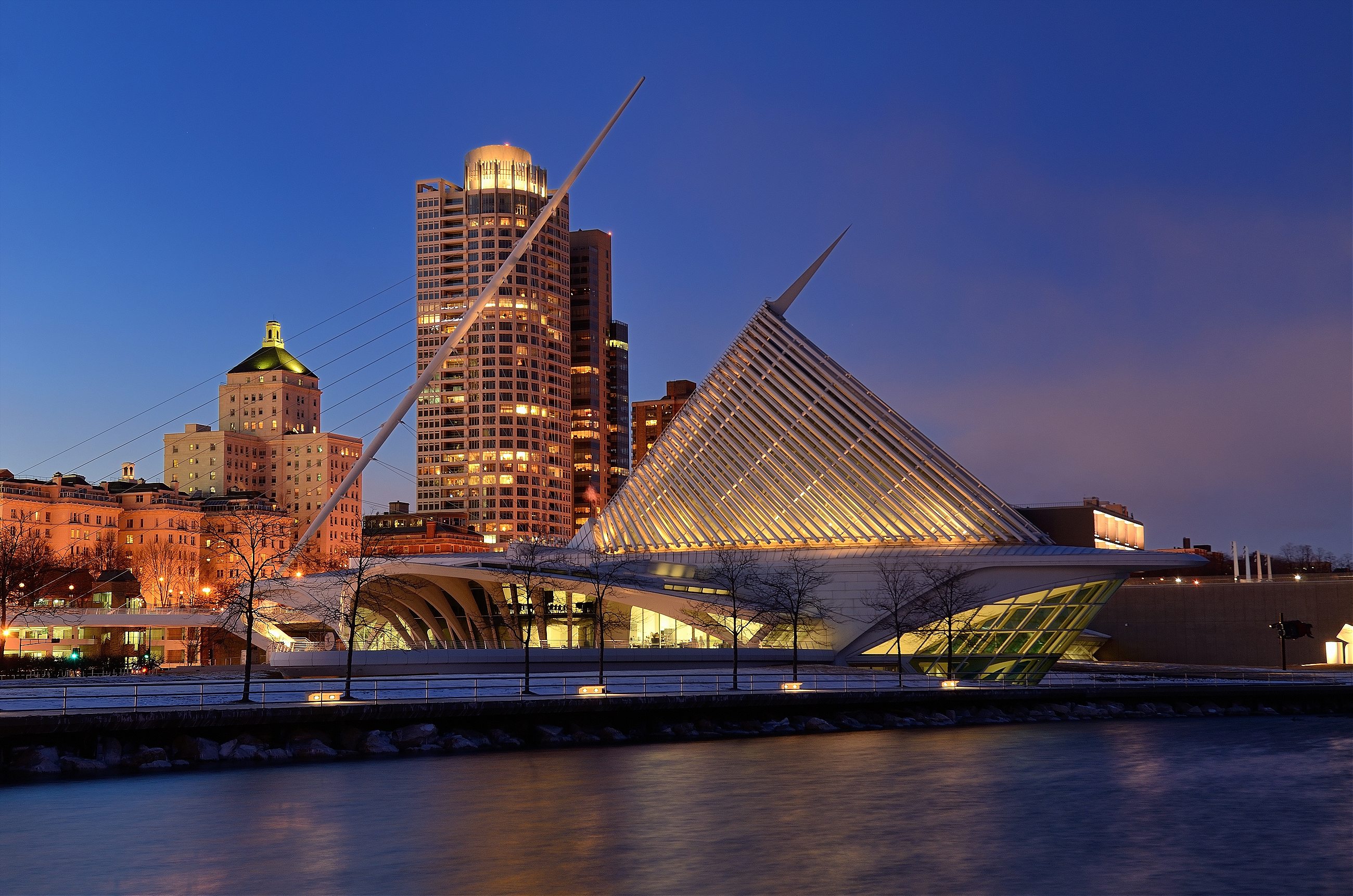 Learn some history. Milwaukee is the most racially segregated metro city in the U.S., according to the Brookings Institution, and has been for decades. Visit the Sherman Phoenix, a series of black-owned food- and health-related pop-ups and community spaces, geared towards empowering African-American businesses. The Sherman Phoenix was built in the Sherman Park neighborhood, where riots broke out after a fatal police shooting of a 23-year-old African-American man in 2016; the Phoenix occupies the former site of the fire-damaged BMO Harris bank. America's Black Holocaust Museum in Milwaukee was founded in 1988 by James Cameron (the only living survivor of a lynching in the U.S.) and re-opened in 2018 after shuttering for lack of funds in 2008.

Eat fish on Friday. Milwaukee's German and Polish heritage shows in its fish fry, dating back to a time when most avoided meat during Lent. This now year-round activity (on Fridays) means 95 percent of restaurants in Milwaukee and its surrounding 'burbs—heck, the whole state—serve a fish fry. This ranges from a traditional fish fry (battered or breaded fried fish with rye bread, coleslaw, applesauce, French fries, lemon slices and tartar sauce) like what you'd find at American Serb Hall to quirky takes like with a Vietnamese twist at Hue.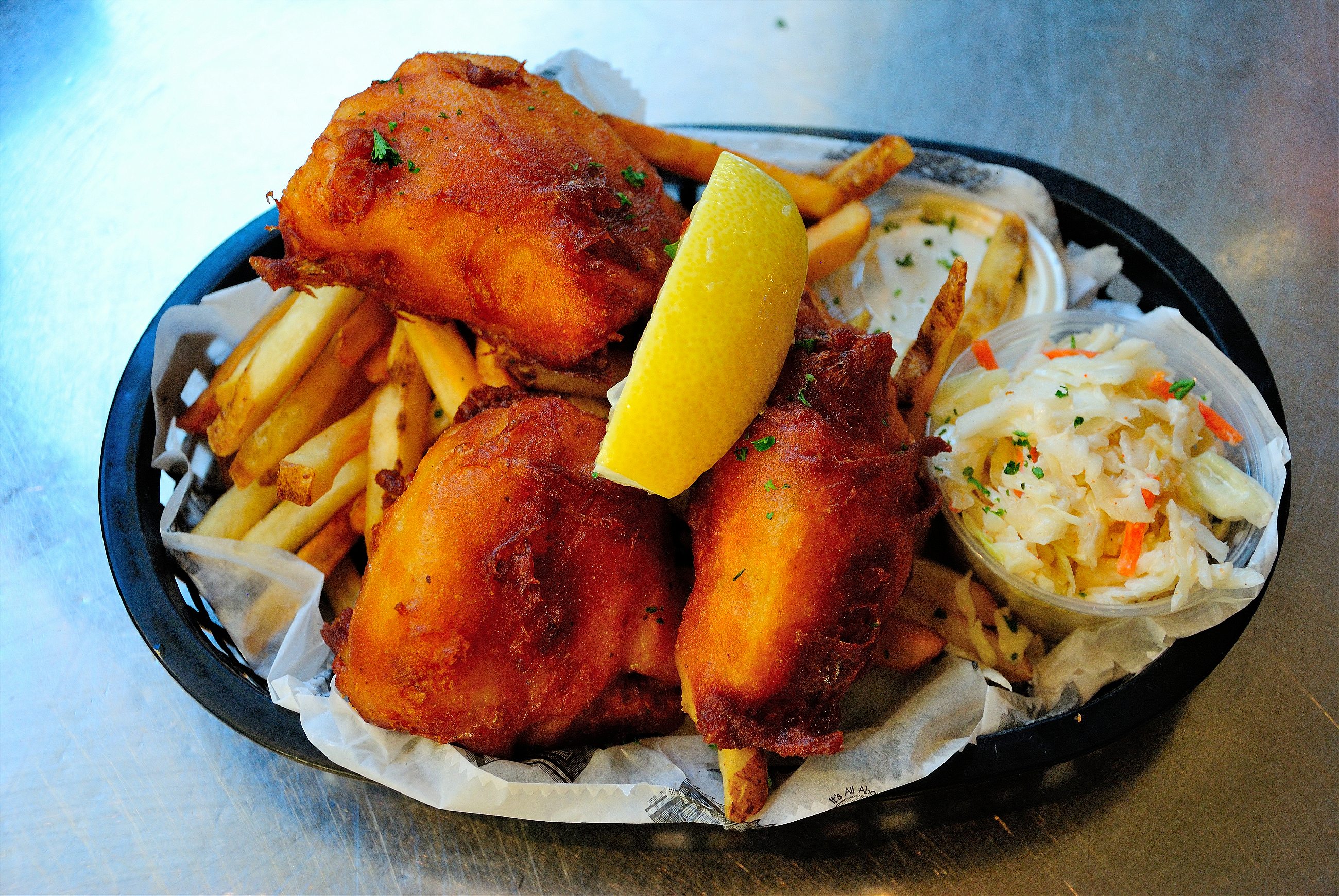 Get your mole and tortas. Milwaukee has a vibrant Mexican food scene, with a number of regional cuisines. Many are in Walker's Point or the near South Side. Visit locals' favorites such as Cielito Lindo for chiles rellenos, or Botanas (with seafood entrees and painted murals of Mexico's beaches), or hit Conejito's Place, which uses paper plates and where nothing is more than $5. Riviera Maya in Bay View folds mole into many dishes and also serves brunch and tortas (sandwiches).

Go to church. Some of the city's best architecture is in its churches, temples, sanctuaries, and other places of worship, many of which were built in the 19th century. Don't miss Frank Lloyd Wright's Annunciation Greek Orthodox Church in Wauwatosa. Doors Open (one weekend in late September), showcases the architecture (much of it Gothic) of many of the city's historic places of worship. For example, the Basilica of St. Josaphat on the South Side, built by Polish immigrants and modeled after St. Peter's Basilica in Rome, is the only Polish basilica in the U.S. 

Know the sports etiquette. During a Green Bay Packers game—home games are in Green Bay, a 2-hour drive north of Milwaukee—the city's streets and stores are practically deserted. Everybody watches the Packers. And you better know who Aaron Rodgers (the team's quarteback) is. Also, if you're in a bar during a Packers game, don't talk. Just don't. And, finally, school up on the "Greek Freak"—the local nickname for Giannis Antetokounmpo (the Milwaukee Bucks' 6'11" point guard) who is from Athens, Greece, and of Nigerian descent. Everybody loves him. 

Pregame at the ballpark. If it's baseball season, check out a Milwaukee Brewers' home game at Miller Park. Pro tip: Tailgating in the parking lot before the game nearly as eventful as the game itself, with the aroma of grilled brats enticing drivers along I-94.

Sleep in a Frank Lloyd Wright house. Wisconsin's most famous architect—Frank Lloyd Wright, lauded for his Prairie-style commissions—did several residential projects in Milwaukee, including the Burnham Street Block project on the South Side. You can actually stay there overnight through VRBO, the travel and vacation-rental site.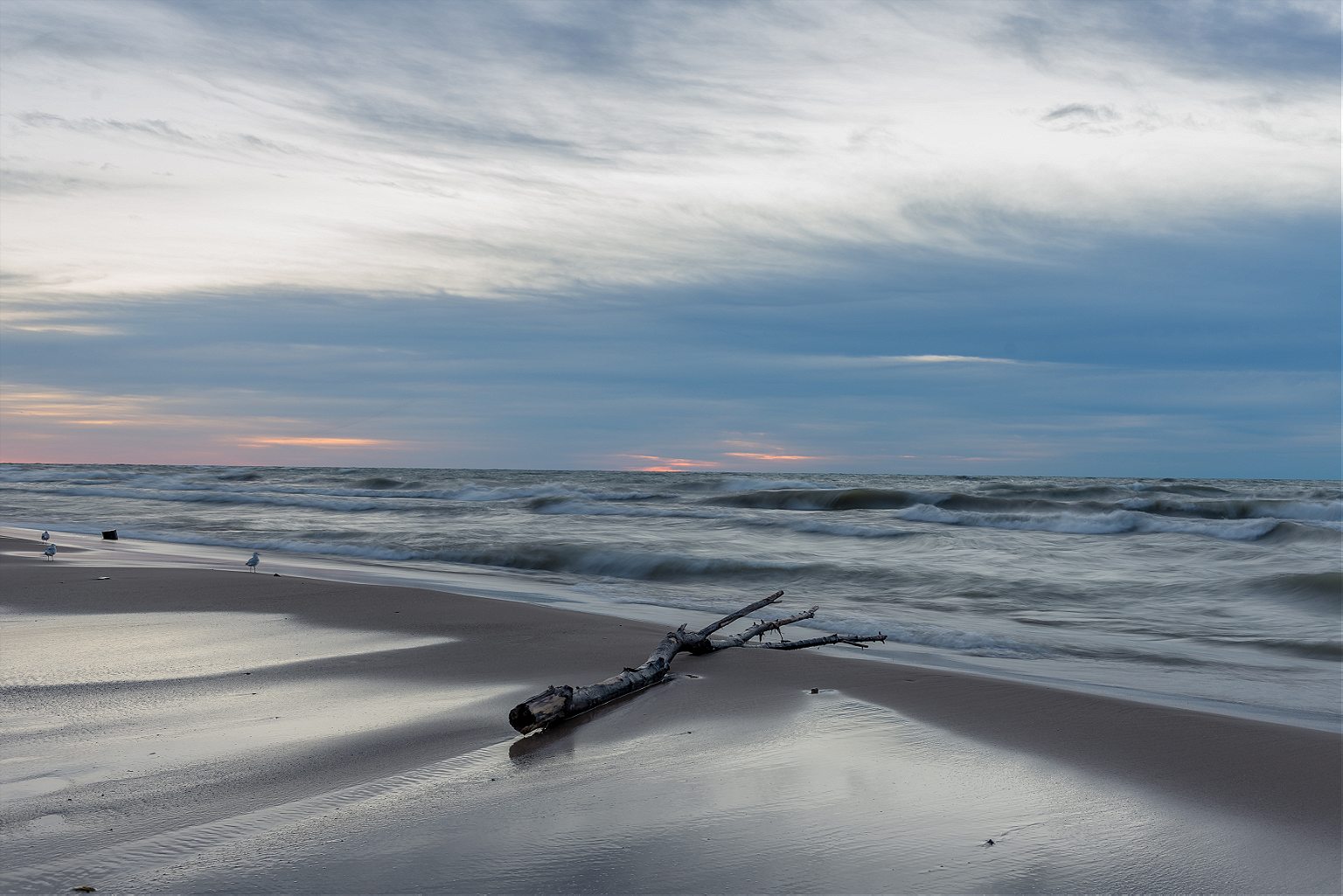 Find some beach life. Lake Michigan—one of the five Great Lakes—is a ribbon of blue separating Wisconsin from Michigan, and touching both Milwaukee's and Chicago's shorelines. Locals jump in on New Year's Day for the Polar Plunge. But if you visit in summer, Bradford Beach on the East Side has volleyball nets, a Tiki bar, and a concessions stand. For a quieter beach, drive north on Lincoln Memorial Drive to Lake Drive for Klode Park and Doctors Park.