After five years, a jury acquitted a U.S. border agent, who had fatally shot a teenager through the fence between Arizona and Mexico, of a second-degree murder charge. Paul Ingram reports from Tucson.
For about a half-kilometer, Calle Internacional and International Street run roughly parallel to each other along the border separating Nogales, Arizona from Nogales, Sonora. In Mexico, Calle Internacional starts when the broad avenue of Calle Reforma curves to the right to avoid the rusting 18-foot steel fence that separates Mexico from the United States, and then runs east toward the Dennis DeConcini Port of Entry, one of two major border crossings in town. In Arizona, International Street is a rough dirt road that rises up a granite hill into a knotty neighborhood of small houses.
It was here, alongside this fence, that José Antonio Elena Rodriguez died more than five years ago, on October 10, 2012, at the age of 16, shot down by a U.S. Border Patrol agent. It would take nearly three years of legal battles before the family even learned the name of the officer accused of killing Rodriguez: Agent Lonnie Swartz. Last month, more than five years after the teenager's untimely death, Swartz finally faced trial, charged with second-degree murder.
Taide Elena Rodriguez, the boy's grandmother, has attended nearly every hearing since the trial began in March. She has listened as defense lawyers accused her grandson of drug smuggling, and ducked her head and left the court with her daughter, Areceli, when the autopsy photos were shown. She listened stoically as the court delayed the "complex trial" more than seven times.
During the trial earlier this month, an investigator for the defense team tried to show that the boy's tennis shoes, a pair of dark gray Nikes, and his jeans were covered with rust because he had climbed the fence into the United States. Taide, who had retreated to a conference room where the family could listen to the trial without being there, broke down. "I bought him those," she said softly to herself. In October, she said that she bought clothes for Jose Antonio and his brother Diego to encourage them to stay on a good path. "I didn't want him to desire things he could have, so I gave him the best that I could," she said.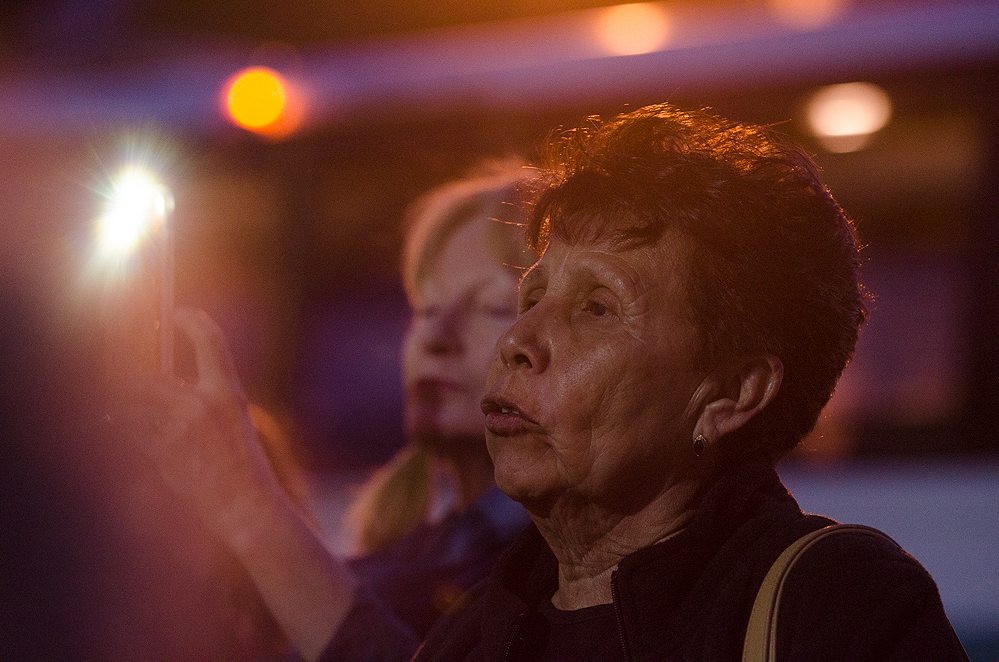 As the case against Swartz began, in the courtroom next door, federal prosecutors were pursuing attempted murder charges against 23-year-old Leonel Lepe-Castillo, arguing that the man punched an agent in the face and then tried to stab him with a blue-handled steak knife. He only failed because the weapon got stuck in the agent's radio.
Art Del Cueto, the president of the Border Patrol's union in the Tucson Sector, nodded to the courtroom where Lepe-Castillo was being tried. "People don't want to acknowledge this, but the job's dangerous. We've got people trying to kill us. It's risky—look at the case just next door," Del Cueto said, referring to the Rodriguez shooting trial.
The tension between an agent's sense of the ordinary and the risky informs everything along the border fence and, not infrequently, can transform ordinary crimes into extraordinary acts of violence.
"I didn't want him to desire things he could have, so I gave him the best that I could."
That October night began when a dispatcher on the border's surveillance team alerted a half-dozen Border Patrol agents and two Nogales police department officers to two people scaling the fence carrying homemade backpacks of tape and rough cloth, presumably containing bundles of marijuana—a common crime.
What happened next depends on who you ask.
According to Swartz's lawyers, Rodriguez was part of a group of smugglers attempting to cross into the United States. When agents caught two of the men trying to clamber up the fence, they say, Rodriguez and two others tried to cover their retreat by throwing rocks. U.S. Customs and Border Protection released a short statement the day after the incident saying that Border Patrol agents had been assaulted with rocks and that, "after verbal commands from agents to cease were ignored, one agent then discharged his service firearm." But in an interview with Roads & Kingdoms, Rodriguez's family said he was walking from a basketball game to the convenience store where his brother, Diego, worked. "He was in his neighborhood," said his mother, Araceli Elena Rodriguez, "that street was where he lived."
Once the boys on the Mexico side started throwing stones, Swartz crossed International Street, put his gun through a four-inch gap separating two posts of the border fence, just 90 feet from where Rodriguez was standing, and fired across.
Rodriguez and the other two boys began running. In a video from a Border Patrol-operated camera shown in the court, one person tumbles to the ground. Prosecutors argued that Swartz's first volley sent a bullet into the boy's spine, paralyzing him from the waist down. Defense lawyers said he was either dead or dying from the wound to the head.
From a position behind a second bollard, Swartz fired three more shots then moved 45 feet down the fence line, taking around eight seconds before he fired ten more shots, emptying his magazine. Bullets tore through his back and three rounds traveled into his left arm, extended, prosecutors say, as he "fought for his life."  
Swartz backed up, reloaded, and fired three more times, before walking away from the fence, bending down to retrieve his spent magazine, and vomiting under a lamppost. Rodriguez died on the sidewalk, just blocks from his home, beneath a sign that read Emergencias Médicas—Medical Emergencies.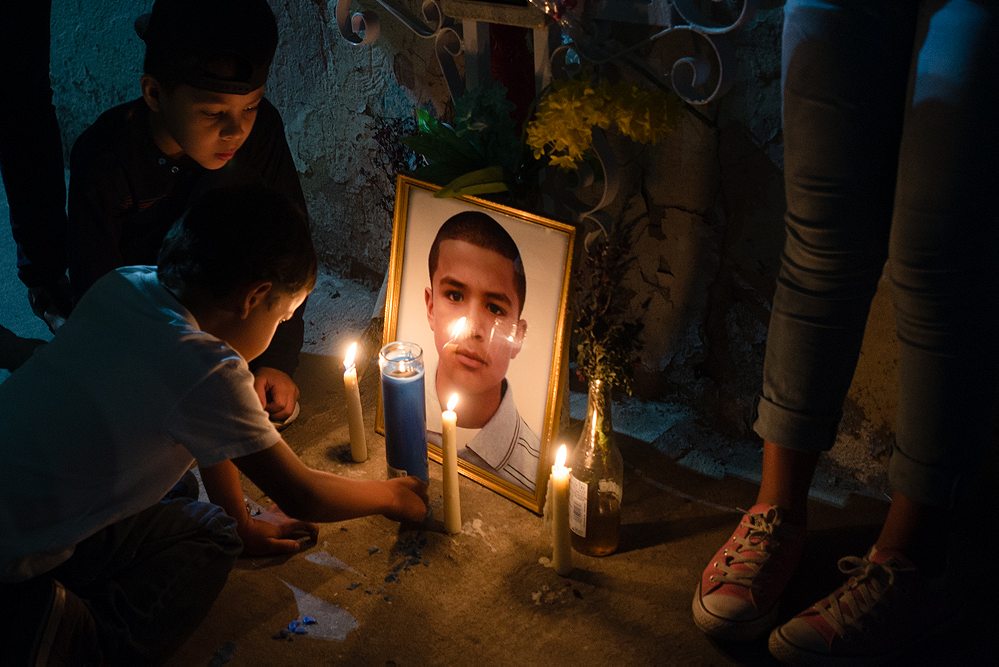 The defense team claims that Swartz, under the circumstances, had no choice but to make a "split-second decision"—in this case, a lethal one. On April 9, Swartz himself testified in the trial, arguing that he fired his weapon "to defend myself, my partner, and those other officers." He sobbed on the stand. "I never feel good about that, ever," Swartz said. "That was the only way to stop them rocks."
Rodriguez's death came at the end of an epidemic of shootings by U.S. border agents, who killed five teenage boys from June 2010 to October 2012, including two in Nogales alone.
There was 15-year-old Adrian Hernandez Guerera, killed by a border agent in El Paso, Texas in June 2010. In January 2011, an agent shot 17-year-old Ramses Barron Torres in the chest while he was straddling the fence. Two months later, another agent shot 19-year-old Carlos LaMadrid four times in the back as he climbed a ladder in Douglas, Arizona. In October 2012, the same month that Rodriguez died, an agent shot 18-year-old Juan Mendez near Eagle Pass, Texas. Of the five agents involved in these shootings, Swartz is the only one to have faced prosecution.
In 2014, the chief of the U.S. Border Patrol sent out an agency-wide memo that "reminded" agents not to discharge their weapons in response to thrown projectiles unless those objects were likely to injure or kill them. An investigator for CBP collected all the rocks from the scene that were thought to have been thrown from Mexico. During the trial, the investigator noted that the heaviest weighed nearly three pounds, the lightest about .076 pounds. There were seven rocks in total.
Five years after Rodriguez was killed, the crumbling asphalt of Calle Internacional has been torn up and replaced with concrete. On the road today, dozens of commuter buses rumble north toward the border and south toward bigger cities like the state capital of Sonora, Hermosillo. The wall that was once spattered with Rodriguez's blood has been given a fresh coat of concrete and paint. A metal cross set in a concrete plinth has replaced the ad hoc memorial that appeared in the weeks after his death: a mural of Rodriguez jumping rope in a bullet-proof vest.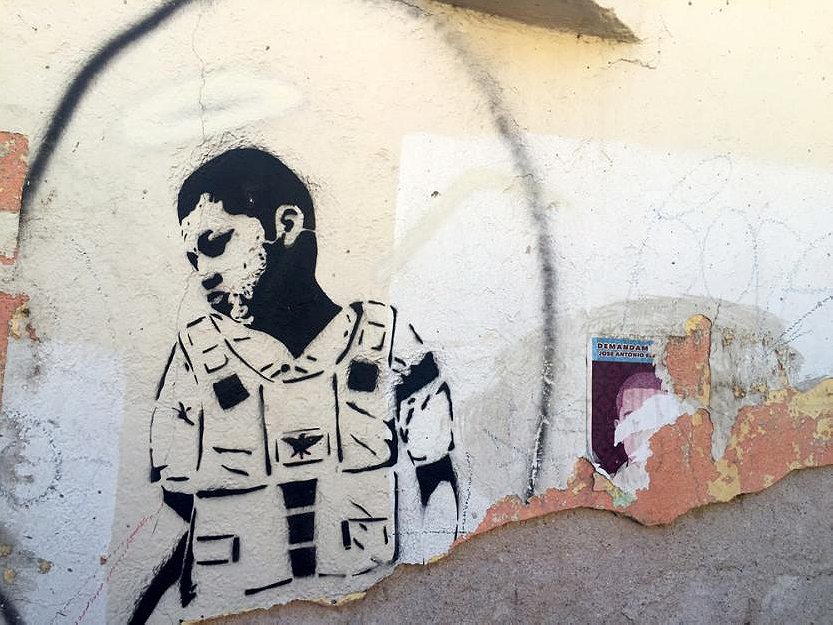 Six months after Rodriguez's death, some 200 people gathered at the fence in Arizona to protest the killing. The following year, nearly 500 marched in Nogales, Sonora, many wearing white shirts that said "Justicia" and carrying signs that read "Ni Una Muerte Mas"—"not one more death." Rodriguez's family still holds a vigil each month, but these days they're quieter, more somber, attracting mostly a crowd of border activists, family members, and journalists.
A smaller contingent has joined the family at the courthouse since the trial began, including people like Nancy Moore Bennett, who lives about 23 miles from the border. When Rodriguez died, her grandson was the same age, a coincidence she said had an emotional effect on her. "I began attending the monthly vigils that were held at the site of the shooting and I have slowly gotten to know Jose Antonio's family," Bennett said. "I have great respect for their perseverance during their long, pain-filled call for truth and justice."
On Monday, the family suffered a devastating setback when the case was declared as a mistrial after the jury acquitted Swartz of a second-degree murder charge, but failed to reach a unanimous decision on the charges of manslaughter. The decision leaves open the possibility that Swartz will face prosecution again, but it also means the family will have to face months of uncertainty and the agony of another trial.
Outside of the courtroom, Assistant U.S. Attorney Wallace Kleindienst spoke to reporters and expressed his disappointment with the decision, and said that his office might pursue the manslaughter charges, but they would also try to understand why the jury made the decision it reached on Monday.
"Why don't you go talk to the jurors and tell us what they were thinking," Kleindienst told reporters. "That would help us."
A second hearing is scheduled for May 11.
In a statement via the American Civil Liberties Union, which led the family's civil suit against the U.S. government, the Rodriguez family expressed their dismay.
"Jose Antonio's family is disappointed in the verdict," the statement said. "The family will continue to pursue justice in both the criminal and civil courts. The family is thankful to all those who supported us in our pursuit of justice in this case."

Activists in Tucson responded to the jury's decision by protesting in front of the courthouse and blocking rush-hour traffic for nearly an hour, chanting "no justice, no peace."
As the family waits for the jury's decision, life along the wall that separates two halves of what was once the same city continues as usual. At sunset on a recent evening, a border agent stayed in his vehicle at an elevated sentry point and watched over a mute scene many feet below. A couple spoke softly through two bollards in the fence near where Rodriguez was shot. The woman stood on the American side of the border, separated from the wall by a second barrier several feet away. The man stood with his face pressed against the metal as children played on the concrete curb at the woman's feet.
Annalisa Lopez can see the fence from her front stoop, and she shrugs at the idling Border Patrol SUV nearby. "They've been here as long as I lived here. I wave at them, so they know me." She leans in, and whispers, "But, I'm always worried, what happens if they start shooting again?"