The Taco Truck is Where the Action Is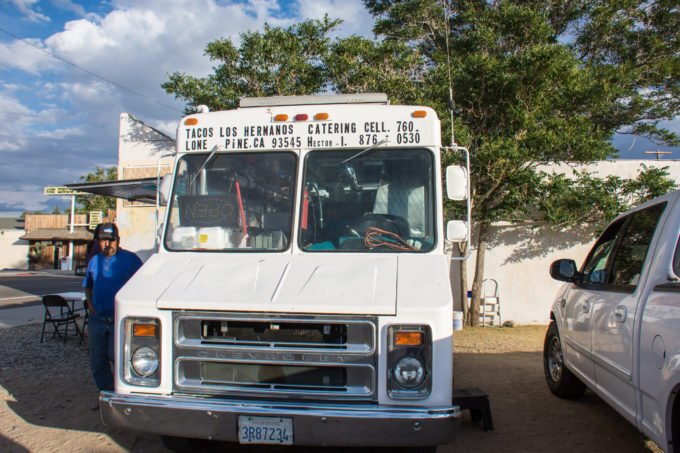 The Taco Truck is Where the Action Is
Tacos in Lone Pine, CA
All I know is, I'm not going back to Ridgecrest, a naval-base town where what passes for coffee is hot water that tastes like charred, wet paper. That leaves me with two options: Give the frontier town of Lone Pine a chance, or suck it up and head for the freeway.
We're visiting Manzanar National Historic Site, and I'm cranky because skipped my morning coffee out of self-preservation.
We settle on Lone Pine. Ten miles from Manzanar, the town is tucked into the snow-capped Eastern Sierras along Highway 395. There's a hint of salvation in the form of Tacos Los Hermanos, if we can decipher what "across the side street from the Mobil Gas" means—and if the taco truck is open at 10:30 a.m.
Lone Pine looks like a Wild West film set: timber and wagon wheels and cowboy Western font. But we find the Mobil station and there, across from the pumps, the food truck, where a couple of men wearing cowboy hats nod in the shade at a fold-out picnic table.
The menu is simple: Tacos, burritos, tortas. There is the usual range of meats and seafood. My wife insists on getting the latter, even though we're a hard day's drive from the ocean and she, as a New Englander, should know better. I order two chicken tacos and a Mexican coke.
The cowbow-hatted men toss their trash and leave, calling out soft goodbyes, but not before pointing me toward the soda cooler so I can have that first blessed sip.
A woman in sweats wanders over to rattle off an order. She prepares to-go baggies of cilantro, onion, and radish from a refrigerator case on the side of the truck, then takes a fistful of napkins. A minivan hovers, another regular chatting with the women in the taco truck. The taco truck is where the action is mid-morning the week after Thanksgiving.
When our order is up, I grab the plates (how is styrofoam not banned yet in California?). The meat slapped on a soft taco shell doesn't look like much. No cheese, no lettuce, no fixings. I drizzle my tacos with avocado sauce, tomatillo salsa, diced onion, cilantro, and radish, add a squeeze of lime and red hot sauce.
My first bite changes everything. The chicken is cooked to moist perfection, and lightly spiced. The hot sauce is tempered by sweet lime and cooling radish. Flavors meld in taco perfection.
I swig my soda, then dig into the second taco with a new appreciation for this town. A taco truck is not only the community hub of the high Sierras, but put out the best food I had during two weeks in Southern California.
Tacos Los Hermanos
US 395 at B Street, Lone Pine, CA, 93545
760-301-4276