A Mezcal‑IPA Hybrid Does Sound Pretty Wince‑Inducing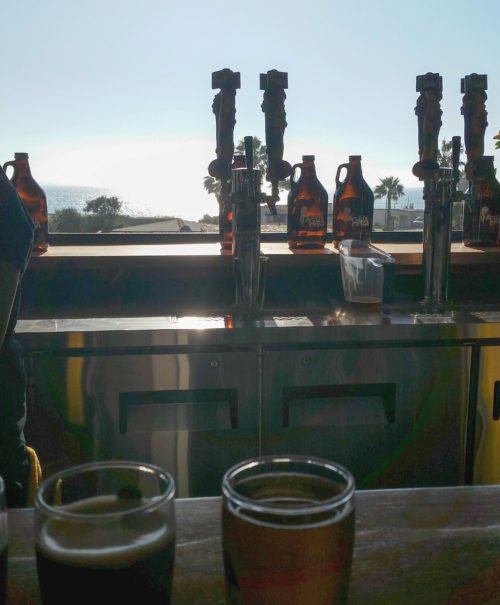 A Mezcal‑IPA Hybrid Does Sound Pretty Wince‑Inducing
Beer in Ensanada
After walking across the border from California into Mexico, fumbling my way through the pandemonium of the bus terminal, and finally arriving in Ensanada, I was ready for a beer. It was what I'd come for, anyway, before my flight out of Tijuana the next day.
Maria, the fabulous woman running my hotel, told me about a brewery close by. She'd love to come, she said, but there was a leaky toilet to attend to. I walked down the hill to Highway 1, the road I'd been paralleling on Amtrak since I left San Francisco a month before. The sun warmed my face, and I worried about wrinkles.
Like much of Mexico, Ensanada isn't equipped for pedestrians. I tip-toed along the edge of the highway. Dusty white shuttle vans, or combis, loped their way into town, and unmarked 18-wheelers picked up speed going out. Throughout the spring and summer, this same road carries tons of produce up north to California. Shortly, I came upon a gutted-out warehouse with the signs of construction around it: piles of wood, fragrant sawdust, and forgotten tools.
From the building emerged Aquiles, a charming 30-something with an unkempt, I-don't-care beard that quivered with his every word. The building was actually a collective of local restaurants and, yes, a brewery, which Aquiles worked for. He told me they'd just had their soft opening the night before, and he hadn't quite rebounded from the fun. They'd be celebrating again later that night, though. I thanked him for the invite with promises to return after sunset.
My destination was a two-story warehouse with colorful paintings of the ocean, beer, and the Virgin Mary. There was plenty of room at the bar, and I sat within earshot of two brothers celebrating the elder's visit from Mexico City. The sun dropped down over the ocean past the bar, the heads of far-off palm trees their own fixtures on tap. I surveyed the menu and landed on their special brew, a mezcal-IPA. If one needed a drink to represent weeks spent hovering around the California-Mexico border, this was it.
Midway and a few winces through my beer, a newly-familiar face appeared: Aquiles and his boss, Paul. Happy to see a familiar beard, I invited them to join me.
"What'd you get?" Aquiles asked with a glance at my sweaty pint. The mezcal one, I responded. With a shudder he whispered, "They missed it on that one."
We ordered flights while Paul, Aquiles, and the bartenders fell into comfortable conversation about the local brew scene. Around us, the bar filled with Mexican tourists and Californian roadtrippers setting in for a late winter sunset.
Soon, my new friends had to go; it was Saturday night, after all, and business was calling. With a promise to swing by after a quick nap, I settled my tab, went home and ended up sleeping through the night.