Wine, Jesuits, disasters, and everything in between.
Alejandro Cota Maclis looks gravely at the remains of his grandmother's garden, a five-by-fifteen-foot patch of limestone and churned dirt. At the back, grape vines lean like broken caryatids against a ramshackle fence of sticks and wire. A committee of vultures perch in the high, green tops of date palms. Behind him, an austere limestone church—the Mission of Santa Gertrudis—stands on a lonely rise in the center of the silent village.
Cota's family has worked this patch of land deep in the arid interior mountains of Mexico's Baja Peninsula for six generations. When the last of the missionaries left the village in 1834 (the newly independent Mexican government had legally secularized all the country's missions the previous year for fear that the priests would be more loyal to the Crown than the new Republic), they handed over the keys to Cota's great-great-grandmother, Ignacia. One of the last surviving Cochimí—the indigenous tribe that once populated the mountains and coasts of central Baja—Ignacia, Cota says, "barely spoke a word of Spanish, but they entrusted it to her anyway." They also left her this garden, one of the most fertile patches of land in Santa Gertrudis.
Founded in 1751, Santa Gertrudis is one of the 27 missions built on the Baja peninsula between 1697 and 1834. Though colonizers had landed on the coast well over a century earlier, Jesuit missionaries were the first to establish inland settlements. From the coastal town of Loreto, which served as the capital of the unified Californias until 1776, they ascended the peninsula's rocky spine, building stone churches and irrigation systems for elaborate gardens wherever they found a sufficient water source. Isolated from both the colony and the crown, the Jesuits aimed to turn Baja into a Kingdom of Heaven, full of righteous converts governed only by their god.
Despite that isolation, the oasis gardens represented a spectacular cross-section of plants from across the known world. There were fruiting cacti from the Mexican mainland; dates, pomegranates, figs, and olives from the eastern Mediterranean; coconuts and mangos carried across the Pacific from the Philippines; and a staggering variety of citrus species from Asia. In 1714, the Jesuits imported grapes from the Canary Islands and planted the first vineyards in California. Within 40 years, the missions of Comondú, Purísima, San Ignacio, and San Javier alone were producing some 4,000 gallons of wine annually, much of it for export to mainland Mexico, where it was compared favorably to wines from Europe (New World wines aren't so new, after all). That grape, known as the uva misionera, or mission grape, has long since gone extinct in Spain, but still grows on the Baja missions, albeit in dwindling numbers. The missionaries are gone now, too, and the villages they founded are shrinking, but their gardens still grow, agricultural time capsules from the Age of Discovery. The Jesuits had planned to build an Eden. Instead, they built an Ark.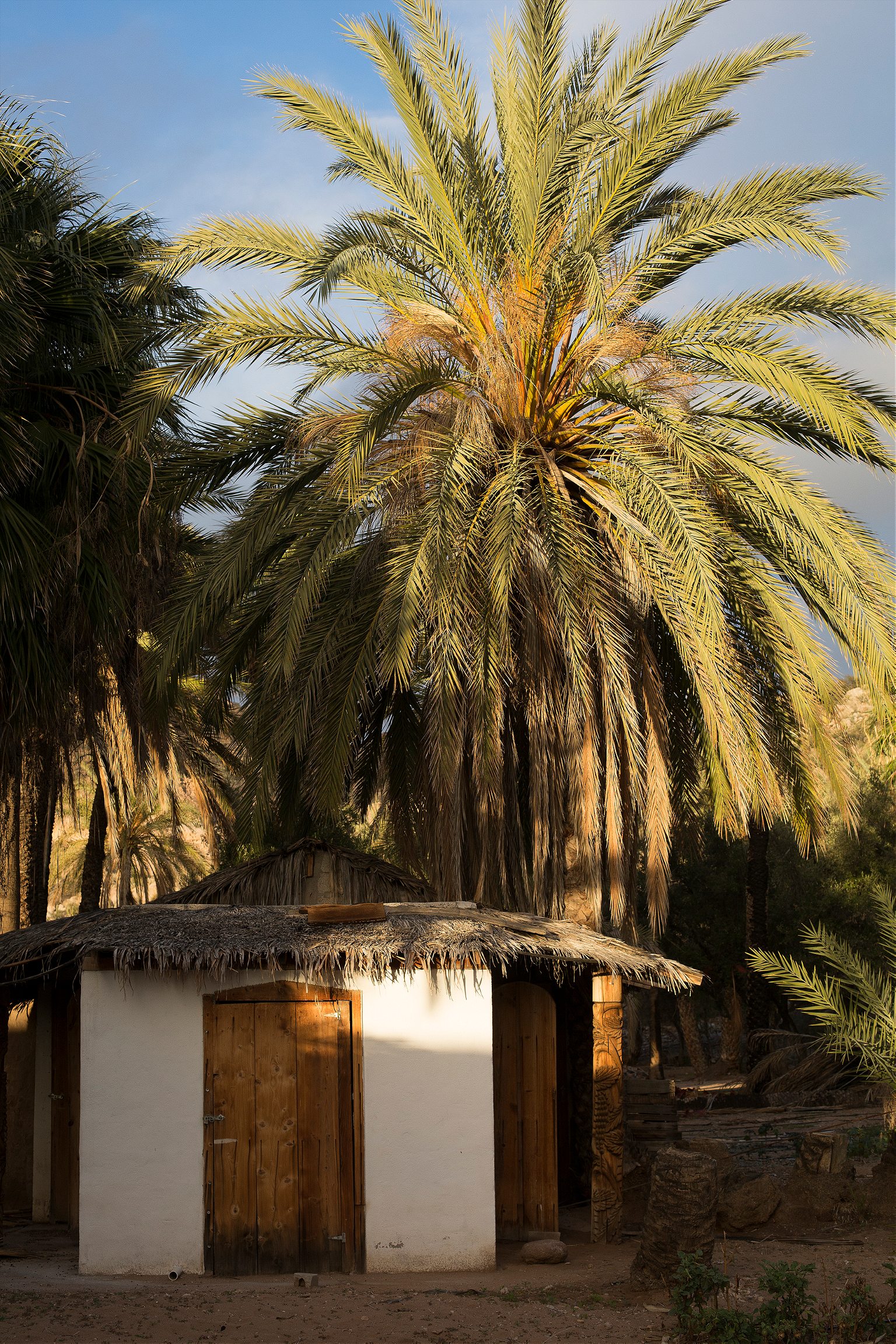 When Cota returned to Santa Gertrudis in 2007, after several years studying in the northern port city of Ensenada (the center of Baja's burgeoning food and wine scene), he found just one person left making wine: his grandmother. He spent six years working with her to learn the old techniques, sun-drying the grapes, crushing them under foot, and fermenting them in chiseled limestone vats before bottling. In 2012, he produced his first vintage of 250 bottles, sweet as dates and nutty as port, nothing like the modern Cabernets and Tempranillos he'd tasted at the vineyards up north. The wine from this land, Cota tells me, his diction both lofty and shy, is "the same wine the Spanish used to drink, the wine drunk by emperors."
A year later, in 2013, disaster struck. Rains like Cota had never seen swept down the arroyo and washed his grandmother's garden away just as it returned to life. As Cota and I leave the ruined garden, the clouds part and the sun blazes down like a benediction. He turns to survey his broken land. "Bringing the mission and the garden back to life," he says, with the steadfast conviction of a desert eremite, "that's my mission. That's my dream."

In the past decade, the vineyards of the Valle de Guadalupe, just inland from Ensenada, have transformed northern Baja from a seedy annex of San Diego to one of Mexico's most important culinary destinations. Like Napa (to which it is often compared) and most other New World wine regions, the Valle focuses on the best known grapes of Europe, turning out high quality, but relatively unadventurous, bottles of syrah and sauvignon blanc, with the occasional tempranillo or riesling thrown in for good measure. When I heard about the mission wines, made from an ancestral grape otherwise lost to the popular consciousness, they immediately struck me as a rare chance to taste something really new (the great irony of the locavore movement is that it's yielded a whole world of near-identical restaurant menus). To find those wines would require driving deep into the peninsula's remote hinterlands, but that only increased their appeal. Two weeks on the road seemed a reasonable trade off for a literal taste of the past.
I first heard about the mission wines shortly before arriving in Baja in early January, but it wasn't until my first night in Ensenada, when I meet historian Carlos Lazcano, that Cota and Santa Gertrudis come to my attention. Lazcano and I meet at the garage-cum-office that he keeps behind his childhood home, a sepia-toned wunderkammern of glass cases filled with bones and seashells, ropes and carabineers and headlamps (he's an avid caver), piles of loose papers and dusty stacks of books, many of them written by Lazcano himself. Every few minutes he answers a question by saying, "You know, I wrote a book on that," then slouches away to unearth it from a mountain of explorer's paraphernalia. He's a comforting anachronism in an age when discovery seems moot.
The name California, he tells me, first appeared in the Spanish romantic novel The Adventures of Espaldián, published in 1510, and was used to describe an island paradise at the end of the earth, laced with gold and ruled by Amazons. It was first applied to an actual place in 1523, when word came to Hernán Cortez, conqueror of the Aztecs, that his ships had found a land replete with pearls at the far western edge of the New World. Cortés set foot there in 1535, though it would take another 150 years to establish a permanent settlement on the peninsula. For the rest of the century, he sent ship after ship up the Pacific coast in search of safe harbor for the Manila Galleons, which carried Chinese silks and Indian spices from the Philippines to Acapulco. Dutch, French, and English pirates followed, hoping to ransack the galleons. Then came the Jesuits, driven by their own holy dream. They built a chain of oasis towns connected by a dusty trail known as the Camino Real, or Royal Road.
When the Jesuits first arrived, the peninsula was home to as many as 50,000 people belonging to eight different tribes, most of them nomadic. In the spring season they would go inland to feast on the pitalla fruit hemorrhaging red and yellow and orange from the heads of the cacti. In the winter months, they came to the seaside, built fires, pulled abalone and clams and mussels from the rocks, and buried them in the coals to roast. The only remnants of those ancient cultures are the pre-Columbian landfills, called concheras, that dot the coast: strata of shells—some of them 30 feet deep and 10,000 years old—bleached white by sun and time, peeking through the dirt.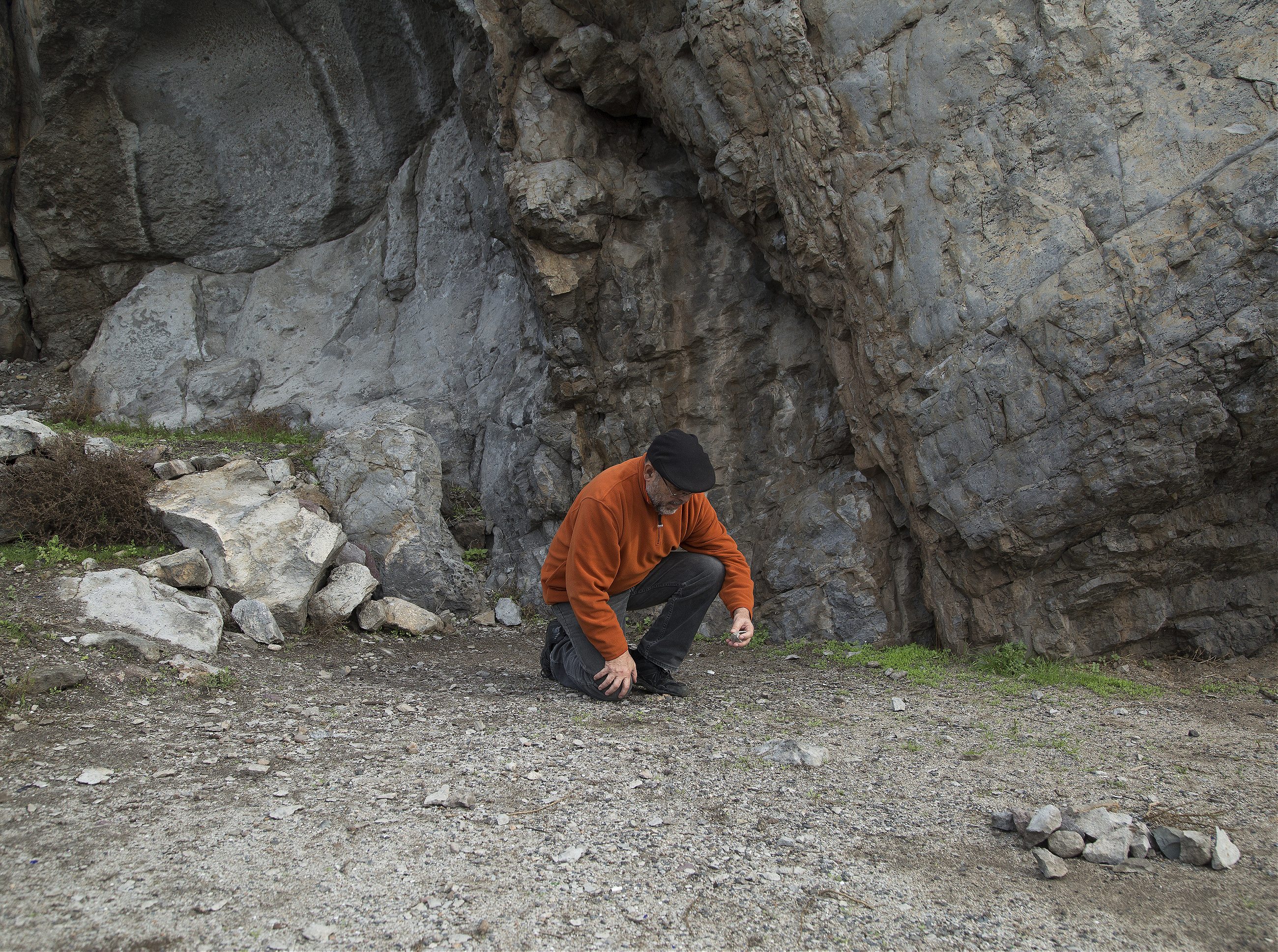 As part of their spiritual mission, the Jesuits forced the indigenous peoples into permanent, landed settlements called reducciones, or 'reductions,' where they were initiated into the agricultural and spiritual ways of the old world. The term turned out to be more literal than the missionaries had anticipated. By the time the Jesuits were expelled by the Spanish crown in 1767, foreign diseases had wiped out 85 percent of the indigenous population. "The missions broke completely the equilibrium of the way of life that had been cultivated here over the course of eons," Lazcano says, "but I don't think they understood that they were exterminating the indigenous people. By the time they realized what was happening, it was too late."
After Mexico achieved independence in 1821, the new government did all it could to repopulate the province of California—which, at that time, included both the Peninsula and all of present-day American California—encouraging European settlers to claim and exploit the vacant land. Russian pacifists built small agrarian communes. British companies built mines for silver and salt and sent whaling ships to hunt for oil. Cota, one of relatively few people with truly deep roots on the peninsula, has family history from that period: his maternal grandfather, a man called MacLeash, came to Mexico as a Scots slave on a British whaling ship, passing down a hispanisized version of his surname (Maclis). He married the daughter of a Spanish soldier, part of a martial community stationed on the peninsula to protect the missionaries. When the missions were secularized, these families retreated to the mountains and started cattle ranches. Their descendants still live the old pioneer dream deep in Baja's hills, far removed from the state. Mestizo mission families, like Cota's, continued to tend their gardens even as the newly independent Mexican state struggled to find its footing. When the United States defeated Mexico in the Mexican-American War in 1848, California was divided in two: Baja (or Lower) California went to Mexico, while Alta (or upper) California went to the U.S.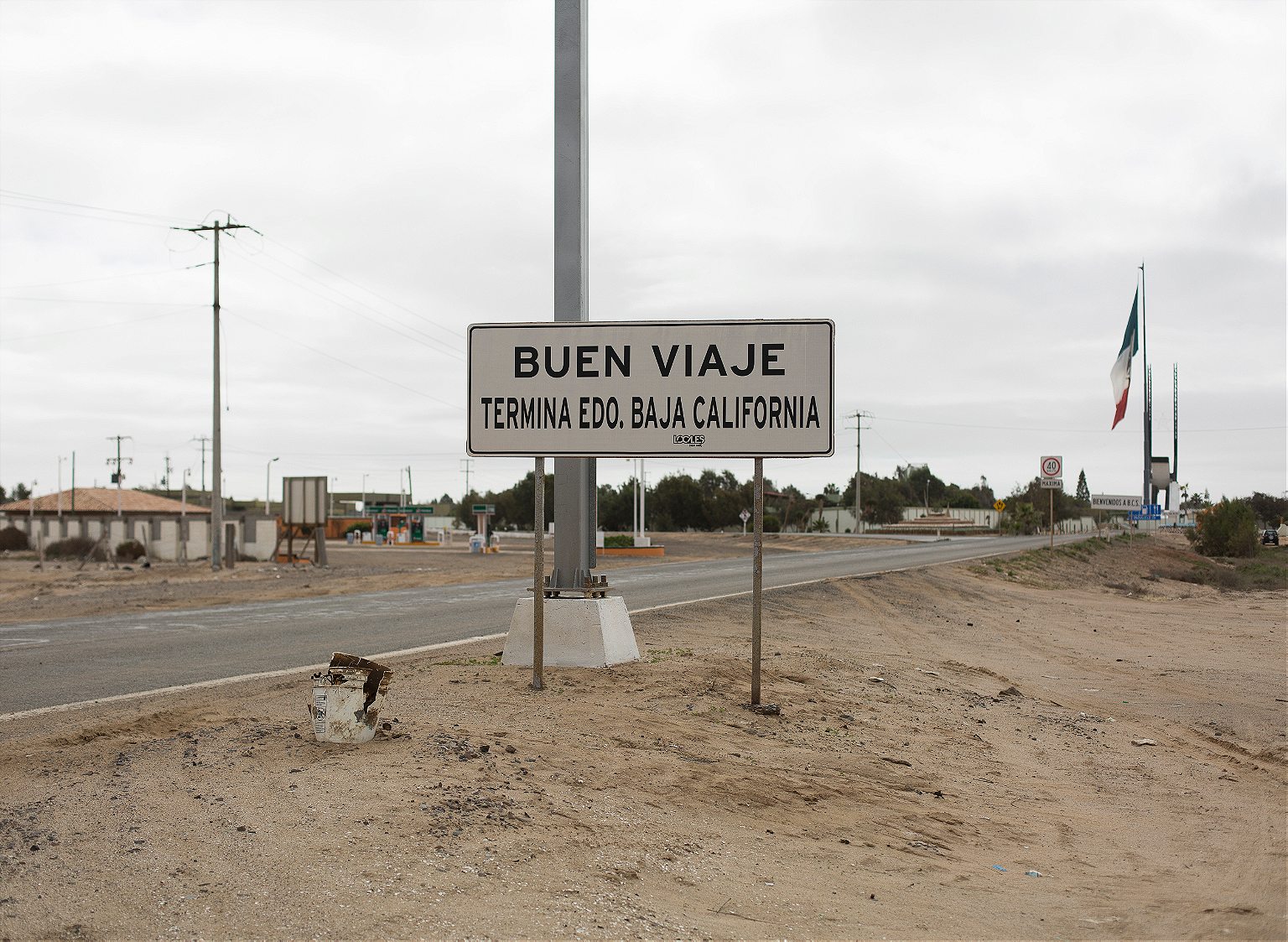 As we talk, Lazcano pulls an empty bottle of Cota's wine off one of his shelves. Outside his window, cars buzz blithely by on the Transpeninsular highway, Mexico's Highway 1, built forty years ago as the first paved road connecting the whole length of the Peninsula: a Royal Road for a secular age. Food and wine and tourist dollars, capitalizing on the region's sunny Mediterranean climate and proximity to one of the highest concentrations of wealth in the world. As Lazcano says, "The whole boom in food and wine in this region has its roots in the missions."
The next morning, Lazcano will take me to the site of one of the last concheras, little more than a mound of dirt below a brand new housing development, all white stucco and picture windows, pure Southern California. As recently as the early 80s, there were 120 concheras between Tijuana and Ensenada alone. Now, he says, there are 15. The rest had been destroyed to build the road.
It takes a week for me to drive from Ensenada to the coastal village of Ejido Morelos where, Lazcano told me, I will be able to find Cota on his new farm. The Transpeninsular takes me south over scrubby hills and into broad valleys quilted by greenhouses owned by the Mexican agro-conglomerate Berrimex and their American buyer, Driscoll's (if you're eating berries in the winter, they probably come from here). Where the fertile north peters out, the road veers east into the desert, past the distant cones of dead volcanoes and through vast fields of cirios, a Seussian desert tree named for the votive candles lit in churches across the Catholic world, their slender trunks twisting madly skyward like the petrified trails of bottle rockets. I've rarely felt the basic deceit of maps as clearly: no place this narrow should have landscapes so huge.
After the flood in 2013, Cota salvaged cuttings from his grandmother's vines and carried them to Ejido Morelos, a three-hour drive west of Santa Gertrudis and just north of Guerrero Negro, the salt mining town where Cota grew up and where his Scottish grandfather first made landfall. The morning we meet, Cota is tending a field of alfalfa, which, he explains, he will use to feed the sheep that will produce the manure to fertilize the thousand grape vines he's planted in the loamy soil behind his house. He is experimenting with a combination of new fertilizing techniques and old winemaking to resurrect the closest thing to real tradition left on the peninsula. He agrees to take me to Santa Getrudis, but tells me that, if I want to see an active vineyard, I will have to go farther south.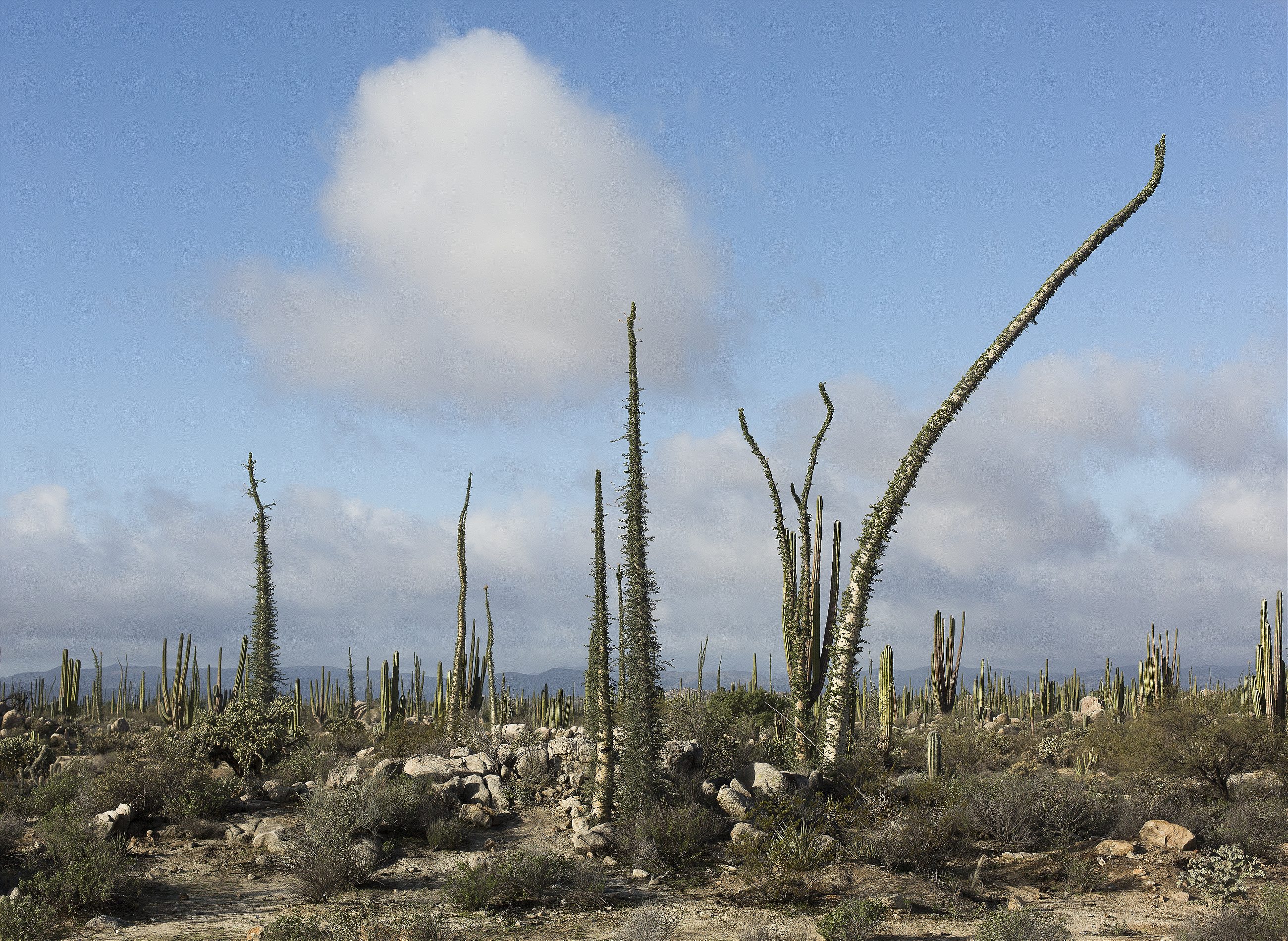 So the next morning, I continue on, following the Transpeninsular across the western flatlands and back into the mountains before reaching one of the largest oases on the peninsula, a huge expanse of date palms cupped between rust-colored hills. At its center is the village of San Ignacio. In the pretty main square, lined with colonial houses and shaded by ficus trees, I stop for a breakfast of scrambled eggs and machaca—the dried, salted meat that is a staple of ranchero food across northern Mexico—served with griddled flour tortillas. Over a cup of sweet coffee, I ask the woman who ran the place where to find someone who still made wine. She directs me to the home of Héctor Aguilar Arce, whose family, she says, have made wine for generations.
I find Héctor in the garden behind his simple, one-story home, stooped over rows of fennel and garlic and fava beans, a woven straw cowboy hat tipped toward the sun. I call his name as I push the gate open and his lithe, compact body snaps immediately to attention. "Yes, I'm Héctor, Héctor Aguilar Arce, of the Buenaventura Arces, one of the first families here in San Ignacio," he says with a gargantuan smile, as though he's been waiting there for me—or anyone—to arrive. "You know, I'm 82. Thank god I don't have diabetes and I don't take even a single blood pressure pill. All because I work every day, every morning here on the farm." He gestures proudly to his modest patch of cilantro, basil, and onion.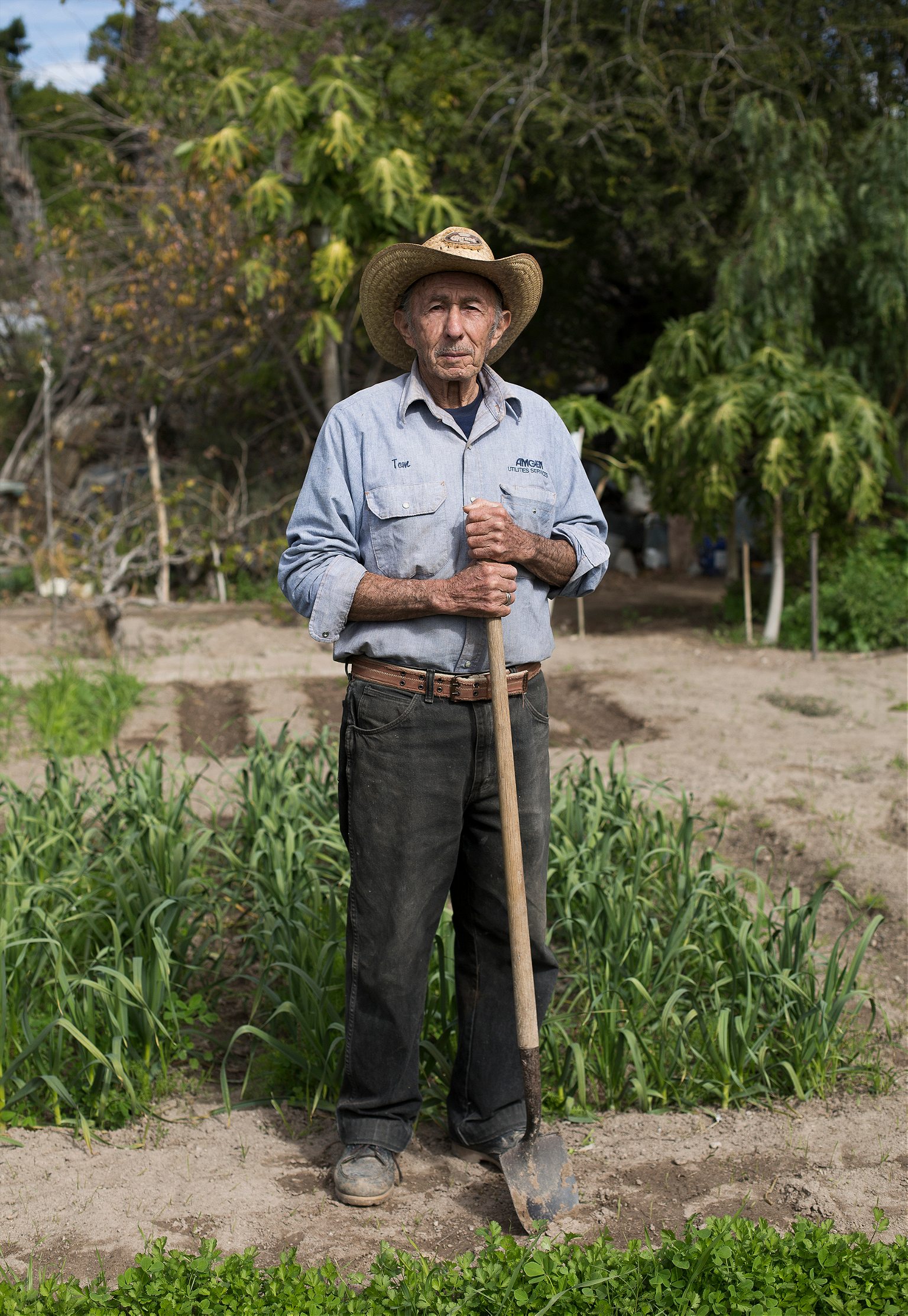 Aguilar is an audodidact as well as a farmer. He plays the violin and saxophone and carves wooden sculptures. At 75, he taught himself to carve stone, too, so he could help restore the cornices on the town's 18th century church. Three years ago, he tells me, at the age of 79, he climbed the peak of the active Azufre volcano. I tell him I'd heard he made wine. "Dry and sweet," he affirms. "I drink a glass every day. It cures the heart." His smile fades as he gestures pointedly toward the open swath of grass behind his vegetable garden. "There used to be 400 vines just here," he says. "This last year was the first time I didn't make any wine."
I ask what happened. He shrugs. "Well, first there was Hurricane Jimena in 2009 and that flooded the whole town. Then just as the water started to clear, Hurricane Odile came," in 2014. I follow him to his house, where he fetches a picture of San Ignacio taken from this very spot in 1965. The white church spire rises into a blinding blue sky, the base of the church obscured by a canopy of vines. "San Ignacio used to be all grapes," he says. When I ask if he has any bottles from previous vintages, he suggests I try next door where his neighbor, a comparatively young man in his late forties named Cipriano, might have a few left.
He set a fire that tore through the village, wiping out what vines had survived the floods.
Cipriano, as it turns out, did have a few bottles from two years back, the only ones, he tells me, that hadn't burst in the fire. There was a fire, too? I ask, incredulous. He nods. Sometime in 2016, the village drug addict (Baja, like much of rural America, has a growing problem with crystal meth) got in a fight with his mother and tried to burn her house down. Instead, he set a fire that tore through the village, wiping out what vines had survived the floods. "He liked to see things burning and people running," Cipriano says. "It was terrible."
Fire fighters from Guerrero Negro and the district capital of Mulegé arrived in time to save the church, but not to keep San Ignacio's vines from burning.
Cipriano's wife brings out a plate of homemade date paste and soft white queso fresco, both made right there in town from local sources that survived assorted disasters of stubborn Old Testament cruelty. I ask if she knows of other missions where I might find vines. "You should go to San Javier," she says, and Cipriano nods. I ask how to get there, a ridiculous question in a place with just one road. "Drive south," she says.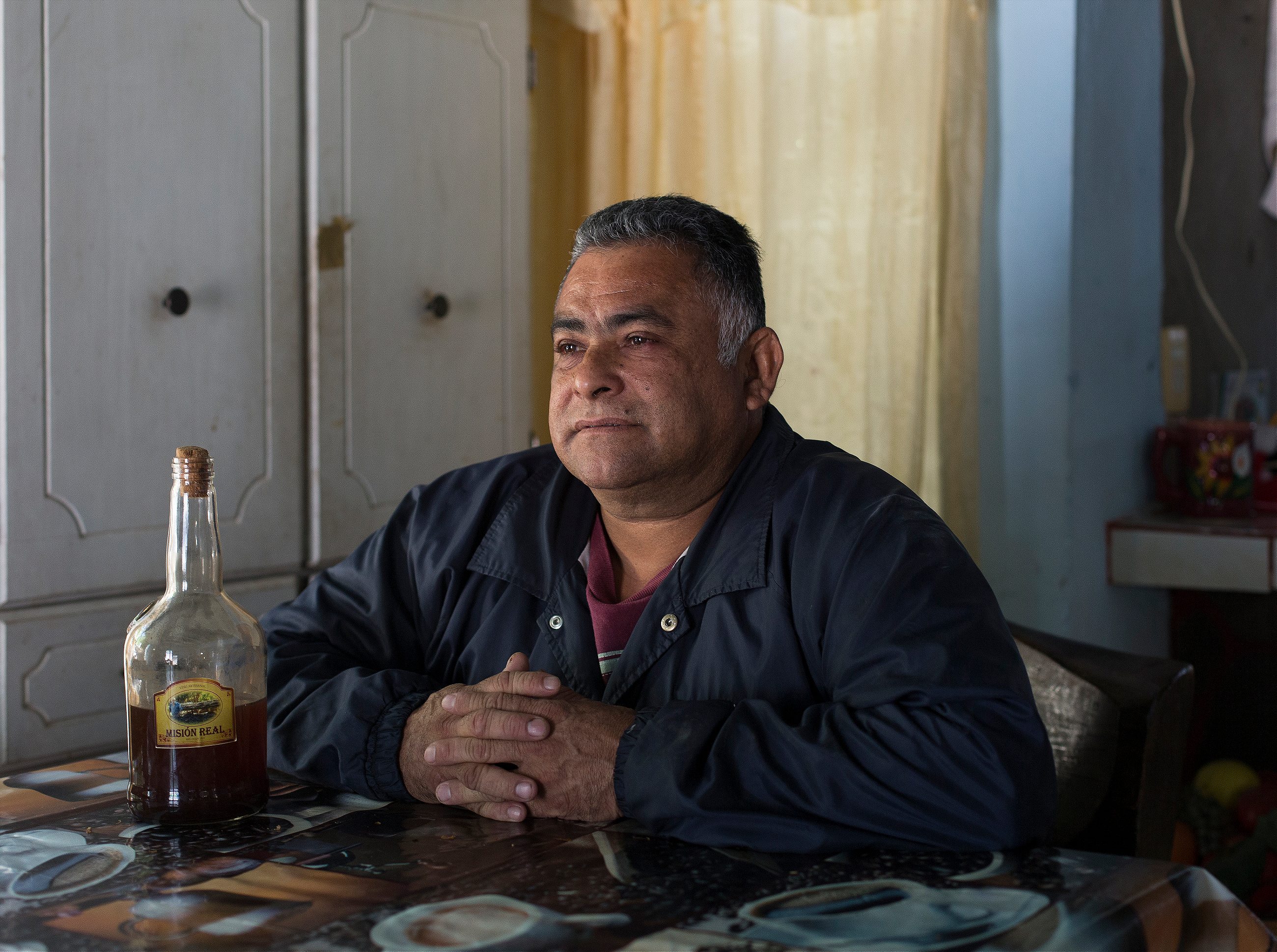 Travel is the game of chasing these ever-receding promises. In the age of discovery, it was the promise of gold and riches, kingdoms to topple and resources to exploit. The missionaries wanted souls to save and a blank spot on the map to build a City of God. Up north, nineteenth-century pioneers went west to realize the grand American promise of freedom and self-determination in a place as yet unmarred by European decadence. In the 21st century we've run out of land, so in American California we've sublimated the pioneer idea into an abstraction, transformed it into a quixotic quest for immortality through 'wellness' and Silicon Valley's ruthless technological optimism. Promises like these have always been impossible. All I want is a glass of wine.
Having grown up on the east coast and lived my entire adult life outside the U.S., I've never driven a long distance on the American continent. I love long journeys, but I've never particularly romanticized the Open Road. I'm a poor excuse for an American.
But from the moment I moved to Mexico, the Transpeninsular inexplicably captured my imagination. Where highways in the U.S. plow clear across the continent, asphalt monuments to manifest destiny, the Transpeninsular wends its timid way through a landscape that has stubbornly resisted colonization for over half a millennium. Even the towns that exist there now—Tijuana, La Paz, Guerrero Negro, Loreto—cling to its edges.
I should have known that there wouldn't be wine in San Javier, but optimism got the better of me. Even without wine, I am drunk on possibility.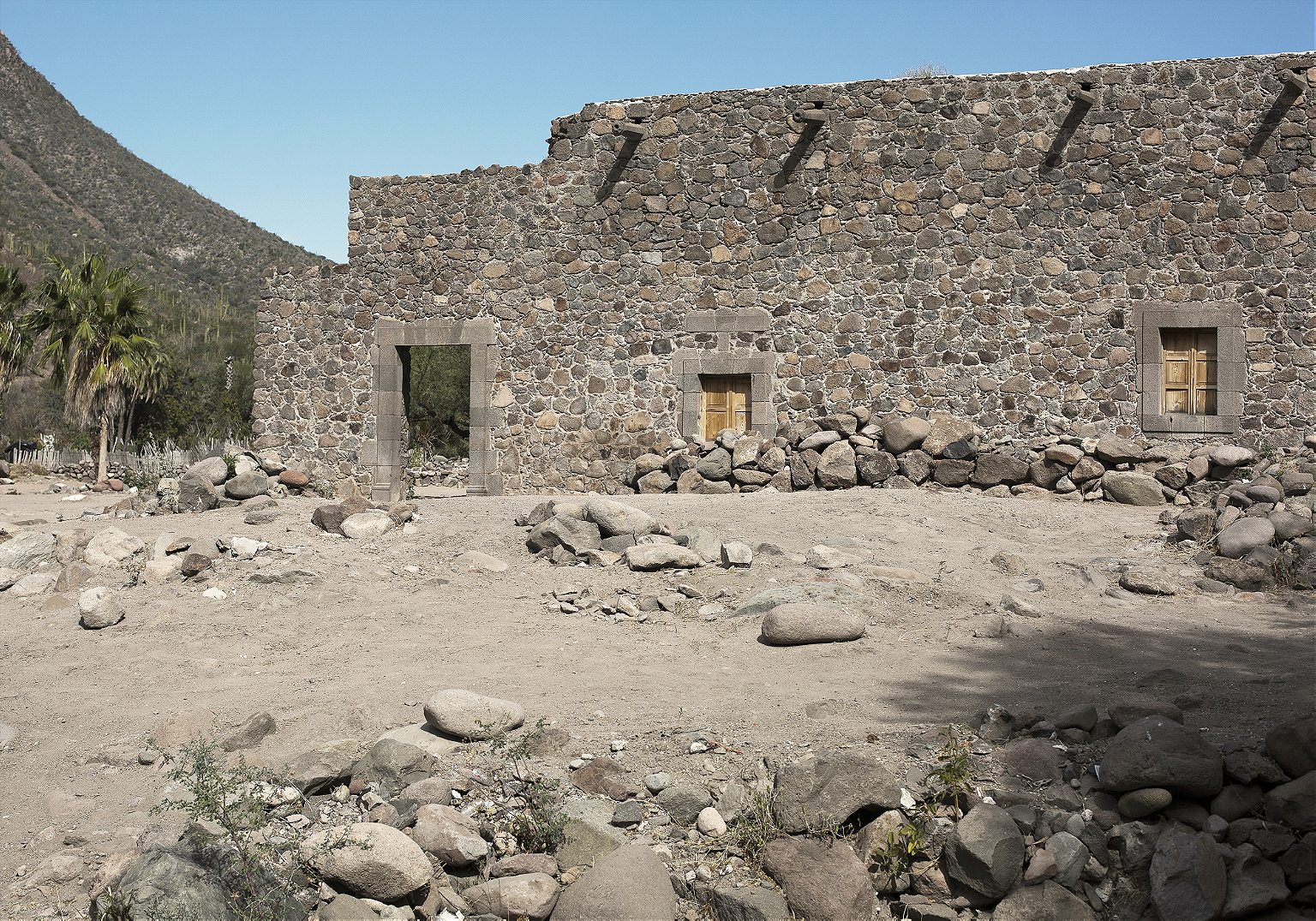 I reach San Javier in early evening, driving in along the only road in town, which winds down from the mountains into a horseshoe of austere cliffs and passes a handful of whitewashed houses on its way to a stolid stone church spire. A few years ago, the government of Baja California Sur, Mexico's most sparsely populated state, paved the road across the sierra to connect the town, California's second mission, to the coastal city of Loreto, the first. American tourists making their way along the peninsula can pass through on day trips now, and they do, though not in any great numbers, going home with mason jars of preserves made from mangoes, bitter oranges, and dates.
As the sun sinks, I wander into the only restaurant in town, La Palapa, to ask about wines. An old man named Guillermo Higuera tells me that he stopped making wine years ago, though he still presses olive oil from trees on the huerta that he'd inherited from his father. "My father lived to 105 years old, and my grandmother lived to 125," he says, "all because they cooked with their own olive oil and drank their own wine." Aguilar had told me much the same thing. These days, they both agree, people are moving to the cities and dying younger.
The next day I head out to a pair of ranches not far from town. At the first, Don Chuy tells me his vines all died a year before from some unknown plague. At the neighboring ranch, Santa Isabel, a young farmer named Elvin tells me that half his vines died, too, but that they'd been able to produce 50 liters of wine from the 200 vines they managed to save. I ask if he is doing anything to keep the plague from spreading to the healthy vines. He just shrugs. If I want to see vineyards, he says, I could try Comondú. I want to go, certain, somehow, that in Comondú my luck will change, but time has just about run out.
That afternoon, Higuera shows me around the long family plot behind the church. He pulls small fragrant guavas and bright yellow lemons from low-hanging branches, plucks pods of sweet peas from curling green vines, and opens a perfect pomegranate bursting with seeds the color of a good burgundy. On our way out of the fields, we stop by a 300-year-old olive tree near the back of the church, one of the first foreign plants to grow on the peninsula. It still produces olives each year. In front of it, a family from the mainland poses for a picture.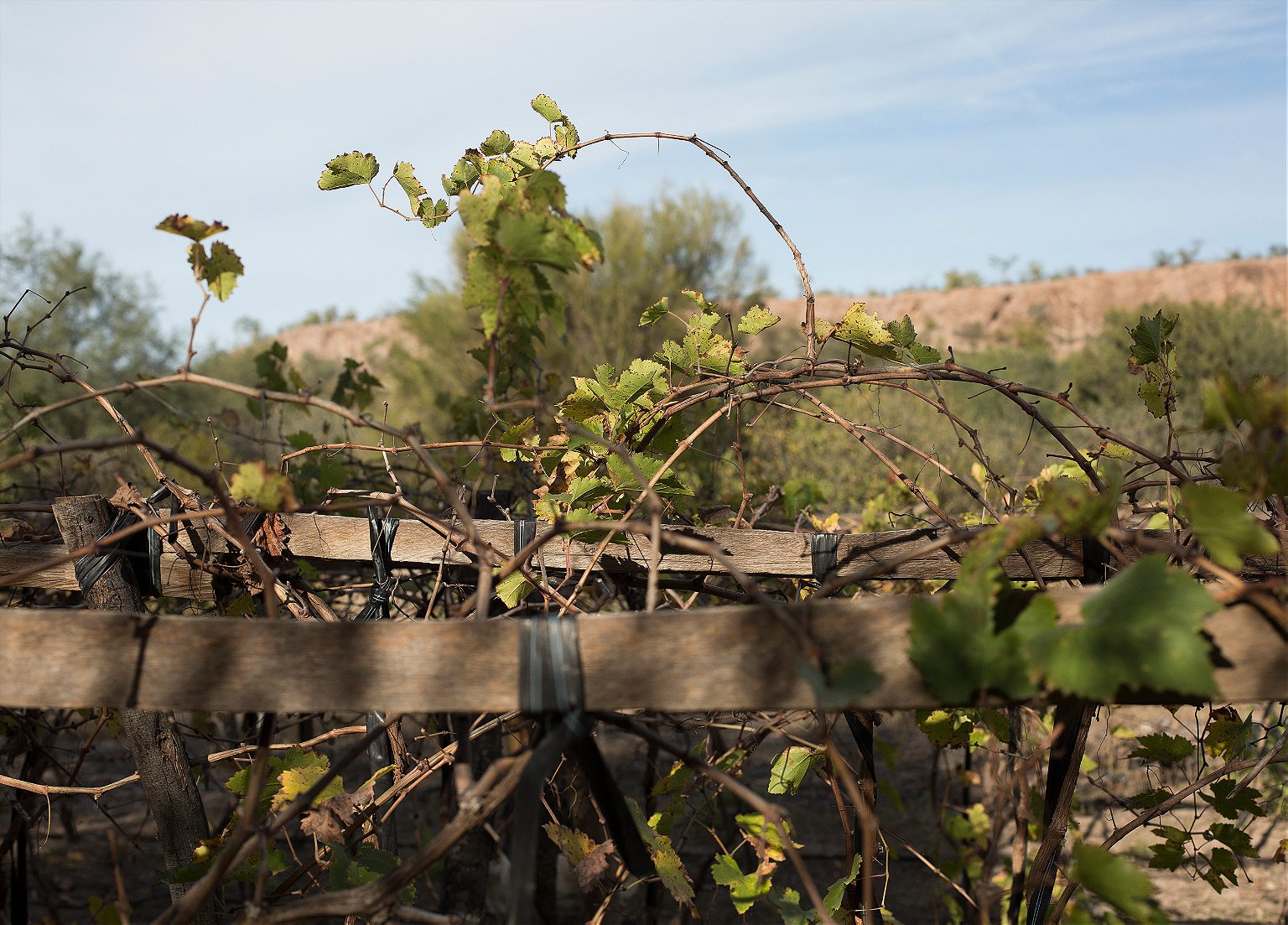 I leave Baja a few days later, flying home to Mexico City from La Paz, the capital of Baja California Sur, and the same spot where the first outsiders set foot on the peninsula almost 500 years ago. I've driven more than 1,000 miles, from Tijuana in the north, where thousands of immigrants breathe in the second-hand smoke of the American Dream as it burns to ashes across the border wall, to Los Cabos in the south, an exclave for wealthy Americans whose ideal foreign country is one where they can always speak English and always pay in dollars.
Cota and I have spoken a few times since then. He's complained about neighbors in Ejido Morelos renting their land to corporate farmers whom, he claims, are basically agents for Wal-Mart (Manifest Destiny is alive and well). He's told me about the red earthworms he brought in from American California to make the soil on his farm in Morelos more fertile and the funding he's just started receiving from the Mexican government to help him develop a sustainable winery, which he hopes to replicate someday back in Santa Getrudis. Maybe the combination of medieval grapes and modern technology can help return his homeland to something resembling its ancient equilibrium.
He's told me he expects to produce his first vintage in five years' time and that when that happens he'd like to open a small restaurant serving seafood from the fishing village next door, barbacoa from his own sheep, and wine from his own grapes. "I think we're finally at a moment when we're returning to our roots," he says. "I want to bring back the grapes that my ancestors grew."
I believe that he will and that one of these days, I'll taste the wine that, this time around, evaded me. California still has promises to keep. Humans are resilient animals.