Drinking Beer on the Border, a Few Miles and a World Apart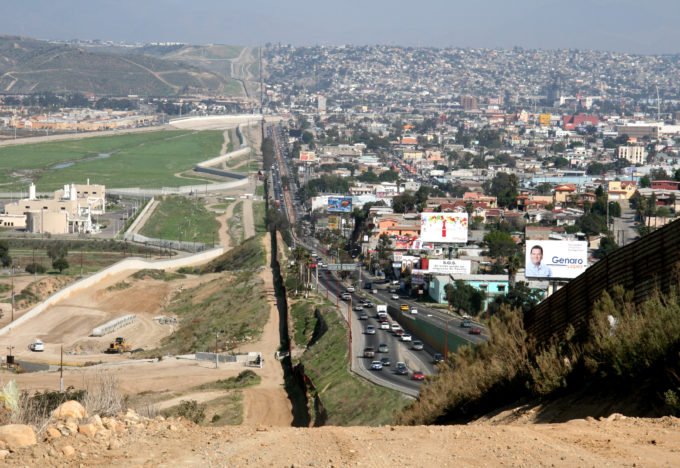 Drinking Beer on the Border, a Few Miles and a World Apart
Tecate in Tijuana
It was nearing five o'clock: dinner-service time. A blonde Russian couple chopped vegetables while Chris, originally from Seattle, scurried around the worn-in kitchen, collecting pots, bowls, and serving spoons. My hosts—the Tijuana chapter of Food Not Bombs—had invited me to see them in action, and were putting the finishing touches on the meal they had been preparing all day, something with broccoli.
The staff here cooks a vegetarian dinner twice a week for people in need, from those deported from the U.S. to Haitian refugees to local drug addicts to anyone else who wants a free meal. They have a strict policy of using only donated and found food, which in Tijuana means anything that was not sold that day at the Hidalgo and Abastos markets.
Food Not Bombs is housed in an old, slightly derelict hostel called Enclave Caracol, just outside Zona Norte, Tijuana's red light district. This is the city's northernmost point: from Enclave Caracol's roof, you can see the fringes of San Diego mere hundreds of yards away.
While there, I heard whispers about a Haitian Poul nan Sòs, or Chicken in Sauce restaurant, on Calle Segunda, just a few blocks up from their headquarters. A small group of us set out, hunting for the Haitian chicken joint. Eventually, we found it: an enterprising Mexican couple servicing two storefronts on different sides of a corner. Inside, nobody was eating. Ten men sat together, hovering over their phones.
Since early October, when Hurricane Matthew devastated an already limping Haiti, refugees have been fleeing the island, with many ending up in Brazil. From there, they take buses towards the United States, where their journeys often end in Tijuana. With that, so do their dreams of ever making it across the border, so they languish in the city, trying to figure out their next move.
A Mexican woman appeared from the back of the chicken joint. She initially thought we were lost, but finally explained we could have one of two dishes: Chicken in Sauce with either white rice or Diri ak Pwa—rice and beans, Haitian style. Forty pesos, or two dollars. The chicken was baked and surprisingly spicy, with peppery skin and tender thigh and leg meat.
On the way back to Caracol, I walked into a tiendita at the edge of Zona Norte and bought a can of Tecate with my friend's pesos. I arrived just in time for the end of food service, as a flurry of Mexican and Haitian men scooped up their bowls and disappeared just as quickly as they had arrived.
As I cracked the beer open, I thought about the next service, when they'd have to start all over and gather what they can from the markets. I also thought about the fact that, just 15 miles away in downtown San Diego, donating food directly to the indigent remains actively discouraged by police, restaurants, charities and lawmakers. Some restaurants pour bleach over their leftovers after tossing them in the dumpster. Is a plate of food ever just a plate of food?