The calming effect of a good travel companion and strong liquor in your coffee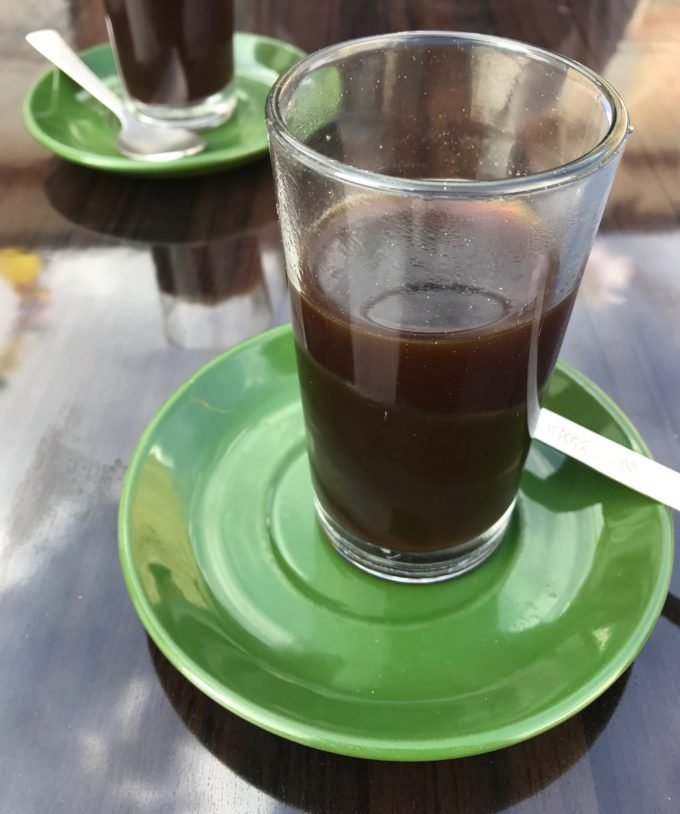 The calming effect of a good travel companion and strong liquor in your coffee
Spiti Coffee in Himachal Pradesh
Mutton momos are a revelation. The juicy little parcels are packed with flavor, and I eat as many as I can. I'm up in the Himalayas—in Spiti Valley, to be exact—with the boy I started dating about a year ago. This is a far-flung corner of India's Himachal Pradesh, halfway across the country from my home in Mumbai. It's our last day in the high-altitude desert, and we've just stumbled upon a tiny, homely restaurant in Tabo that dishes out the best mutton momos.
Spiti is not like most other parts of India. The mountains loom large, brown and beige hues dominate the barren landscape, and quite frequently, centuries-old monasteries are markers for villages. The winters are icy and cold, and in the summer, the scenery turns green. Barley is one of the crops that emerge in the fields in the summer. Traditionally grown in these areas, it's a big part of the local diet too—monastery breakfasts include roasted barley flour that's mixed into salty butter tea, and locals make alcoholic brews out of the crop. It's this potent liquor that finds its way into my coffee.
Sipping on the strong concoction, I find myself reflecting on the trip. I'd come prepared for the worst—from mountain sickness to major fights. Travel is a big part of our work lives, but we travel very differently. I'm the sort of traveller who plans meticulously and worries constantly, but he really isn't.
Looking back, I could've eased up on the fretting.We let our moods dictate our days. Earlier this day, we had explored the little town of Tabo. The biggest draw—it's not the juicy mutton momos or the Spiti coffee—is century-old Tabo Monastery, where we admired detailed murals and intricate clay sculptures. Forty-five minutes away, the 500-year-old mummified monk in Giu is also a treasure. I snapped photographs of apple orchards, and kept an eye out for apricot trees. It was while wending our way through the narrow lanes near Tabo Monastery that we chanced upon Kunzum Top, the cosy café where we're having pakoras and "Spiti Coffee".
Much like this trip, the coffee isn't what I was expecting. It's an acquired taste—I grimace at first, but it quickly warms my insides. The drink is bitter, but like travelling with no plans, it also makes me feel good. As I sip on my Spiti Coffee, puffy clouds drift along in the sky, Tibetan flags flutter in the wind, and my boyfriend's reassuring calm stays constant. I could get used to this.
Café Kunzum Top
Sonam Homestay
Near Tabo Monastery
Tabo, Lahaul and Spiti,
Himachal Pradesh – 172113