Pancakes were missing this one secret ingredient all along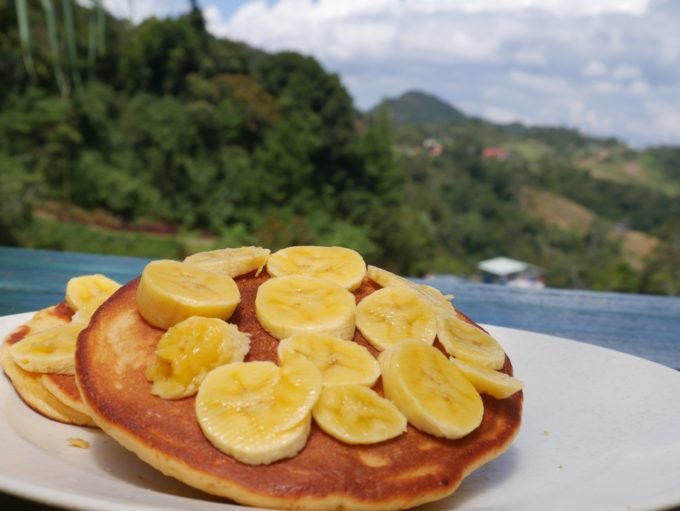 Pancakes were missing this one secret ingredient all along
Pancakes in Sabah
It was a breakfast that I had eaten a hundred times before, but something seemed… off. Not off in that push-your-plate-to-the-side-and-stop-eating sort of way. Off, because I would not usually eat a pancake and wonder what on earth the ingredients were. I detected a flavor much more complex than a routine whisk of flour, milk, and eggs, yet this twist was too subtle to pinpoint right away. I felt I had no choice but to help myself to seconds.
I noticed the tartness. There was a hint of something tangy (ginger perhaps?) which balanced this sugar-sweet ensemble in the most satisfying way. 
The texture was also not pancake-typical. Each hefty disc of batter was puffier than a crumpet, and porous as a fresh sponge. Whoever made it had nailed the delicate crispy on the outside/fluffy on the inside flapjack feat with every flip of their spatula. It was clearly a practiced hand, and I was determined to meet the human connected to it. I ventured into the kitchen in a humble attempt to sniff out the recipe.
Bebie and Ana, the masterful cooks at Jungle Jack, giggled as I relayed how the intricate flavors in these pancakes had stumped me.
"It's easy! Just evaporated milk and eggs and some flour." Bebie smiled, ladling thick saucers of batter onto the hot pan and covering it with a pot lid.
I would not be so easily dismissed, and they could tell.
"Okay. We'll tell you the secret," Ana's eyebrows motioned for me to listen closely, and Bebie's voice held the same ardour as a woman airing her husband's dirty laundry to a friend. "We put Eno inside too. Just a little more than a teaspoon."
"Eno?" I responded, more puzzled than disappointed by this unexpected ingredient. "You mean the powder that you drink for heartburn and bloating?"
"Mmhm," Bebie nodded and handed me the ginger flavoured Eno powder bottle. "Sometimes we use the lemon one too. Eno makes pancakes grow, like baking soda. But don't worry," she reassured, "will not be bad for your stomach."
So Eno was the key to all the magic. I lingered in the kitchen for a while, feeling somehow bonded with them over this whisper of sacred information. Admittedly, I was also waiting around in the hopes that they would share more gastronomic hacks. And in time, that's exactly what they did.
Jungle Jack Backpacker
Kundasang
Tenompok 89300
Sabah, Borneo
Malaysia