The best dumplings in the world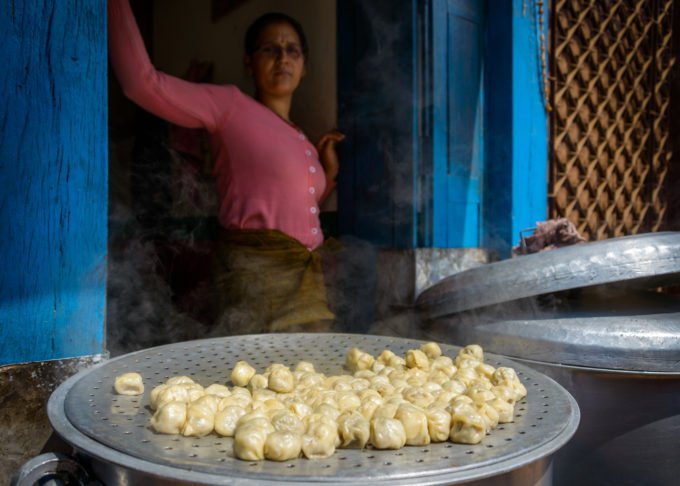 The Chinese influenced them, the Tibetans invented them, and the Nepalis perfected them.
This post originally appeared on May 11, 2018, in Anup Kaphle's weekly newsletter. Read the archives and subscribe to the newsletter.
***
Hello, there. Have you ever had dumplings?
OK. But have you ever had the best kind of dumplings?
Not xiao long bao. Or its sibling, sheng jian bao. Not a samosa (yes, it is a dumpling). Not mandu, or manti. No, not even khinkali (disclosure: that's R&K co-founder Nathan Thornburgh's favorite kind).
To me, the best type of dumpling is the MOMO—round palm-sized dough wrappers filled with seasoned meat (vegetables, too, but mostly meat), neatly folded into half-moon-like purses or knotted, round pockets and then steamed. But that's just half of what makes momo the best dumpling. Once steamed, they are served with a side of chutney or a thick, soupy sauce made with tomatoes, chili peppers, and cilantro. Heaven.
Nepalis like to say momos are from Nepal. The delicious, popular version is. But momos originated in Tibet and made its way into Nepal with the merchants of Kathmandu, the capital, who regularly traveled to Lhasa for business during the 19th and early 20th centuries. After the uprising of 1959, tens of thousands of Tibetans migrated into Nepal as refugees—and with them, they brought their special treat. Newars, the traders from Kathmandu, replaced the yak meat from the original Tibetan recipe with the more readily available water buffalo meat, a local delicacy. Nepalis who didn't eat buffalo started making them with chicken and goat. Those who didn't eat any meat at all stuffed their momos with cabbage and potatoes.
But everybody dipped them in chutney—or more commonly these days, in a bowl filled nearly to the brim with jhol, a spicy, lukewarm sauce made by puréeing tomatoes, garlic, cilantro leaves, sesame seeds, roasted soybeans, and half a dozen other spices.
I have been making momos since my early teens. Beside goat curry, they are a highlight for most Nepalis. So strong is the bond with momos that it has traveled with Nepalis (and Tibetans) wherever they go—from New York to London to Sydney. You haven't met a true Nepali friend until they've made momos for you—or, at the very least, told you where to find the best momos in your city.
For those who have either never met a Nepali or don't live in a city with a thriving Nepali or Tibetan diaspora, R&K is here to help. I'm sharing a ~simplified~ momo recipe here in hopes that you will make it—and tell me there are no dumplings superior to momos.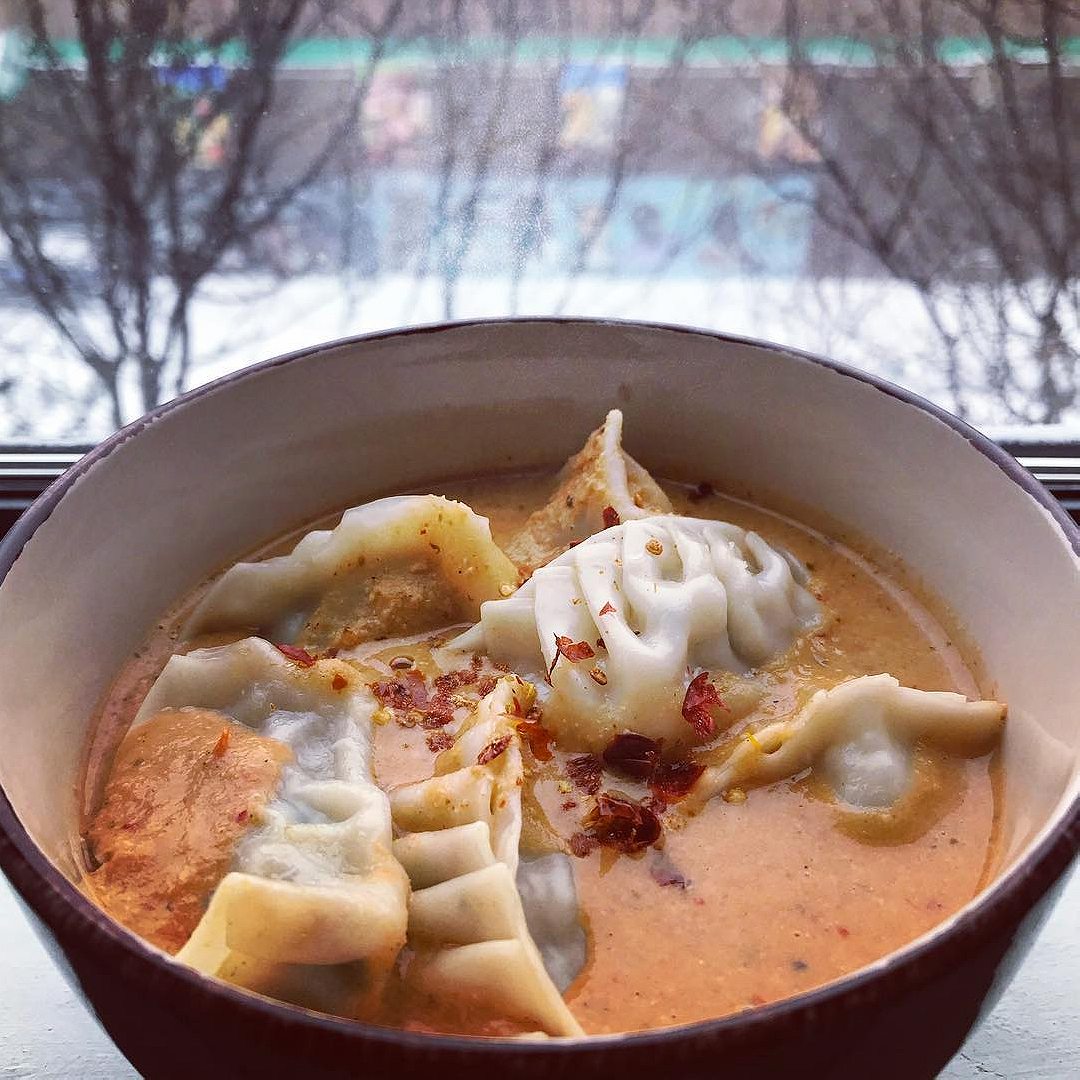 First, let's make the wrappers. You can make them at home (recommended) by kneading the dough, making small 1-inch balls, and then flattening them on a wooden surface before using a rolling pin to create perfect, circular wrappers. This video can help. If it still sounds terrifying, you can buy the dumpling wrappers available at most Asian grocery stores.
Second, prep your filling. Pork > chicken. If you can get bison meat, go all out. Combine ground meat (2 lbs) with finely chopped onion (2 pcs), minced garlic (1 bulb) and ginger (1-inch piece), and thinly chopped cilantro (1½ cups) in a large bowl and mix. Sprinkle turmeric (½ tbsp), salt (2 tbsp), curry powder (½ tsp), ground cumin and coriander (1 tsp each) and oil (4 tbsp) on top, and thoroughly mix everything. (Vegetarians can boil potatoes and mash them, and mix with chopped cabbage and chives. All other ingredients are the same.)
Third, wrap the momo. This is an art, and it takes a few—anywhere from minutes to months—to perfect. Start by holding a wrapper in your fingers and using a fork, put a scoop of mince mixture in the middle of the wrapper. Pinch the side of the wrapper and then raise the front part of the wrapper with your thumb. Make a crease with your other index finger. Repeat this until you close the wrapper into the shape of a half moon. You can use your second thumb to press the meat, so it's not spilling out of the wrapper as you wrap and make those creases. I always share this video with my friends when I encourage them to learn to make momos. The 5th, 6th, or 7th ones are closest to how you'd wrap momos.
Fourth, make the chutney. Roast the tomatoes (8-10 medium) and garlic (1 bulb) in the oven for about 20-25 minutes. In a pan, roast cumin (2 tsp) and sesame seeds (2 tbsp) and then set them aside. Heat some oil and fry fenugreek seeds (10-12 seeds) until they turn dark brown. One by one, put the roasted tomatoes and garlic, roasted cumin and sesame seeds, Sichuan pepper (½ tsp), green and red chilies (3 each), chopped cilantro (1 cup), lemon juice (from 1 lemon), and salt (1 tbsp) into the blender jar. Puree the entire thing to make a sauce. If you, like me, prefer a soupy chutney, aka jhol, add warm water and stir.
Finally, time to steam them. Heat a steamer on top of a stove with enough water at the bottom to boil. Generously apply oil onto the steamer rack to make sure the dumplings don't stick to them. Arrange the dumplings on the rack and then cook covered for about 13-15 minutes. If your steamer has more than one rack, cook for the first 10 minutes, and then switch the steamer rack at the bottom to the top and then vice versa. Then steam for about four more minutes. Your momos are done—but be careful, they are hot.
Take them out, put them in a bowl, and pour the chutney from the top. You're welcome.
See you all next Friday.
Subscribe to receive R&K Insider, our collection of the most compelling happenings in food, politics, and travel from across the web.