The "god of football", as local papers called him, arrived on Indian soil for a friendly at Salt Lake Stadium. But where will the beautiful game go from there in India?

Though its national team slumps from humiliation to humiliation and its domestic clubs toil in obscurity, India has arrived at least in one sense on football's international stage: The Asian giant has become an important market for the sport. Football has never been so popular in India as it is now. Its appeal has boomed outside its traditional coastal hotbeds of Kolkata and Goa, fanned by satellite TV and the growth of an aspirational, worldly middle class. A new generation of Indian fans is happy to consume football at a remove, staying up late at night to watch their adopted teams battle in distant stadiums they may never get a chance to visit.
With such easy televised access to glamorous European football, many fans treat the domestic league like a bumbling old friend from school—an object of affection, but not something to take seriously. It's not an unreasonable attitude. Why brave dilapidated grounds to watch muddy dirges of football matches when the Champions League is available from your sofa?
There was a time when India's domestic game kept international stars of its own. Indian leagues have long boasted a smattering of foreign players, mostly from the Middle East, Africa and, unsurprisingly, Brazil, which exports its surplus of talent to the remotest provinces of the game. Most of these players lead itinerant careers, drifting from club to club, country to country, rarely putting down roots in India. Some, however, do manage to form closer bonds with Indian football. I fondly remember a Kolkata talisman from an earlier period, the muscular Nigerian forward Chima Okorie. An architecture student turned bulldozing striker, he made a name for himself in the 1980s and 1990s, winning titles with a number of clubs across the country. Okorie rose to prominence at a time when the lights of the outside football world did not burn so brightly in India, when the local game was not so obscured by their glare.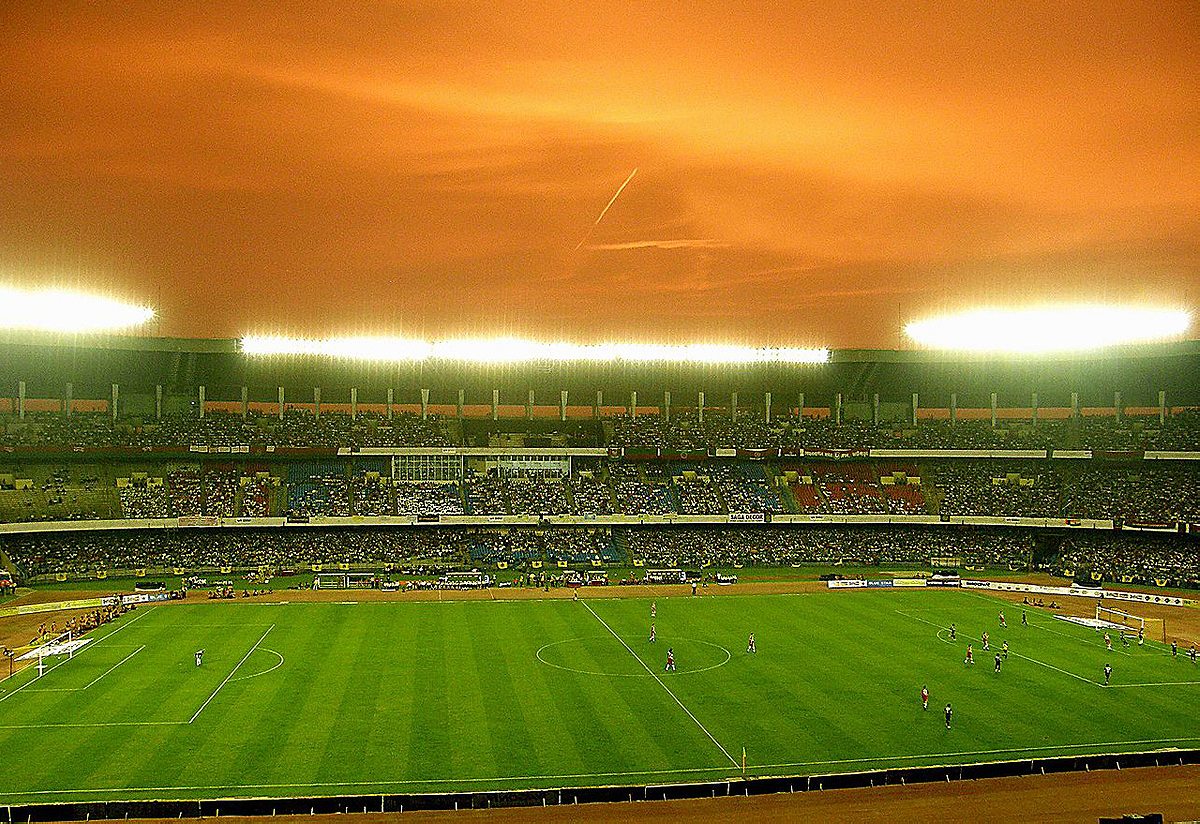 That glare was probably at its most blinding two years ago, when India hosted its first official FIFA-recognised international friendly. Argentina played Venezuela in Kolkata's Salt Lake Stadium, with Lionel Messi leading the line.
I was among the crowd when the "God of Football" (as most Indian papers piously anointed Messi) came to earth in Kolkata. His side cobbled together a 1-0 win, but the result was incidental to the event and its star. In the build-up to the match, national media tracked Messi's footsteps, naps and sandwiches as if we needed proof he was real. A city pinched itself. With kick-off fast approaching and the anarchic line outside Salt Lake Stadium looping on itself, men pushed ahead. "Hurry, hurry," they laughed in Bengali, "Messi will hit the floor once and decide to go home." (Much to everyone's surprise, he played the full ninety minutes). Hawkers harried those of us who shuffled along with our dumb faith in the utility of queues. A man in a floral shirt with henna-dyed hair tried to sell Argentina "hats"—paper cones painted with stripes of blue. "Maradona wore this hat," he joked, "Batistuta wore this hat, Burruchaga wore this hat." And Messi? He was startled. "Messi? Why would Messi wear a hat?"
In Kolkata, in an unfamiliar climate and unfamiliar city, Messi simply played.
The little Argentinian forward tends to respond to spectacle and hype with rather predictable professionalism. On Salt Lake Stadium's quick artificial surface, in an unfamiliar climate and unfamiliar city, he simply played. That in itself was its own joy for the 75,000 or so who came to see him.
Kolkata is no stranger to football's showmen. In his dotage, Pelé (along with Franz Beckenbauer, Carlos Alberto et al) landed in the city with the New York Cosmos in 1977, plodding through a friendly against local club Mohun Bagan. Not to be outdone, Diego Maradona visited a few years ago. A tour that included a meeting with an iconic Communist politician eventually brought him to Salt Lake Stadium, where he did kick-ups for the masses, blew kisses, pumped his fists in the air. He was in his element, every bit the happy demagogue. Uruguayan forward Diego Forlan cut quite a different figure in 2010. Fresh from his World Cup successes, he appeared on a reality TV show before presiding over a friendly at Salt Lake Stadium, sitting glumly on the sidelines in a polo shirt and trousers. Other big names have visited and played in Kolkata, from the "Black Spider" Lev Yashin to Oliver Kahn, whose last appearance for Bayern Munich was in a friendly in Salt Lake Stadium against Mohun Bagan.
Messi arrived in Kolkata not as a bystander, a tin-pot celebrity, or a veteran rubbing his knees and pinching his pennies. Still in the long summer of his prime, he came in earnest. He was watched in earnest, too. The crowd thrilled every time Messi received the ball, chipped and flicked to his colleagues or floated through Venezuela's midfield. He has this marvelous way of carrying the ball that's all the more evident when seeing him in person, at once energetic and graceful, bustling and gliding. But as Argentina struggled to break through, fans threw up their hands at missed connections or teammates' turnovers. Venezuela launched counter-attacks down the right, disheveling Argentina's left-back. The crowd sportingly applauded such forays, but yearned for an Argentina goal.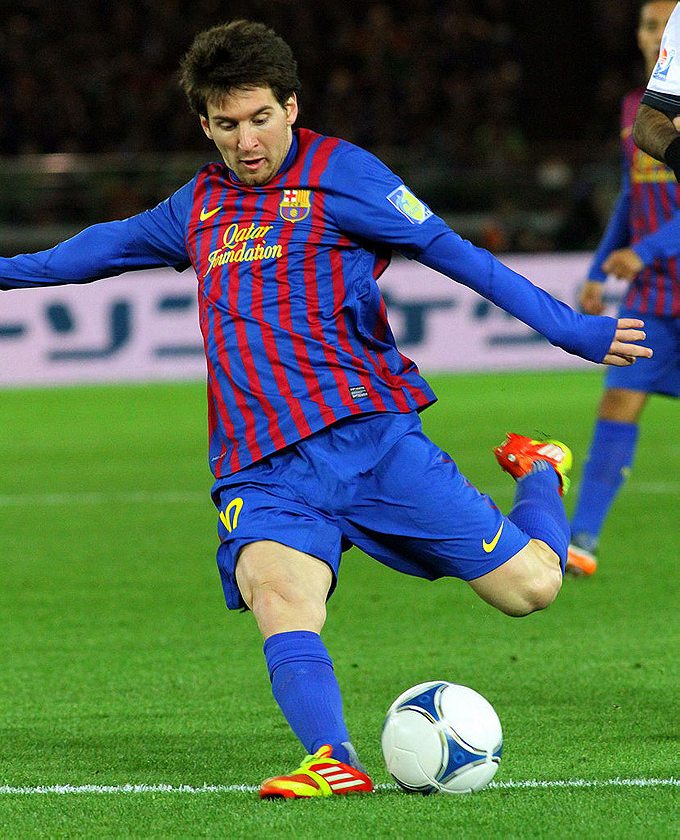 Salt Lake Stadium was smothered in white and blue, colors adopted not out of fickle interest in the occasion but rather from old allegiance. Unlike many other parts of the country, Kolkata has long been home to passionate football supporters from all class backgrounds, plugged into the global game. The city is fairly evenly divided between those who support Argentina and those who support Brazil. During major international tournaments, the flags of both countries can be seen flying across the city. Fireworks and street celebrations greet their victories, lamentation and public gloom their defeats.
Messi, of course, made the game's only goal, finding the head of defender Nicolas Otamendi from a corner. It was enough. The crowd chanted his name and the papers the next day crooned that the world's best footballer had shown his greatness in India. One report suggested he may have found his grandest stage. "Camp Nou, La Bombonera, or Salt Lake Stadium? It's for Messi to decide." "Messi Magic Mesmerises" honked the Times of India. In truth, there were only glimpses of the sublime in his performance. There was application, and that was sufficient to flatter an audience that was won over from the start.
If FIFA and the match's organizers have their way, such "magic" and visits "gods of football" will become increasingly mundane in India. Glittering international and club sides will visit more frequently, just as they now grace the United Arab Emirates' castles in the sand and the chrome and steel stadiums of east Asia. As one FIFA official huffed recently, "India's full potential in football is, given the size of the country, enormous." The intention here is less to breed a new generation of Indian footballers, and more to produce consumers of football, to build the popularity and appeal of the international game amongst the country's growing middle class. Kolkata may be a traditionally football-loving city, but the middle class across cricket-crazy India is warming to the charms of the top European leagues. In this sense, Messi came to India as the leanest, fittest, ambassador of the sport ever seen in the country. Many Indians from all over the country watched as he trudged off the Salt Lake Stadium turf. Glued to their satellite TVs at all sorts of odd hours, even more will continue to follow him and his peers at the highest, most gleaming levels of the game.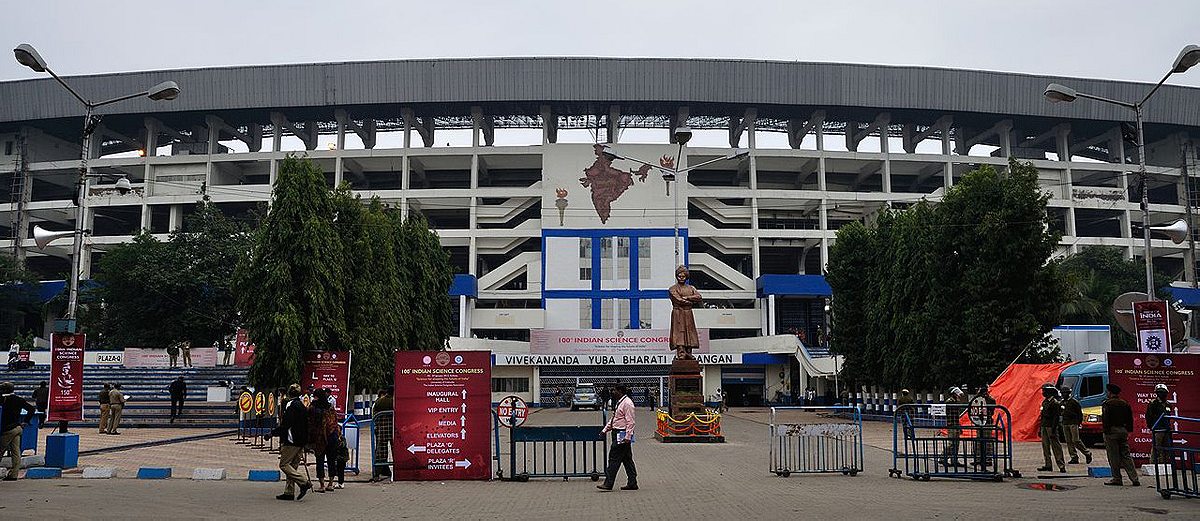 And what of Salt Lake Stadium? It is the second-largest football stadium in the world, capable of holding 120,000 spectators, but it seemed dim and unloved without its quickly departed god. For all the talk of new investment and restructuring, domestic football is struggling for attention. It is a familiar story across many "emerging" countries. The middle class have largely abandoned the local game since Barcelona, Manchester City, Borussia Dortmund and so forth can be found in their living rooms. The little Argentinian did not simply bring his own genius with him to India; he came and left as a reminder of the wider greatness beyond.
Recently, the entertainment and marketing company IMG Reliance announced plans to launch a franchise-based, ten-week tournament that would bring big name players to India. The IMG Reliance league seeks to emulate the success of cricket's Indian Premier League (IPL), which draws the best cricketing talent in the world to the country for a high-octane month of sport and commercial glitz. Unlike the IPL, however, this football league would be a motley and mediocre affair, roping in a handful of over-the-hill, semi-retired stars to play alongside local footballers. Established domestic clubs fear they will only be undermined by this distraction from their own competition. It's not clear who would benefit at all from the tournament, especially with the foreign stars parachuted in to India for little over two months.
Not long ago, Kolkatans kept their global stars closer to home. Watching Messi scamper about the artificial pitch of Salt Like Stadium, I found myself thinking of my first visit to the hulking arena in the late 1990s, a time when India's pretensions of grandeur were far more circumspect and the summer rains still made puddles out of the center circle. Despite the mud, there was something utterly glorious about the place. A full house of 120,000 people (far more than the number that came to watch Leo Messi) crammed its three tiers of terraces. Most of them had come down the jangling airport road that binds Kolkata to its eastern outskirts, packed in buses and the backs of trucks, clinging to the rumps of motorcycles, all the while flying their colors—the vegetal green and aubergine of Mohun Bagan, and the yellow and red of archrivals East Bengal. The colors streamed across the stadium in the thickening din. Men sat squeezed together on the terrace steps, hugging their knees, chatting and laughing, passing around cigarettes and bidis, occasionally catapulting great bursts of betel leaf juice against the pillars, their bases stained red by years of spitting.
I stood with the supporters in green and maroon, those of Mohun Bagan, the traditional team of Kolkata and of my family, followed by my grandfather since the 1930s. For decades, their clashes with East Bengal (founded by men from the eponymous region, now known as the country of Bangladesh) have been the biggest fixtures on Kolkata's and India's footballing calendar. Rather than in the team's rickety ground inside the city, these matches are played in the giant Salt Lake Stadium, a colossal venue appropriate for the occasion. By any measure, the Kolkata derby is a big deal. It has been the subject of numerous books, films and plays. It divides families, friends and neighbourhoods. And it even helps determine the local prices of seafood, with each team's fans spending prodigiously on rival species of fish should they win. Here, footballing faultlines run deep as the sea.
As the teams came out, the roar of the crowd rolled back and forth across the stadium. I have no idea what the other half chanted, but the Mohun Bagan end was swallowed in the repetition of a single name, over and over again, rising in pitch and fervor as a tall dark man waved in our direction. "Chima, Chima, Chima, Cheeeeeeeema," we yelled.
Chima Okorie was one of Kolkata's original international football icons. Like many of India's conquerors, his path to greatness was accidental. He arrived from Nigeria in 1984 not as an athlete but as an architecture student. Success with his university team somehow magicked him into the chaotic realm of Indian professional football. A burly striker with a powerful shot, Okorie spent most of the next ten years with Kolkata's three biggest teams. His last move within the city saw him swap East Bengal for Mohun Bagan (the first transfer in the Indian game to surpass Rs. 500,000), where for many years he continued to top the scoring charts and pile up the trophies. Those were his glory days.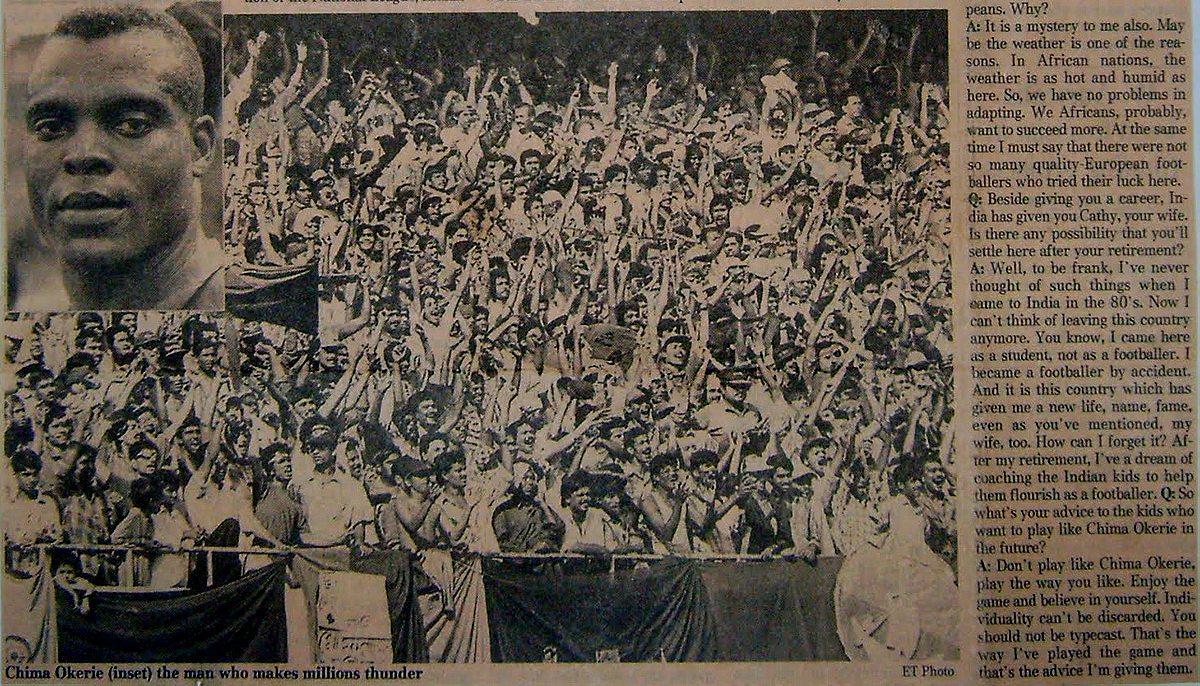 Greatness in Kolkata convinced Okorie that Europe beckoned, a silly idea in retrospect. Failed trials at Leeds and Notts County were followed by desultory spells with Peterborough, Grimsby and Torquay, and two bumbling seasons in Scandinavian football. In the end, Okorie packed his bags and returned to where he was loved. He rejoined Mohun Bagan in 1997, very much in the dusk of his career.
That day was the first and last time I saw Okorie play (he would eventually be suspended in 1999 for two years for assaulting a referee, a ban that effectively ushered him into retirement). But even then, when visibly labored and clumsy in his passing, his every touch drew cheers from the crowd. A blistering free kick, invariably over the bar, still won applause. The fans weren't stupid; they cheered for their memory of him as much as for the creaking man before them. Thousands of better footballers scratch about the low and high leagues of the world, never knowing a fraction of this adoration, nor hearing their names intoned by so many in the fleeting, magical chorus of real faith.
Okorie still lives in India. After venturing into coaching, he started a somewhat incoherent website (now defunct) called "Sexy Football," where he blogged, among other things, about whether "it is still cool to be an Arsenal fan."
[Header image by: DIBYANGSHU SARKAR/AFP/Getty Images]