We would absolutely travel 2361 miles for this duck broth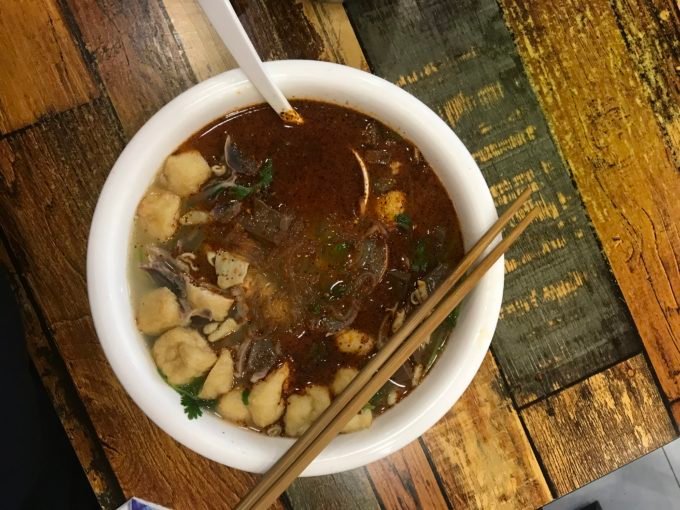 We would absolutely travel 2361 miles for this duck broth
Duck vermicelli soup in Shanghai
Call me a creature of habit or weak-willed, at one point in my life when I lived in Shanghai, I was having duck vermicelli soup almost every day for lunch, even in the summer, unable to resist the temptation of slippery vermicelli and crunchy duck gizzard.
Duck vermicelli soup is probably not the best summer food, as the dish is considered to be a warming food in traditional Chinese medicine. But I grew up in tropical Singapore, where traditional warming foods like hot pot and mutton soup are consumed on a whim all year round.
Legend has it that a poor man in Nanjing had accidentally dropped mung bean vermicelli into a bowl of duck blood he had saved after slaughtering a duck. Not wanting to waste the vermicelli, he cooked it in duck blood. It turned out delicious and he was eventually hired as a chef to cook the dish.
As I've discovered the hard way, it is nearly impossible to track down this rich soupy concoction of vermicelli and duck offal outside China. In recent years, duck vermicelli soup wasn't easy to find in Shanghai either in the wake of the government crackdown on hole-in-the-wall eateries and street vendors.
Of course my usual eatery in Jing'an district has long been shuttered. What remains are chain eateries like Zhouli and Youzi, somewhat sterile, but at least serving up decent vermicelli.
Duck vermicelli soup was the only thing on my mind when I took that red-eye flight to Shanghai this summer, eight years after I'd moved away. Shortly after my plane touched down at Pudong Airport, I made my way to a Zhouli branch near my hotel, on peak-hour public transport with luggage in tow.
An hour and a half later, I arrived just as the place opened. The internet was right; it isn't the kind of place one stumbles upon, located in an unmemorable building hidden in a neighborhood of equally characterless malls.
The duck vermicelli soup tastes the same as I remember it. A piping hot bowl of vermicelli, duck gizzard, intestines and congealed blood cubes in flavorful, nourishing duck broth, topped with fried tofu puffs and roughly-chopped coriander. I asked for extra coriander and doused everything with excessive, breakfast-unfriendly amounts of Zhenjiang vinegar and chili oil. I blame my Singaporean palate.
I've always relished the opportunity to be the invisible foreigner in establishments like this with no English signboards or menus, discreetly tucking into my food at one of the communal tables among middle-aged Chinese clientele.
Nowadays though, with mobile payment applications so ubiquitous in China, my cover is blown the moment I pay cash, a dead giveaway that I'm not local.
Drenched in sweat and my mouth on fire, I have finished my bowl of vermicelli and drunk the spicy-sour broth to the last drop. Even then, I'm still reluctant to admit that I might have been better off eating something else in the depths of Shanghai's humid summer.
Perhaps in my relentless search for duck vermicelli soup, I wasn't just looking for comfort food. I was hoping to hold on to my fond memories of the past in a Shanghai I could barely recognize.
Zhouli Laoya Fensi
40-90 Tianyaoqiao Road, Huilian Commercial Building, Level 1
Xuhui District, Shanghai 200030