A small but growing community is stepping out of the shadows of Vietnam's past into the twirling lights of a disco ball. Meet Skarlet Tran—their fearless leader.
Inside a cramped apartment above his District 5 dance studio in Saigon, Danh Thanh Tran adds the final touches to his makeup. Resplendent in a white leotard, trailing black cape and eyeliner that sparkles under the cold tube lighting, Danh, 33, pulls on a Whitney Houston-esque wig.
Something under the feminine mask stirs and it is hard to miss. His eyes: smoked and heavy with makeup, faux lashes, and the playful tint of blue contact lenses, are alive and flirting, his voice is louder and stronger. Danh's cocoon of conformity evaporates as Skarlet announces her arrival upon glittering wings.
As the studio's open shutters vibrate to the pounding rain outside and the humidity rises, Danh gets reacquainted with his alter ego. He struts up and down the dance studio and leaps into the air before performing a perfect landing in stiletto heels. He takes a moment to admire his reflection in the mirror, grabs at his smoothed down groin and tweaks the bleach-blonde wig before continuing his pouting, preening parade.
"It's like a whole new start, a regeneration, a chance to do what I want," Danh says. "Everything suddenly becomes so clear, so perfect."
It was obvious that Danh (pronounced "YAN"), a softly-spoken I.T. consultant from Go Vap District to the north of downtown Saigon, was relishing every second he could steal as Skarlet. The transition from a shy salaryman to a magnificently flamboyant dance teacher, choreographer, and drag queen superstar, is one rarely seen by outsiders in real-time.
"On the stage, I'm 100 percent Skarlet," says Danh, "and when I go to the office, I am Danh. But in many everyday situations, I am both."
In conservative Vietnam, though its cities show an increasingly widespread acceptance of the LGBT community, Skarlet is not a look Danh can easily take to the streets. Hard-line communism is now a distant memory for most, but Vietnam is still a socialist republic at heart, where deep-rooted traditions and social conventions form an intrinsic part of everyday life.
"I walked along Nguyen Hue Street dressed as a snow queen once," Danh says, referring to the city's central pedestrianized thoroughfare—the Times Square of Saigon. "People went crazy… whistling, taking photos. They had never seen anything like that before."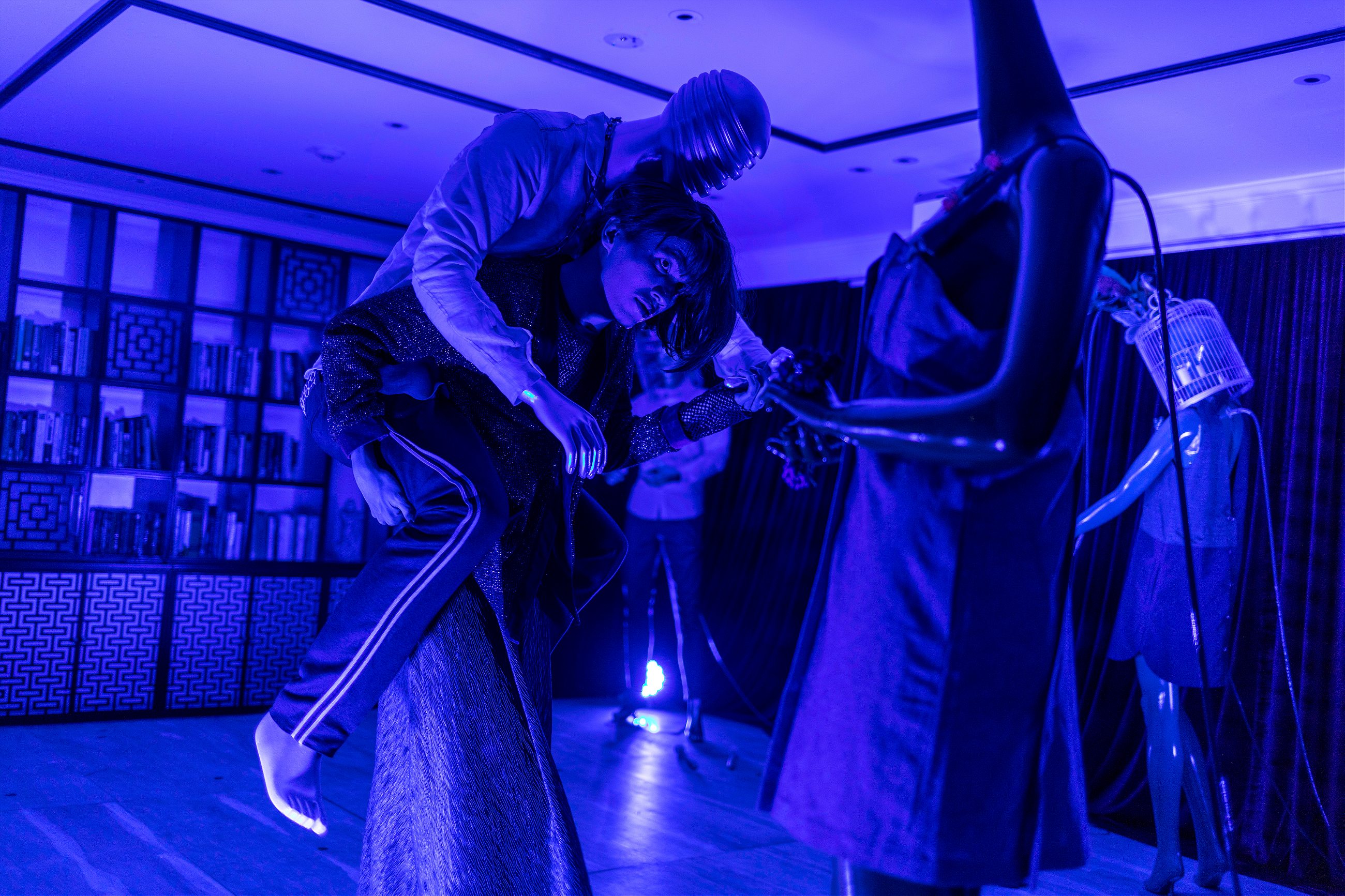 A heavy disco beat muffles the pummelling rain as Danh whips across the floor in the dance studio—spinning, dipping, pouting, posing. He oozes femininity with every flick, every kick, and every coy glance.
In this no-frills dance space in the historic home of Saigon's Chinese community, Danh puts on an uninhibited and wonderfully effortless showcase of waacking—the disco-driven dance style that emerged from the gay clubs of 1970s Los Angeles and, 40 years later, had arrived in Vietnam's biggest city.
When a reunified Vietnam emerged in 1975 after two decades of war and a century-long battle for independence, foreign music was largely outlawed. By the mid-80s, with financial collapse looming, inflation booming, and aid from the U.S.S.R. slowly declining, the Vietnamese government's future-shaping socio-economic reforms began in earnest. When MTV Southeast Asia launched in 1995, Michael Jackson taught half the country's youth how to dance, while The Notorious B.I.G. showed the rest how to rap. For the most part, foreign music in Vietnam today consists of E.D.M., Westlife, and weirdly timeless Cold War pop ballads from the likes of Modern Talking and Boney M.
After a revival of waacking in the U.S. around the turn of the century, it was Danh, along with his friend Thach A Mit (aka Black Jack), who first brought it to Vietnam. The pair, who are now the veritable king and queen of Vietnamese Waack, stumbled across the style while cruising the web for hip-hop moves in 2009. Like many popular Western cultures and trends thriving in Vietnam today, YouTube was the starting point. As with Starbucks, skyscrapers and Big Macs, waacking represents yet another strand of American culture being embraced by a new generation in Vietnam.
Without air-conditioning, and with only a few clattering ceiling fans to cool the studio air, the intense heat and humidity cut Danh's demonstration short. In pursuit of a penis-free silhouette, a perfect 'vagina,' Danh had tightly wrapped his groin in several yards of tape and cellophane. He hadn't had a drink all afternoon.
"No toilet," he says with a smile. "It's not possible."
A few weeks before in the same studio, Danh was giving his students a weekly waacking lesson. While his outfit was more like Danh, his demeanor was pure Skarlet.
As his students gathered around the studio, Danh got to his feet, changed into a pair of high-heeled ankle boots, and plugged his smartphone into the sound system. A thick, sexy disco beat began.
"Stop. Watch me," Danh told the students as they began their moves.
Go.
No.
Wrong.
Again.
He yelled out directions, drilling his students through a heart-pounding warm-up routine while calling out those not giving their full effort.
While the rest of Saigon partied outside, Danh was training his dance army in this upstairs hideaway. Those who can travel abroad are training for international competitions that regularly take place in the region. Some students are preparing for local performances. Others do it just for fun or fitness or sheer escapism. With few openly gay-friendly bars and clubs, this is their party, their church, their Friday night ritual.
"Nowhere in Saigon plays music like this," Danh says. "Only here.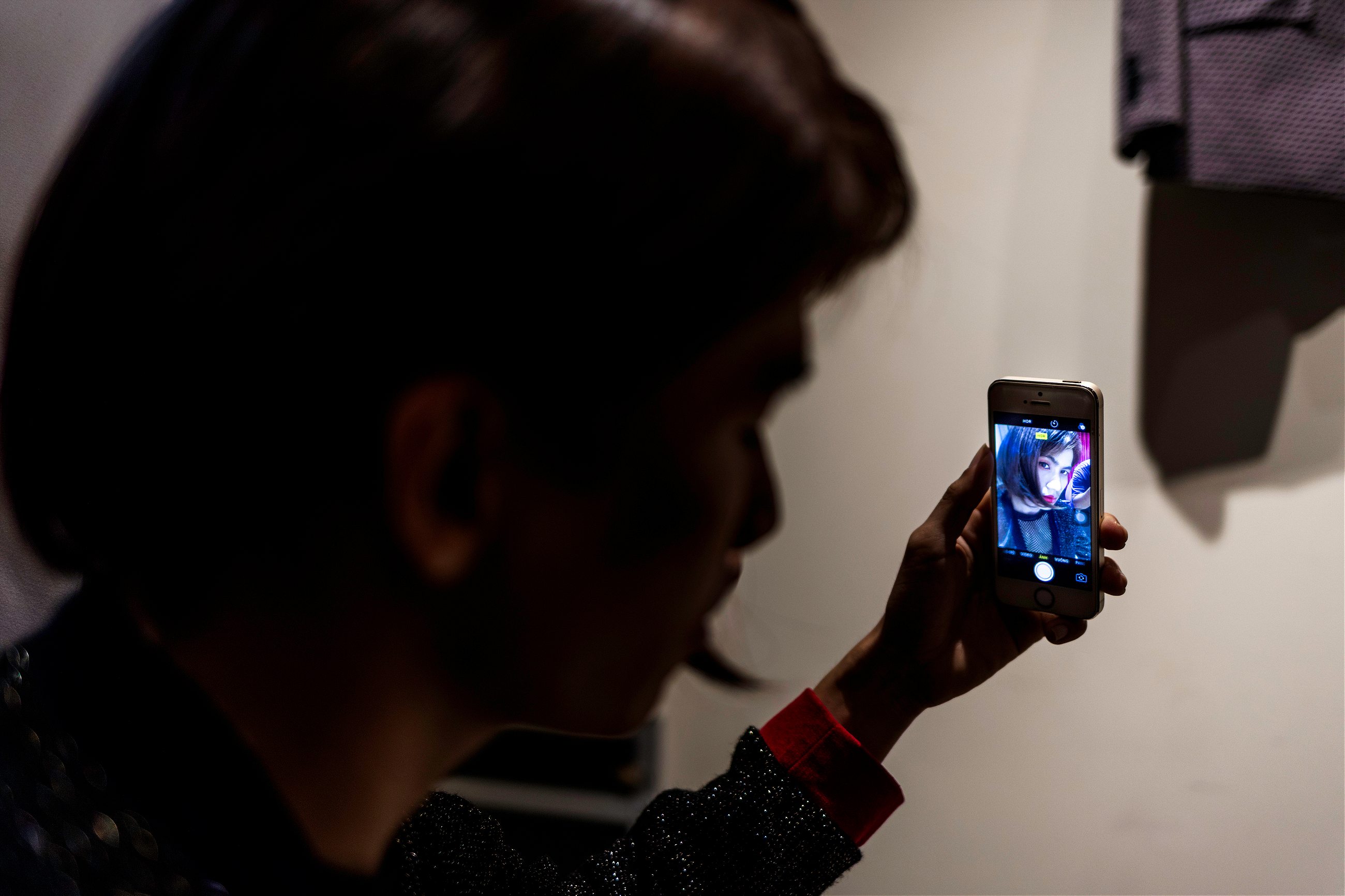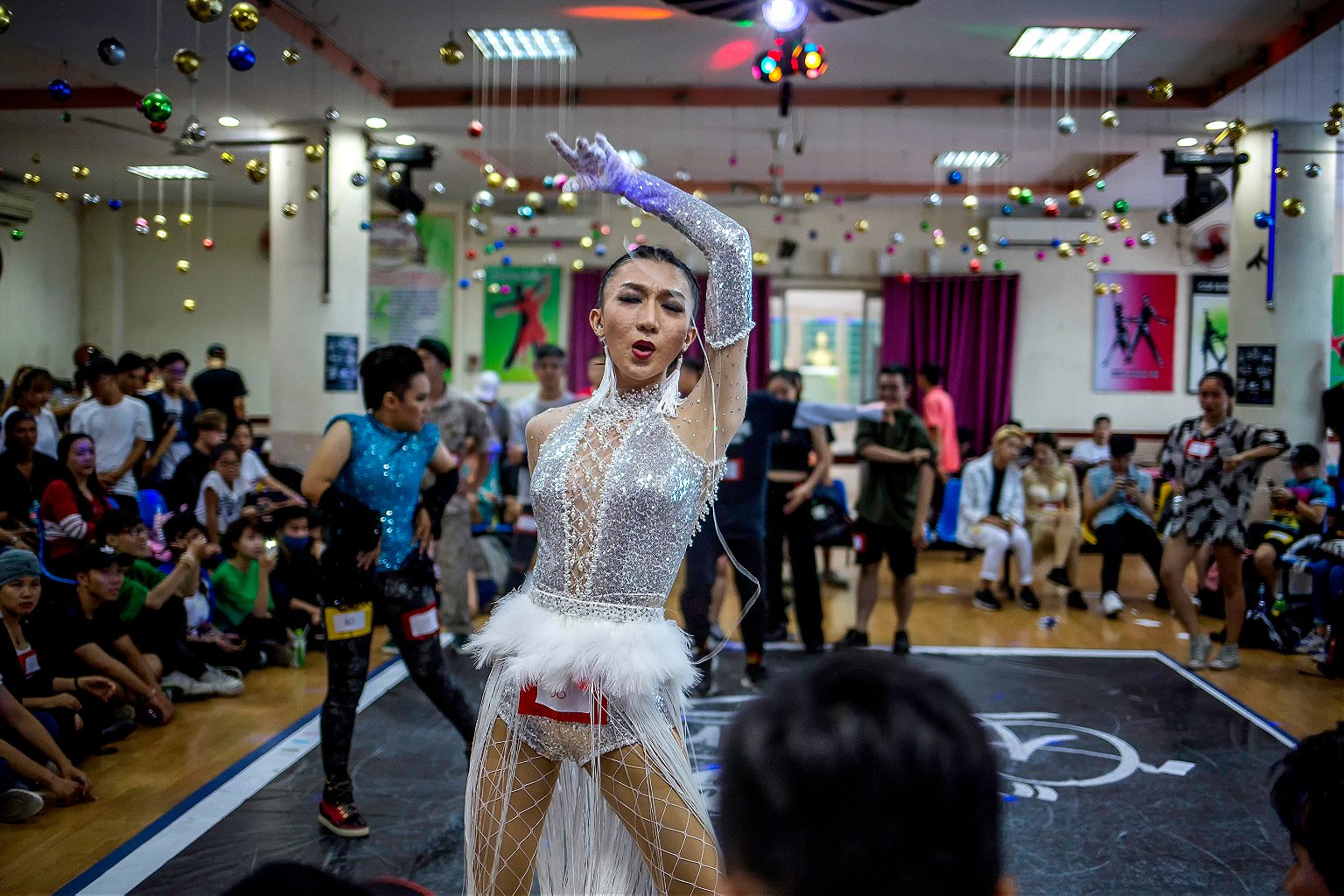 One sweltering Sunday afternoon in August, the boom of the bass thumped out of a community center in Saigon. Inside the hall on the top floor, Donna Summer's Bad Girls was belting out full throttle. It was in that room, still curiously decorated with dusty Christmas baubles, next to b-boys, b-girls, poppers, lockers, and crews, stood the waackers. At the far end of the room, on a battered borrowed couch, sat Danh, here as Skarlet, the lead judge and the organizer of Show Off, a hip-hop and waacking dance competition. The two styles share a history (and a billing) when it comes to dance-offs like this.
In a country where social, political, theological and familial compliance were once considered vital elements to the nation's post-war stability, it's rare to see people breaking with tradition and socially accepted norms. And yet there were Danh and Jack's waacking army—a glittering spectrum of sexualities, genders, homemade outfits, and self-made styles. They were being different, and they were doing so to a soundtrack that's more than 40 years old.
Like many young Saigonites, Danh became hooked to hip-hop ten years ago. But when he and Black Jack found a video of a waacking demonstration by Princess Lockeroo, they switched styles immediately. "I felt like the dance moves were already somewhere in my blood," he said, recalling the moment. "I loved it immediately."
At the dance competition, the hip-hop competitors cleared the floor after a b-boy round, making way for the waackers as the DJ switched from Public Enemy to an obscure 70s disco track hand-picked by Danh.
While only a handful of local dancers turned up for the inaugural event the year before, 42 waackers were now in attendance, representing Vietnam, Malaysia, Singapore, and Japan. One after another, competitors took the stage and began their performance while Danh, now Skarlet, in a skin-tight catsuit, retro leather jacket, silver hair, fishnet stockings and high heels, watched from the judge's bench. While outwardly she held the appearance of a seasoned professional, tough on those who broke the rules and firmly keeping everything and everyone on schedule, inside she was doing somersaults.
Alongside her on the judges' bench sat the waacking legend from the 70s, and a veteran of TV's Soul Train, Tyrone "The Bone" Proctor. Danh and Black Jack had paid out of their own pockets to get him there as the V.I.P. guest judge. It was one of the proudest moments of their lives.
"You don't recognize this guy, do you?" Tyrone said in an interview the day after the contest, pointing over his shoulder at Danh. "Yesterday he was a she, and she was Skarlet." Danh stood behind, quiet and shy and barely noticeable in a plaid shirt, flip-flops, and jeans. "Waacking and voguing are the only two dance styles that celebrate a woman's femininity," Tyrone continued. "If you don't like looking feminine, it's not a dance you should do."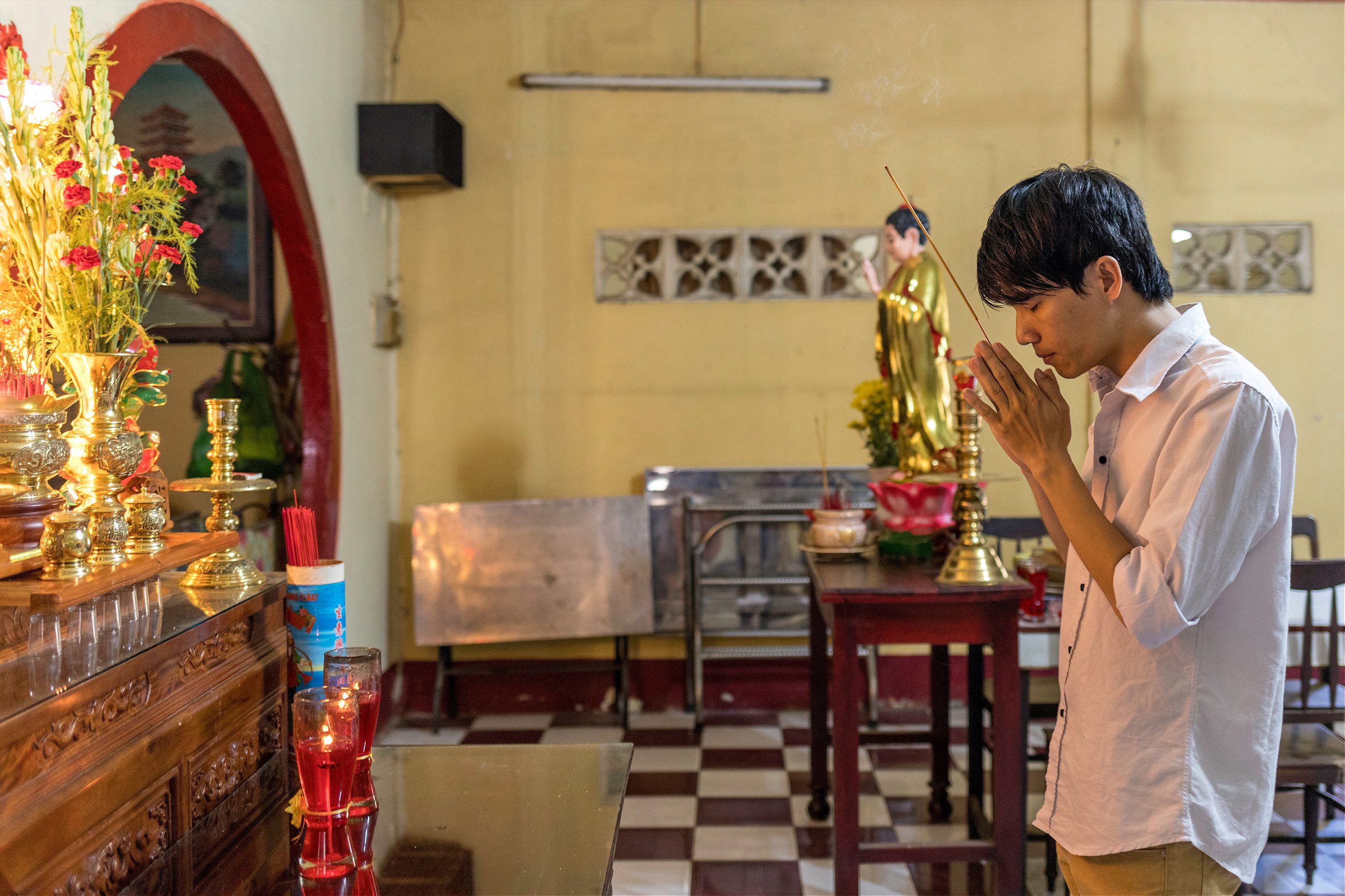 Boys wearing high heels may not sit well with Vietnam's conservative and patriarchal traditions, where the gender divide, for many, is still a line and not a spectrum. Those who wish to cross that line often struggle to find safe and supportive environments at home to express their true selves.
"All parents want good things for their children," says Danh, who like many professional 30-somethings in the country, still lives at home with his mother. "So they usually try to shape them by making them do the most 'normal' things."
Danh said he felt more comfortable hanging out with girls in high school, but his father used to tell him he was not allowed to do so. "I was also forbidden from bringing male friends home with me," he recalls. "I wasn't in a relationship with anyone—they were just my friends—but he wouldn't let them into the house."
From the modern office blocks of Saigon, and the parade of luxury cars often seen parked outside of them, it's easy to forget that Vietnam is still very much a developing nation. Attitudes towards homosexuality, particularly in rural areas, can be archaic compared to other parts of the globe. But Danh says he feels he was treated better than most other LGBT people of his generation.
"My family didn't know what to do with me," he said. "But they still loved me. My father went to Czechoslovakia in the 80s. He saw many openly gay people there, so he was perhaps more tolerant than others."
But Danh was quick to point out, that wasn't always the case.
Throughout his adolescence, his father was also his harshest critic. When Danh switched from hip-hop to waacking, his new-found dance style did not bode well for their relationship. While he was most unhappy with Danh's open sexuality, his choice of friends, and his non-traditional hobbies, it was the cross-dressing and drag queen aspirations that upset his father the most.
"My family didn't know what to do with me. But they still loved me."
"Sometimes he'd hit me hard," Danh says. "Wearing dresses was forbidden."
But today, Danh speaks of nothing but love and respect for the memory of his father who once imposed so many restrictions on his youth.
"After my father died, my relatives told me that he was always so proud whenever he talked about me and what I had achieved," he says of his father, who passed away in 2012 after battling with cancer. "He was proud that I had a good job, I was singing in English, and dancing so well."
A lot has also changed in the country since Danh's teenage years. Vietnam, which once banned love songs, legalized same-sex weddings three years ago. Today, regular Pride marches and LGBT events take place in major cities, and the acceptance of the LGBT community is growing. In 2014, Ted Osius, the openly gay diplomat from Maryland, was appointed as the U.S. ambassador to Vietnam. Vietnamese LGBT advocates saw his posting as a turning point in the country for its LGBT community.
Osius resigned in 2017, but Vietnam continues to evolve on issues related to the LGBT community gradually. Last year, Vietnamese officials proposed a draft law, which, if passed by the parliament next year, could give Vietnam's transgender citizens the ability to legally change their official gender, regardless of gender reassignment surgery.
"There are about 2,000 people in my company," says Danh, recalling the performance he gave as Skarlet at a corporate event, "and now they all know about waacking and drag queens. When they go home, maybe they will talk to their children about it. Then maybe their children will see a transgender person on TV. Eventually, I hope everyone will have a different outlook."
Although, perhaps, not everyone.
"But I still hide my costumes and makeup from my mom," Danh says. "She accepts me for who I am, but it still upsets her."