Day Drinking at Netflix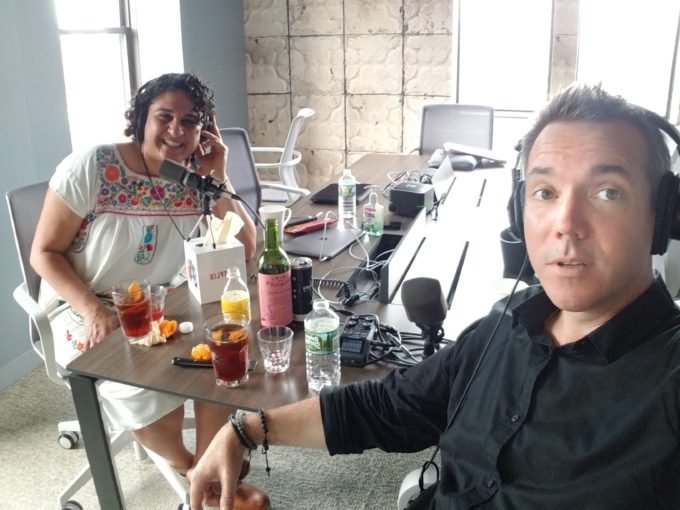 This week on The Trip, host Nathan Thornburgh talks to Samin Nosrat about how her Netflix show came to be and her quest to open doors in the food world for people of color.
In 2017, chef and writer Samin Nosrat published the book, Salt Fat Acid Heat, to help the everyday person how to master the four basic elements that make food taste good. The chef now has a Netflix series based on that book. This week on The Trip: Drinking with Exceptional People Around the World, host Nathan Thornburgh talks to Nosrat about how the show came to be and her quest to open doors in the food world for people of color.
Here is a condensed transcript of the conversation. You can listen to the full episode, for free, on Apple Podcasts, Stitcher, Spotify, or wherever you get your podcasts.
Nathan Thornburgh:  Samin has an entire day is currently doing press for her new Netflix show, Salt Fat Acid Heat, which is why she needs to start the day with a cocktail. So, I love that I'm going to be able to start you off on the right foot.
The show is gorgeous. I knew it would be instructional and informative and inspiring, but it's like Chef's Table for home cooks. You're not approaching the show from a "watch me wander perspective," but you have some serious like pedagogical points that you're hitting along the way. Did you always see this book making the leap to television?
Samin Nosrat: Well, in 2007, I taught my first cooking class and I came back and reported to some of my colleagues in the kitchen that it was so inefficient to teach 12 upper middle-class Berkeley women one at a time for four hours. Wouldn't it be so much more efficient if I had a television show where I could teach people how to cook? So it's definitely been on my mind for a while. It wasn't necessarily something that I sought out single-mindedly. I'm a performative person, so I think creating the show was something I was ready for.
You said it's Chef's Table for home cooks. There's a great debt that I owe to Chef's Table because I think that they showed us that food television could be cinematic and beautiful.
Thornburgh:  You're doing so much press for the show and experiencing success after success. What do you do after? Do you go back to cooking for a bit?
Nosrat: I'm going to rest. Over the last several years, it's hit me that people are watching me. I am a person that has the power to open doors for other people or at least blaze a path for other people who maybe are not the most traditional person in the food world. I take that responsibility really seriously, and I think of it as a privilege. I'm really excited to use that power to continue opening doors for other people. In some ways, it's kind of lonely to be the brown girl that everybody wants on the back cover blurb in their book or on their panel. Wouldn't it be amazing for me to be able to help create a community around me so that I'm not the only one?
Thornburgh: I was watching the episode of the show that focuses on the cooking element of acid. Acid is shot in Mexico, primarily the Yucatan. I was watching it with my wife whose mom is from Mexico. About halfway through we realized that whole episode primarily showcased women of color. It's not like you were standing in the front and saying this is what I'm doing. You were pulling people along for the ride that you wanted to take them on. That's the next level.
Nosrat: I don't think it has to be a super in-your-face thing. What I loved about listening to The Trip was that you talked about the way that you look for people in the places you're focusing on to tell the stories of those places. That is a really radical thing.
Thornburgh: This podcast is called The Trip, and we have an ecumenical view of travel. It's not tourism. It's something, hopefully, deeper and more meaningful. Traveling to Italy was deep and meaningful to your career as a chef.
Nosrat: I don't know why I've always been fascinated with Italy. I guess I've always felt a kinship to the people. My family is from Iran, so Iranians are hot-blooded brown people. Italians—a lot of them—are hot-blooded brown people.
I always had loved Italian food and felt that Italy was a place that I needed to experience. At one point, I was working at Chez Panisse and that's where I became really fascinated with Italy.
I saw other young cooks would go to Italy or France and do an internship and come back and have so much more confidence in their cooking. Eventually, I made my way to Italy and it was really an intensive education. It was so formative because it was so early in my cooking career, and I got a lot of my foundational taste references there.
I learned how in little towns, grandmothers have had like 300-year arguments about on this side of the river. Like we put pancetta in our ragu and on that side we put sausage in our Ragu.
Thornburgh: The idea of Italians fighting about food is something that I think is very important.  It means they care.
Nosrat: That was very moving to me, especially as a person who came from a family where food was our culture. It was the way my mom taught us about Persian culture. It was the way that we related to our family members about the place that they had come from. The highest compliment in our family was when someone would say an ingredient tasted like Iran.
Thornburgh: What do you think are the three mistakes home cooks make in the kitchen?  
Nosrat: The main thing that comes to mind that I see people do is they crowd too many things into a pan, whether it's on the stove or in the oven. If your goal is to get the thing to remain colorless and be tender because you're going to cook it a second way, then go ahead and crowd it. But if you want delicious, crispy edges, then you have to leave room.
The second thing is salt. It's not just about using enough salt, but it's adding the salt at the right time. If you need to boil something in a pot of salty water, the salt needs to be completely dissolved before you add whatever you're cooking. For any meat, I like to salt it as far in advance as I possibly can so the salt has time to penetrate the meat so every bite is perfectly seasoned.
The third mistake is not preheating your pan before you add whatever it is you're cooking.
Thornburgh: Shit, even I can do it. Anybody can do that stuff. After people see the show, they're going to say what they always said about Anthony Bourdain, which is why can't I be her?
Nosrat: Oh, God! That's scary I think the biggest part of cooking is practice. Some of that is in the kitchen, and a lot of that is paying attention to taste when you eat.
Thornburgh: Eating is something I do pretty well.
Nosrat: I bet you're probably already halfway to being a better cook.
Thornburgh: Samin, congratulations on the show. I am so thrilled that I got to talk to you. Watch the show, people!
Nosrat: Thank you!
You can listen to the full episode, for free, on Apple Podcasts, Stitcher, Spotify, or wherever you get your podcasts.