Venezuelans fleeing poverty and food shortages are crossing into neighboring countries. They're not always welcomed.
Norelys Rojas spends her days begging alongside the road in Pacaraima, a sleepy, sun-drenched town of 12,000 on the Brazil-Venezuela border. The Venezuelan mother of two is one of more than 1.5 million people who have left the country amid an economic crisis and food shortages. She hopes to earn enough money for a bus ticket to Manaus, the nearest big city in Brazil, where she says she might eke out a living selling street food.
I met Rojas on a Saturday evening in August, a few days after she and her children arrived at the border. They were walking back into Venezuela to sleep. "The authorities don't let us sleep in Brazil anymore," she told me.
"But after what happened last weekend, I'm afraid to anyway," she said. Instead, she planned to spend that night in the parking lot of a Venezuelan customs inspection facility.
Rojas, one of an estimated 120,000 Venezuelans who have passed through this border town since early 2017, was referring to violent attacks that had taken place a few days earlier.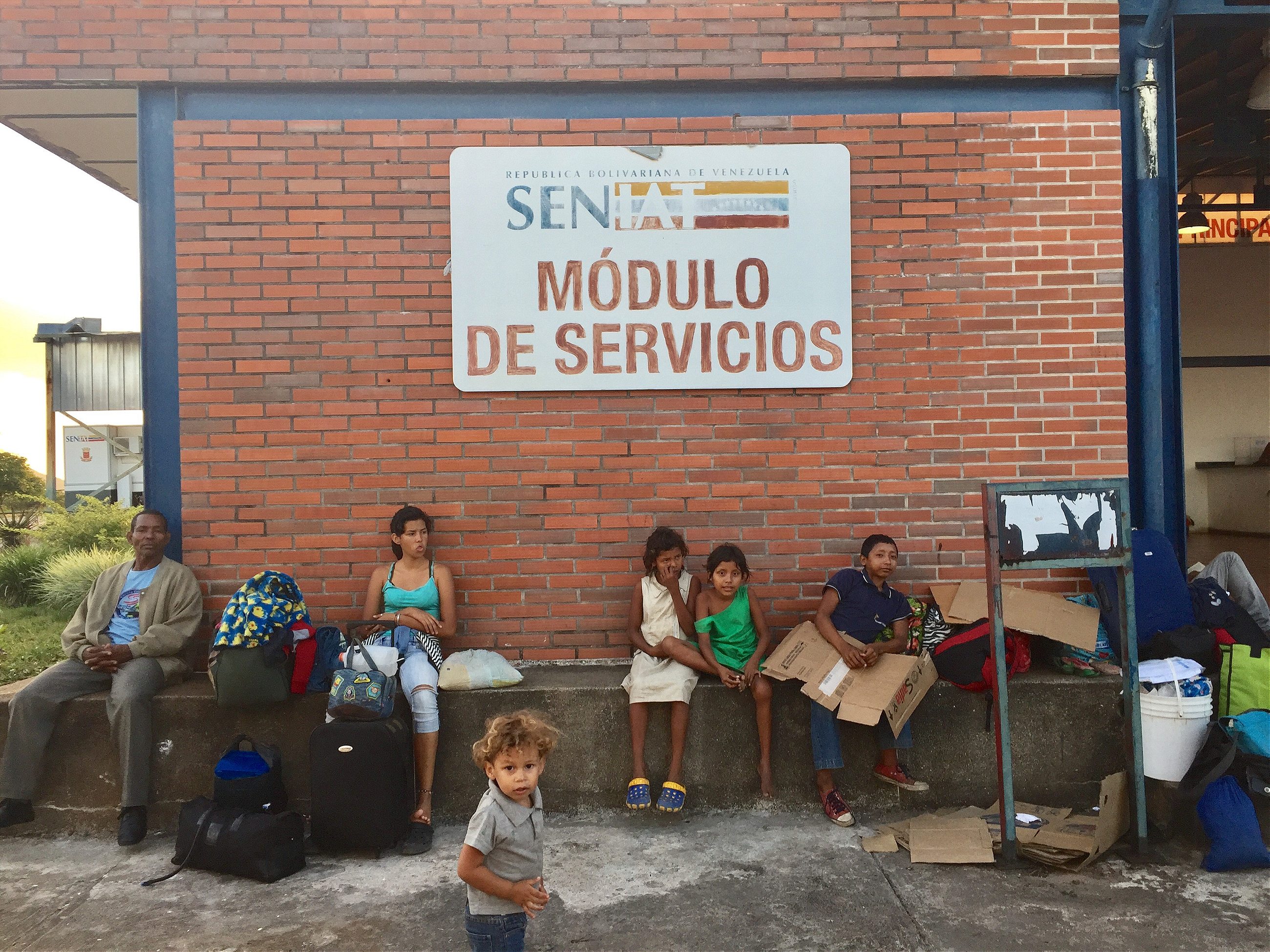 On August 18, hundreds of local residents gathered around a refugee encampment, taunting its inhabitants. Videos that spread across the country captured the crowd burning people's belongings and plowing through the settlement with a tractor. Across town, at another camp, a man doused refugees' belongings with kerosene, while a mob chanted, "Set it on fire!"
I recognized the first camp as one I had visited a few months earlier. Despite the rough conditions—people there slept in makeshift structures of scrap wood and plastic, had no running water or toilets, and were generally exposed to the elements—the people I interviewed had assured me they felt better off in Pacaraima than back in Venezuela.
I wondered if they had been among those who had lost their few belongings—or had been beaten.
Authorities, who created a human barrier at the border checkpoint to protect the Venezuelans from the mob, estimated that more than 1,200 Venezuelans returned to their country that day. The images dominated Brazil's news cycle for days—many were shocked and appalled, others cheered it on.
Brazil's state of Roraima shares a 1,300-mile border with Venezuela. It's a remote, rural area—residents frequently lament it is Brazil's forgotten state—that is home to half a million people, including an estimated 50,000 Venezuelans who have arrived since 2015.
At first, they were welcomed. Starting in 2017, the Brazilian Army and the United Nations put up makeshift welcome centers. New arrivals could get in line to request refugee status, request residency permits, and also get vaccinations.
"Your family can know you're safe," read one sign in Spanish, with drawings of a wifi symbol, a computer, and a telephone.
Many Venezuelans arrive penniless, malnourished, and in need of medical attention. Between the UN, the Brazilian Army, and local NGOs and religious institutions, thousands of beds and hundreds of thousands of simple meals have been provided in temporary shelters. Brazil's public health system provides free universal care, but the influx of new patients has strained resources that are already stretched thin by Brazil's economic crisis. According to state officials, there has been a 3,500 percent increase in demand for service since 2015.
To ease the pressure on the border, the federal government has moved some Venezuelans to other Brazilian cities, like São Paulo and Manaus, by bus and plane. Many more have left the state on their own dime or with their own two feet.
Yet the Venezuelans continue to arrive. Up to 800 Venezuelans cross into Brazil each day, according to the UN.
And a palpable us-versus-them rhetoric has emerged.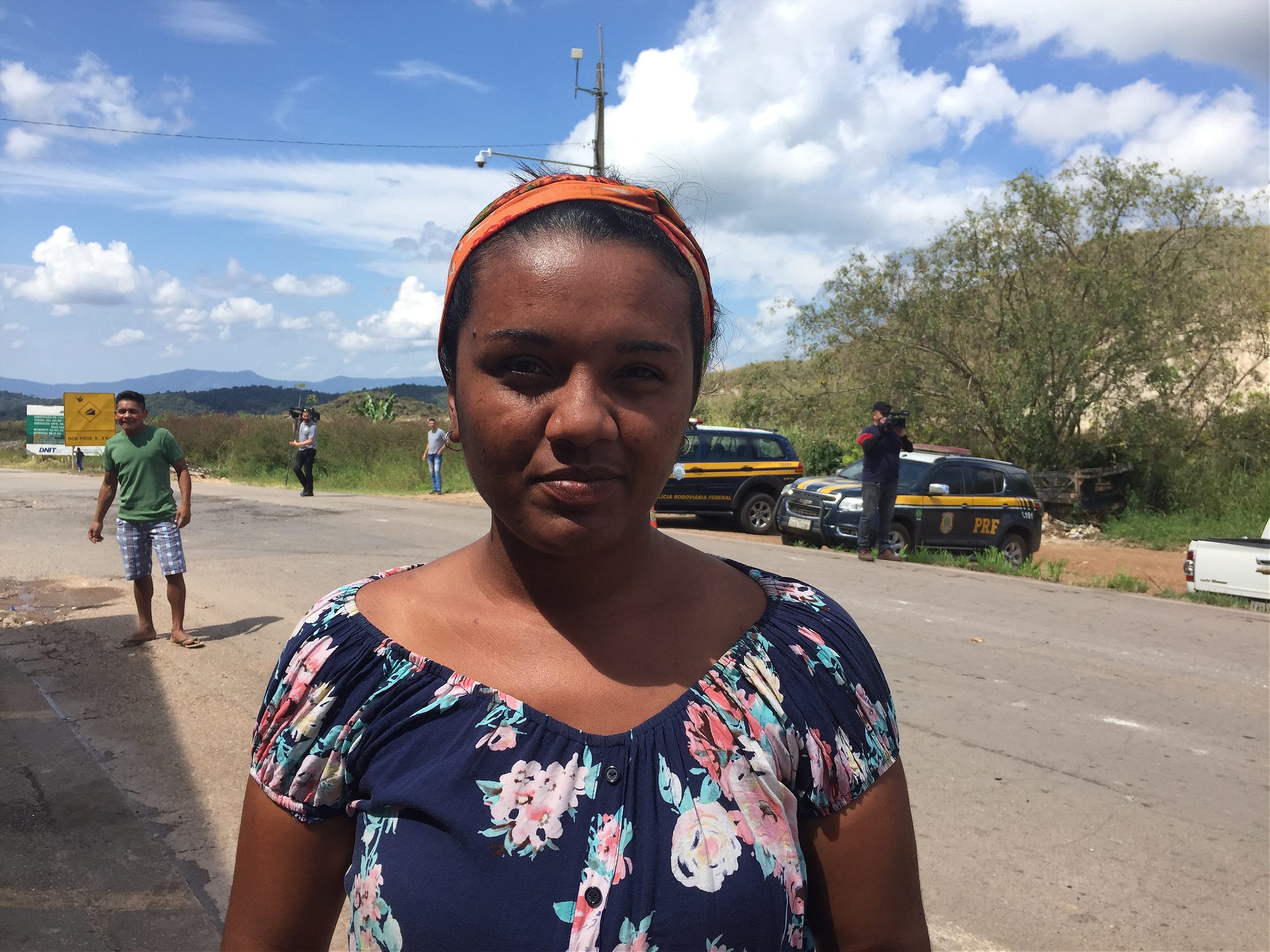 The Thursday after the attacks, I flew from my home in São Paulo to Boa Vista, Roraima's capital city, and then drove the three hours to Pacaraima. Things seemed more organized compared to my previous visit. A new welcome center had gone up and they were in the process of opening a temporary shelter with plenty of clean, empty beds.  
The little city was bustling. On the street, dozens of people were exchanging nearly worthless bolivares for reales, selling homemade snacks, cigarettes, coffee, and basic groceries. Shops along the border were stacked high with basic supplies—rice, beans, detergent—wrapped in bulk and ready to be taken into supply-stricken Venezuela.
The main street was a hive of Venezuelans in transit. Many cross into Brazil just for the day, to buy goods and return. They lined up at a taxi stand waiting for rides home. Some were waiting for rides in the opposite direction—further into Brazil—and hundreds of others were headed to the bus station.
I went back to the camp I had seen destroyed on television to see if any of the Venezuelans I had interviewed were still there. They weren't. All that remained among the ashes was debris from their burnt out huts and scattered belongings, among them a tiny shoe.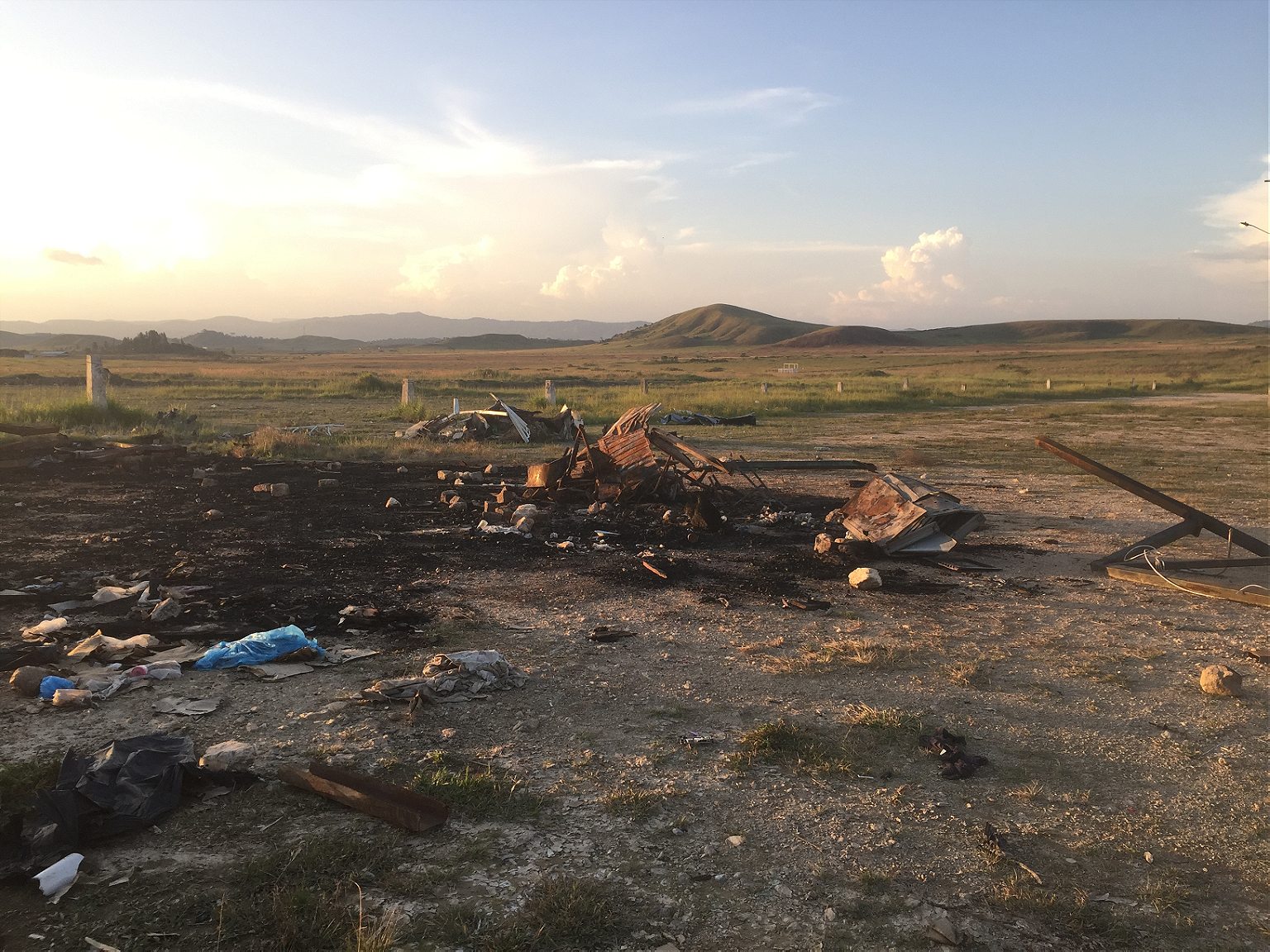 On Saturday we awoke to the sounds of fireworks — a common battle cry for protests in Brazil. It was another blazing hot day, even at 7:00 a.m. At the bus terminal, around 50 Brazilians had gathered.
"Brazil for Brazilians!" the crowd chanted. It reminded me of a nationalist campaign slogan of Jair Bolsonaro—Brazil's far-right president-elect. "Brasil acima de tudo, Deus acima de todos" ("Brazil above everything, God above everyone"). They began marching toward the border, singing the Brazilian national anthem.
Andrea Natera looked on nervously. A Venezuelan who had been in Pacaraima for eight months, she does odd jobs. She'll clean houses if someone hires her, though she has no consistent clients. Otherwise, she sells cigarettes and coffee on the streets. Any money she makes goes towards buying supplies for her daughters in Venezuela.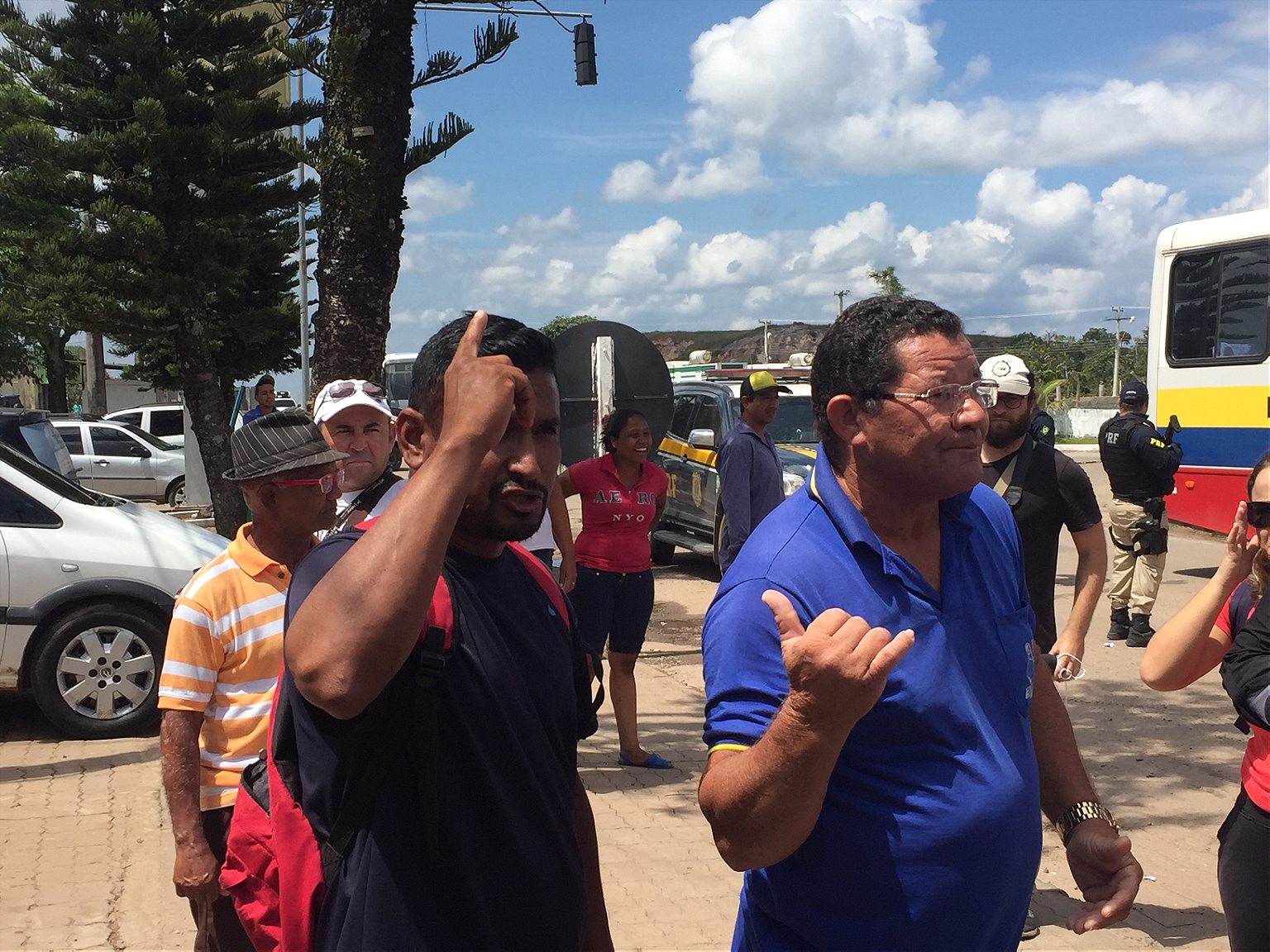 She told me she'd had three sacks of food that were burned in the previous week's attacks. "I'm devastated," she told me, shaking her head. "It took me two months to save the money for those supplies."
She said someone had greeted her in the street and that she was too afraid to respond. "I didn't know what they wanted," she said. "I'm scared of Brazilians after the attack."
Now Natera, Rojas, and hundreds of other Venezuelans who have come here escaping hunger and looking for a better life live an even more liminal existence than they did before, their days and nights split between different nations and different fears.
"It's exhausting, the little one keeps me going but drains me at the same time, he doesn't understand what's going on," she said of her 3-year-old. "I don't know what will happen to us in Brazil, but we're trying," she said, still managing to crack a smile.
"Let's go back over?" Rojas said to her two children. They picked up the suitcase and shopping bags holding all their belongings, walked past two flagpoles marking the border, and continued down the hill into Venezuela.