Four Days, Three Nights, 932 Miles, And a Lot of Rice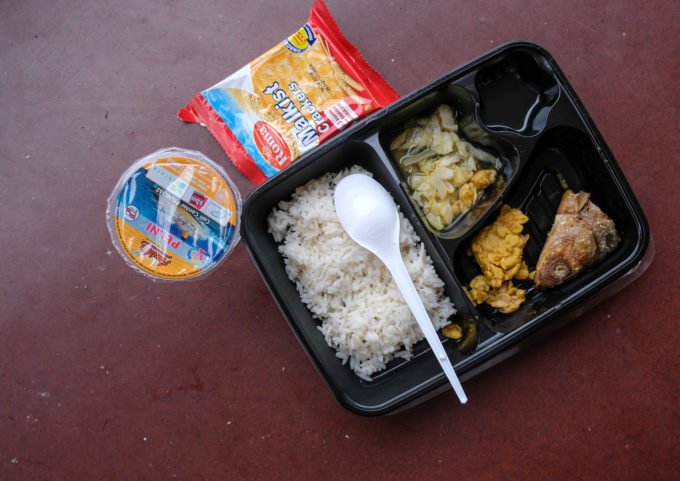 Four Days, Three Nights, 932 Miles, And a Lot of Rice
Breakfast on Indonesia's Pelni Ferry
When I open my eyes, the overhead neon lights are still on. Just inches from my right shoulder, a gray blanket shows the figure of the Timorese young man, Justinius, I befriended earlier. I glance to my left. My wife is there, fifth in a line of sleeping women. She's tucked in to her light sleeping bag, motionless.
The loudspeaker calls with good news: "Breakfast is being served." It's my third morning on this vessel, and I know what awaits me in those plastic boxes.
We are on the Pelarayan Nasional Indonesia ('Pelni') long-distance ferry, one of the last remaining economy-class, long-distance passenger ferries in the world; many other shipping companies discontinued their budget long-haul people-carrying routes when air travel became a viable alternative. I am taking the Pelni across the Indonesian archipelago from Makassar, Sulawesi, to Sorong, on the northern tip of West Papua.
Unlike most travelers, I'm doing this trip by boat, rather than by plane. It will take four days, three nights, cover about 932 miles, and cost US$35.
This morning, we are floating somewhere around Seram, in the southern Maluku islands, an archipelago in Indonesia's Banda sea. In Papua, I will board a phinisi liveaboard—a traditional boat entirely made of wood—taking me back to the Maluku islands, through the coral-rich islands of diving paradise Raja Ampat.
This Pelni KM Dobonsolo we're on is one of the fleet's largest. Every day, hundreds, if not thousands of Indonesians use it to criss-cross the archipelago: they carry cardboard boxes, rugged bags, young children, and all the sort of stuff they need to conduct business, return home, or find adventure far from their towns. There are no ticket-class categories, just endless rows of plain bunks for those who get to them first. All the others are happy to sling a plastic sheet on the floor, or find a spot on deck.
The loudspeaker crackles again, waking Justinian. He slides lithely off the bunk and onto his feet.
"Sarapan," he says looking at me. Breakfast. He's gone before I can get on my feet and into my rubber flip-flops. When I step onto the lower deck, a line has already formed. A long line of passengers, mostly men, hold their tickets in their hands. Each ticket entitles a passenger to ride the ferry and to claim meals.
Three times daily, like clockwork, the same plastic box: some overcooked white rice, served next to a section of soggy vegetables, a chunk of tempe (a fermented soy cake), and a fish head. Sometimes there's a pack of crackers included.
When we get to the front of the line, we show our tickets. They are inspected and scribbled on, and then returned to us with the box. I claim two, one for myself and one for my sleeping wife.
Justinian is waiting at the bottom of the staircase, both hands clasped around the corners of his prized box.
"I'm hungry, let's go eat," he says.