You'd Be Upset Too if You'd Missed Out on Beach‑Side Donut Delivery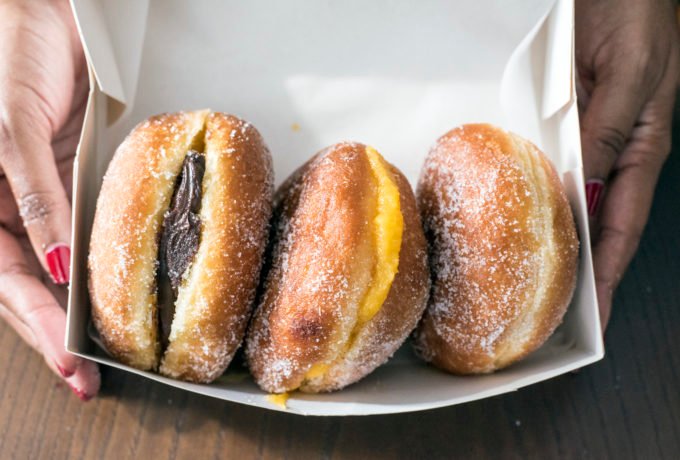 You'd Be Upset Too if You'd Missed Out on Beach‑Side Donut Delivery
Bolas de Berlim in Portugal
My incredible summer in Portugal's Algarve came with one big disappointment. Not once did I see the famed vendors with wicker baskets of bolas de Berlim ("balls of Berlin") who wander Portugal's beaches ringing a bell, or crooning: "Olha a bolinha!"
I had, of course, eaten plenty of bolas de Berlim at pastelerías like Confeitaria Naçional, the oldest bakery in Lisbon, and at countless unremarkable coffee counters nationwide.
Portuguese friends tell me that these seaside deep-fried doughnuts, with or without the eggy, bright-yellow custard filling, are what Portuguese childhood holiday memories are made of. Named after the smaller doughnuts that originated in Germany and are usually filled with jam (or jelly, as Americans know it), Portuguese bolas de Berlim are thought to have arrived with Jewish refugees before and during World War II. Over the years, the Portuguese added the rich, eggy custard filling and made them bigger. (The beach-side versions of this sweet staple tend to be smaller than the bolas found throughout Portugal.)
I also found out, too late, that there is an app that enables beach-goers to order bolas de Berlim from these seaside vendors. (The pastries make a great post-swim snack.)
When I got back home to Lisbon, I compensated for missing out on this innovation by storming into my neighborhood pastelería. At 9 a.m., I jostled with the rush hour lines—a mixture of guidebook-clutching tourists and sober-faced locals.
Standing at a counter, with a bica (a Lisbon "long" espresso), and two bolas de Berlim—plain and egg custard—I got to work. They were still warm from the fryer and the yeastiness balanced out the slight oiliness. The custard, I always found, was too sweet and too rich. (My Portuguese friends consider my aversion to the revered creme pasteleiro a character flaw.)
The scent of freshly fried doughnuts exerts a pull on me like no other. After polishing off my two bolas, I started to regret living so close to the bakery.