India's government has committed to rebuilding indigenous faiths in the country's northeast, which has helped tribal religions gain new ground. But that has come at a price. Ariel Sophia Bardi reports from Arunachal Pradesh.
Sitting inside her shadow-strewn bamboo hut in Yeksi village, in India's far northeast, Yalut Jamoh gummed a wad of chewing tobacco. The nonagenarian had been initiated as a shaman sometime in 1950, back when she was about 30-years-old. But that was all Jamoh cared to reveal. Asked what it was like to commune with the spirit world, she volleyed, "It's all spirits inside me. I can't remember what's happening." Then she got up and left the room.
Yeksi, a tiny village outside the hilly, jungle-flanked town of Boleng, is in the northeastern state of Arunachal Pradesh. A frontier region strangled between Tibet, Bhutan, Bangladesh, and Myanmar, India's northeast is tethered to the rest of the country by a narrow land corridor known as the "Chicken's Neck." Bewitchingly rugged and home to 26 major tribes, Arunachal Pradesh is the birthplace of Donyi-Polo, a shamanistic animist religion based on indigenous tribal practices.
There are about 360,000 remaining Donyi-Polo followers in the world, and Arunachal Pradesh is the only place one can find them. In November last year, I spent two weeks traveling up and down the trail of Donyi-Poloism in the northeastern state, where the celestial faith is characterized by transcendental tribal rituals, gory animal sacrifices, and cosmologically complex spirit realms. The religion, which revolves around the worship of the sun and moon—"Donyi" is the sun and "Polo" the moon, loosely corresponding to female and male energies—commands a tenuous presence, and a tenacious grip, in the region.
How religious tensions followed a brutal tragedy in Kashmir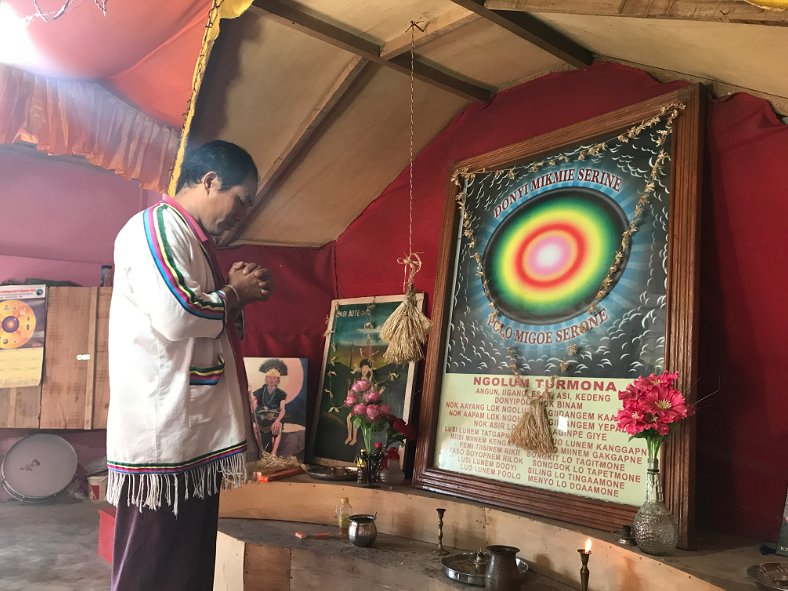 Back inside Jamoh's hut, a handful of neighbors and relatives sat staring at the low, crackling fire. Taro root bubbled inside an iron pot. Under the latticed floorboards, the household pigs squealed, ready to feast on the boiled vegetables. It wasn't yet dinnertime, but it still felt like the dead of the night. The evening sky was already dusted with stars.
All of a sudden, Jamoh reappeared by the fire. She had changed into a cotton sarong, and strings of tiny beads were now draped over her bare torso. Her stark, silver bowl cut hair glinted under a hanging bulb. In her hand, she clutched what looked like a long, wooden spear—it was a shaman's pole.
"Spirits, which we can't see, see us," she said, "and they look for the pole."
Then she started to sing. Leaning on the pole, she bobbed rhythmically up and down, rasping out a tune in Adi, the Sino-Tibetan language of her tribe, the Adis. Was this an incantation—some kind of spirit dance? A neighbor shrugged. "It's for our enjoyment," he said.
What happens when Hindu nationalism clashes with a billion dollar industry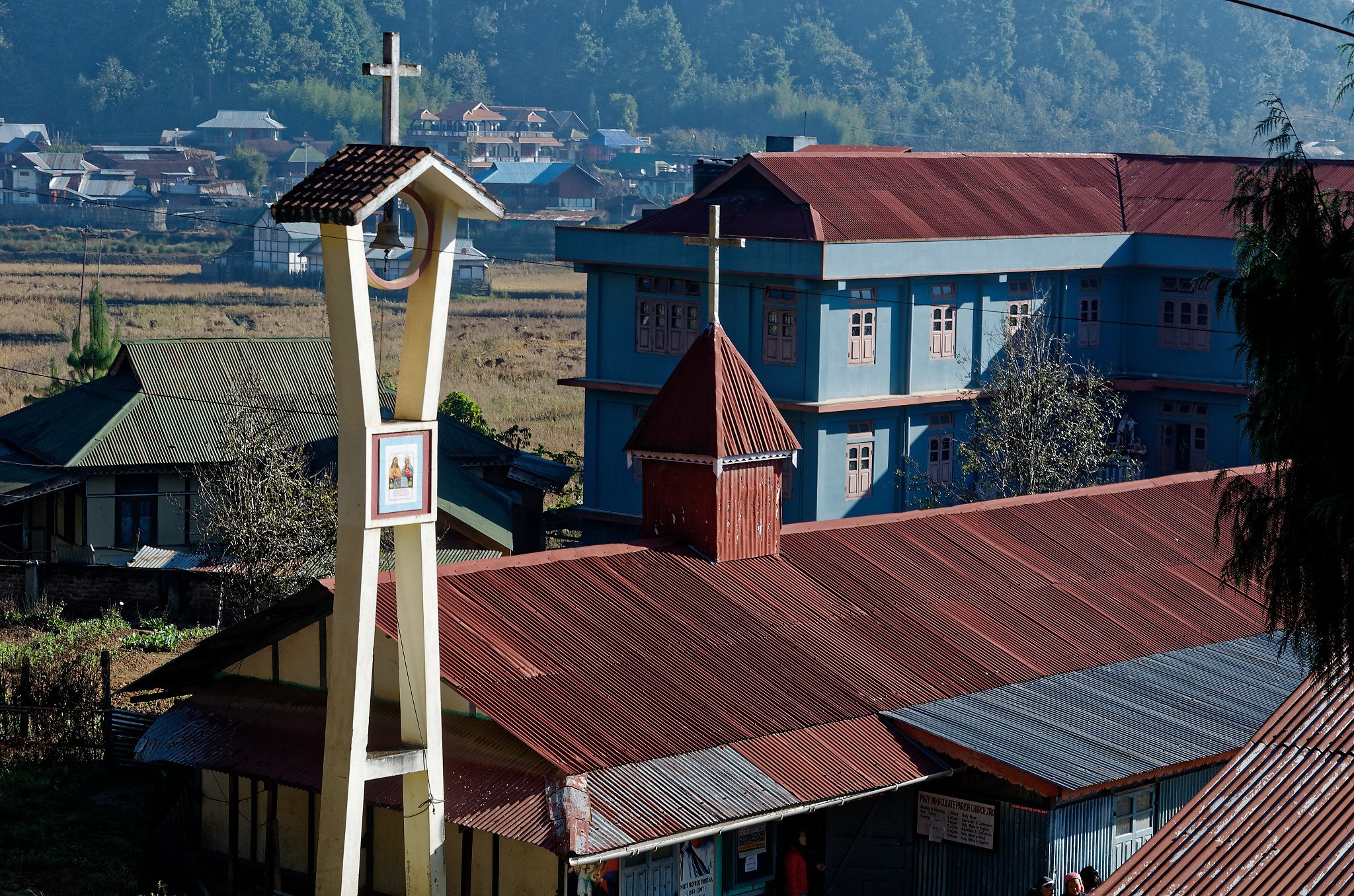 In 1950, when Jamoh first became a shaman, Arunachal Pradesh had only a tiny number of Christians. However, over the ensuing years, Christianity has largely vanquished local belief systems, like Donyi-Poloism, to become the state's largest religion. In many parts of the state, the zeal to convert is manifest. Churches populate most towns, with clergy culled from states in southern India. On one village corner, a poster touted a Christian healing festival. Down another town street, a misspelled, hand-painted sign on a parked motorcycle commanded passersby to "PRISE JESUS."
But it was Arunachal Pradesh's catalytic conversion rates that—ironically— first propelled local tribal practices into a formalized religion. In the late 1980s, horrified by the rapid growth in Christian proselytization, Talom Rukbo, a born and bred Arunachali, revived and restructured indigenous faiths. He campaigned to give them a name—Donyi-polo—and a unified identity. Rukbo, who died in 2001, is now heralded as the father of Donyi-poloism.
Outside one of Yeksi's 56 village homes, Ayaeng Sitang sat on a tidy terrace next to a spread of red chillies drying in the sun. The 57-year-old recalled when Rukbo began his animist crusade.
"He said that our culture was going to vanish. That we needed to preserve it. He told people to make a reform and make the religion into a single body," she said, stretched out in a pink tracksuit. "There didn't use to be a religion named Donyi-Polo."
But now the religion is more organized. Donyi-Polo is a way to preserve it.
On a nearby hilltop, a small church loomed. It was the gathering point for the village's three Christian households, identified by the five-pointed stars above their doors. "When I was young, I didn't know anything about our culture," Sitang told me. "But now the religion is more organized. Donyi-Polo is a way to preserve it."
In his quest to turn tribal practices into an official, institutionalized religion, Rukbo gained the support of Rashtriya Swayamsevak Sangh (RSS)—India's hardline Hindu nationalist group that serves as an ideological parent to the ruling Bharatiya Janata Party (BJP). The BJP was elected into office for the first time in Arunachal Pradesh at the end of 2016. It has made the promotion of animist traditions, under Donyi-Polo, an official priority.
Under threat, tribal practices also gained heft, and have now grown in visibility. Shamans used to only make house calls. Now, new Donyi-Polo temples—with weekly prayer services and hymn books—compete with Baptist and Catholic churches for worshippers. Special training camps have even cropped up to instruct the local youth in indigenous faith and culture, along with patriotism, yoga, and satsang, a form of Hindu spiritual discourse.
Pema Khandu, the state's 38-year-old chief minister, created a separate government department for "Indigenous Faith and Cultural Affairs," renamed the "Department of Indigenous Affairs" after lobbying by Christian groups.
In Itanagar, the state's compact, hilly capital, I set off for Khandu's hometown of Tawang, where the Chief Minister was presiding over a four-day-long government-sponsored cultural showcase, called Tawang Festival. The frigid, high-altitude Himalayan town along the Indo-China border—home to India's largest Buddhist monastery—has emerged as a geopolitical pressure point, claimed by Chinese officials last year as "South Tibet." A strategic buffer zone, it is set into a stark landscape made of craggy peaks and twisted, rust-colored hills. Heavily militarized by the Indian army, the area is swarming with camouflaged personnel.
Despite the party's dog whistle tactics in other voting blocs, which continue to sow deep communal discord across the country, the BJP has earned an ardent following in the Northeast. On the way into town, stalled behind a line of military trucks, I spotted a life-sized poster of Prime Minister Narendra Modi on the roadside, his face serene under a light snowfall. This spring, the BJP emerged as an electoral juggernaut across multiple northeastern states, appealing to frustrated voters who have long been sidelined from India's public imagination—and state funds.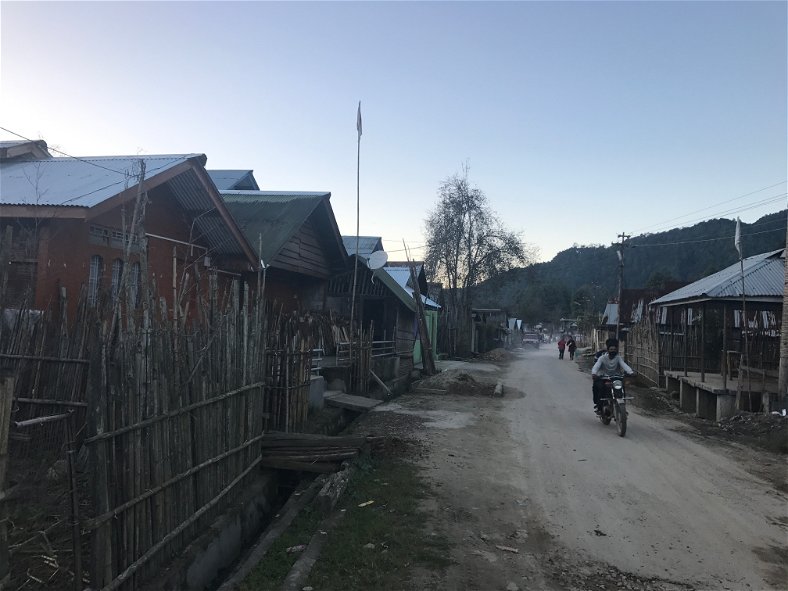 At Tawang Festival, mock tribal huts were assembled on a muddy festival field, each illustrating a distinctive regional building style. Vendors sold home brews of Arunachali apong, or rice beer, doled out in bamboo serving glasses. Outside the huts, costumed dancers huddled on wooden terraces, using hand mirrors to apply vivid stage makeup.
I found Khandu seated in an almost empty VIP section on a nearby platform. As a staticky speech boomed from an adjacent festival stage, and a woman bowed to present Khandu with a rolled up Thangka painting, I asked the Chief Minister about BJP's popularity in Northeast India.
"Our own prime minister is very much concerned about the development of the Northeast," he said. In the parts of India known as "the mainland," northeasterners are often disdained as foreigners. They are geographically and culturally peripheralized, and even derided with ethnic epithets. The BJP's platform emphasized national integration, with campaign promises to protect and preserve local cultural traditions. In Arunachal Pradesh, this has partly meant bolstering indigenous faith systems to take on Christian missions, which were formerly outlawed in 1978 but still maintain a robust presence.
I asked Khandu if the state's diverse believers had any issues with Hindutva firebrands like Yogi Adityanath, Chief Minister of the state of Uttar Pradesh, who has publicly pushed for non-Hindu Indians to "return" to the fold, consolidating a single inviolable Hindu nation—religious minorities be damned.
"No, no, nothing like that," he said. "Not only in the Northeast— the entire country, you can see a change. People are accepting BJP as [their] party now. The basic concept of BJP—their number one priority—is Nation First."
The next morning, festival processions streamed through the flag-lined streets of Tawang's central thoroughfare. Locals lined up behind barricades to catch sight of costumed Monpa dancers as they romped past in rows. The Monpas are one of Arunachal Pradesh's major tribes—which the chief minister belongs to—and mainly identify as Tibetan Buddhists. Performers span and strutted wildly, clad in grimace-face masks—references to Buddhist mythology—or in shaggy baby yak costumes.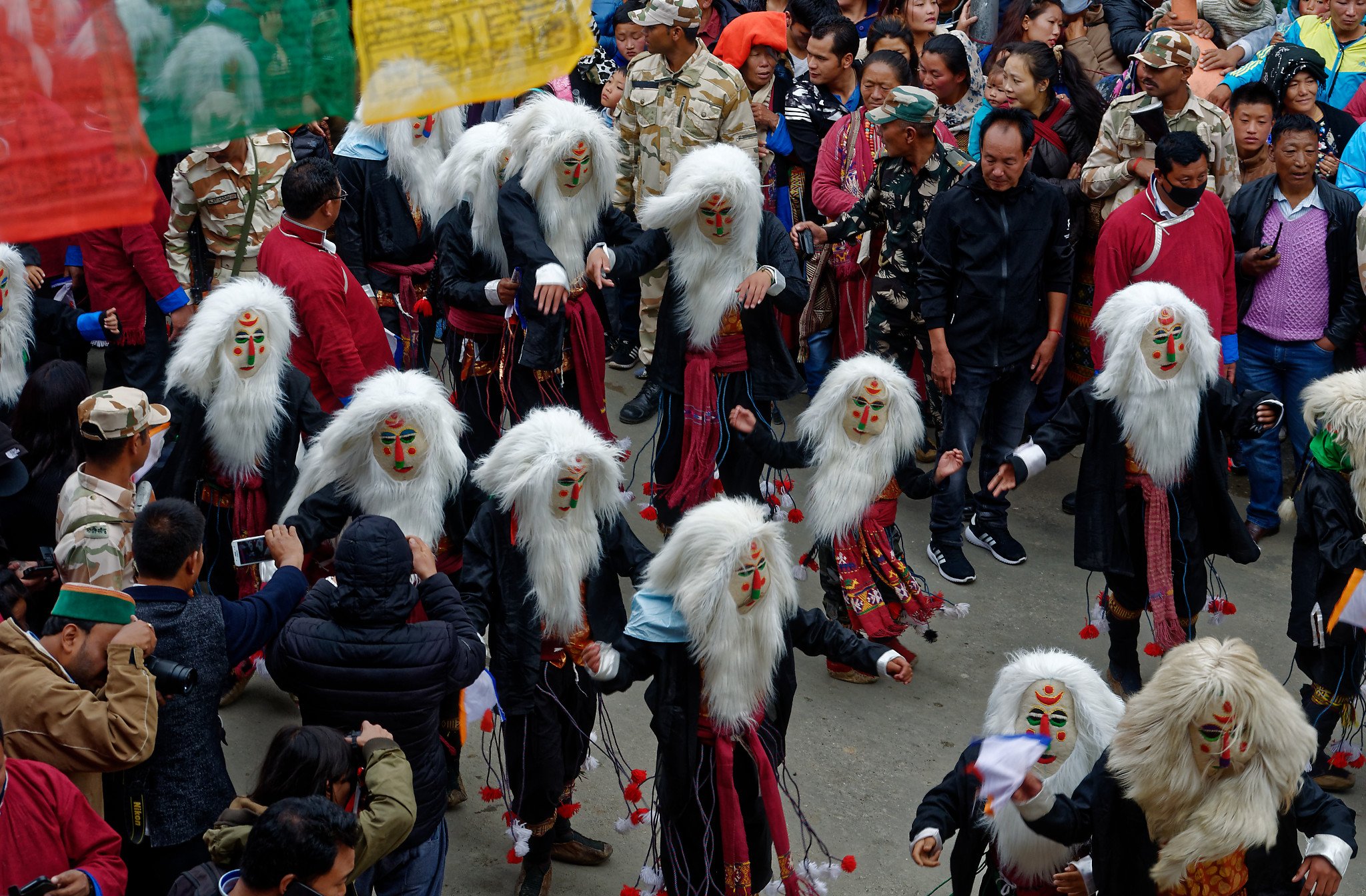 A few days after the festivities in Tawang, I piled into a dirt-splattered jeep and made the harrowing two-day journey into Ziro Valley, a verdant, low-lying district sprawled at the foothills of the Himalayas. The valley is known for its rowdy annual music festival and is perpetually shortlisted for World Heritage status as an "Apatani Cultural Landscape."
UNESCO highlights the agrarian Apatani tribe's harmonious relationship with the environment. Traditionally, indigenous metaphysics revolved around unseen energies, making permanent structures superfluous. The region's spiritual infrastructure was limited to bamboo altars and seasonal harvest festivals, with animist cultures leaving only light marks on the landscape. However, the construction of Christian churches in Ziro has led to rivaling concrete Donyi-Polo temples being built.
Fortunately, in most parts of the region, nature has been left untouched. Across the valley, the rolling hills are pristine and green, teeming with wildlife. Bamboo huts lean roof-to-roof down dusty, sun-swept lanes. Frogs croak from wet rice paddies. In Hong Village, a photogenic residential enclave outside the larger town of Hapoli, I crisscrossed a patch of forest until I reached a grassy grove sheltering a cluster of bamboo-made graves. The teetering, skeletal towers were topped with sticks, egg shells, and the skulls of mithun, a thick-horned bovine species—Arunachal Pradesh's state animal—that is often slaughtered in Donyi-Polo sacrifices. These ephemeral structures were meant to ward off meddling malevolent spirits, known as uui.
We're so protective of our faith and culture. Not because we want to be. Because we believe in it.
"It's a barter system," said Ankha Millo, an Arunachali blogger from Ziro who is based in Bangalore. "You sacrifice something then the spirits make you happy."
Shamans first perform divinations. An egg is marked with black coal, boiled, shelled, and sliced with a strand of bear fur. After examining the yolk, they decide which spirits have been agitated and how they must be appeased. At around 30,000 rupees (US$443), mithun sacrifices make for the costliest remedy—a powerful financial motivator for many to convert to Christianity.
"Look at the other states," Millo said. "Assam is mostly Hindu. Mizoram and Nagaland are almost one hundred percent Christian. I don't know if there are any tribes left."
Millo is defiantly proud of her unique background. But the down-to-earth Instagrammer, who grew up with shamanist traditions, now fears they will fade. "We don't want them to disappear," she said. "They shouldn't just be a story someday. We're so protective of our faith and culture. Not because we want to be. Because we believe in it."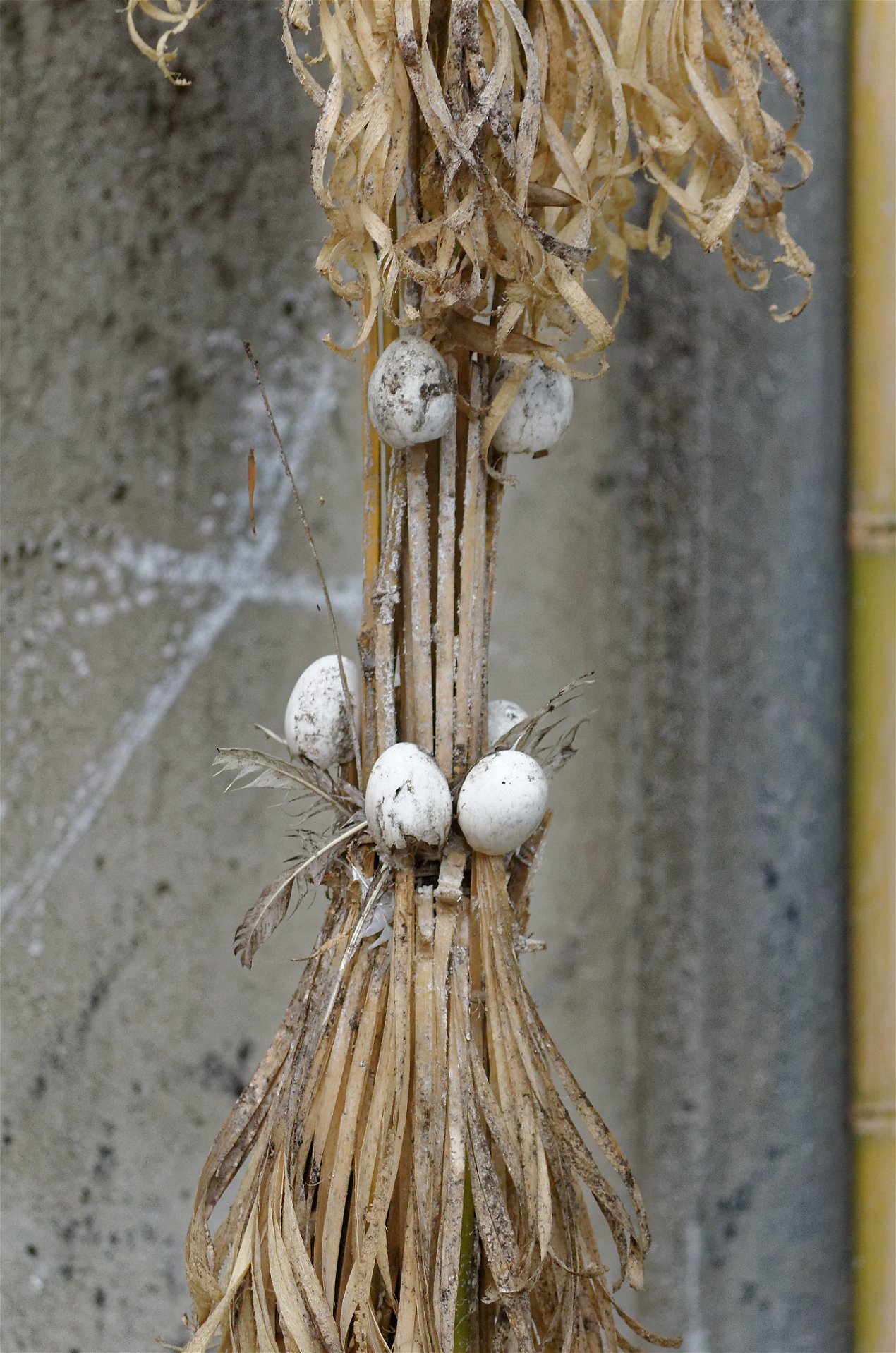 There are certain tribal traditions that younger generations have happily dispensed with. Apatani women no longer sport the distinctive facial tattoos and nose plugs that once defined the community and that are still common among older villagers.
"It used to be taboo not to have it done," said 50-year-old Takhe Choku from Hong Village, whose forehead and chin are inked in faded vertical lines. "It was part of our identity. Part of the Apatani tribe."
To make a tattoo needle, thorns were foraged in the jungle and tied around an ash-smeared weaving stick. Chicken fat was used as a balm to soothe the skin after the tattoos were applied. So agonizing was the process, that the young girls had to be pinned down until the tattooist was finished.
"It was very painful," Choku said. "These days we think we shouldn't have done it."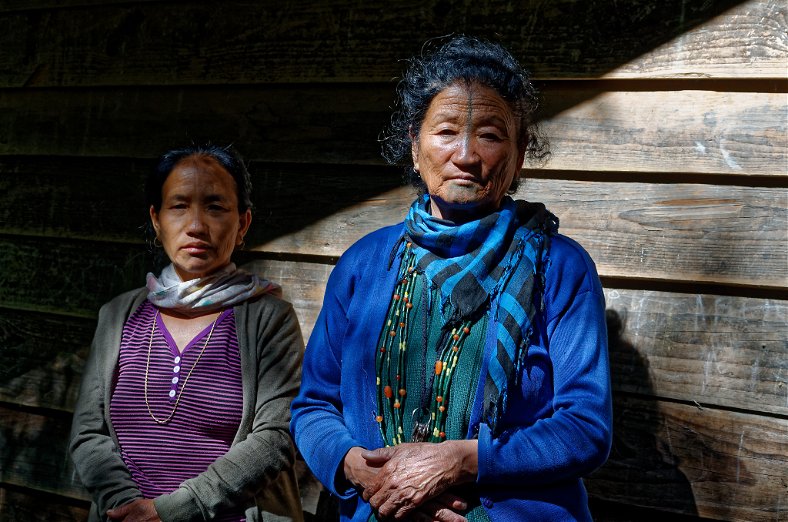 For many followers, Donyi-Poloism now represents the last remaining instrument of preservation for the region's fading tribal practices. In lieu of Apatani chin tattoos, Millo wears a distinctive Donyi-Polo pendant made up of two concentric circles, symbols for the animist faith's eternally intertwined solar and lunar energies.
In the center of Hong Village, Millo introduced me to one of Ziro Valley's two surviving shamans, Habung Chiling. Looped around his shoulder was a tribal dagger, known locally as a dao, encrusted with tiny seashells and wrapped with a lock of cow tail. Habung, who estimated he was between 60 and 70 years old, presides over around 16 sacrifices a month, from monkeys to mithun. He said the valley had 24 shamans back when he was a young man.
"When I was growing up, there were no Christians here," he said. "I have healed so many people through these rituals. We need to pass these healing powers to the next generation, whether they're Christian or Donyi-Polo. That healing can't be done through other religions, and that's been proven."
As I made my way around the state, I heard Donyi-Polo adherents cling to the same moribund awareness of their own decline—even with what seemed like evidence of a revival. It gave the faith an anachronistic and strangely self-reflexive quality, which infused its newly built temples. Twenty-five years ago, Rukbo was the first to give indigenous gods of hearth and harvest a manmade likeness, ossifying a previously incorporeal spirit realm. At temple altars, his photograph is now an omnipresent sight. Rukbo's portrait is given a place of honor alongside anthropomorphized renderings of Donyi and Polo as a man and woman outfitted in traditional tribal attire—pure forms mediated by earthly powers.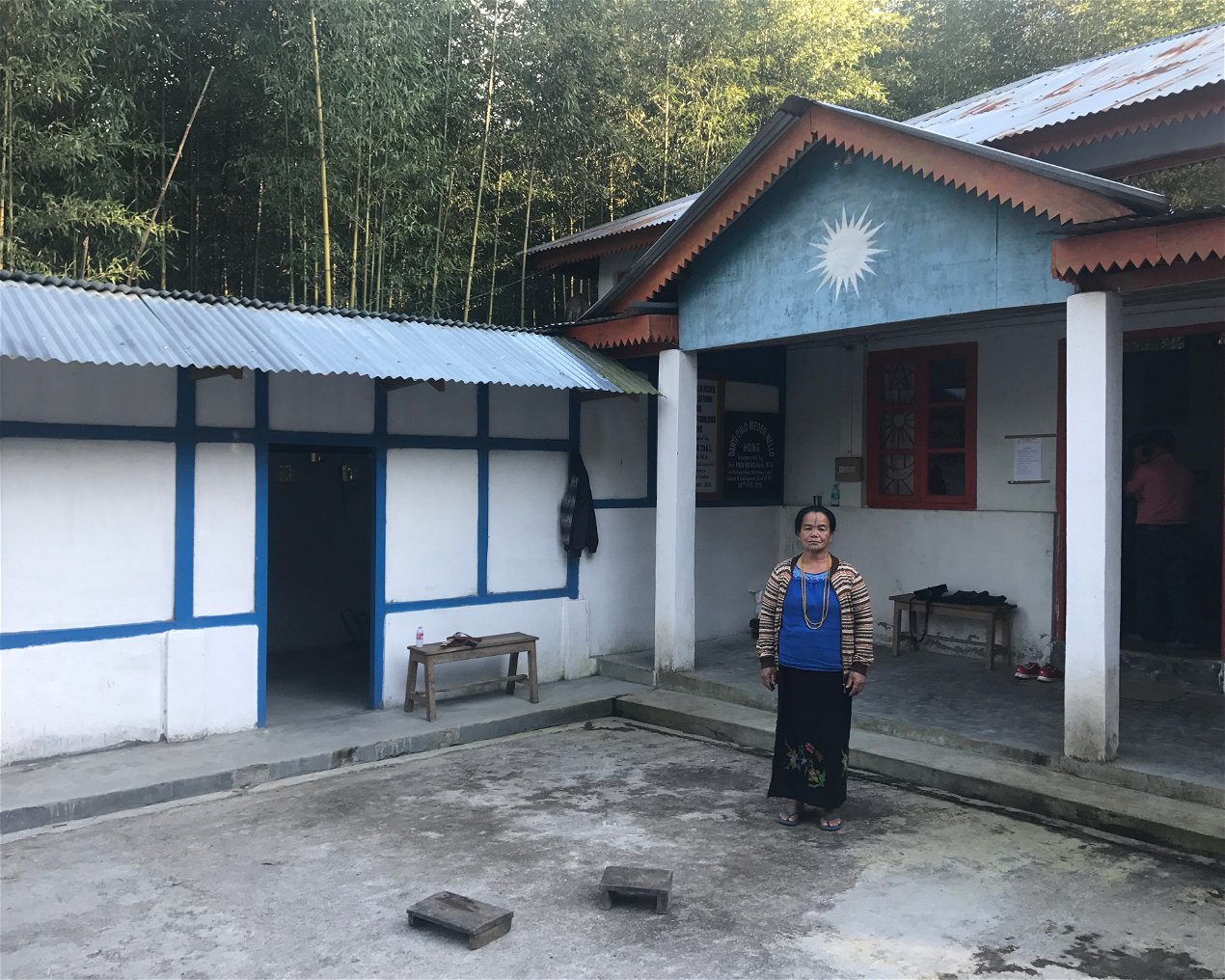 Behind an iron gate emblazoned with sun and moon symbols, a square-shaped concrete building serves as Hong's main Donyi-Polo temple. Tucked away from a pebbly road, the dim, carpeted temple overlooks a large asphalted courtyard, where I walked by women chatting together over plates of fried vegetables. Inside, I found the three familiar icons—Rukbo, Donyi, and Polo—joined by another image at the altar: a patriotic picture of Bharat Mata, or Mother India. An anti-colonial emblem from the days of British rule, the allegorical portrait depicts India as a fearsome Hindu goddess, and in recent years has become a visual shorthand for Hindu nationalism. Next to Bharat Mata and the temple's Om-emblazoned worshipping trays, the Donyi-Polo tribal avatars looked like new additions to the suitably elastic Hindu pantheon of gods.
"Since the beginning of time, we've been asking Donyi-Polo for everything," the temple's priestess, Narang Yamyang, said. Yamyang helped oversee construction of the worship space after prayer groups overfilled private homes. Now, she is tasked with leading services and preparing holy water to sprinkle on devotees. "We've asked them to keep us healthy and happy, and for the power to survive on Earth. That's why we keep on believing."
Perhaps the acts that most exemplified the nebulous animist faith were the ones that had no formalized meanings, like the female shaman Yalut Jamoh's mirthful fireside jig. Despite talk of protecting Donyi-Poloism, the reality in the temple looked very different. Torn between Christianity and Hinduism, flanked by leaders affiliated with the right-wing, ultra-nationalist RSS and the fiery, flag-waving Hindu goddess, Donyi and Polo did not look very well protected. They looked more like they'd been placed in protective custody.