How many stories can a sandwich tell you about Mumbai?
Mumbai, from the very beginning, has been a city of migrants, a mercantile capital drawing people from every region and every background to its packed streets. Those same streets are dense with new beginnings, old longings, and the impudent cross-breeding of cultures and communities that, in holier places, might never have taken place at all. Food has become a subject of frequent, at times farcical, controversy in recent years, with fights breaking out between neighbors in vegetarian buildings, and whole neighborhoods banning the sale of meat products entirely. But Mumbai remains a city enamored of its food, eaten, often as not, out in the streets, where everyone manages (for the most part) to get along.
Bombay Bhelpuri, Gupta Chaat Centre and Sharma Bhelpuri House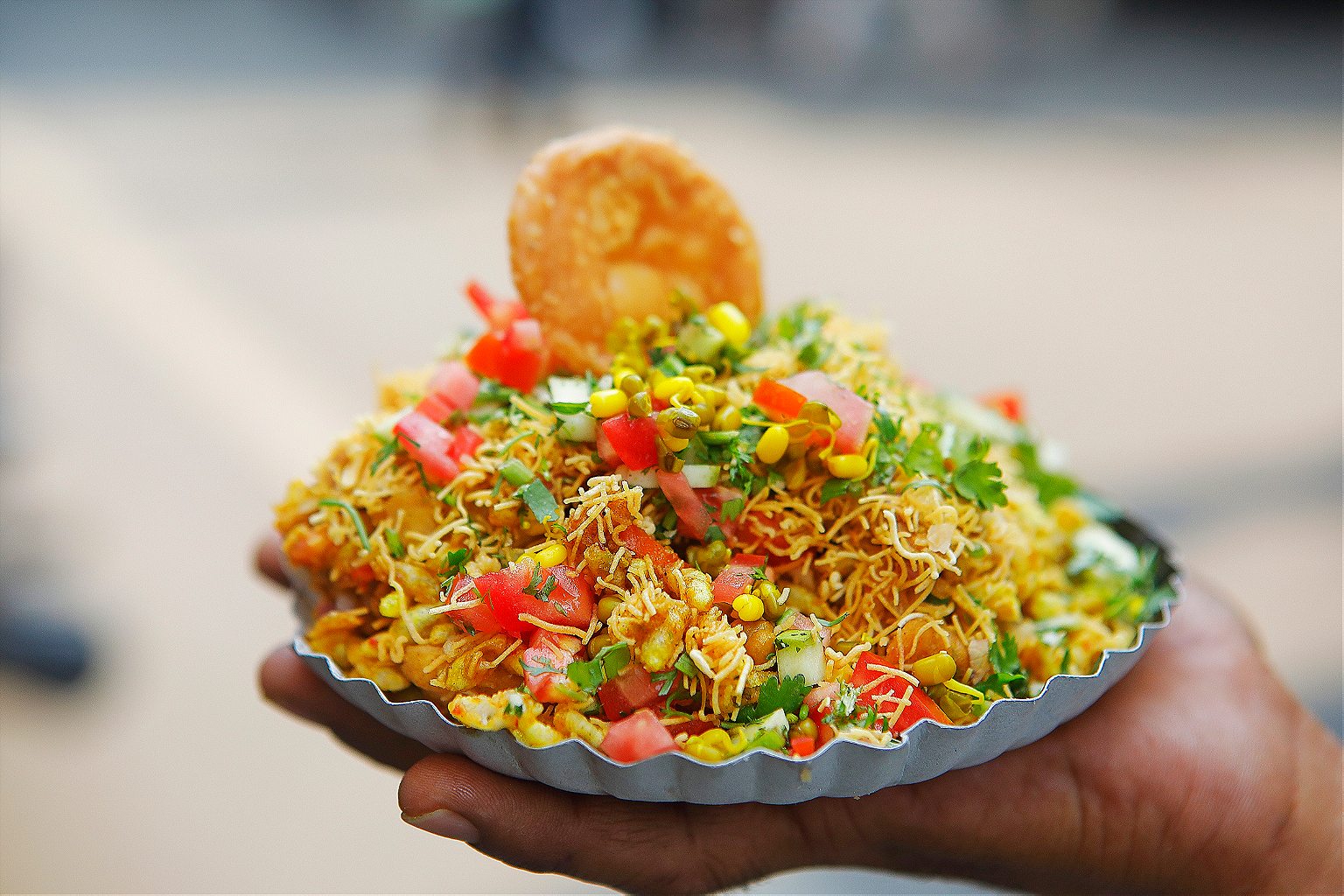 This dish, which has no particular date of birth, is used more than any other as a metonym for the city. The word bhel is said to come from the Marathi word for puffed rice, bhadang, the dish's main ingredient. Puri is a deep-fried wheat flatbread, and sev, another essential ingredient, refers to deep-fried strings of chickpea flour. The chutneys (cilantro-chile, garlic, tamarind) come from the chaat of the north country, home to most of the pavement vendors who sell bhelpuri on just about every corner. Chopped onions and boiled potatoes are called by their local names, kanda and batata. All of this is tossed together in a paper cone and eaten with a puri, used like a spoon. It's Mumbai's migrant food, prepared quickly and simply, but loaded with complexity, in history, flavor, and texture.
Fugeas, Cafe Andora
After the Portuguese gave Bombay to the British as dowry in 1661, Christians from other parts of India made their way to the new islands. To differentiate themselves, the original natives started calling themselves East Indians.
The community's cuisine layered those European influences—mostly from Portugal, a little from Britain—over ingredients and techniques from Maharashtra's Konkan coast. This is the only community to make fugeas, or "balloon bread," a deep-fried cloud-like ball of sweet bread, not unlike a beignet. The fermented, yeast dough comes from the Portuguese, coconut milk from the villages of coastal Maharashtra, and the sorpotel it's served with (a stew of pork meat, blood, liver, masala, and a bit of vinegar) is similar to the famed Goan dish, but made with a lighter touch.
Alcohol is a big part of the East Indian community's dining culture, as well. Aunties in traditional neighborhoods like Bandra will still make wines from grapes, tomatoes, beets, or carrots, and nearly everyone in the community knows how to make toddy. During Mumbai's prohibition, Bandra was known for its "Aunty Bars" where ladies would sell home-brewed hooch from a room in their living quarters. The suburb is still high spirited, dense with dining and drinking establishments.
Aamras Puri, Soam
Mangoes originated in the hills of northeast India and have been present in our ancient scripts for millennia. In his book A Historical Dictionary of Indian Food, KT Achaya, India's most illustrious food historian, cites the fruit's first mention as amra in the Brihadaranyaka Upanishad, written around 700 BC. But the fruit truly came into its own under the Portuguese, who managed to develop varieties to grow in their coastal colonies. Mumbai's most celebrated variety—if not all of India's—is the Alphonso, with its golden skin, flesh the color of saffron, and a fragrance so powerful that an unopened box can fill a large room with its aroma. When Prime Minister Jawaharlal Nehru hosted President John F. Kennedy for a state dinner in Delhi in the 1960s, he served Alphonsos imported from Mumbai.
It's only natural that Mumbaikars would turn aam, as mangoes are known in much of India, into aamras, a thick mango pulp usually made by blending silken Alphonso flesh with that of a sweeter variety. Who's to say when, and how, we realized that the juice of a mango pairs best with a slightly salty puri?
Patra ni Machhi, Jimmy Boy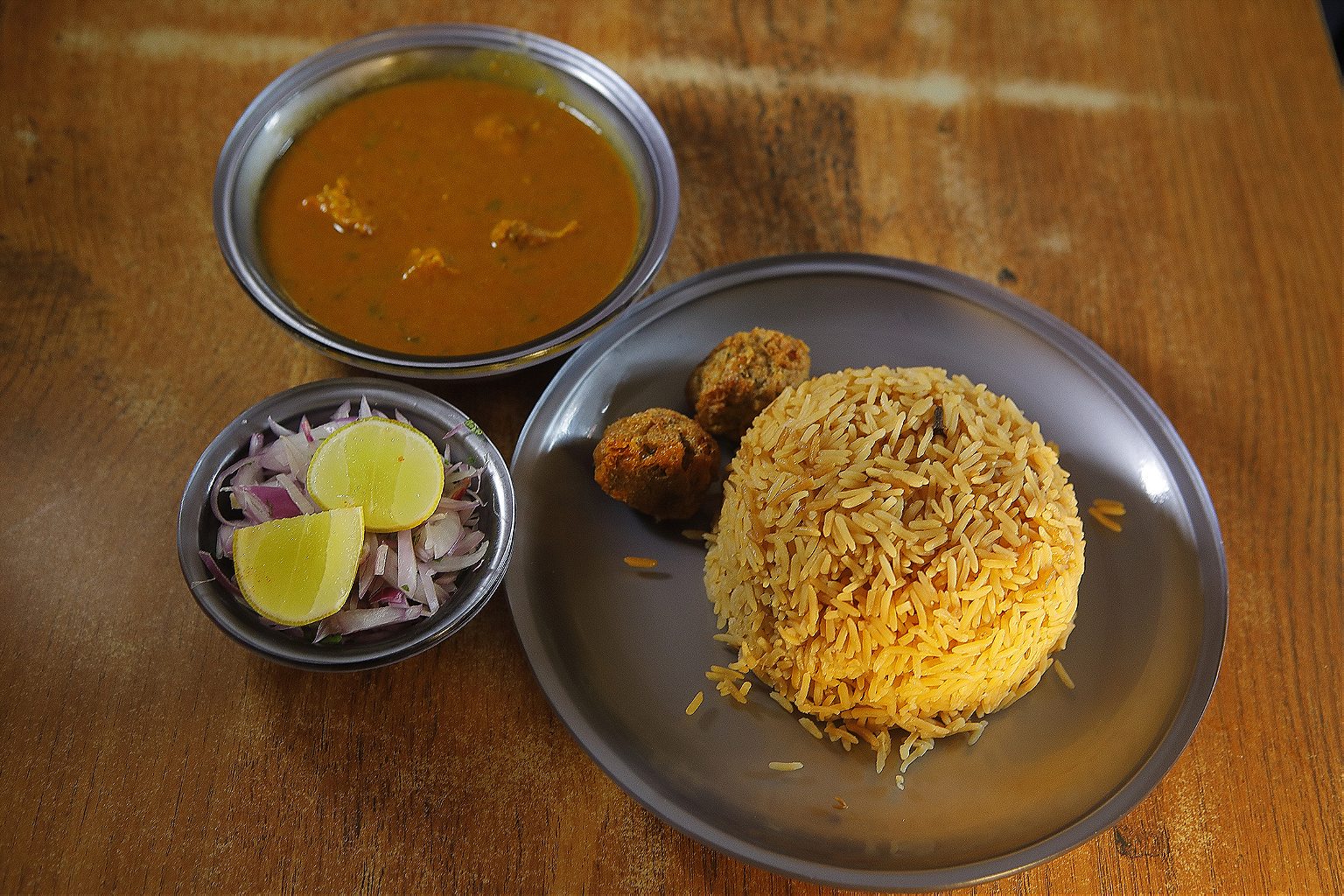 When the British Crown turned control of Bombay over to the East India Company in 1668, Parsis, with their keen commercial sense, flocked to the city and became involved in heavy industries such as shipbuilding. Since then, Mumbai has been home to the world's largest population of Parsis.
Patra ni macchhi—a piece of fish smothered in a green chutney of cilantro, chilies, garlic, coconut, and mint, then wrapped in a banana leaf and baked or steamed—is an intrinsically Parsi dish. As Kurush Dalal, an archaeologist and Parsi caterer, points out, it is also a dish that speaks volumes of that community's incorporation into the culinary culture of South Asia.
Meat steamed in vine leaves with aromatic ingredients (dolmeh) are traditional throughout the Middle East and eastern Mediterranean. When Parsis moved to the western coast of India, mint, cilantro, and garlic grew in their backyards, as did banana leaves. Coconut gave the spice paste great body. The dish's delicate sweetness comes from the community's time in Gujarat, a region famous for its use of sugar in just about everything. Like all things Parsi, Patra ni machhi eventually became part of the city's identity, not just the community's. So in recent years, Mumbai's militant vegetarian communities have done what they are accustomed to do: subbing in paneer for fish.
Bombay Duck Fry, Fresh Catch and Highway Gomantak
The peculiarly named Bombay Duck is really a variety of lizardfish found off the coast of Mumbai. Legend has it that crates of these dried fish travelled from Bombay to the interiors of the country through the railway system, initially developed by the British to transport cotton from the hinterlands to the coast. This smelly cargo came to be known as Bombay Dak, dak being the word for mail. According to another etymological theory, some years before the railways became functional, the infamous Commander-in-Chief of British India, Robert Clive, noticed that all newspapers and mail that came from the Bombay cantonment smelled like dried fish. In the English doctor John Fryer's 1698 book A New Account of East India and Persia, he talks about how "the backsides of towns Bombaim and Majim" there is a "Massegaeing, a great Fishing Town, peculiarly notable for a fish called Bumbelo." The Portuguese gave it the name bambulim, and from that perhaps, comes the local name bombil.
Fresh bombil's single bone, and its delicate and surprisingly non-smelly flesh makes for a superlative fish fry. East Indians and the Koli fishing community, the city's original inhabitants, both love it, though they prepare it differently. The Kolis dredge it in rice flour and Koli masala, while East Indians coat it in a proprietary spice mix called bottle masala, made with 30 sun-dried ingredients that are roasted, hand pounded, and stored in glass bottles.
Spring (Chinese) Dosa, Narayan's Dosa and Ayyappan Idli Stall
Many of the South Indians who migrated to Bombay for work in the 1920s settled in central Bombay's Matunga neighborhood or in the teeming slum of Dharavi to its north. Through them, Bombay got its taste for dosa, a savory crepe of lightly fermented rice-and-lentil batter. To make their batter sturdier for the streets, vendors added semolina, which gave street dosas a distinctive grain and chew, and added yogurt to soften it, which lent a pronounced sour tang. No self-respecting Tamil would call this a dosa (even if they enjoy eating it)—less so when it's stuffed with ingredients like cheese, chocolate, pao bhaji, pizza toppings, or, in its strangest (but not unpopular) iteration, noodles.
The first Chinese immigrants came to the city on East India Company ships in the early 19th century to work as laborers in the colony. After the Sino-Indian war in the early 1960s, most left. Today, there are but a few thousand Chinese people left in the city. Most Mumbaikars today would say there are more Chinese restaurants in town than Chinese people, though 99 percent of what locals call "Chinese" food would be unrecognizable to anyone from the PRC.
For this, the city has Nelson Wang to thank. The Kolkata-born son of a Chinese immigrant created a new cuisine, called Chindian, while working as a cook at the Cricket Club of India. Starting with a typically Indian base of minced ginger, garlic, and green chillies, Wilson added not a typical masala, but rather a mixture of soy and cornstarch.
The spring dosa is stuffed with spring onions and non-indigenous ingredients known collectively as "English vegetables" like carrots, cabbage, and capsicum, mixed with a Wang-inspired slick of soy and something known simply as Schezuan sauce. When you put the noodles in it, it becomes a Chinese dosa.
Brun maska and chai, Kyani Bakery & Company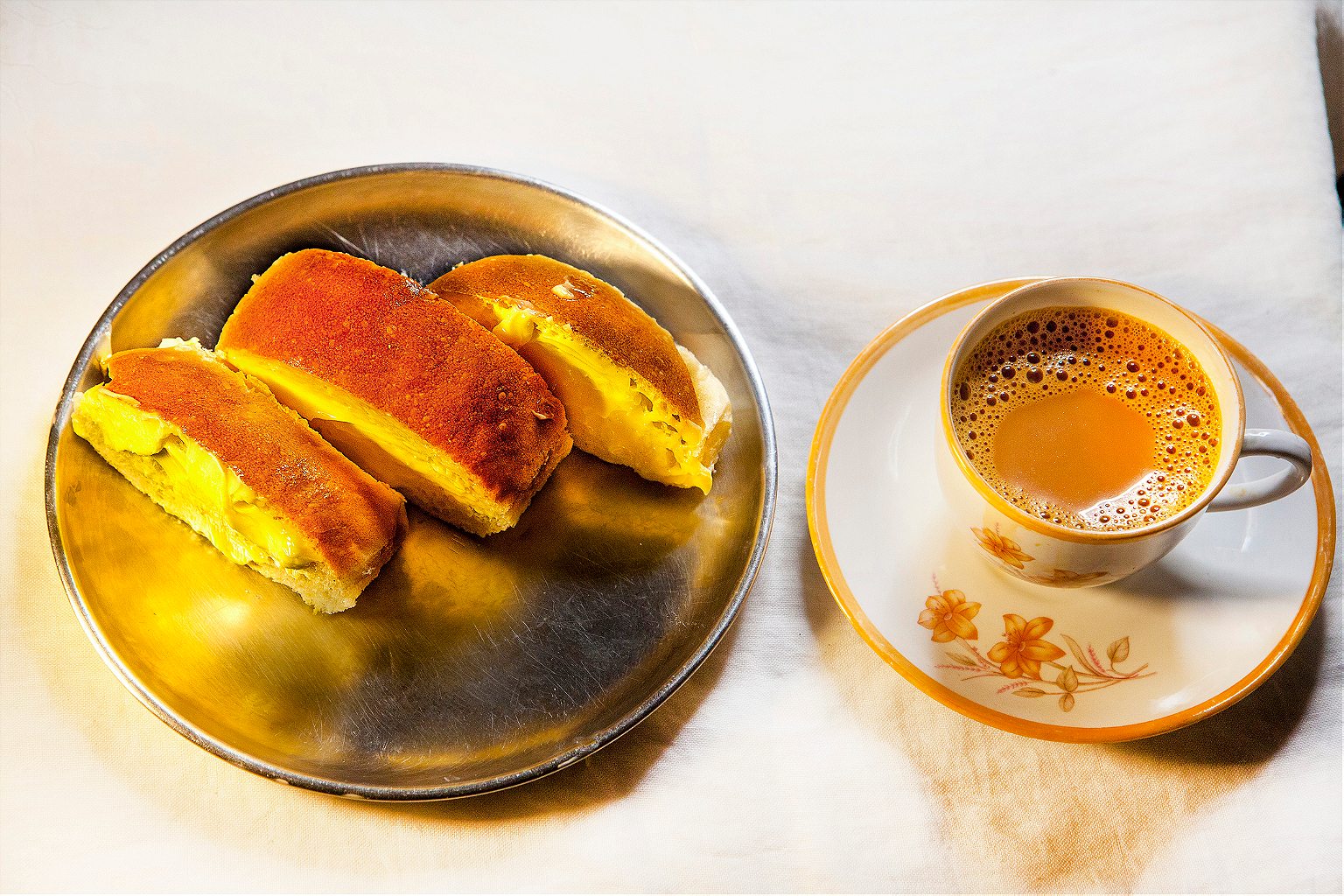 Many of the Persians who arrived in Bombay during the second wave of migration took up jobs as tea sellers by the Gateway of India. The tea they sold wasn't the clear, deep golden tea of Esfahan, Yazd, and Kerman—their original homes—consumed with a rock of sugar held between the teeth. In their adopted homeland, a place rich with dairy, locals preferred their tea very milky and very sweet. The Irani tea vendors boiled the tea until it was dark, added sugar, milk, and mawa (milk solids) for lushness and body—this became popular as Irani chai.
Following a plague at the turn of the 20th century, the city cleared broad avenues through formerly cramped districts. Irani tea vendors acquired most of the new corner properties, considered unlucky by local Hindu businessmen. Many of them opened cafes.
Once, Mumbai had over 1000 Irani cafes, bakeries, and provision stores, marked by high ceilings, checkered tablecloths, bentwood chairs, and Zoroastrian symbols. They were truly secular places, serving the cultural elite, the literati, and the common office worker side by side. Every menu included Irani chai and brun maska, a fermented bread baked in a wood-fired oven. At the couple dozen Irani cafes that remain open, they still do. Smeared with a layer of soft, salty butter and dipped into hot, sweet, tannic, milky tea, the crusty high-domed bread softens but never falls apart.
Sev Khamni, Jani Khaman & Locho House, street stalls around Zaveri Bazaar, and The Bombay Haveli
From 1843 to 1936, the British grouped parts of modern-day Sind, Gujarat, and Maharashtra together as one administrative entity called the Bombay Presidency. In the 17th century, when the East India Company took over Bombay, the British set up incentives to draw traders and industrialists south from Gujarat to their new port city. A century later, the Kathiawadi Patel community invented the sev khamni, a steamed savory cake of ground chickpea flour, crumbled and sautéed with asafoetida, chillies, and cilantro and served with sev and spicy chutneys.
In the mid-1800s, as Gujarati traders worked late into the night at the newly minted stock exchange,  street food culture flourished in the city. In the 1920s, Gujarati Jains from Palanpur and Kathiawadi Patels took up jobs as agents for European diamond dealers who had their stones polished and processed in Surat. It didn't take them long to cut out the middlemen and start sourcing directly from Antwerp.
Sev khamni traveled the streets of Mumbai alongside Gujarati enterprise, sold off carts in the gullies surrounding the old diamond markets around Zaveri Bazaar and the recently restored Opera House. Like most Mumbai foods, it's endlessly customizable, made with lashes of garlic chutney and a sprinkle of pomegranate arils, dressed with cheese and butter, with coconut and cilantro, or even with mayonnaise and tandoori masala.
Frankie, Tibb's Frankie stalls all around the city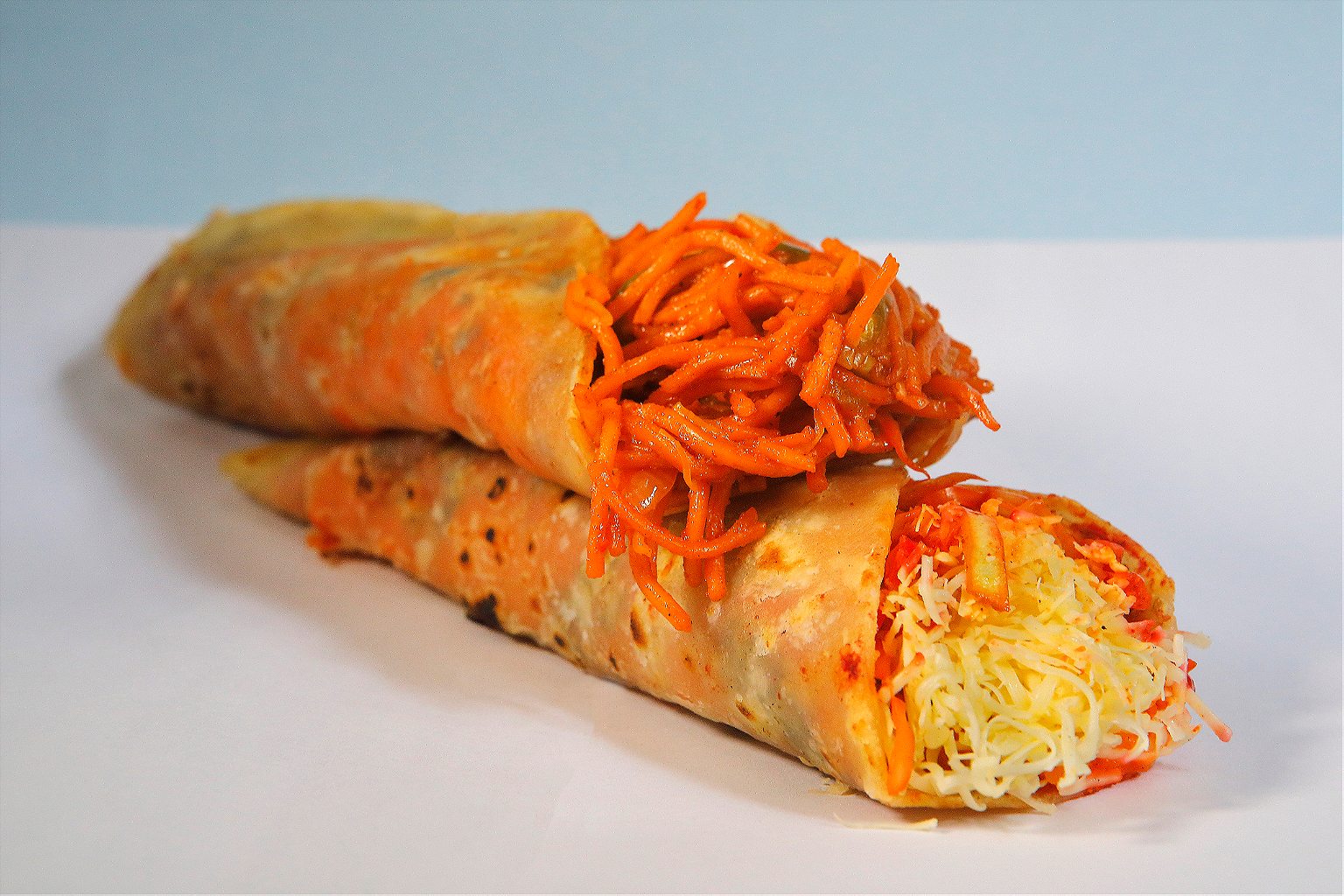 In 1967, pharmacist and national hockey player Amarjit Singh Tibb tasted a shawarma in Beirut. For the next two years, Tibb and his wife Surinder worked to make an Indian version of the recipe.
They swapped out lamb and middle eastern condiments for Indian-spiced chicken and vegetables, chutneys, chopped onions, and pickled chilies. The pita became a flaky, chewy, pan-fried flatbread, often coated with a thin layer of beaten egg. They set up a street-facing counter at the erstwhile Aga Brothers, a shop in on Colaba Causeway that eventually became known mainly for Tibb's invention. In the decades since, Frankies have been become an essential taste memory for millions of Mumbaikars.
Tibb's magic ingredient in his Frankies has always been a spice mix known simply as Frankie Masala. The internet might give you dozens of recipes, but know this: Tibb's sons Jasmit and Charanjit can keep a secret.
Eggs Kejriwal, The Bombay Canteen
In 1918, while serving as the Governor General of Bombay, Major Freeman Freeman-Thomson, better known as Lord Willingdon, decided he wanted to go to The Royal Bombay Yacht Club with friends. But his friends, who were Indian, were barred entry to the city's colonial clubs. So he decided to build The Willingdon Club to welcome both Europeans and Indians. These British-built clubs changed the culinary landscape of the city, there's no question, but the most important club staple, Eggs Kejriwal, had nothing to do with imperialism. Like the Willingdom Club, where it was invented, it sprung from an act of rebellion.
Fifty years ago, an Indian member called Devi Prasad Kejriwal, who hailed from a strictly vegetarian Marwari family, would ask the staff to serve his toast with a forbidden egg on top, cloaked with cheese and chilies to keep other club members from talking. The secret didn't last. His friends took to the combination, as did their friends, and Eggs Kejriwal became part of not only Willingdon's menu, but in clubs menus across the city. Now the humble club favorite has become ubiquitous at some of the city's toniest restaurants, most notably at The Bombay Canteen, where it's elevated by brioche and coconut-chilly chutney.
Vada pav, Ashok Vada Pav Stall or Aram Vada Pav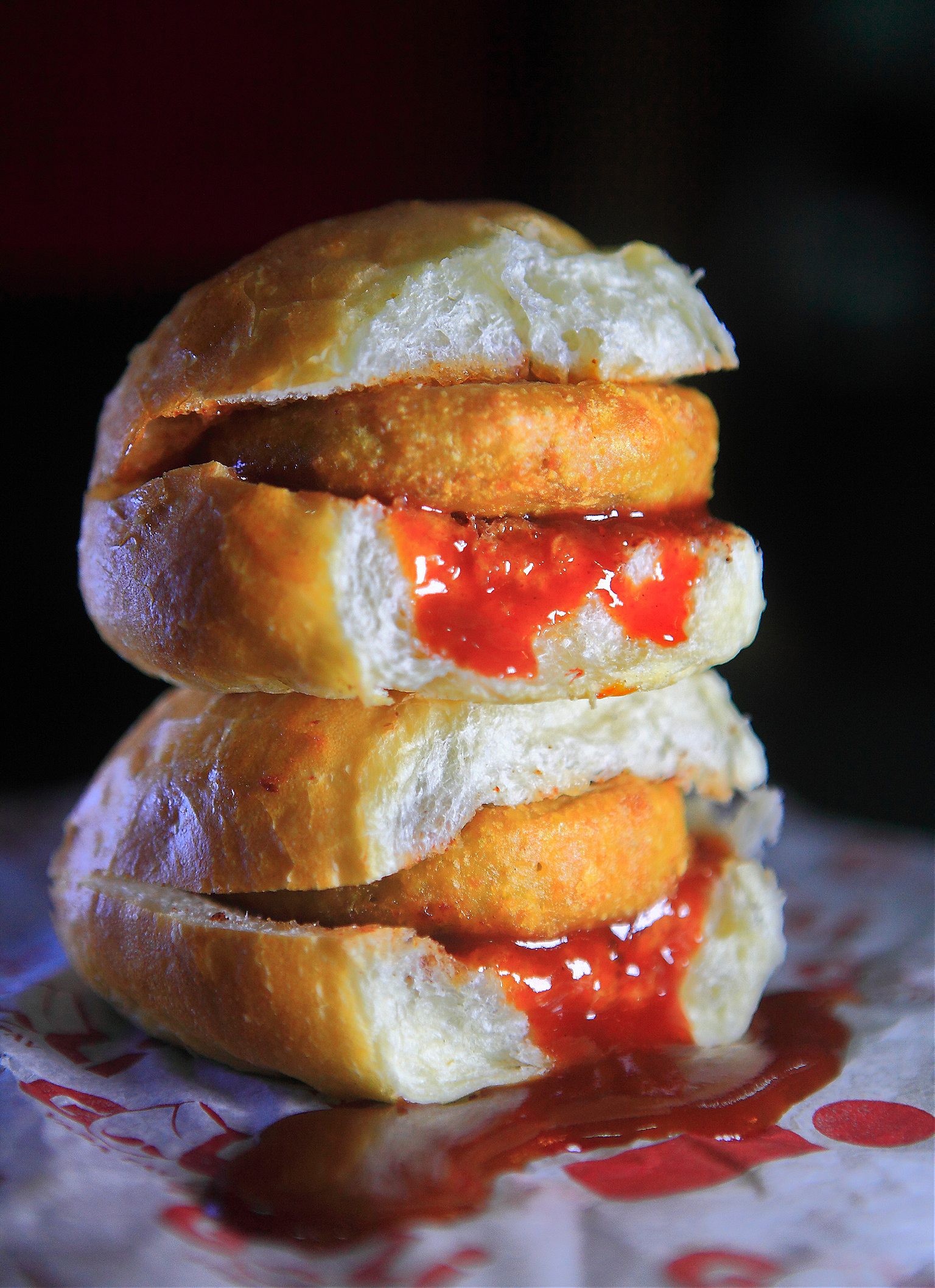 How many stories can a vada pav tell you about Mumbai?
It could tell you that it was created for migrant mill workers in "mill village" or Girangaon (now Parel) in what was then Bombay. The textile mills were established in the mid-1800s, but the vada pav was invented by Ashok Vaidya, a street vendor outside Dadar station in the late 1960s. He tossed cricket ball-sized potato fritters into a split sourdough bun, known as pav, along with chutneys and chilies. The mills started shuttering after the year-long workers' strikes of 1982 . By 2007 almost all of them had shut down. Many were converted into malls or office towers and in the years in between, thousands of vada pav stalls (or vada pao, wada pav, wada pao) turned up on street corners feeding the carb-on-deep-fried-carb-seeking masses of Mumbai.
Vada pao is a simple enough snack. Boiled, roughly mashed potatoes spiced with turmeric, green chillies, garlic, and asafetida are dipped into a chickpea-flour batter and deep fried then stuffed into a pav with chutney. It's often called the Bombay burger.
Decades ago, the Shiv Sena, a right-wing, anti-immigrant party in the state of Maharashtra politicized the snack as a symbol of regional pride, implicitly setting the snack up as inherently Maharashtrian. The party, and indeed all Mumbaikars, would do well to remember that pao (derived from the Portuguese word for bread), potatoes, and chilies were all brought to India by outsiders.