Is This the World's Best Vegetarian Dish?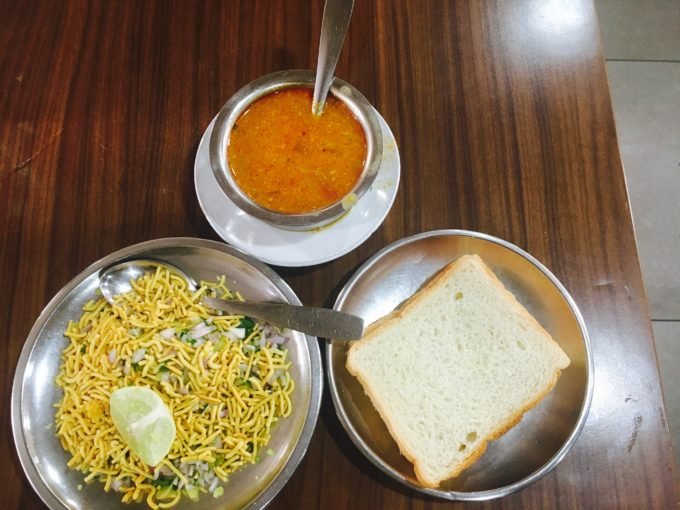 Is This the World's Best Vegetarian Dish?
Misal in Pune
Its 11 a.m. on a Tuesday when I amble down the footpaths in the historic 'peth' area of Pune, in search of breakfast and the legendary misal at Shri Krishan Bhuvan.
Vendors in the bustling market area of Tulshibaug thrust their wares at me—a neckpiece, handkerchiefs, chappals, fruits, etc. I maneuver through the crowd and finally reach Shri Krishna Bhuvan.
Established in 1941, the place is all coy minimalism—a few wooden tables and benches and waiters darting in and out of their open kitchen. The tables are shared; it's absolutely normal for a stranger to come and sit beside you. Thankfully, it's a weekday and I don't have to wait. The waiter asks me how would like my misal—normal, medium, or 'picy', hastily skipping the 's'. I order a medium with buttermilk. The misal arrives in record time, with a bowl of the 'sample' (curry, infused with ginger-garlic paste, freshly grated coconut, chillies, tomatoes, and potatoes) and bread slices.
The misal at Shri Krishna Bhuvan is prepared by combining poha (rice flakes sautéed with onions and curry leaves), batata bhaji (potatoes tempered with mustard, asoefitida, and chilli), chiwda (a mixture of dry rice flakes), and sev (noodles made of chick peas). It's garnished with chopped onions and lemon, and topped with tari—a searing mixture of oil and spices.
The flavors of the coconut, ginger, and garlic beautifully unfurl on my tongue. In between bites of bread and misal, I take brave swipes at the red tari. Beads of sweat gather on my forehead. When it gets too hot to handle, I take large sips of the buttermilk.
Several tea-houses and corner shops serve misal, each with their own method of preparation. For people in my state, Maharashtra, misal is more than just a dish. It stands for camaraderie and bonhomie, and it's also a perfect cold remedy. It's a versatile dish: it can be an evening snack, but it's common to eat it for breakfast and lunch, too. Don't just take my word for its charms: in 2015, London's Foodie Hub Awards declared misal the world's tastiest vegetarian dish.
Shri Krishna Bhuvan, 1164,
Budhwar Peth Road, Tulshibaug,
Budhwar Peth, Pune,
Maharashtra