A Totally Avoidable Error in Drink Selection at an Italian Food Fair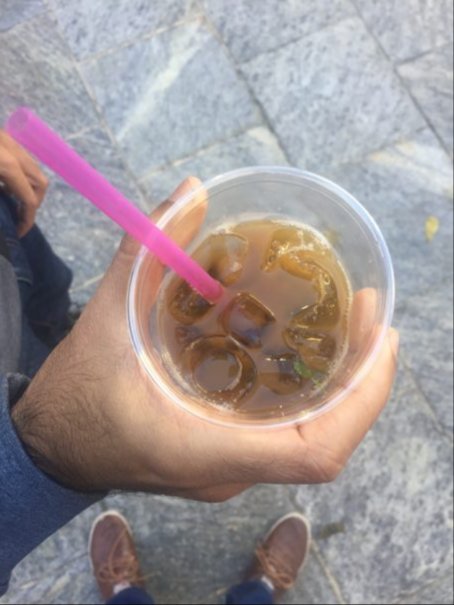 A Totally Avoidable Error in Drink Selection at an Italian Food Fair
Licorice mojito in Cesena
After overdosing on golden deep-fried arancinis and hearty, brown-spotted piadena stuffed with prosciutto and squacquerone cheese at a street food fair in Cesena, my drowsy gaze lands on a makeshift stall. I've just had a couple of plastic glasses of the local Sangiovese wine with which I could easily see myself becoming best friends, but when I spotted the licorice mojito, it stirred some memories.
Until I found this stall, I was under the impression that licorice was mostly a Scandinavian thing. In Denmark, licorice is introduced into beer, ice cream, chocolate, mints, fudge, and candy. When I visited Aarhus last year, my friend and his family force-fed me so many licorice-flavored sweets that my memories of Danish Christmas are now tainted with a strong licorice scent.
"To be fair, I haven't given licorice a chance," my partner says, jolting me back from my brief reverie. "Well, now is the time," I say, emboldened by his vote of confidence. We buy a disposable plastic glass and decide to split the drink. This was fortunate.
Elbowing out of the crowd, we walk into a tiny, unpeopled piazza with tall mustard-colored buildings that close down on us. A sense of suffocation sweeps over us. Yet as my partner's face grows unpleasant and he scrunches up his eyebrows, I deduce it's the mojito. But it's more than that.
"This reminds me of Wasai (in Mumbai) where my mom used to leave me with my extended family before going to work, when I was a kid. It's depressing, let's get out of here," he says with a sense of urgency.
I sip the coffee-brown slush and realize even the heavy dose of alcohol couldn't tame the assaulting flavor of licorice, an overbearing syrupy note with salty undertones.
The piazza is empty, save for a few restaurants waiting for their last-minute customers before they close for lunch and a food delivery guy fastening his delivery cartons around his bike's pillion. A middle-aged woman eyeballs us suspiciously as she parks her bike.
We stir the plastic straw as the ice cubes release more water into the coffee-brown slush. It's a beautiful, sunny day in Cesena. The after-kick from the alcohol stirs our memories and our consciousness slowly but steadily blurs. We silently meditate on the small failures of our travels, and decide to flavor-code each one of them as the plastic glass of licorice mojito passes back and forth between our hands.