All Scottish Ales Taste Alike, Even in Costa Rica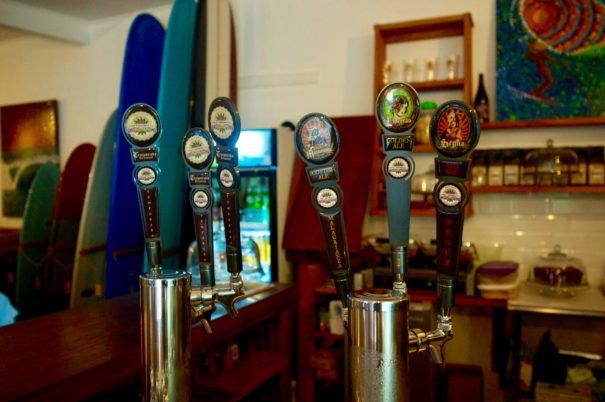 All Scottish Ales Taste Alike, Even in Costa Rica
Malacrianza in Costa Rica
The Scottish ale is good. Surprisingly so, all things considered. I ask the barkeep to pull one because it's January and I want what the beer writers call a Winter Warmer. Robbie Vickers, the Irish guy behind the taps, doesn't question my choice.
Scottish ales all tend to taste alike—thick, malty, sweet from the higher ABV. This one is no exception. Robbie asks me how I like it. "It's really good," I say. I don't tell him that it's maybe a bit colder than how it'd be served back home. The glass is sweating almost as much as I am; the path to this particular beer was through a jungle, at a damp 85 degrees Fahrenheit. A heavy Winter Warmer might not have been the best choice. But I'm in Costa Rica, sitting at the bar of the combination brew pub/surf shop/coffee house Olo Alaia, among racks of surfboards, the taps bookended by a pastry display and an espresso machine, steps away from an uncrowded beach with near-perfect waves, sipping on a tasty ale that I won't find anywhere in the States. I'm going to complain?
I hadn't planned on drinking beer at all, and certainly didn't count on finding good craft beer in a jungle-covered country roughly the size of West Virginia. My intention was to drink whatever was local. Initial research came back with guaro. I asked my fiancé, who'd spent time in Costa Rica, about it, but she'd never heard of it. "Rum, Flor de Caña especially, mixed with fresh juice, pineapple or mango or watermelon, squeezed right at the bar. That's what everyone down there drinks," she'd said.
We tried both. The guaro didn't impress; it's an unaged cane liquor, thin and flavorless. Flor de Caña is made in Nicaragua, not Costa Rica. The watermelon aguas frescas were a particular pleasure, but a guilty one. I could get this drink back home. I felt like a tourist.
Back to this Scottish ale, and why I chose it. It's called Malacrianza, and it's a product of Costa Rica's Craft Brewing Company. Robbie the barkeep owns Olo Alaia, and he tells me that the craft beer industry in Costa Rica is picking up. (There are about 40 craft brewers.)
Over the course of the week, we will sample other Costa Rican craft beers, from a sophisticated Saison Rosé to something called a Tropical Golden Ale. The only Costa Rican beer I'd heard of before my visit was Imperial, which I suspect is to tico beer aficionados what Foster's is to Australians. "Yeah, that's what most of the tourists drink," Robbie says. "Stuff's made to sit for months in the jungle, in an unrefrigerated storage bin. Tells you a lot, really."