Order the Cheesy Carbs and Other Advice for Long Distance Relationships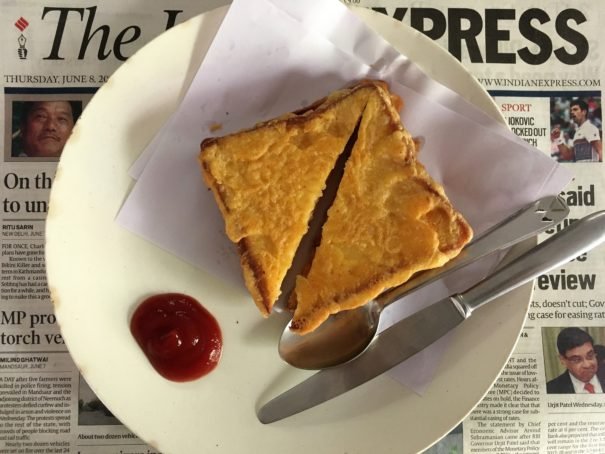 Order the Cheesy Carbs and Other Advice for Long Distance Relationships
Cheese toast on the Deccan Queen Express
In 2007, I landed a job in Pune, in the western Indian state of Maharashtra. The city remains special to me in many ways. It was there that I got my first journalism break, made lifelong friends, and met my husband.
He was a Bombay boy, and ours was a long-distance relationship. We'd visit each other every other weekend. Since Pune-Mumbai road travel could take up to five hours, I'd take a fast train, with the hope of getting one precious extra hour. There were several trains carrying passengers between the two cities. But my favorite was the iconic Deccan Queen Express.
The Deccan Queen Express was introduced in 1930 to ferry the British from Bombay (now Mumbai) to Poona (now Pune) on weekends. It is also one of the first trains to have a sit-down dining car. The 120-mile distance took three hours. It has a loyal following among office-goers: it's punctual, has clean coaches, and the best breakfast.
Minutes after the train pulled out of Pune at 7:15 a.m. sharp, the catering staff came to take orders, without any pen and paper. I would ask, "Breakfast main kya milega?"—What is there for breakfast? The uniformed man absent-mindedly blurted out the menu: baked beans on toast, chicken and vegetable cutlets, omelets and toast, fish and chips, sandwiches, sabudana vadas (sago fritters) and cheese toast. I would opt for the cheese toast, the most popular item on the menu. The same chap would come back 15-20 minutes later with several orders at a time, and returned just before we left the train to settle the bill.
Now, the cheese toast on the Deccan Queen is not two slices of bread slathered with cheese inside and toasted. You cannot even see the cheese until you take a bite. Once I couldn't resist and asked for the recipe. But the waiter told me: "Woh toh chef ko malum hain." Only the chef knows it.
The taste is consistent. The subtle flavor of Amul processed cheese (India's oldest and favorite dairy brand). The chickpea flour gives it a good crunch. Dripping with oil, I let my arteries clog with every bite. Served hot with ketchup, I enjoyed this greasy cheese toast on my morning trips to Mumbai, as the landscape changed outside my window and the train chugged across the sun-kissed, lush green mountain ranges of the Western Ghats.
When the train pulled in at the majestic Victoria Terminus in Mumbai around 10:25 a.m., I looked for someone waiting in the crowd.
Maybe soon I'll take a trip to Pune, only to travel back to Mumbai on the Deccan Queen. With my better half, of course.