There Are No Polite Canadians When it Comes to Grape‑Stomping Glory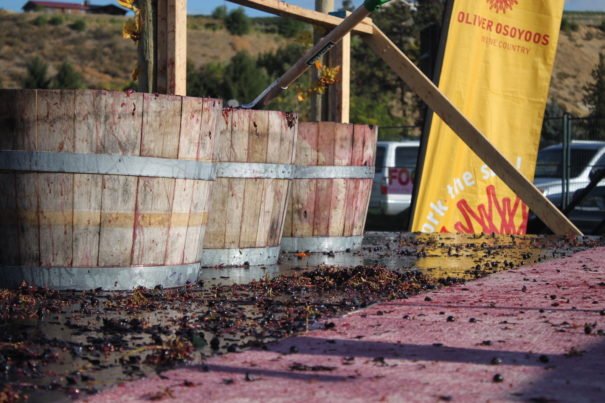 There Are No Polite Canadians When it Comes to Grape‑Stomping Glory
Wine in Oliver, B.C.
As the grapes squish between my toes, I feel two things: slightly cold and very sticky. But mostly, I'm worried about the clock.
This is not exactly old-school winemaking, in which stompers tread slowly and carefully to avoid crushing the seeds, which can ruin the taste of the finished wine. It's more like an episode of I Love Lucy.
I'm well past my ankles in a barrel of grapes, to be sure, but not at a winery. I'm on an outdoor stage in Oliver, Canada, with an orange feather boa wrapped around my neck as I stomp for glory, racing against time. The challenge? To coax as much juice from these grapes as possible in five raucous minutes, alternating with two other team members to stomp the grapes, catch the juice in a jug, and run it over to our team bucket. The music is blaring, the crowd is cheering, and the team of grandmotherly types next to us is bending the rules.
The competition at the Festival of the Grape is fierce—no polite Canadians here. My team pumps out 22 pounds of juice in the first round, ranking us second going into the final heat. But thanks to a few sneaky moves from the ladies next door, we fall to third in the finals—out-squishing 21 other teams. None of this juice will be used for wine, of course—there are too many grimy feet involved for that (never mind the poor technique). It's destined instead for the compost pile.
The wineries in this region—like most modern winemakers—use machines to crush the majority of their grapes, so being a prize-winning grape stomper gives me no inside knowledge of Oliver's wine production. Still, with the competition over, I'm ready for some first-hand research into how the local wines taste.
I'm mentally sipping my first glass of full-bodied red when a bunch of grapes hits me square in the face. It's the start of a good-natured grape fight, and you can guess who's doing most of the throwing. When a particularly ripe bunch gets me right in the eye, I can't help laughing despite the sting. I can only hope the sweet juice dribbling into my mouth hasn't touched too many feet.