In the pro-Russian Donetsk People's Republic, children are trained to fight for their new homeland.
The armed conflict that began in 2014 in eastern Ukraine, shortly after the pro-European Maidan Revolution in Kiev and the impeachment of pro-Russian president Victor Yanukovych, has already taken more than 10,000 lives.
In August 2014, the small city of Ilovaisk became a battlefield, with Ukrainian government forces battling pro-Russian insurgents. Caught in the crossfire, civilians fled the city. Those with nowhere to go hid in damp basements for months.
Since then, the frontline has moved; however, residents cannot forget the bloodshed during that summer.
Three years later, the new flag of the pro-Russian Donetsk People's Republic (DPR) flies above the city. Today, the government of the self-proclaimed DPR calls Ilovaisk "the city of heroes" and invests money into propaganda campaigns to attract new military recruits. Posters depicting militia fighters decorate almost every façade in Ilovaisk, reminding its citizens who those heroes are.
The first thing that students attending secondary school Number 12 see when they arrive in the morning is the smiling face of militia commander Mikhail Tolstykh on a black memorial poster hanging at the entrance. "The hero of DPR," declares the poster. As a child, Tolstykh attended this school.
In 2014, at 34, Tolstykh joined the DPR militia, creating his own battalion to fight the Ukrainian army. Tolstykh, known by the nickname Giwi, gained fame after commanding his battalion during the bloody battles at the Donetsk airport and in Ilovaisk. In 2016, he was officially awarded the title of "Hero of the DPR" and was promoted to colonel. A year later, in February 2017, he was blown up in his own office. Although the culprits were never identified, the DPR government blames Ukrainian forces for his death.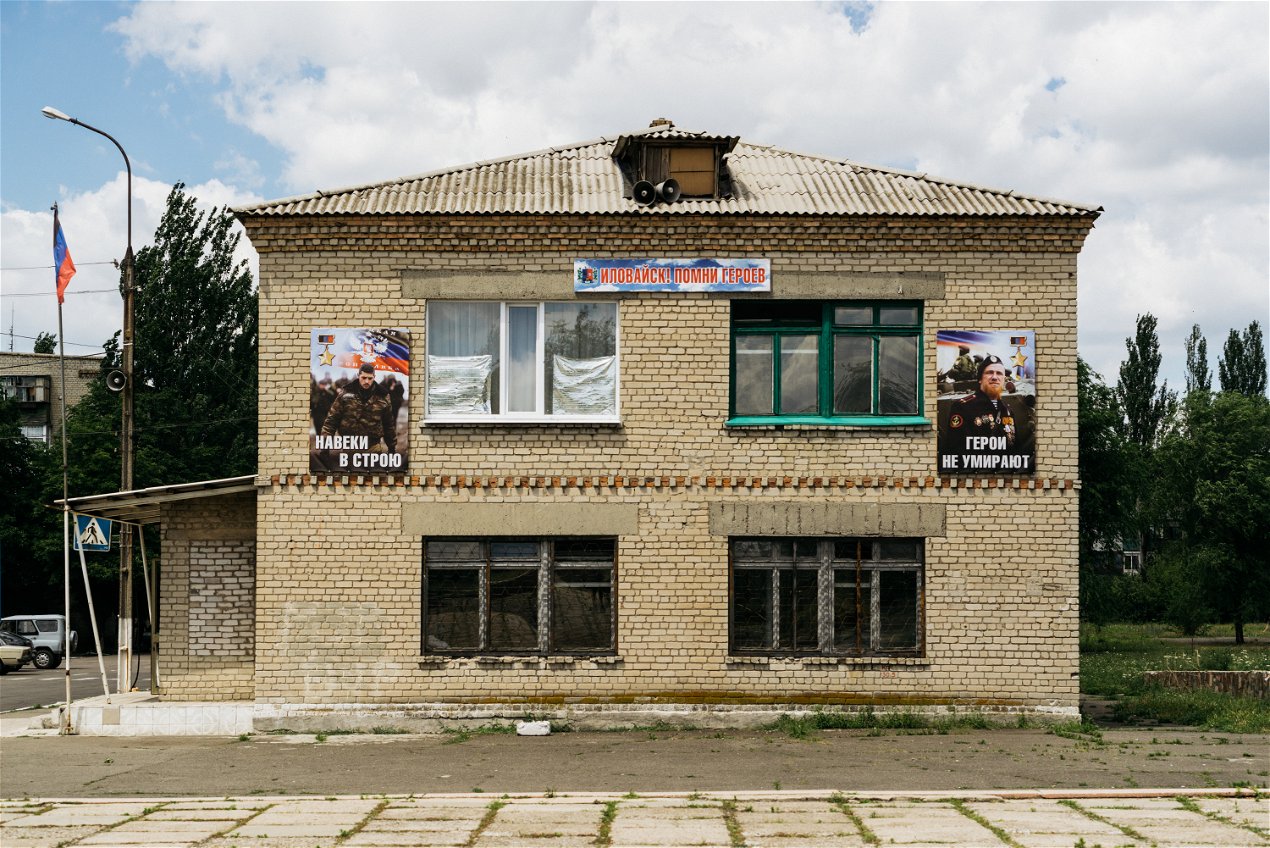 One early summer morning, a group of children crowds in front of the entrance to the school, wearing military uniforms and holding fake Kalashnikovs instead of books. These children come here three times each week to study not math and reading but war tactics. A black patch emblazoned with a wolf's face and the words "Steppen Wolves" is sewed onto their shirt sleeves. The "military patriotic club," as this type of group is called, aims to give the children basic knowledge of combat medicine, weapons handling, and firing tactics.
"I remember I was outside and saw the aircraft in the sky," says 11-year-old Alena, remembering the fighting in 2014. Her wild blond hair is tucked under a cap that matches her green eyes. "My father told me to go home immediately. Then, he was watching the aircrafts from the window for a while. The next day, they shelled the city."
Alena says they hid in her grandfather's basement for the entire month. When the shelling was over, she was terrified to go outside. Her mother is struggling to make ends meet; the railway station she works at was damaged during the fighting and her salary has been cut. Alena finds solace with the Steppen Wolves.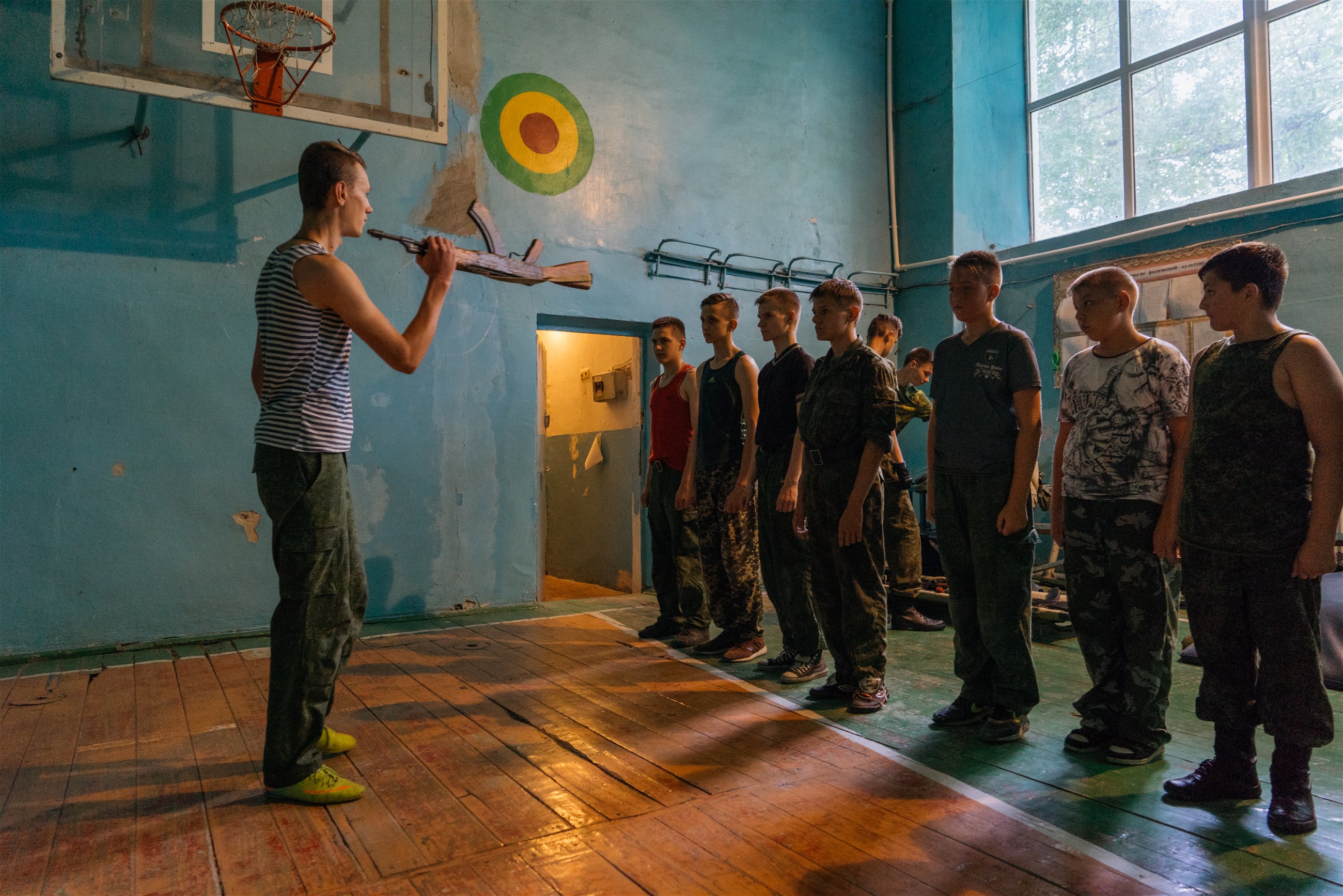 She joined the club when her school's gym teacher approached her about membership. Her mother didn't mind, as long as it was free of charge and kept her daughter busy after school. At first, Alena found the drills boring, and didn't think she'd be able to run so much or do push-ups on her knuckles. But now, she says, she likes it even more than piano lessons and drawing.
"We went to the training field at 5 a.m. and they taught us how to disassemble rifles and shoot," says Alena. "I really liked it; however, I did not hit any targets, not once."
Alena invited her best friend, Elya, also 11, to join the club. Now the girls spend all their time together. Elya wants to join the army like her older brother.
Elya says she wants to defend her hometown "from Ukrainians who are attacking us and want to destroy our city." She looks to Alena for support as she continues. "My brother was fighting. He left us for quite a long time and did not tell where he was. I was sitting in the basement, waiting for him."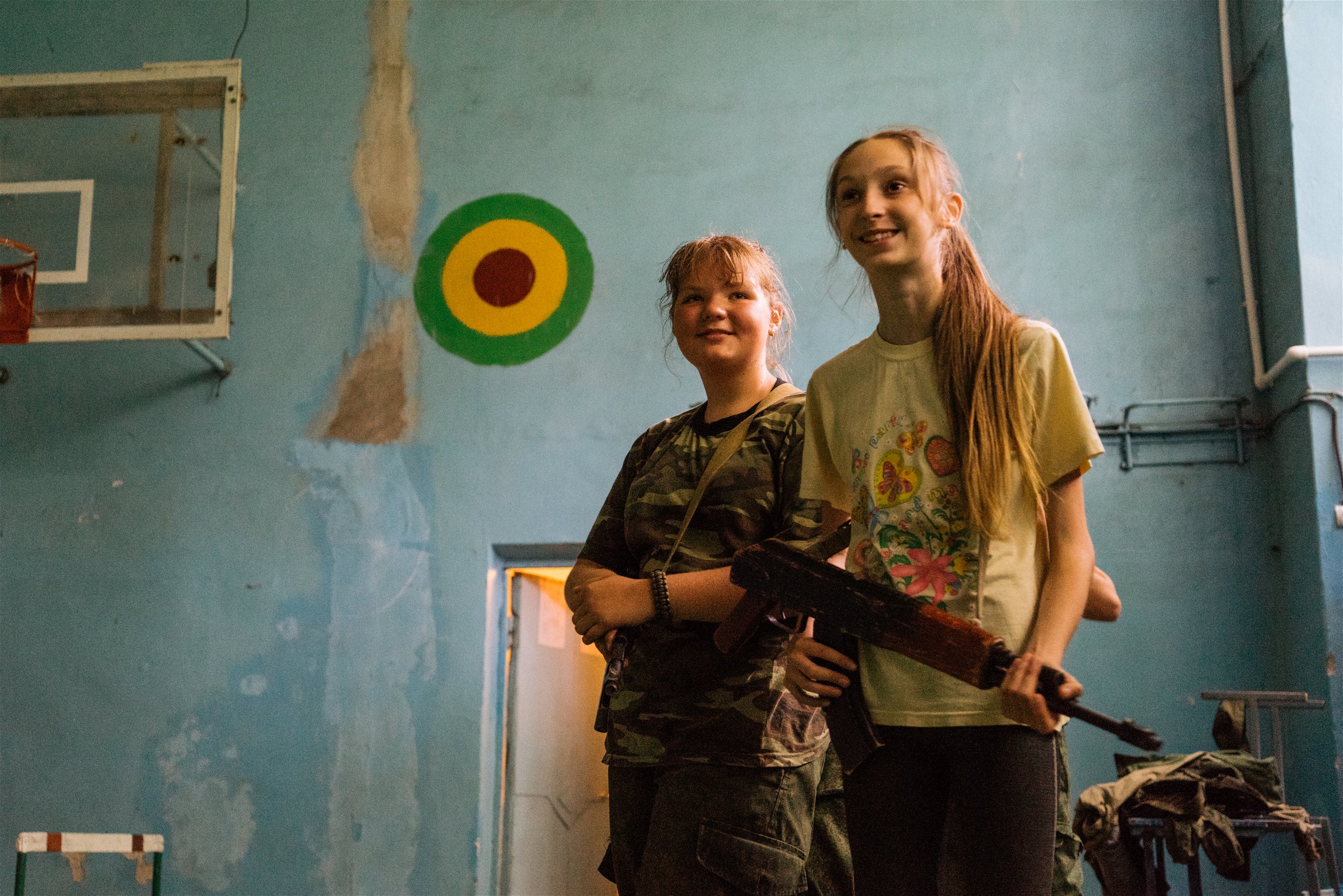 A tall young man wearing a military uniform and yellow sneakers enters the dark gym. The girls run away to join other children, who have already lined up. "Good morning, commander!" they shout in unison. "The platoon is arranged!"
Maksim, the 18-year-old commander of the club, says that the children elected him but that he will be replaced when he graduates this year. He was 15 when the fighting broke out. His mother, who was raising him alone, took him to Russia when the violence escalated. When pro-Russian rebels took over the city, they came back. Friends told him about the military club, and Maksim decided to join.
The young commander likes being in uniform and is honored to wear the club's patch, he says. In the future, he wants to become a real commander in the militia army. Many of his friends share his dream.
"As our Steppen Wolves enter the school, they look at Mikhail and want to be like him, to defend our land," says Maksim, leaning to pick up a toy rifle from the floor. "When I ask other members of the club about their plans for future, they all say they will enter the military academy."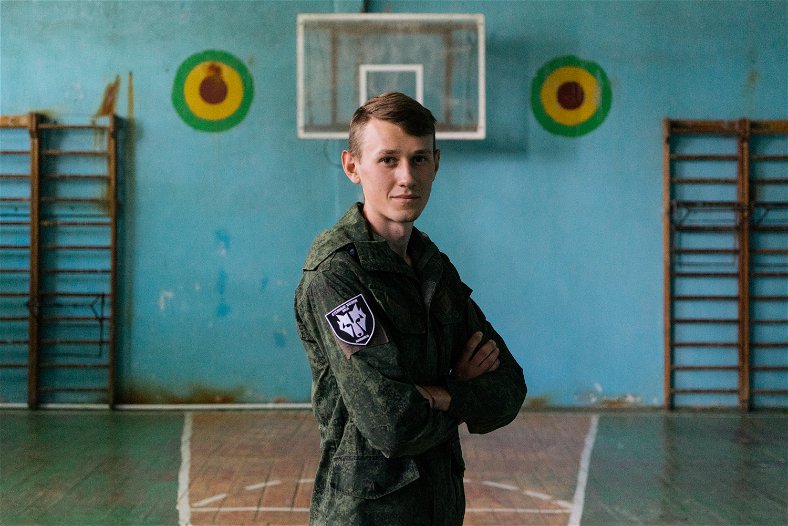 Maksim spent 15 years of his life being Ukrainian, but recently, he has changed his mind.
"Ukraine destroyed everything. People were killed," says Maksim, turning his face to the window. "I consider myself Russian now. I speak Russian. Russia helps us more than Ukraine; at least it pays a pension to my grandma."
Sasha, who is 12, also takes the trainings seriously. He runs with his toy rifle through the hall accompanied by two classmates, defending the invisible military position.
"I like military topics. Everything from tanks to weaponry," says Sasha, playing with a fake grenade. "I came here because it will be useful for my future life, when I go to fight."
This is war! If I were told to fight, I would go!
Sasha's older brother has already joined the militia and the boy is very proud of him. "I consider my brother the same as the hero Mikhail Tolstykh. Yes, he has not a single medal, but he is defending his homeland."
In August 2014, Sasha was hiding in a bomb shelter with his family while the city was shelled. He remembers when shrapnel killed his neighbors. "They were cooking outside and the shell landed nearby, killing a 40-year-old man," says Sasha. "One more shell hit the house in front of our shelter, killing a woman."
For a moment, Sasha goes silent and stares into the void as if trying to recall something. "We thought that we were one nation," he says, breaking the silence. "They call it ATO: Anti-Terroristic Operation. We call it civil war. This is war! If I were told to fight, I would go!"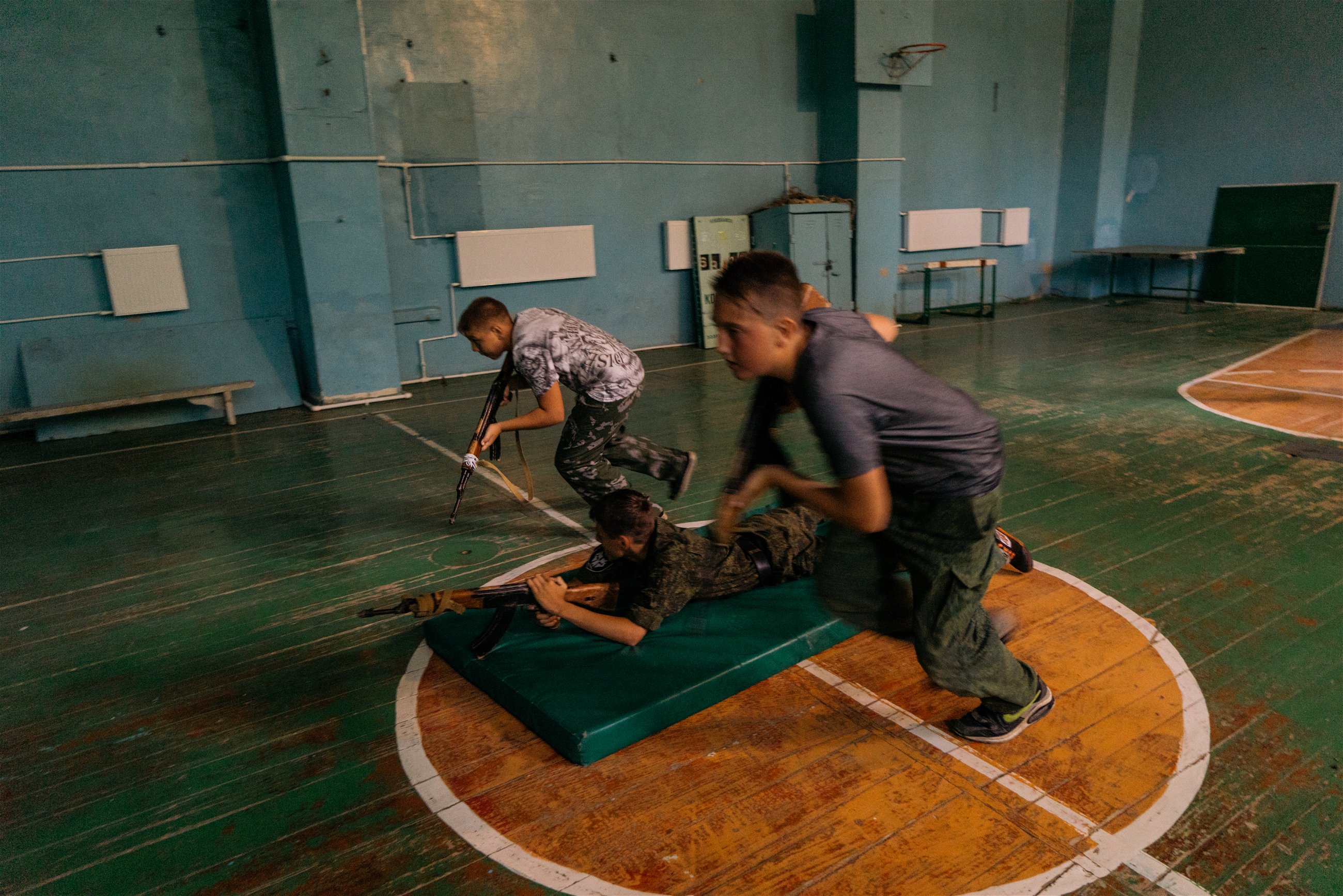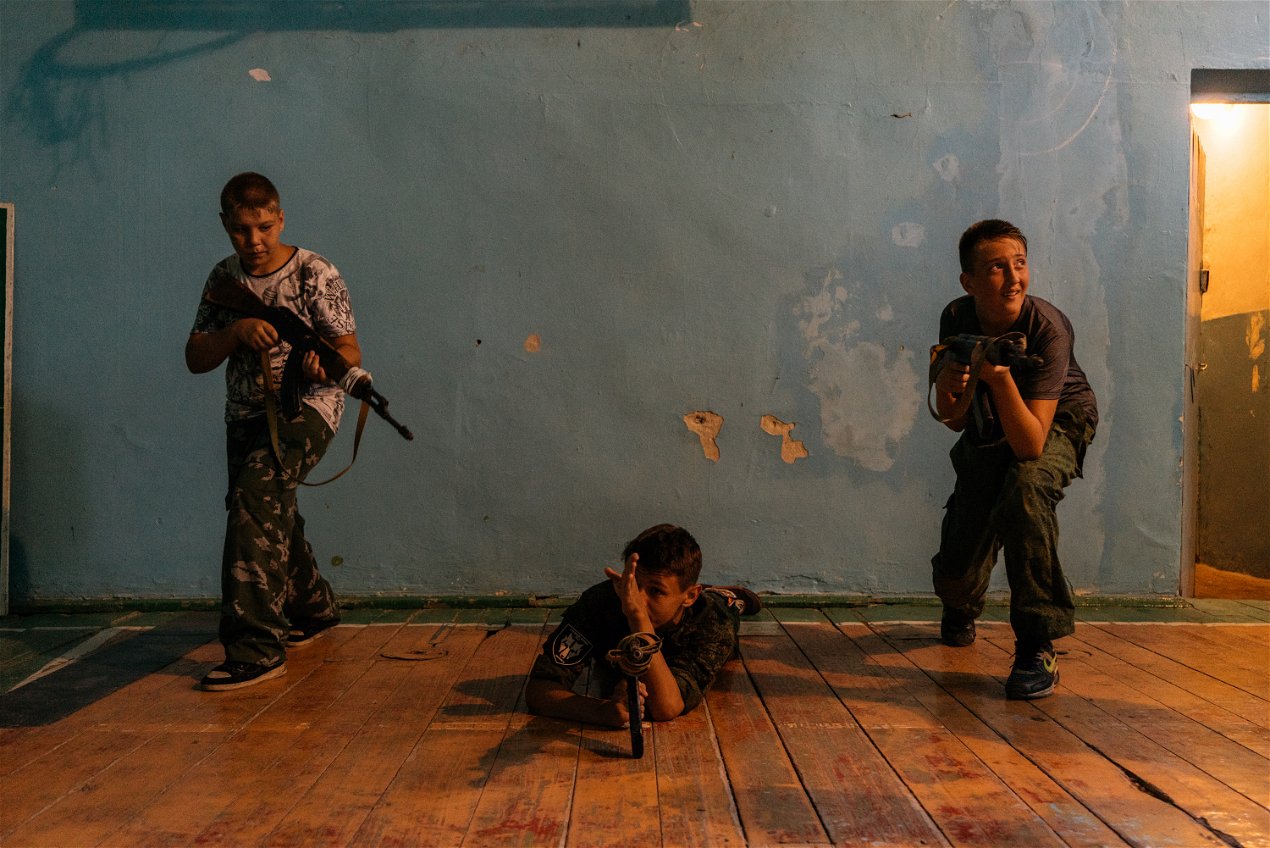 As the boy finishes talking, he stands up, straightening his uniform. He picks up his Kalashnikov and joins the training. This time the children are learning how to remove an injured fighter from the battlefield. Crawling on their bellies under imitation barbed wire, a group of four armed kids finally reaches their injured comrade. While the medic is applying bandages and a tourniquet to the "patient," three others are watching out for a potential enemy through the aim of their rifles. Suddenly, a grenade falls nearby, bouncing on the wooden floor of the gym. "Grenade!" screams Maksim, with a nasty smile on his face. For those who do not fall on the ground, the game is over.
Maksim believes that the Steppen Wolves club will make these children better people and better fighters. His hopes for the future are naively hopeful. "They all will come back heroes!" says the commander, his voice trembling. "We will win! Everybody will come back healthy and alive, awarded with medals!"