Embracing Flaky, Turkish Pastries and Gluttony at Dawn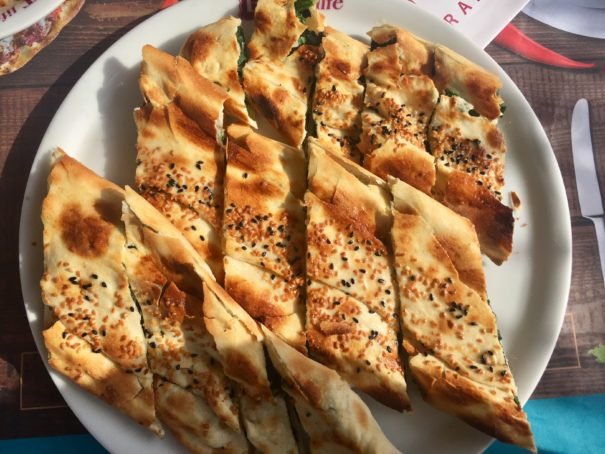 Embracing Flaky, Turkish Pastries and Gluttony at Dawn
Burek in Cappadocia
A rogue wind swept past the street and left my teeth clattering. My hands were numb, and I couldn't feel my feet. March in Cappadocia can be unforgiving, especially for someone from the plains of southern India. I was in dire need of a warm cup of coffee.
We had been up early that morning, hot-air ballooning. It was magical; we soared precariously over fairy chimneys against a gloomy dishwater sky that miraculously turned a tinge of fiery orange as the first rays of the sun strained its way in. Once we touched ground, we trudged through ankle-deep snow, and took a swig of the celebratory champagne on offer (it was, unfortunately, non-alcoholic), after which we ambled over to the neighboring town of Goreme for a leisurely walk.
It was 8 a.m. on a Sunday, and the town wasn't ready for the drudgery of daily life yet, understandably. The streets were lined with pretty-looking bakeries and cafés, none of which had opened for the day. We'd almost given up hope, but then we stumbled upon a middle-aged bespectacled man who asked us if we'd like to have some breakfast, and pointed us towards M&M Café, around the bend of the road. The smell of freshly brewed coffee and baked items filled the air; the promise of a good breakfast.
It was here that I sank my teeth into the softest, most pillowy Su Boregi (water burek) stuffed with feta cheese. This deceptively simple dish has been compared to lasagna without the sauce, but it tastes nothing like that. It's doughy, flaky, buttery, and it is layers upon layers of pure bliss. Burek is a phyllo pastry (made of yufka, a thin pastry sheet with flour, eggs, butter and salt), a savory pie, if you like, and there are several variations of it across Turkey and parts of western Asia. It's a quintessential Anatolian dish that grew in popularity during the Ottoman period. The multi-layered burek whetted my appetite, and I was greedy for more. Another plate of burek, this time with chicken, was wiped clean in minutes.
Egged on by our unabashed enthusiasm for pastry, the friendly owner of the café—the bespectacled man we met earlier—urged us to try gozleme. Light, soft and airy, this Turkish flatbread (also made of yufka) had a thin filling of salty feta cheese and spinach—just enough to tease your palate, and nudge you to have another bite, and then another. And then there was the Turkish coffee I'd been craving. Thick, dark, hot, bitter, and unfiltered, it shook me out of the inevitable food coma. There was room for cake, I thought; there always is.
As we dug our fork into a giant slice of almond-pistachio cake at the warm, cozy café, we saw ourselves for what we truly were: gluttons.