A feast in a remote village in Kyrgyzstan tells a story of centuries of exile and migration.


YRDYK, Kyrgyzstan—
Every inch of Mamieva Hamida's living room floor is covered with food, a melee of textures and colors, with a spicy noodle salad sitting alongside deep-fried meatballs and sweet puff pastry. This is a typical feast in a Dungan household.
The Dungans—a Muslim minority ethnic group spread across Central Asia—consider cooking to be a work of art, the dining table a blank canvas that must be completely filled, always with an even number of dishes. Forty dishes decorate the dining cloth laid upon Hamida's floor, each served in a circular bowl that together resemble a work of pointillist artistry.
"The greatest insult you can give a Dungan women is to call her food untidy," says Hamida, as she directs her guests onto the floor cushions framing the banquet.
The methodical composition of the feast is just one of the unique culinary traditions still practiced by Kyrgyzstan's Dungan community, which, this August, will mark the 140th anniversary of its flight from its homeland in China's Xinjiang province to Central Asia.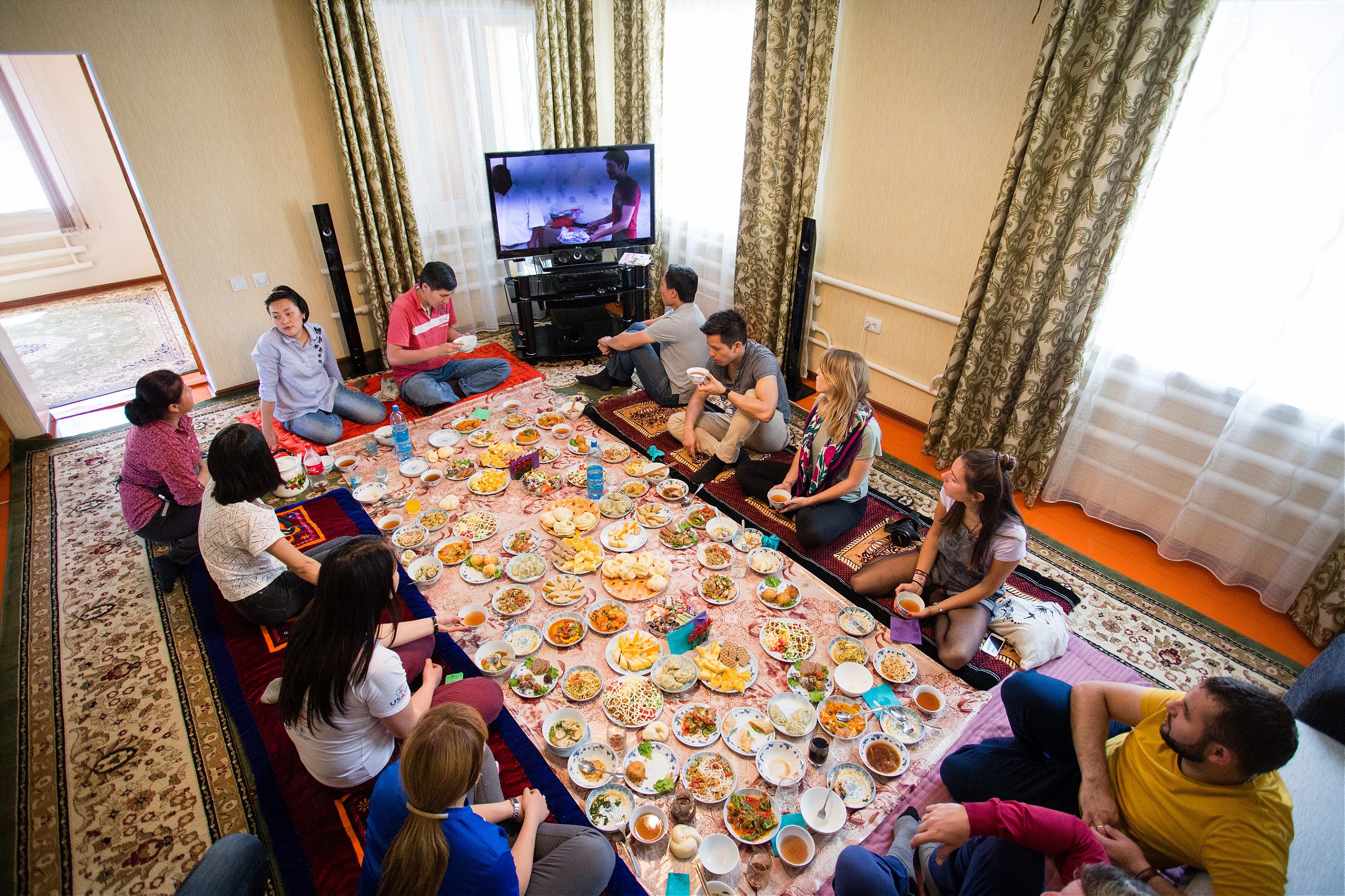 The term Dungan made its debut within the Imperial Russian lexicon, following their arrival in this region, then under Russian rule, in 1877. Within China they were considered part of the Hui, a loose ethnicity that the government defines as all historically Muslim communities not included in China's other ethnic groups.
The Hui descend from the Persian, Arab, and Central Asians traders who resided along China's famous Silk Road. These merchants started families with local women, and centuries later it was hard to tell their descendants from China's predominant Han ethnic group—except, of course, for their religion.
Between 1862 and 1877, the Hui launched a secessionist rebellion against the ruling Qing Dynasty in the hope of establishing an independent Muslim country along the banks of the Yellow River. The revolt was brutally suppressed, with an estimated death toll of around 10 million. Those fortunate enough to evade the Chinese forces fled to Imperial Russia, an exodus that gave birth to Central Asia's Dungan community.
The timing of their migration, however, proved almost as deadly as the war itself. According to Hamida's husband, Yusypov Karim, two-thirds of the refugees perished as they crossed the Tien Shan mountain range in the midst of a long and bitter winter.
Russia allocated the Dungan refugees agricultural land in territory that now belongs to the independent countries of Kyrgyzstan, Kazakhstan, and Uzbekistan. Many of the new Dungan communities followed in the footsteps of their forefathers, assimilating with the local populations. But those assigned to Kyrgyzstan's northern province of Karakol established their own village—Yrdyk—choosing a life isolation and endogamy instead.
"Our traditions strictly obligated that we marry only Dungan people," says Karim from his home in Yrdyk. "Parents upheld Dungan traditions and taught them to their children. This is why Dungan culture remains so strong, even now."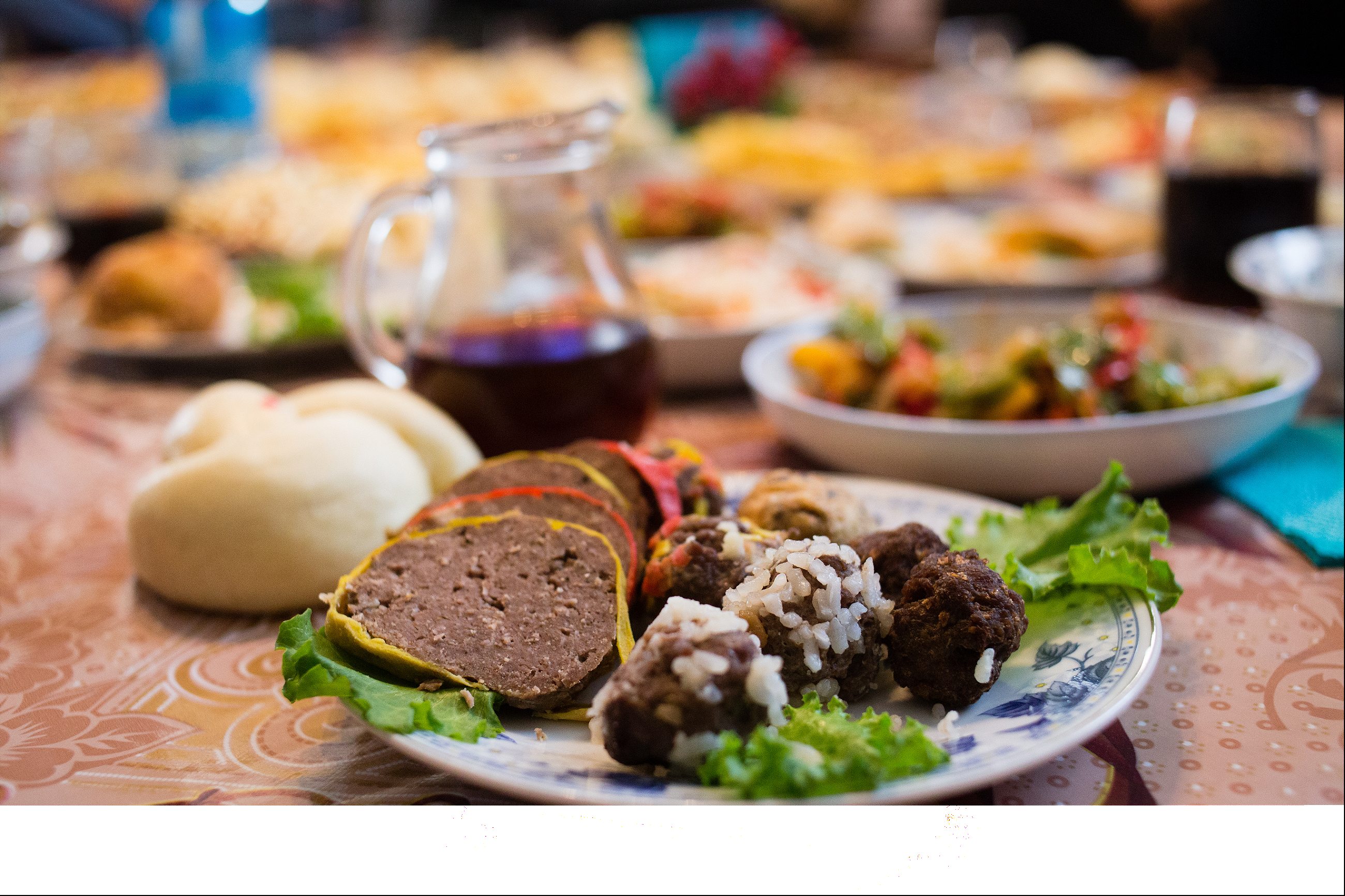 Unlike most Kyrgyz dwellings, Karim and Hamida's house is constructed in a Chinese siheyuan style with all rooms opening onto a central courtyard. As the sun begins to set behind the mountains that overlook Yrdyk—drawing with it the intense summer heat that makes Kyrgyz afternoons so lethargic—Karim and Hamida's young children emerge from their rooms to kick a football against the four concealed walls, far from the gaze of their neighbors who pass by their street.
The rooms of the house are sparsely decorated, with most of the family's social gatherings taking place on brightly colored carpets layered upon the floor. Hamida's kitchen—hidden in the far corner of the courtyard—is equipped with a large stone oven built into the wall, but a few modern appliances help make the cooking process more efficient.
Another architectural relic of the Dungans' Chinese heritage stands in the nearby town of Karakol. The Dungan mosque is an ornate wooden structure constructed without the use of any nails in 1910. It is painted in vibrant hues of blue, red, and yellow—auspicious colors, according to Chinese lore—that glow beside the pale Russian architecture that otherwise defines the town.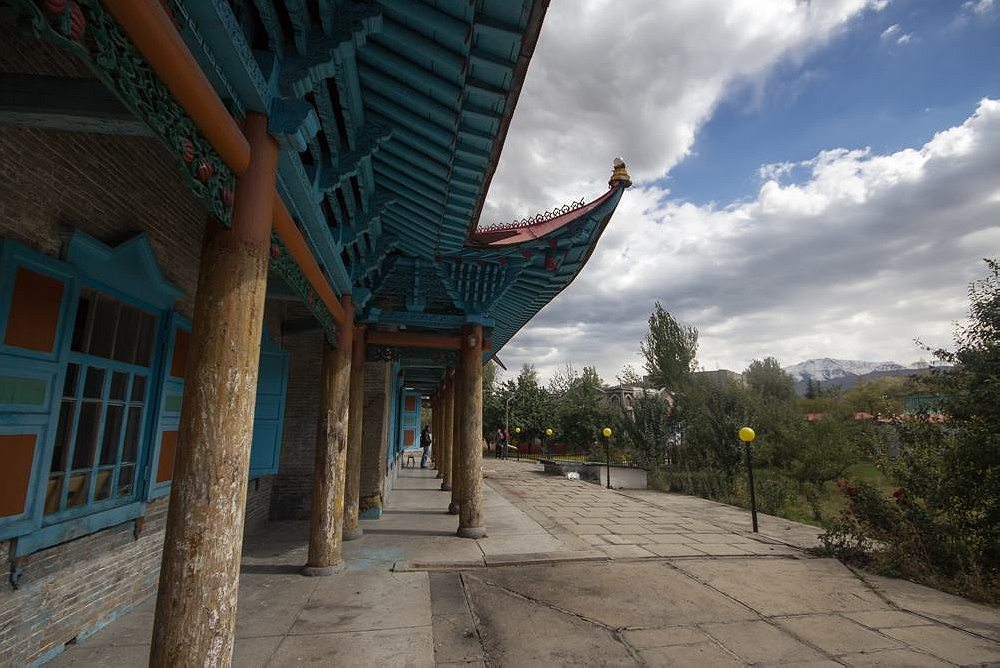 Chinese culture has also left its mark on Dungan cuisine. Ashlyanfu, a delicious noodle salad served in a spicy vinaigrette, is one of the Dungans' most famous recipes, sold in many Central Asian cities. The dish is topped with grated starch in a jellylike consistency. The texture of this ingredient, also used in liangfen, a noodle dish from China's Sichuan province, is mostly unfamiliar to the Western palate.
While traces of the Dungans' Chinese history still season their cuisine, there are few culinary hallmarks from their new home among the 40 dishes that Hamida has prepared. "The Kyrgyz culture doesn't influence our cuisine so much," says Karim. "We serve boorsok [fried pieces of bread that are surprisingly satisfying] and besh-barmak [boiled meat with noodles in an onion sauce], but that's about it."
Kyrgyzstan's historically nomadic culture means that meat is the dominant element of almost every meal. But Dungans are predominantly employed in agriculture, so more emphasis is given to fresh vegetables. In fact, in markets across Kyrgyzstan, it is often the Dungans' unique dialect—a fusion of both Chinese and Russian—that can be heard hawking vegetables.
"It is the most important part of everyday Dungan food," says Hamida. "Without vegetables, it is impossible to cook virtually any dish." The specific vegetables on offer are dependent upon the season, but it is obligatory for any Dungan salad—which gets a kick thanks to an oil-based dressing infused with paprika—to be made from fresh vegetables immediately before serving.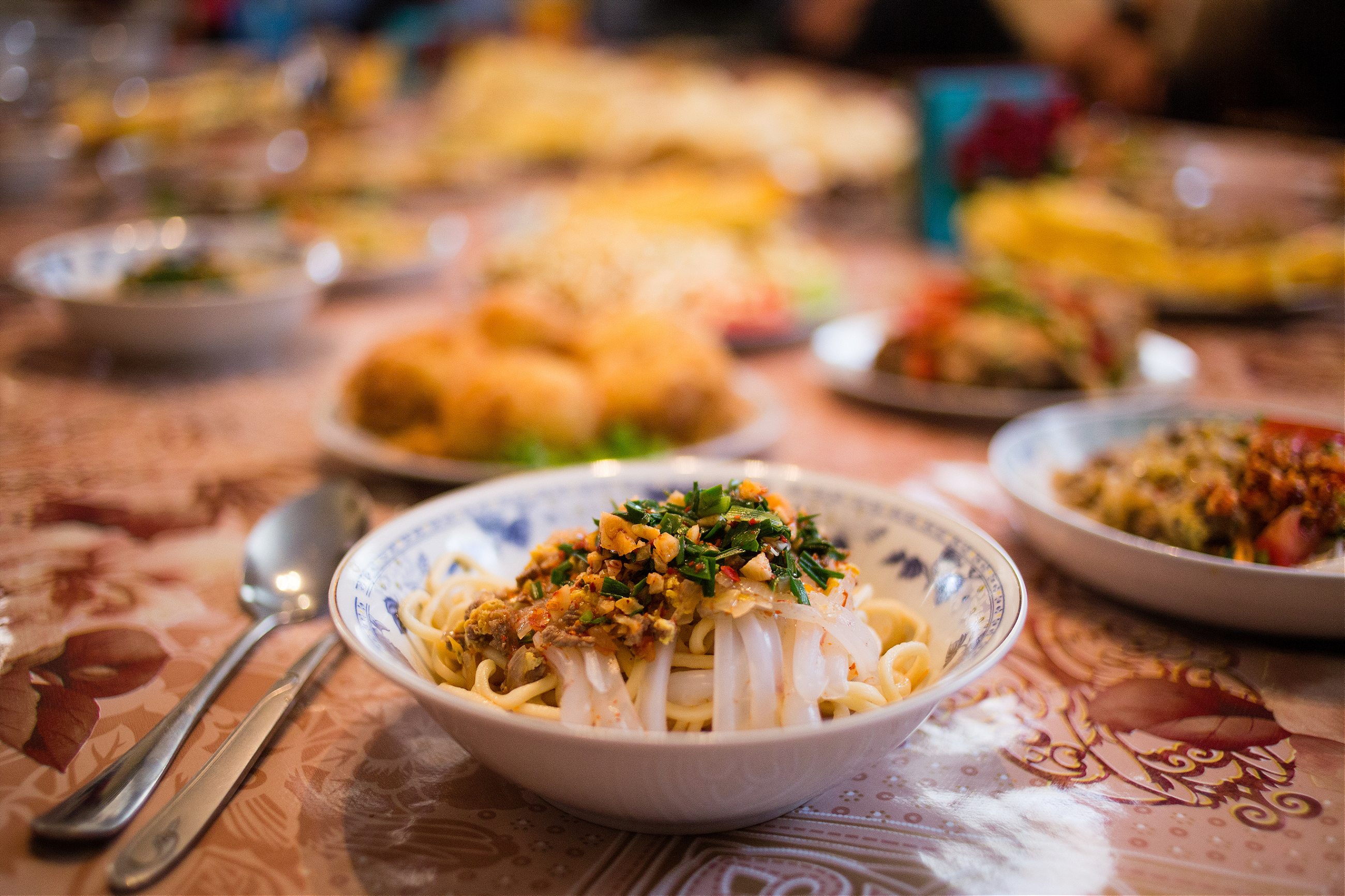 According to Karim, it is not the freshly farmed vegetables that make Dungan food so delectable but its broad palette of spices. "The secret of our food's popularity lies in its diversity. Each of our many dishes has its own rich taste sensation and piquancy," he says.
In Dungan culture, the ability to use seasoning is the greatest artistic skill that a cook can possess. The most popular spices are cloves, coriander, ginger, cinnamon, red pepper, and dill. Perhaps it was the creative use of these spices that encouraged an explorer from the Paris Geographical Society to claim in 1897, "I have never met any dinner tastier than Dungan."
Fortunately, Dungan food is no longer the preserve of the intrepid explorer; any international tourist can visit Hamida and Karim's home in Yrdyk to sample their unique cuisine.
"Foreign tourists love our food," says Karim proudly from the head of the table. "In comparison to other cuisines, the Dungans use a lot of vegetables, and there are a lot more dishes to choose from. It's great for vegetarians," he says.
Forty dishes may sound daunting to those more accustomed to ordering a single meal. Moreover, Dungan etiquette requires that once you start a dish, it must be finished. Fortunately, the hosts do not expect to receive 40 clean plates at the end of the experience. The key is to choose wisely.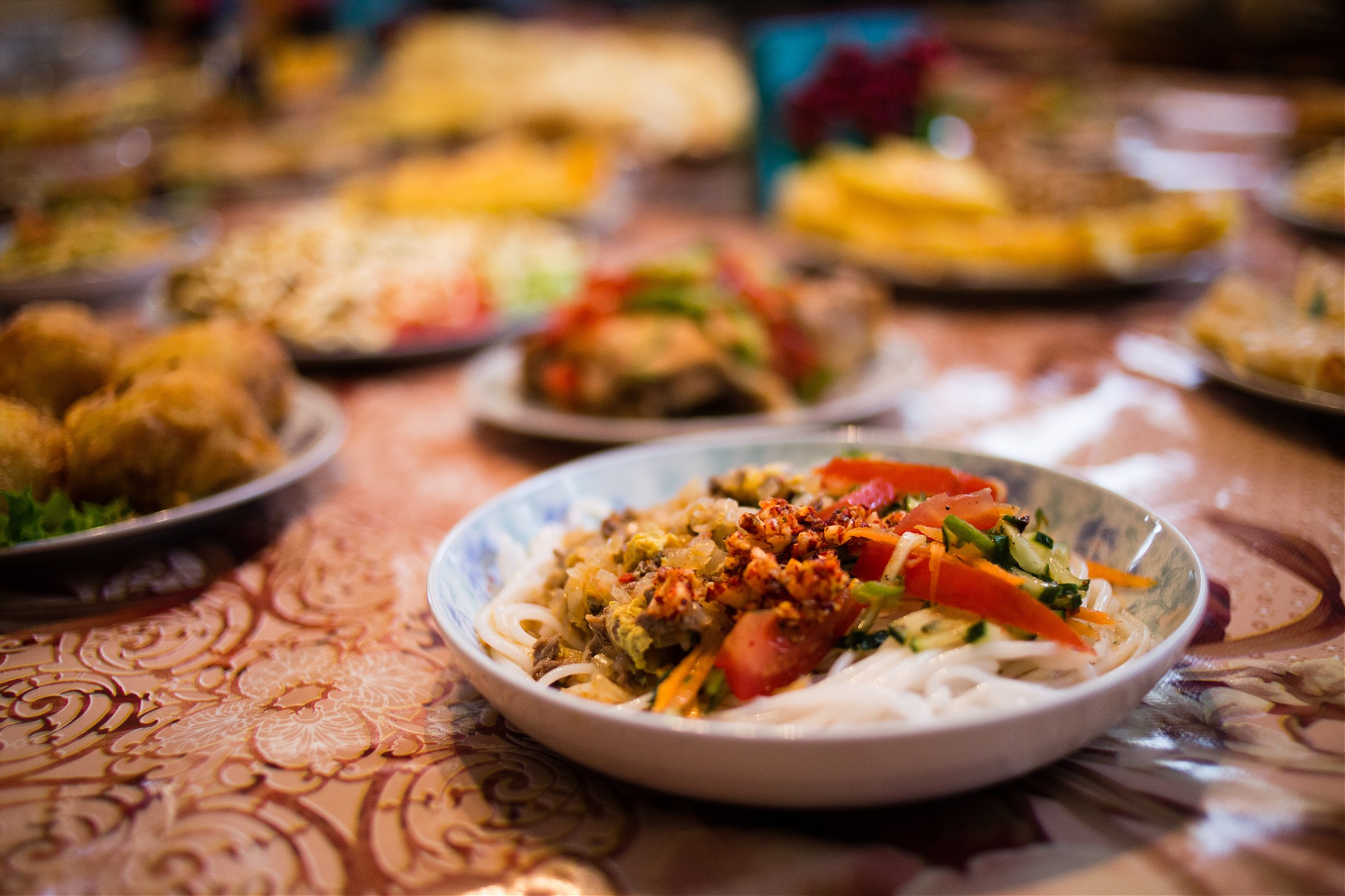 Hamida and Karim have been working with a local tourism organization—Destination Karakol—to attract foreign visitors to their home. Their foray into tourism accompanies a broader attempt to open the Dungan community to the outside world. The community's primary strategy involves the relaxation of rules concerning intermarriage with other ethnic groups. Their motivation is a bid for survival, as decades of endogamous marriage has left the Dungans plagued by genetic disorders.
"For a long time the Dungans were not allowed to marry other nationalities, but eventually this lead to a lot of mental disorders among the community," admits Karim. "Nowadays, we Dungans can marry any other nationality in Kyrgyzstan."
For the residents of Yrdyk, this usually involves partnering with the small number of Uighurs who share their village. Another Muslim ethnic group from Xinjiang, Uighurs migrated to Kyrgyzstan from Xinjiang province in the mid-1950s, seeking to escape repressive Communist Party rule.
These historical tensions between the Uighur community and Chinese government have escalated in recent decades; between 2013 and 2014 alone, 700 Uighurs are said to have been killed. Today, Chinese Hui Muslims, however, live in relative peace, despite residing in a country renowned for its religious intolerance. Due to the violence, Uighurs get more international attention than their Dungan and Hui relatives.
Karim is aware of the impact that intermarriage could have on the Dungan minority, which makes up just 1.9 percent of the Kyrgyz population. "One group of Dungans that settled near Osh are now mostly assimilated and speak Uzbek rather than Dungan," he admits. "But intermarriage won't influence our culture here. Even the Kyrgyz people who marry Dungans start speaking only the Dungan language," he argues.
In one Dungan tradition, the brothers of the groom are hung from a tree
In reality, this is unlikely to hold true in all interethnic marriages. In Dungan culture, and in communities across Kyrgyzstan, the bride is normally required to live with the groom's family once the marriage is complete. Just a few streets from Karim's house, a young bride waits nervously while her relatives load her dowry—a vast collection of furniture—into two large vans destined for the groom's residence.
In this instance, the wedding is between two members of the Dungan community. The ceremony is laden with the traditions—both culinary and otherwise—that make Yrdyk's community so unique.
A Dungan wedding typically lasts for three to four days as various financial negotiations take place. Some agreements are crucial if the wedding is to proceed; others are ritual and exist purely for amusement. In one Dungan tradition, the brothers of the groom are hung from a tree (by the waist rather than the neck, thankfully) and beaten with a stick until their wives pay a nominal fee. Even to enter the official ceremony, one must first pay a visit to the "cashier."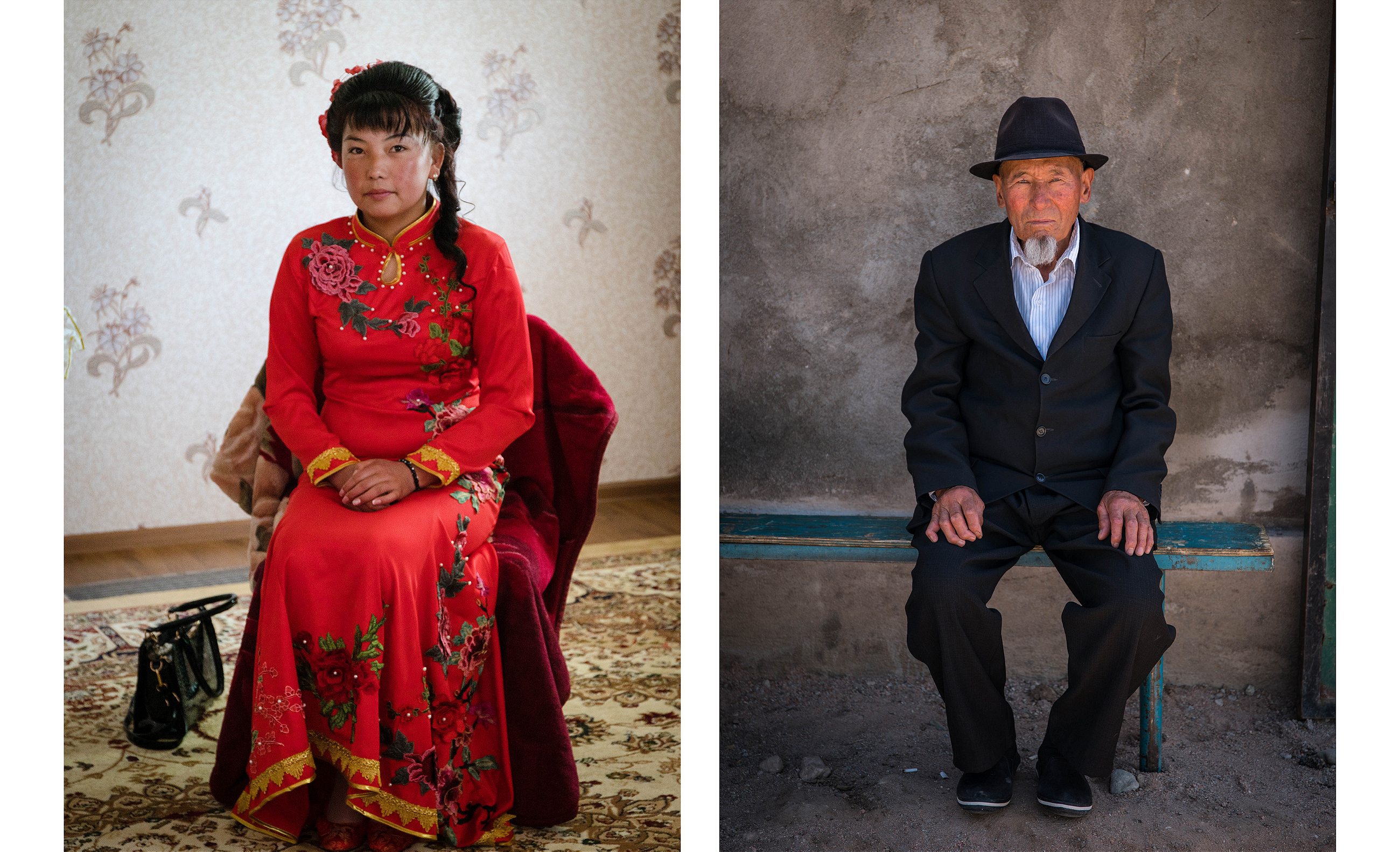 It is only on the fourth day that the bride arrives at her new home, where she is typically greeted with Tshi, one of the Dungan's most popular dishes. Unlike the majority of Dungan cuisine, these meatballs are prepared by male members of the family, as it is said that only they have the power to cut beef from the bone.
Both members of the couple wear red throughout the celebrations; for the groom, this takes the form of two sashes worn over his suit, while the bride wears a red dress. According to popular Chinese culture, the color red brings both luck and happiness to a union, another reference to the group's heritage.
As the Dungans in Yrdyk attempt to open up to the world, abandoning decades of isolation while attempting to hold on to their tradition, they may need such luck.