Some of the most vital and vulnerable participants in Rio's most famous party are fighting back against Brazil's new government.
In Rio, locals joke that Carnaval starts one day earlier every year. On a weekend in mid-January, a full month before the five-day event's official kick-off on Feb. 24, hundreds of people wearing costumes and shimmery face-paint crammed into Flamengo Park to see performances by samba street bands known as blocos ("blocks"), the key element of Brazil's famed party. The musicians drummed and danced the crowd into a frenzy late into the night in a scene that would repeat itself every weekend for more than a month.
Carnaval is a festival of life and libido before things supposedly get serious during Lent. However, this year's joyous festivities are taking place against a dark backdrop. In 2016, Brazil ushered in a new, conservative government led by President Michel Temer in the wake of an economic recession and a political crisis caused by the largest corruption scandal in the country's history. Now many revelers are afraid the new boys in Brasília will strip away the rights of women and LGBTQI people, two groups which are strongly associated with Carnaval. The parties and parades have long been seen as a highly visible celebration of queer and female identities, as well as a political demonstration in support of their rights.
Carnaval is famously shameless. Swaying crowds intoxicated by music and booze take advantage of the yearly open market for public and sometimes indiscriminate kissing and touching. In a country with one of the world's highest levels of income inequality, people from all social strata are temporarily united by the common desire to party hard. During Carnaval, the playing field is leveled for a short time. International bankers and favela residents, gay and straight people, as well as international tourists and the maids who clean their hotel rooms all converge. Their sweaty bodies press together in crowded streets coated in an egalitarian layer of urine and spilled beer.
Rio's Sambadrome has been packed every Sunday for the past several weeks with hundreds of spectators coming to watch rehearsals for Carnaval. Each samba school has its own following of avid fans, and Brazilians pledge allegiance to different groups in the same way they support football clubs. For these practice runs, performers wear toned-down versions of their full costumes. But the crowd still gets to see spectacular colors and the blur of stilettos worn by buxom bombshells leading packs of drummers and dancers in incredible displays of athleticism.
Yet strip away the feathers and sequins, and the darker side of Brazil's machismo culture lies not far beneath. The country has one of the highest rates of hate crimes against LGBTQI people in the world, and anti-gay violence is on the rise. The Grupo Gay da Bahia (Gay Group of Bahia), a rights group that tracks hate crimes in Brazil, reported that 2016 was the deadliest year on record since 1970, with 343 LGBT people killed across the country, or one person every 25 hours. Brazil also has one of the world's highest rates of female homicides. On average, thirteen women were murdered every day of 2013.
Some fear that Temer's policies and his government's sexist rhetoric will only make things worse.
One of Temer's early moves in office was to demote the ministry of women, racial equality, and human rights by bringing it under the general purview of the larger justice department. He also announced an all-male Cabinet, the country's first in decades.
And the downfall of former President Dilma Rousseff was marred by sexist attacks by those in government; during her impeachment last August for manipulating the federal budget, the overwhelmingly male senators ridiculed Rousseff for lacking enough "emotional control" for the office. Many of Rouseff's supporters saw her removal as an illegal power grab. Across the city, the word golpe—coup—is scrawled on the sides of buildings and windows.
As a result, this year, several Carnaval blocos will parade through the streets of Rio with t-shirts and drums festooned with "Forá Temer," or, "Out with Temer!" While for most attendants, Carnaval is first and foremost a party, it also serves as one of Brazil's most important demonstrations of the year, both due to the international audience and the sheer number of people who join together under common banners. These days, there's a bloco focused on just about every issue.
"Carnaval is a very political thing that involves occupying space in a city," says Renata Rodrigues, the founder of the women's rights bloco Mulheres Rodadas ("Women Who Get Around"). "Being out on the streets is a statement."
Many fear their hard-won rights are on the chopping block
The new government's policies stand in stark contrast to the more commonly exported image of Rio de Janeiro. The city is considered a gay destination and hosts some of the biggest gay festivals in the world. One of its major marketing campaigns for Carnaval targets LGBTQI visitors and the big bucks they'll drop relative to their straight peers. More than a quarter of visitors for Carnaval each year identify as LGBTQI.
The city of Rio has made strides toward entrenching tolerance during Carnaval. The municipal government created a special coordinator for sexual diversity in 2011, which has run a public campaign for the past few years called "Carnaval without Prejudice." LGBTQI rights activists also made big gains generally in the past decade, including a supreme court decision backing same-sex adoption in 2010 and the nationwide recognition of gay marriage in 2013.
Many fear those hard-won rights are on the chopping block following the demise of Brazil's left after more than a decade in power. Brazil's Workers' Party has fallen from grace amid a three-year-long economic recession as well as Operation Lava Jato ("Car Wash"), a massive corruption investigation involving the state-run oil company Petrobras.
For Rio's trans community, the rise of the right signals a major step backward in their fight for equality. Trans Visibility Day on Jan. 27 was part celebration, part demonstration outside Rio's city hall. The usual trimmings of Carnaval were on display, including a full brass band, colorful wigs, standard-bearers waving flags, and drink vendors standing on the periphery hawking Itaipava and Antarctica beers. At the top of the steps to the building, local trans activist Indianara Siqueira commanded an audience. The bleach-blonde led call-and-response chants of "Out with Temer" and outlined abuses against the trans community to the party below. Indianara is something of a local celebrity within the LGBQTI community; last year, she made an unsuccessful bid to get a seat inside the building behind her by running for Rio's city council.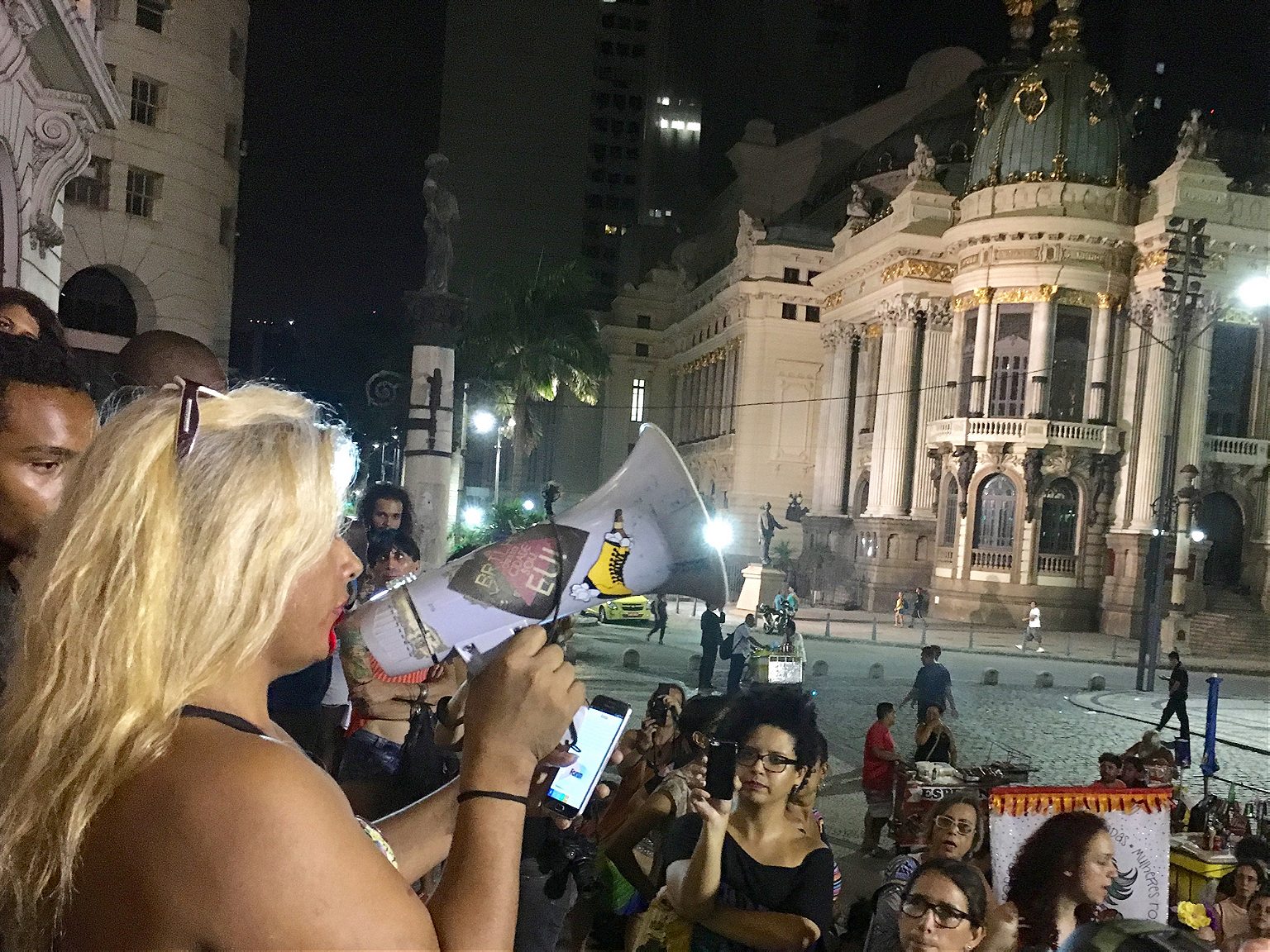 Later that weekend, I went to meet Indianara at the safe-house for trans people she helps run, Casa Nem. It was early afternoon on a Sunday, and oppressive heat beat down on the narrow strip of cobblestone road in the city center. The area was creepily quiet without the business district's weekday traffic.
As I approached the entrance, a topless trans woman flung open the front door and sloshed a bucket of water down the steps, sending a torrent of pink glitter splashing onto the street below. It occurred to me that perhaps I'd been optimistic in my choice of time and day to schedule an interview.
Sure enough, the woman I'd come to see had gone to bed not long before I arrived, and none of the dozen ladies sprawled over couches were forthcoming with offers to wake her up. Instead, I took a seat on the floor next to a desk fan and spoke to 39-year-old Daniely Bitencourt. She was clearly a fan of Carnaval, but also had first-hand experience with how the fun can quickly turn into something more sinister.
"Every woman here has been harassed during Carnaval," she said, gesturing around the room.
Bitencourt spent a few years in Italy as a sex worker, and she thinks her former career has made her a target for sexual harassment during Carnaval.
"I used to be a prostitute and people still see me in that way. I hate it."
Yet the safety threats aren't enough to keep Bitencourt and her friends away.
"It's dangerous, but we all like samba," she said. "It's the best party of the year."
During Carnaval, harassment intensifies
A few days later, I sent Indianara some questions. She told me Carnaval serves as a catalyst for pre-existing racist and sexist attitudes.
"Harassment doesn't only exist during Carnaval, but in all sectors of our society. During Carnaval, it intensifies. For people who are part of the LGBTIQ population, their lives are risk. And it's definitely even worse for black women," Indianara said.
The numbers support her concerns. In Brazil, reported murders of black women are on the rise while the rate has decreased for white women. Danny Santos, a 29-year-old transgender woman, is also worried about what the new government will mean for safety.
"I think Temer is shit," she said. "Things are already really hard for the LGBTQI community and now it'll get even harder to win our rights."
But it's not the federal government's policies that are keeping Santos up at night.
"I'm worried about [Marcelo] Crivella," she said, referring to Rio's new mayor.
Marcelo Crivella is an evangelical bishop who once called homosexual people victims of a "terrible evil." He's the nephew of the founder of one of Brazil's most powerful churches, the Universal Church of the Kingdom of God, although he has tried to distance himself from the organization since taking office. While Brazil is still the largest Catholic country in the world, Evangelical Christians are strongly on the rise, and many see Crivella's victory as evidence of a wider resurgence of the religious right.
As an American in Rio, it all sounded a bit familiar. In Brazil, I caught an occasional whiff of schadenfreude that the gringos finally had their own corrupt madman in the highest seat of government. In Rio—as in most of the rest of the world these days—it's difficult to get into a taxi or slip past a doorman without being roped into a conversation about Donald Trump with an implicit demand for some sort of explanation on behalf of your countrymen. Yet once everyone's had a good jab at the U.S. president, it's Crivella and Temer whose names are on their lips.
I met 35-year-old Mariana Othon at a pre-party for Carnaval in Flamengo Park, where dozens of men and women of the Tambores de Olokun block were twirling in skirts to the beat of drums. The event was a poster-child for Rio's tolerance and diversity as people from across every spectrum of race and gender danced together.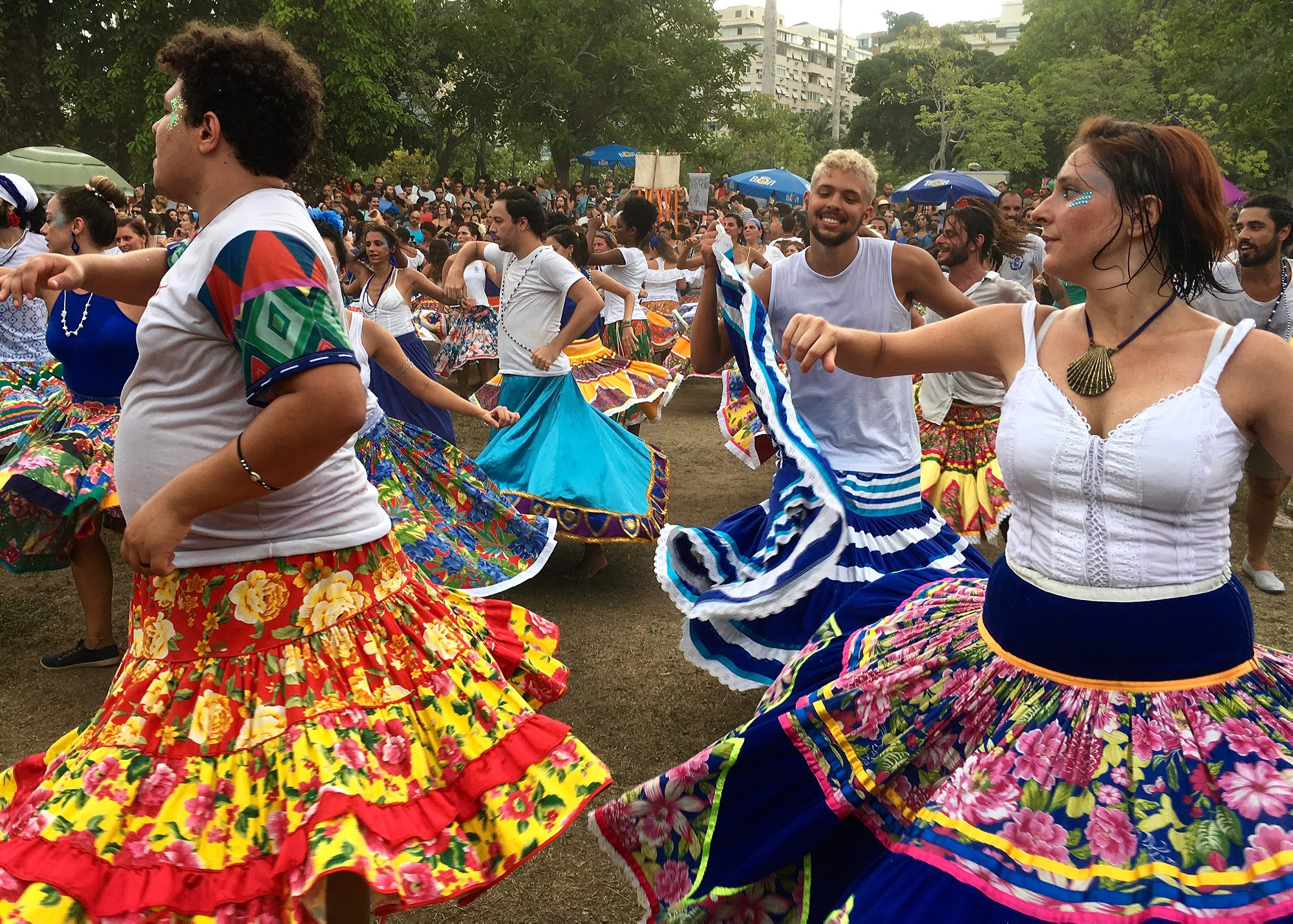 Still, the idea of Brazil as an open and progressive country has always masked much deeper problems. Now even the gains of the past decade are at risk of crumbling.
Othon disagrees with Temer's policies, but is confident that Carnaval itself is a sacred cow that won't suffer from any of the setbacks for women's for LGBTQI rights.
"He's not so crazy as to stop something that strong," she said.
For minority groups in Brazil, the immediate future means resistance. Yet if some of their loudest voices can march miles through the city carrying heavy bass drums in the blazing sun, I have every reason to believe they will have the stamina to fight back.
But perhaps that's for another day. Othon points out that once the party starts, most people are likely to shelve their concerns for a while.
"Everyone forgets about politics during Carnaval," she said.
Clare Richardson reported from Brazil with a grant from the International Reporting Project (IRP)