Nathan Thornburgh takes in the World Cup from Rio's Copacabana Beach, where the atmosphere is somewhere between Spring Break and the Fall of Saigon.

There have been other parties on this beach. Not just the annual Carnival bacchanal or the New Year's fireworks, which are massive and can run ragged (as a friend here told me, "you watch the fireworks and then run home so nothing bad happens to you"). Copacabana beach, the "billion dollar crescent", as the New York Times called this strand fifty years ago, has hosted everyone from the Rolling Stones to Pharrell. Three million people showed up on its shore for Pope Francis last year, even more than that came for Rod Stewart a decade earlier. Five years ago, 100,000 people turned out just to celebrate the announcing of Rio as 2016 Olympic host—a party to celebrate a future party.
But it's still worth appreciating the unique wilding that is Copacabana this month during the World Cup. The Argentines are camping, the Chileans are chanting, the Costa Ricans are weeping, the Brazilians are hustling, and everywhere are the Americans, baying and bro-ing. Kiosks sell Ruffles and Lucky Strikes and Prudence condoms while sidewalk touts shove apitos and off-label FIFA tchotchkes in your face. Beach cruiser bikes weave around clusters of flagthumpers on the swirled stone promenade. A Uruguayan takes off running to the west for no apparent reason. A naval warship lingers just offshore; police helicopters buzz the beach. The atmosphere is somewhere between Spring Break and the Fall of Saigon.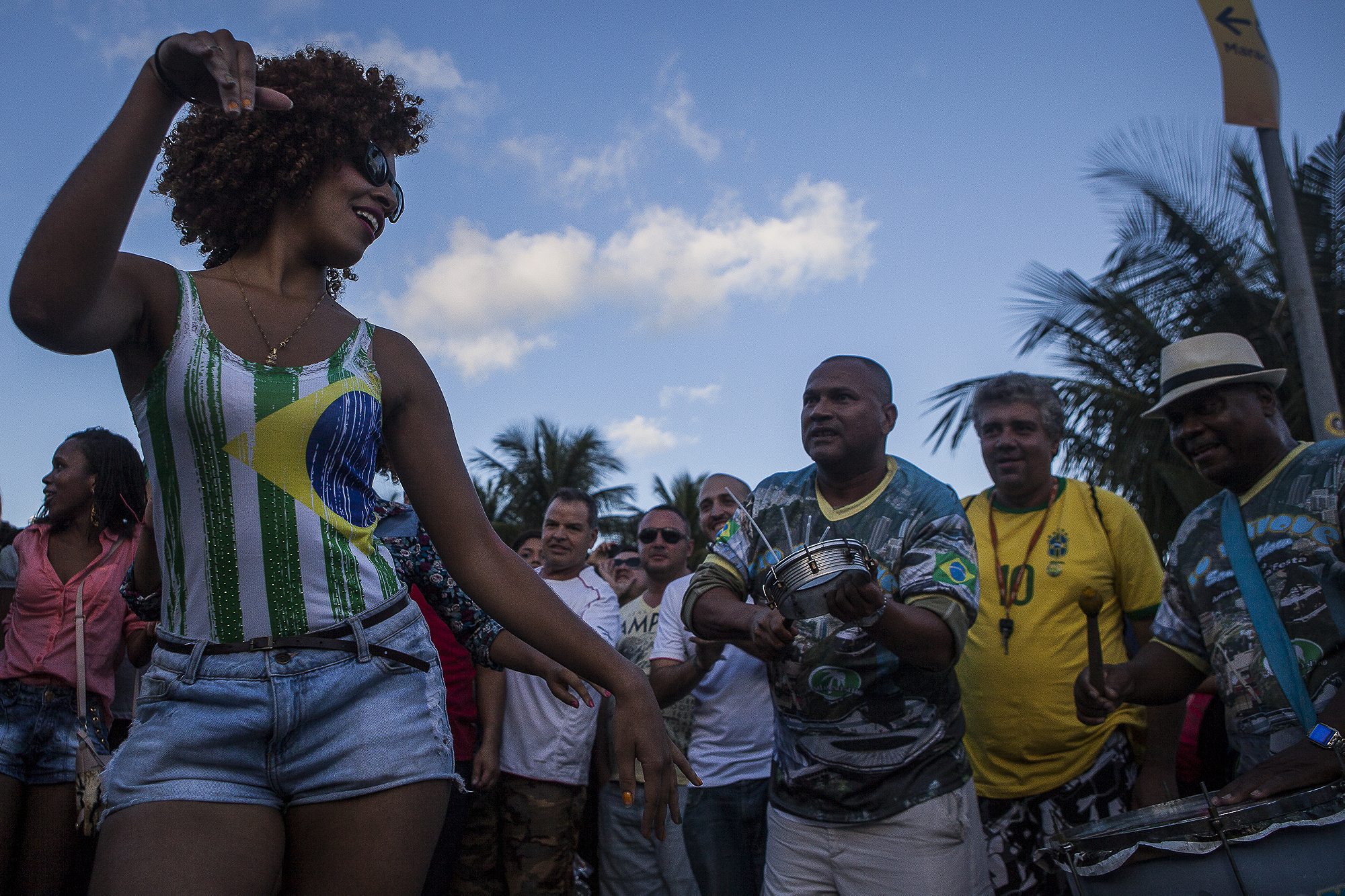 Copacabana started its life as spectacle. In August of 1858, two whales appeared, either beached or in the shallows of the bay, and a stream of visitors, including Emperor Pedro II, came to the empty shore to see them. They brought horse-drawn carriages and tents to sleep in on the long trip from the city. But the whales had left by the time the entourage arrived, so they instead threw something of a three-day beach party.
The beach began its long, slow disfigurement after that. A chapel was built in honor of an Andean saint called the Virgin of Copacabana. Then came Copacabana Fort. Hotels and residences sprouted between the groves of cashew and Surinam cherry trees. More than anything, the area became the favored kurort for Cariocas, as residents of Rio are called. When fresh milk was in vogue as a cure-all around the turn of the 20th century, Mimoso Stables set up shop so visitors could drink milk next to the cow itself. In 1917, the mayor of Rio sought to impose morality on the strand, calling for mandatory bathrobes and banning any shouting except for "cries for help". The great families of Rio built homes there, and a signature resort, the Copacabana Palace, opened in 1923.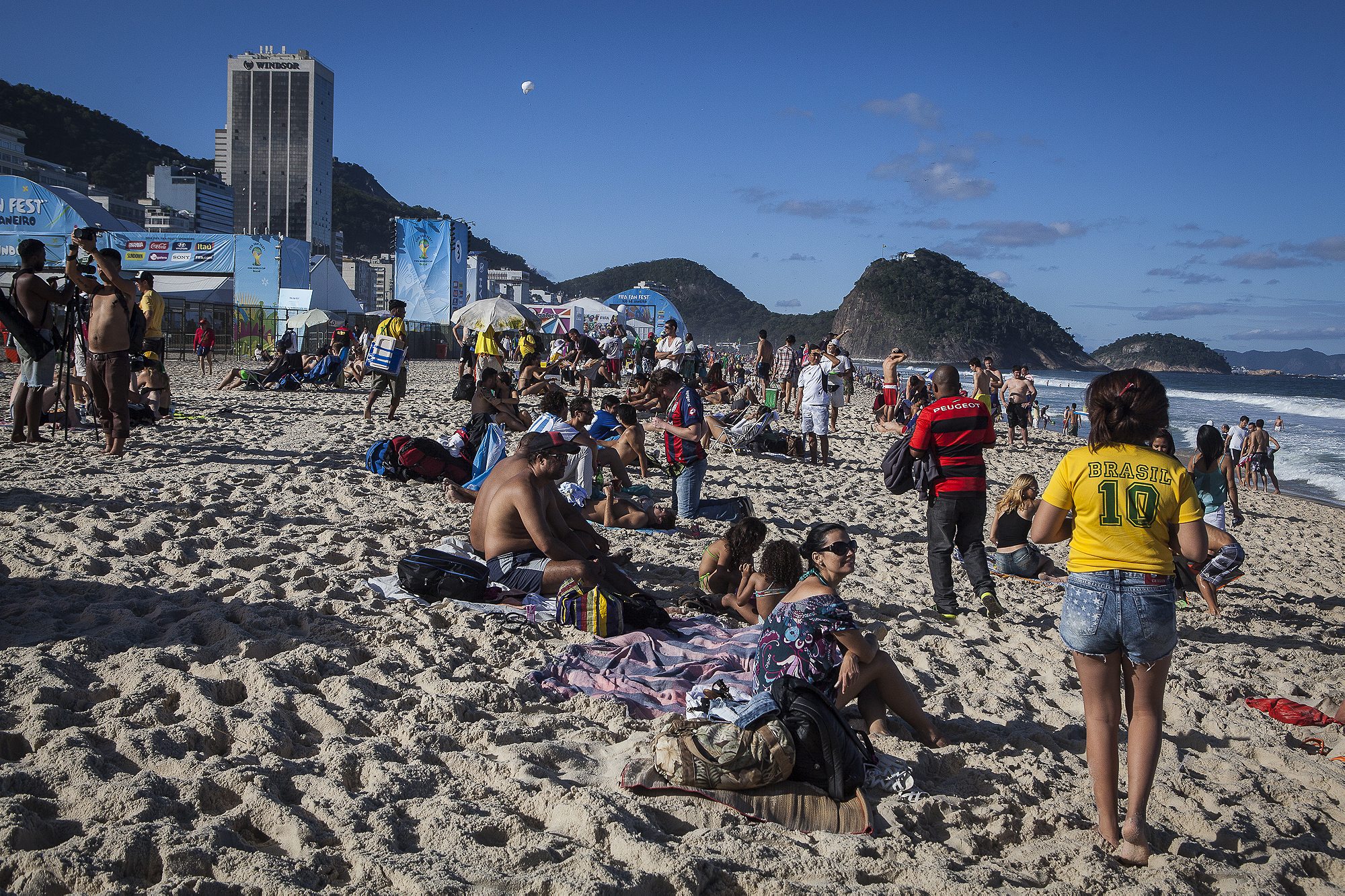 By 1961, when the Times visited Copacabana, it was already a "billion-dollar crescent", in the correspondent's words. But much of the article was about the persistence of the subsistence fishermen who lived in a village at the eastern end of the beach.
EXHIBITIONISM RUNS STRONG IN THE FAN BASES HERE. THEY HAVE PAINTED CHEEKS AND CLOWNISH WIGS AND FLAGS FOR WAVING.
Not far from where that fishing village once stood is the fortified FIFA Fan Fest, lit up like a penitentiary yard, but with a massive inflatable Brahma Beer Cup in the middle. At one end is a massive Jumbotron and a speaker array loud enough to disorient dolphins off the coast of Africa. Every match-day this month, tens of thousands of fans stand or sit in the sand, in the thrall of the announcers. At halftime, or in the hour-long break between games, they drink more $4 Brahma beer and the men—and this event is as much Man Fest as Fan Fest—relieve themselves on the sand next to unoccupied portable toilets, high five each other, and wander back into the crowd. Near the 85th minute of each match, the small press shack that offers generator-powered outlets and wifi, along with coffee and small sandwiches, to the accredited press, empties out as photographers and cameramen head out into the sand in search of immediate post-match shots to send back home. Those are not hard to find, as exhibitionism runs strong in the fan bases here. They have painted cheeks and clownish wigs and flags for waving and after each match, they yearn for a camera to leap in front of, to exult in victory, or to prove themselves unbowed after defeat.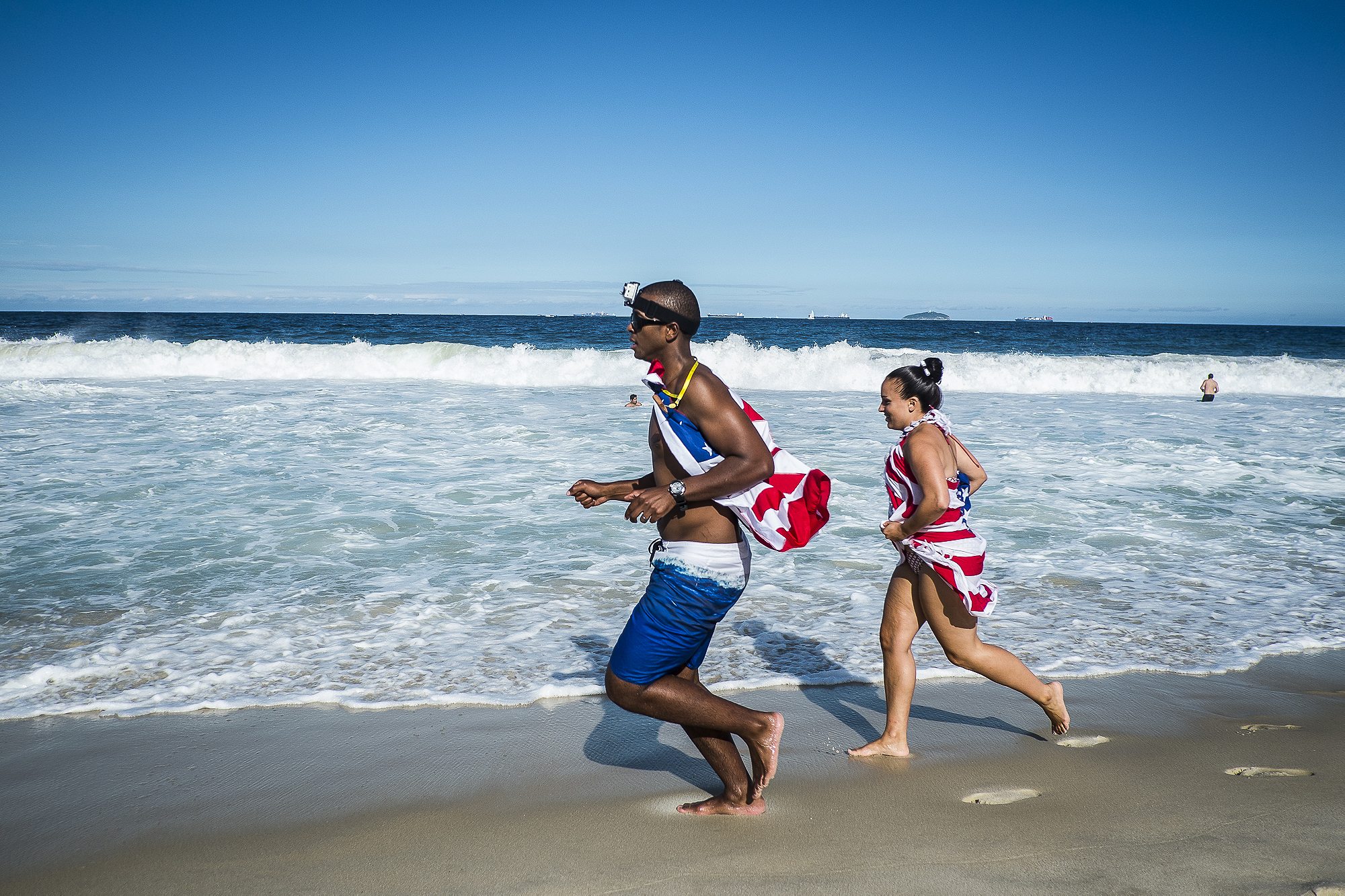 The real improvisation stars of the strand are the South Americans—Chileans, Uruguayans, Argentinians—who drove campervans and VW buses a thousand miles or more to this shoreline. But these are stout-hearted fans, the ones who could only just barely afford the gas money and maybe the cost of one ticket. So they camped along the promenade, urinating where they could, cooking their breakfasts along the stone wall, and otherwise drinking cheap beer and mate tea and soaking in the atmosphere, at least until the mayor of Rio promised "special attention to our South American neighbors", by which he meant he would tow all of them who refused to relocate to a camp some 35km down the coastline. Nearing the end of the group stages, some holdouts still managed to maintain their presence, and the Fan Fest, which had often turned up lopsided turnouts, like the approximately 95% (by volume) American crowd for the U.S.-Portugal match, will have a more intriguing collision of fandoms when Chileans, whose home country would appear to be completely deserted by now, square off against Brazilians on Saturday.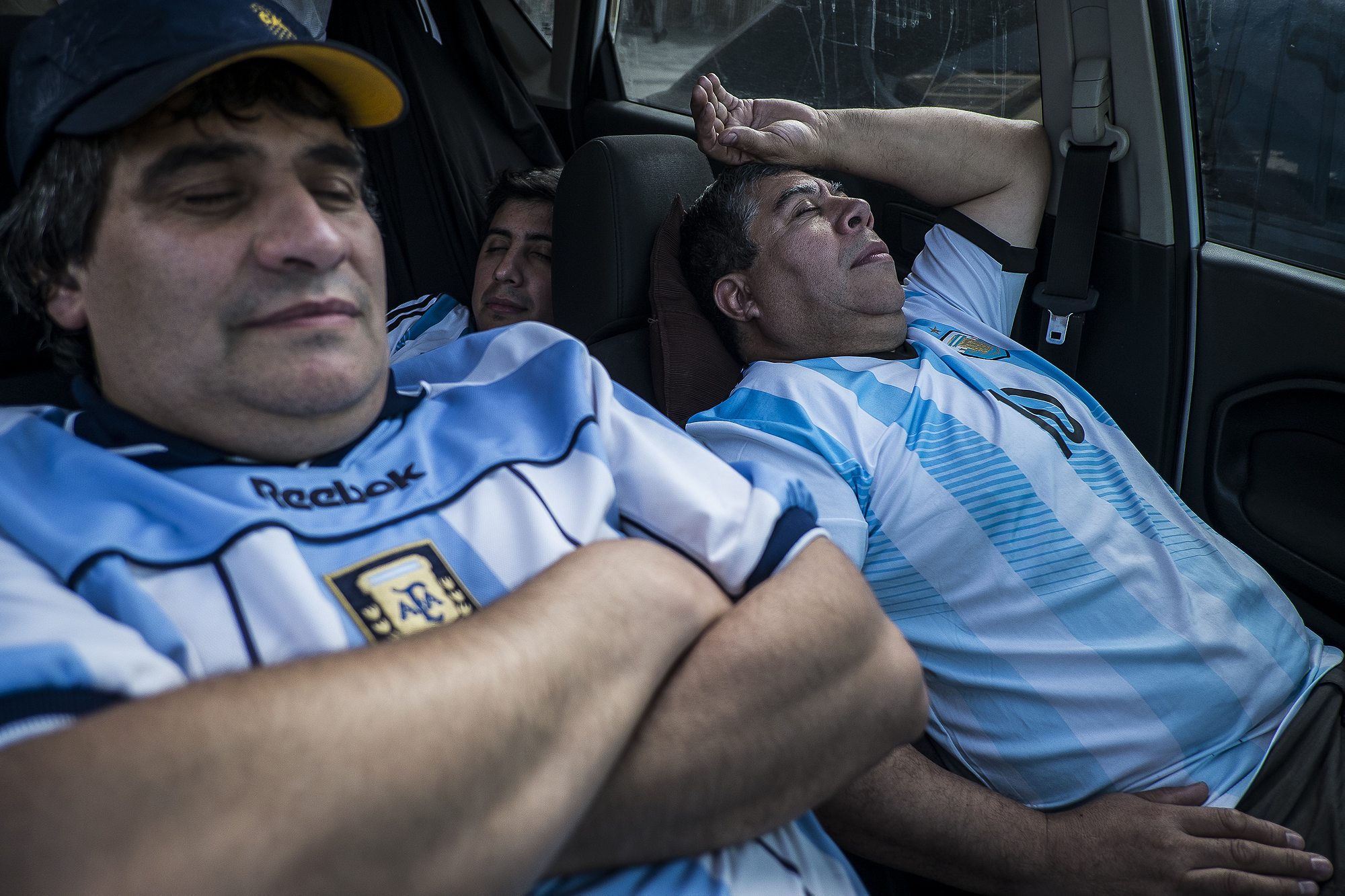 But just as the new FIFA stadia have their hospitality suites, Copacabana has more exclusive spaces for the World Cup. The Marriott, somewhat further west down the beach, is homebase for official sponsors and related brands ranging from Sony to Kia. Nike invited photojournalist Eduardo Leal and me to their hospitality suite, which stands behind a cordon on the second floor of the Marriott, and is nearly wholly unmarked, save for a tiny wooden swoosh on the door. Inside are various dramatically lit displays of new shoe models and of the kits of the ten national teams Nike is sponsoring in the Cup (more teams, they are quick to point out, than either Adidas and Puma). We drink a can of Guaraná Antartica soda and make a plan that seems somehow fitting with the corporate/globalist mashup of Copacabana: the following day we would meet the half-Cameroonian all-pro defensive end for the NFL's Detroit Lions, Ndamukong Suh, on the beach. He's a Nike client, naturally, but one with a legitimate crossover interest that brought him to Brazil: his father was a former semipro soccer player and his sister played for Cameroon's national team. The trip to the World Cup, in which he would watch Brazil v Cameroon as well as US v Portugal, seemed as much as anything a gift for his father, a surprisingly small man with a contagious smile who seemed perfectly giddy to be on Copacabana, using an iPad to take pictures of his son being interviewed on the beach.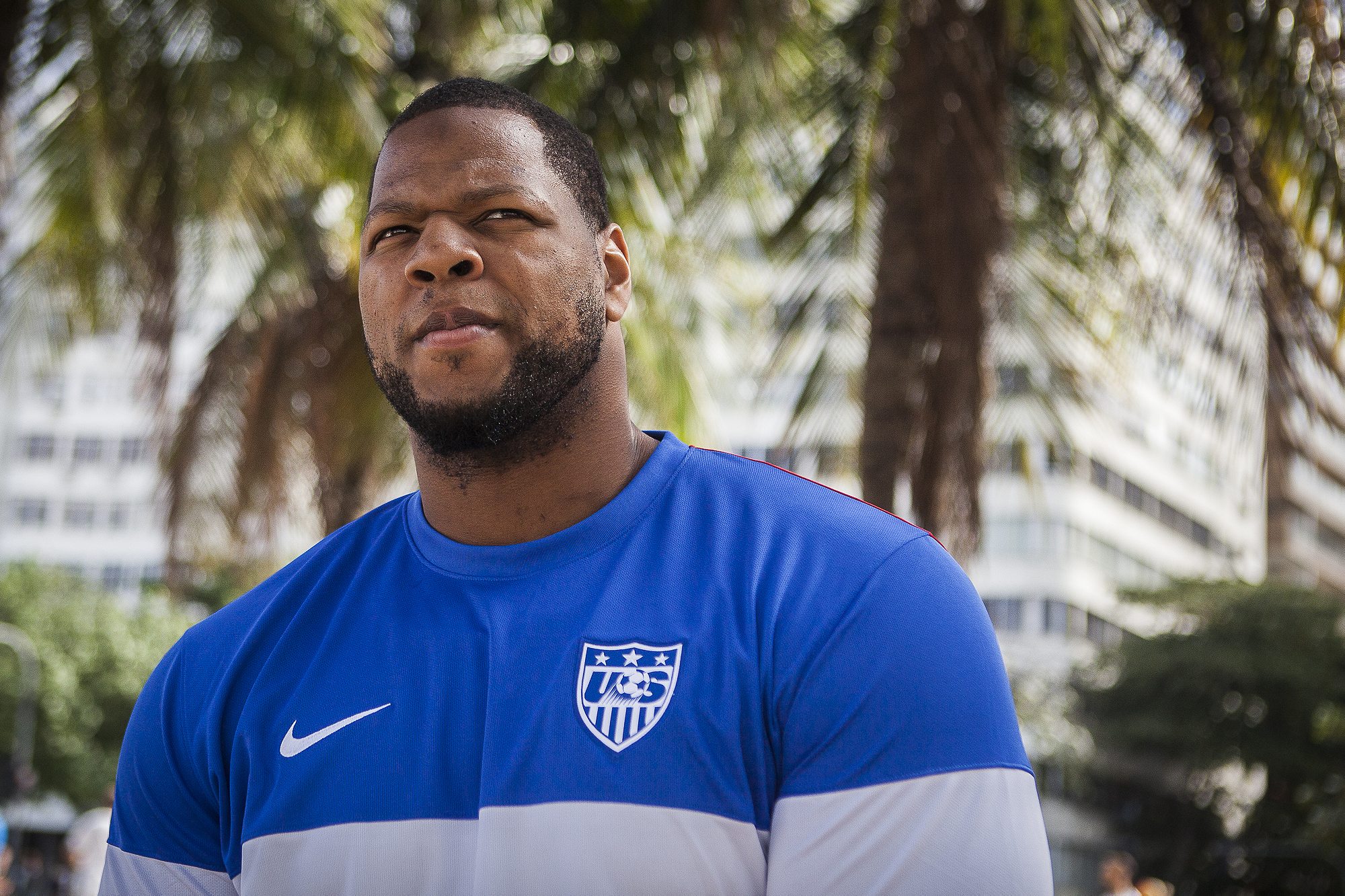 Suh is one of the best and fiercest defensive players in the NFL, but his personal fouls have also made him a bit of an unintended YouTube star as his brand of "blue-collar football" (his words) made him plenty of enemies in his first years in the league. But it also makes him a swell ambassador for the beautiful game: I asked him what he says to Americans who see soccer as a soft sport, and his answer was convincing, especially as it was delivered six inches above my head: "Well, I came from soccer."
It's true: he played soccer with middle school travel teams in Oswego, Oregon until he "kinda felt like [he] was starting to outgrow the sport", which I take to be a literal statement of size: he's broader than two Ronaldos put together and two inches taller than the average player on the tallest team (Germany) in the Cup. Still, he says he would like to play competitively again. "If I had the mustard and ability to lose 150 pounds, I think I could put my mind to it and get it done." But even in a hypothetical world where he was a professional soccer player instead of an NFL star, he doesn't know whether it would be Cameroon or the U.S. team for him. "There's a sense of pride in Cameroon," he says. "I know my dad would want me there."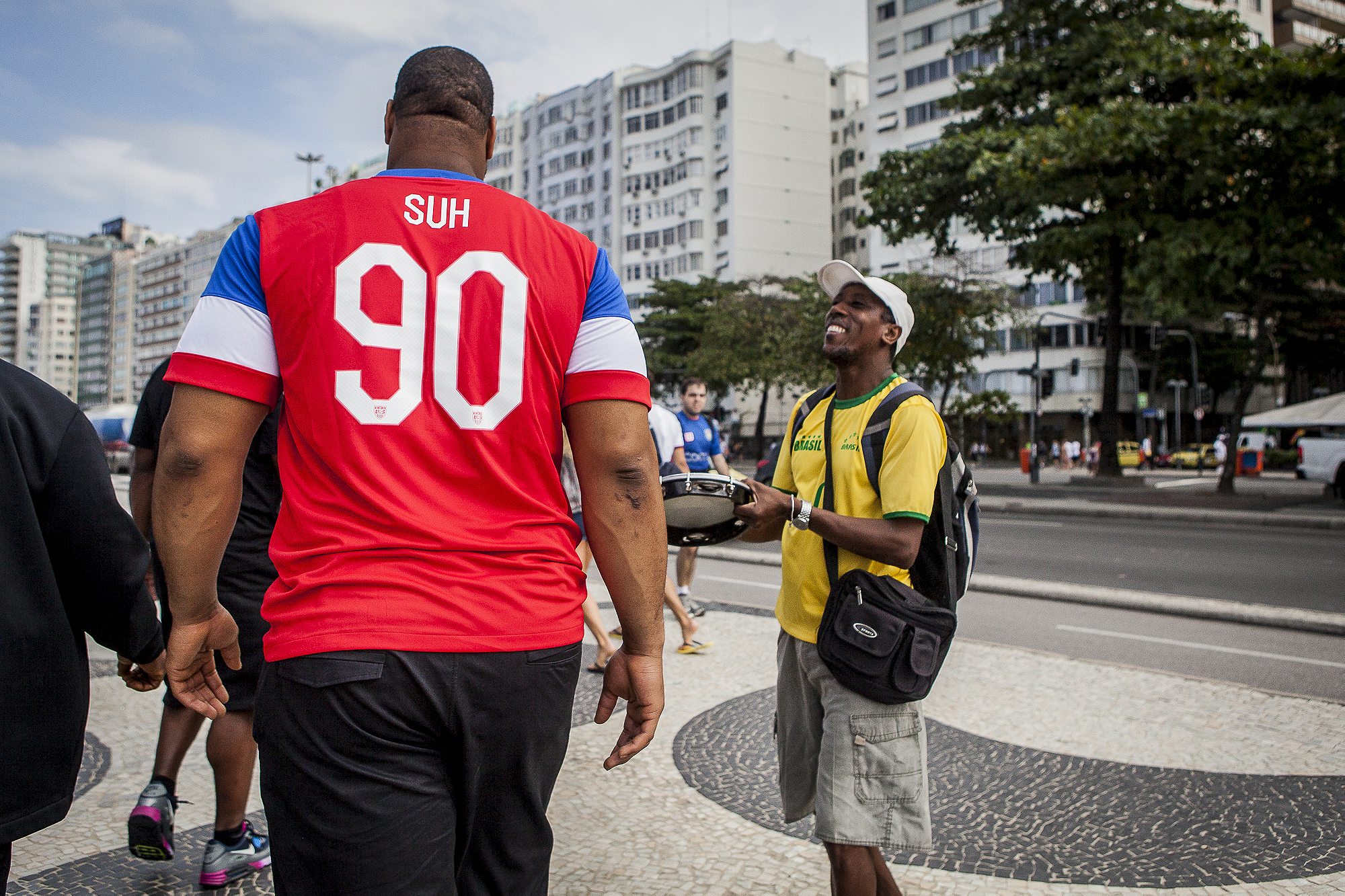 For now, though, there's Copacabana. We walk under the shade of a few palm trees and suddenly, squirming on the sand in front of us are two wiry, shirtless Brazilians locked in a Gracie jujitsu tumble. I offer Suh $5 to jump in. "No thank you," he says, because he has a talent for replying very graciously to the very stupid things people like me are constantly telling him. "But I am going to video this right now." He pulls out a smart phone, takes a little video, and goes back to saying that he feels a certain kinship with the players in the Cup who are both talented and reviled. "I think [my style of play] will eventually grow on people," he says. "I think people have grown to like me as they've gotten to know me." He says Balotelli also got a lot of criticism, but that "whole thing with racism and his mother… now that changes the world."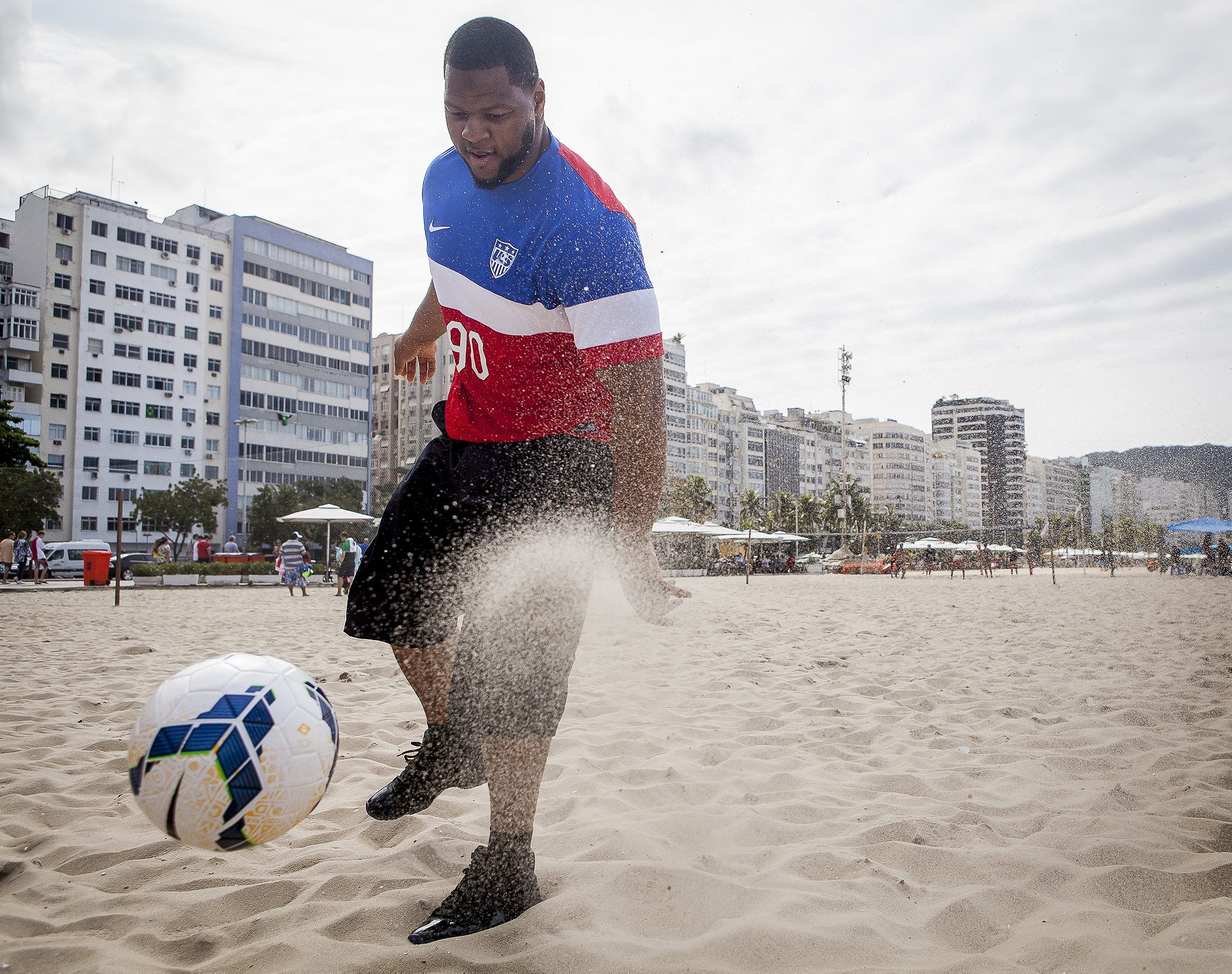 Suh is wearing brand-new Air Jordans, the kind that look like they're made of Darth Vader's body armor. Not ideal beach soccer gear, but he has a ball, and there's a skinny Australian guarding a goal nearby, so Suh goes for a couple penalties. "If I stop this," says the Australian, "you get me into the party at the Pestana, okay?" "Sorry, I don't even know what that is," says Suh, and kicks it past him.
An American comes up from behind and interrupts. "Keep on wreaking havoc in the fucking league," he says. Suh smiles gently: "I appreciate it. Thank you."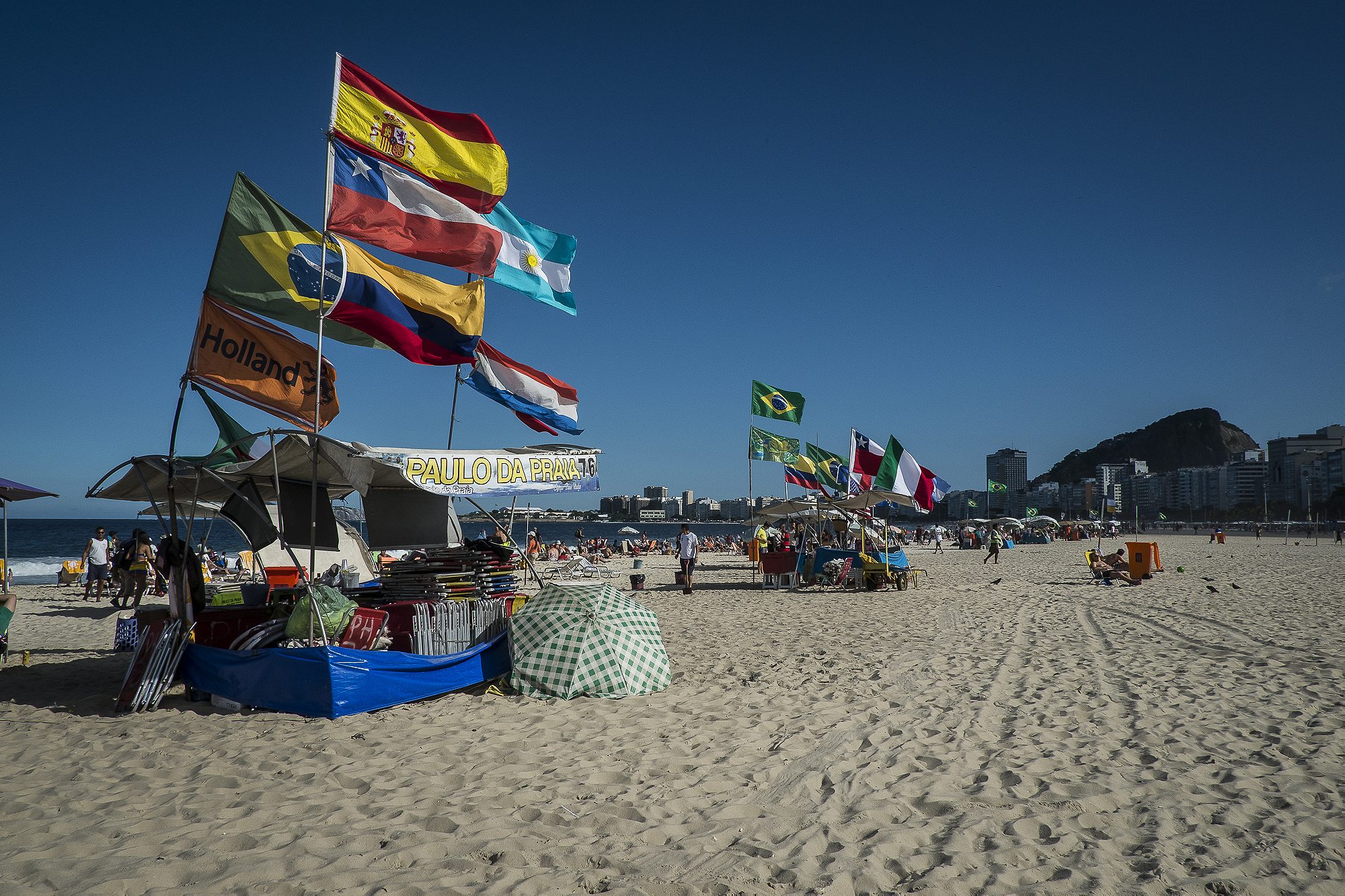 When Copacabana first began marketing itself to the U.S., it was as far and exotic as a destination could be. The 1946 New York Times Winter Travel section talked up Rio as a destination but warned about the six- to eight-week travel time to reach this coast by freighter (there was no passenger service as yet). When President Truman visited Rio the next year, he didn't have to take a boat, but his flight from Washington was 28 hours, including an overnight in Trinidad and a refueling stop in the Amazon.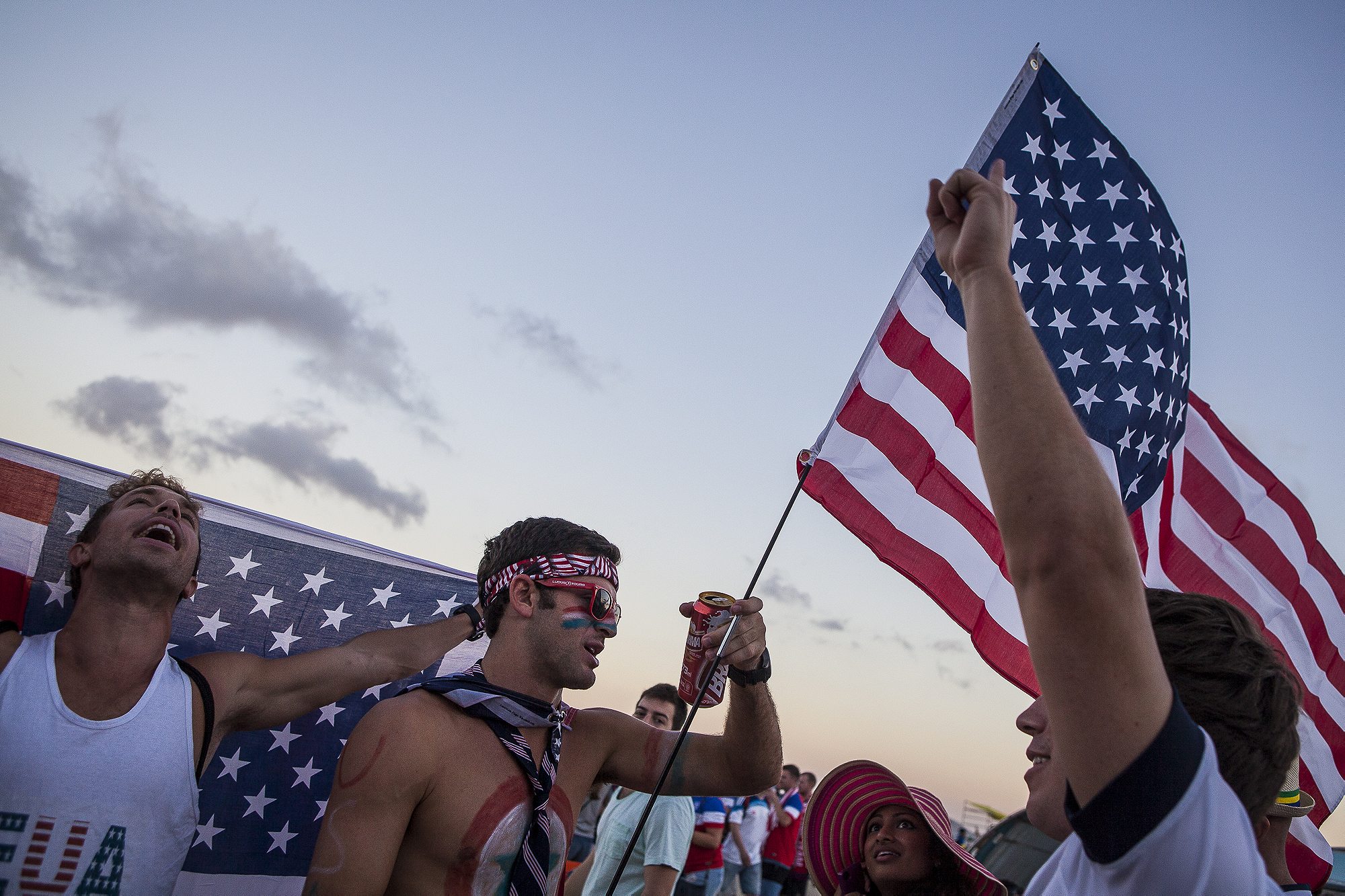 So it's a bit disconcerting for those who might imagine an exoticness even in the sound of Copacabana (in Brazilian, 'an' is pronounced with an oddly plaintive and nasal drag, copa-ca-BUNNNH-ah) to find that this month at least, the miracles of the jet age have delivered more fellow Americans than any other group to Brazil. That is, as purchasers of tickets, they are second only to Brazilians in this World Cup. This was proved out at the Fan Fest on Sunday, after all the tearful and grateful Algerians had filed out following their pasting of Korea. The Americans had been gearing up with grease paint, Uncle Sam hats, and Springsteenian bandanas. They had been dutifully pre-gaming at the promenade beer huts since the morning. American soccer fans seem shaped by the sport's cultish minority status back home. It had radicalized them. And so when a gaggle of Portugal fans decided to test the mood with a quick PORT-U-GAL! PORT-U-GAL! chant about twenty minutes before the game, they were immediately drowned, like government in a bathtub, by the throatiest USA! USA! I've heard since the 2012 Republican National Convention. But it didn't stop with the modest victory over a dozen Portuguese in that corner of the Fan Fest. Instead, the chants spread out, and continued through the game, peaking on each score, rising with each counterattack, until the many thousands seemed to have it permanently in their throats and it rose up above the metal barriers, above the VIP lounge on its risers, and spilled over toward the shore, threatening to swamp the ocean itself with tingly, spangled furor. Only the last-second spearing header by Silvestre Varela brought that cheer, and the night, crashing down on the water's edge, where each party on Copacabana eventually has to die quiet before waiting to be reborn the next day.