Rival factions are pushing two different futures for Uganda's nascent skateboarding scene.
KAMPALA, Uganda—
The oldest skate park in East Africa lies in an old sugarcane field in a dusty corner of a ramshackle neighborhood in Kampala, the capital of Uganda. Towards the bottom of a hill, down rutted dirt alleys and past the women selling fruit and washing clothes, you'll come to a small clearing where a quarter pipe and concrete ramps rise out of the dirt.
On a recent Tuesday, about a dozen people are here, ranging from toddlers to the middle-aged, skateboarding or sitting idly on the side, watching. A nearby pile of burning trash sends smoke billowing across the park as skaters attempt grinds and flip tricks while Kendrick Lamar and the Notorious B.I.G. play in the background.
The park was built in 2005 by Jackson Mubiru, a bright-eyed 34-year-old known as the godfather of East African skateboarding. He grew up in the neighborhood, called Kitintale, and now lives nearby and oversees the park. After this one opened, parks sprouted up in Tanzania, Kenya, and Rwanda.
"This is the origin of skateboarding in East Africa," Mubiru says proudly while mixing cement to expand the narrow stretch of concrete.
In 10 years, he predicted, "Uganda shall be having about 20 or 30 skate parks. Everywhere, you see?"
Jack is our public enemy now.
Yet despite Mubiru's role in skateboarding's growth around the region, it took a decade until a second park was built in his own country. That park, built just a few months ago, is a little over one hour away by minibus taxi, in the town of Mukono.
Mubiru has never been to the new park in Mukono, and has no plans to visit any time soon. The two brothers who built it—David Kizza, 25, and Gerald Gose, 23—were some of the first skaters in Uganda, and spent years as Mubiru's protégés. But they had a falling out, and now consider their former mentor to be an adversary.
Between the two parks, a rivalry has grown that has come to define the fledgling Ugandan skateboarding community.
Each crew accuses the other of manipulating international donors for their own gain, and of going behind the other's backs for personal profit. The younger skaters accuse Mubiru of trying to control the skateboarding scene, while he claims they betrayed his trust and tried to hog the few available resources.
"Jack is our public enemy now," says Kizza, who said he hasn't visited the original skate park in years.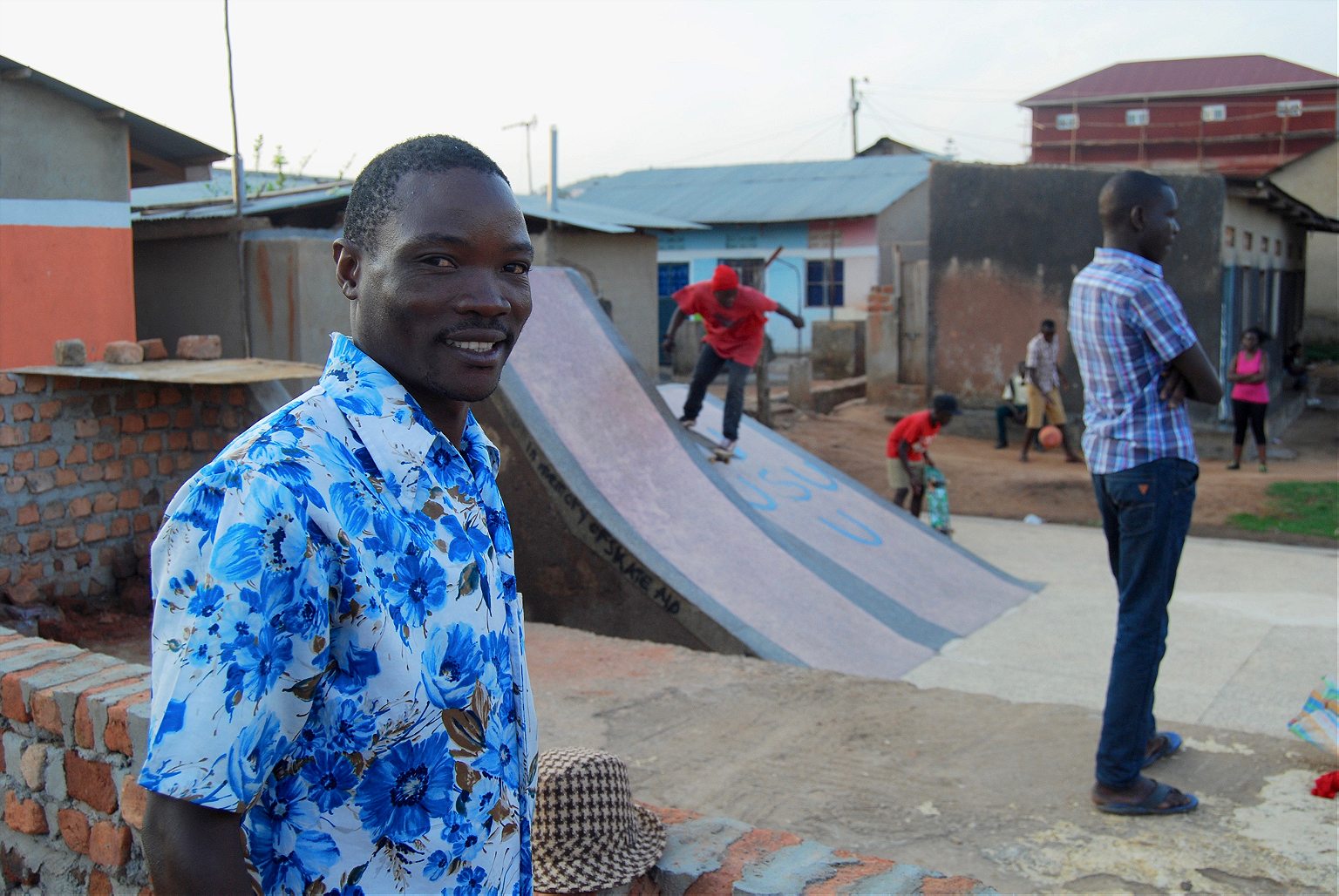 Mubiru first saw skateboarders on TV more than a decade ago, and then managed to convince a pair of visiting skaters from Canada and South Africa to take him under their wing. He oversaw the construction of the original park in Kitintale and worked with Skate Aid—a German NGO that works on skateboarding projects on four continents—to refurbish it when the initial shoddy construction was ravaged by the elements.
"At the time we really began, no one knew about what we were constructing," Mubiru says.
He used to joke that it was a crocodile pen, and remembering people's reactions still makes him laugh.
Kizza, who is solidly built and has a background in construction, helped build the original park. He learned to skate there in the evening, after the day's work was done.
"At night, there was a lot of expensive materials, so we could sleep there to protect them," he says. "We could skate there by the light of the moon."
Gose, who has a deeper voice and is wirier than his older brother, soon joined him. Together, they became some of Uganda's best skateboarders.
The competition was admittedly slim. But construction of the original park helped to kick-start a nascent skateboarding culture around the region. After Mubiru's original park was completed, Skate Aid helped to build several additional parks in neighboring countries, all of them larger and more elaborate than the narrow park in Kampala.
When I started skateboarding, my life changed.
As in the U.S., skateboarding in East Africa has largely struck a chord with wayward youngsters, most of them male. Uganda is a rapidly urbanizing country where two-thirds of the population is under 24, and many of the ingredients are right for an explosion of youth culture.
But several obstacles stand in the way of bringing skateboarding to the mainstream.
Despite an emerging middle class, the country is plagued by persistent poverty. Almost all of the skateboarders' gear is donated from abroad and is often shared among several skaters. Paved roads can be hard to come by. Americans were lucky, one skater told me, to have an unlimited supply of blacktop at their disposal on which to skate.
"Skateboarding in East Africa is more referred to as charity work," explains Augustine Rutasingwa, a Tanzanian skateboarder who runs a blog about African skateboarding.
For those up to the challenge, skateboarding offers a chance to distinguish themselves on an individual level, unlike the team sports of soccer or basketball. It lets them tap into a global phenomenon that long ago pervaded western culture, and which they have seen for years in the background of Hollywood movies and music videos.
Growing up, "getting money to eat, getting money for survival was a problem [for] us," says Gose.
"When I started skateboarding… my life changed, because I had nothing whereby someone could see me and admire me," he says. "When I joined the skateboarding family, my life changed."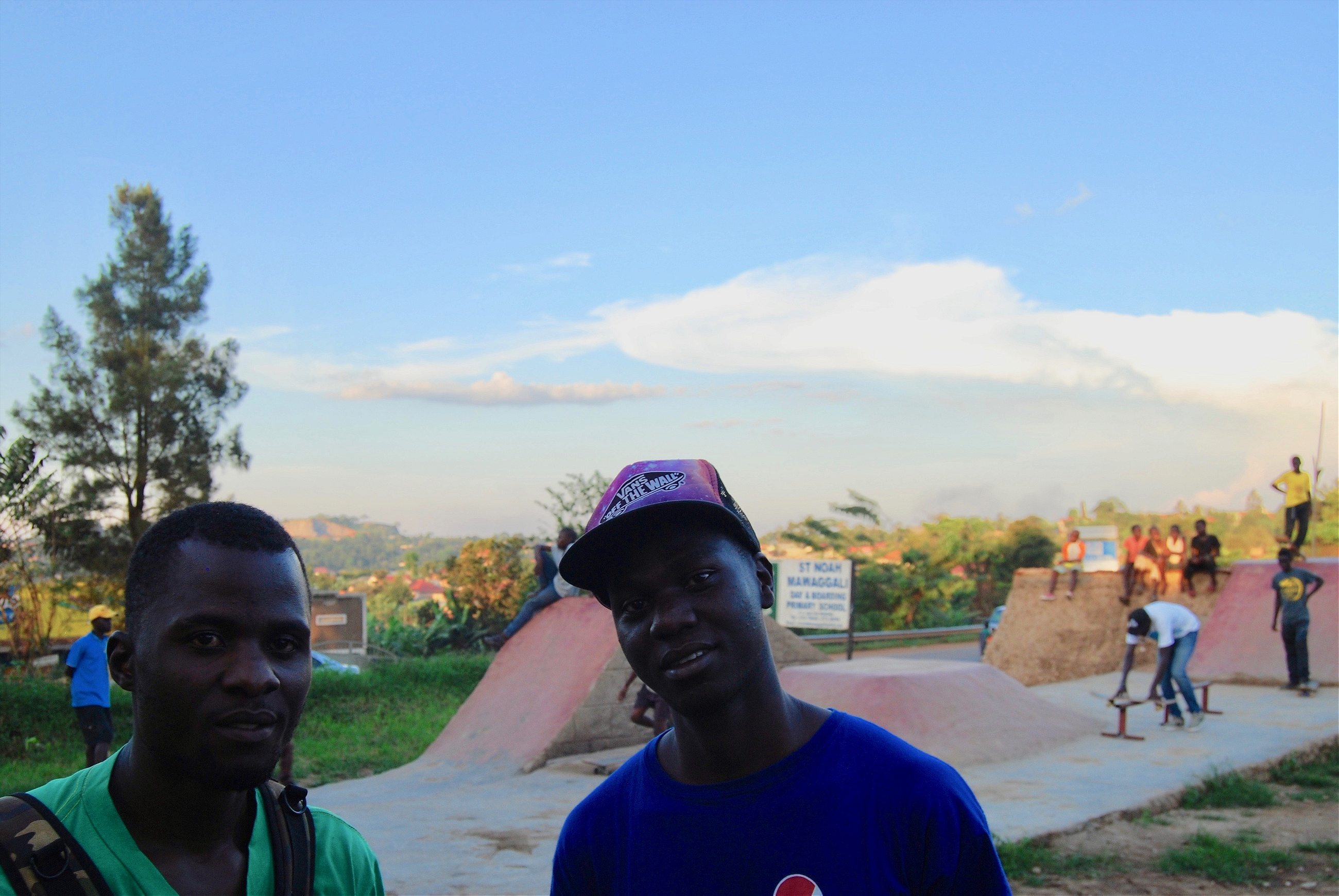 Despite their shared history, there has long been tension between two brothers and Mubiru.
"David wanted to be his own boss," said Peter Kyomuhendo, a 23-year-old who is one of Mubiru's top skateboarders. "So he started picking fights."
The brothers bickered with Mubiru over whether veteran skateboarders should have greater access to the precious few boards and time at the park, or if younger children deserved the same amount of opportunity.
Kizza and Gose also expressed an early interest in corporate sponsors, and took steps to woo companies such as Mountain Dew. In the West, the soda brand has aggressively aligned itself with skateboarding and other extreme sports; it's trying to cultivate the same youthful image in developing countries such as Uganda.
Three years ago, Gose became an official skateboarding brand ambassador for Mountain Dew. As such, he is probably the only Ugandan able to earn a consistent paycheck from the sport.
But, like in the West, responses to the corporate pressure has been mixed.
"Mountain Dew—you know, we are not on good terms with them," Mubiru says dryly. In his mind, the company's relationship with Ugandan skateboarders has been a one-sided transaction. "They used our image," he says. "They just gave us sodas and that's all."
Daniel Gluche, the East Africa regional director for Skate Aid, is distrustful of large corporations but nonetheless sympathetic to their appeal.
"Most of the young guys don't have jobs," he says. "Some of them try to make a living with skateboarding, and maybe if a big company like Coca-Cola or Mountain Dew gives them some kind of a deal where they can pay their bills and do their own thing, I can understand that."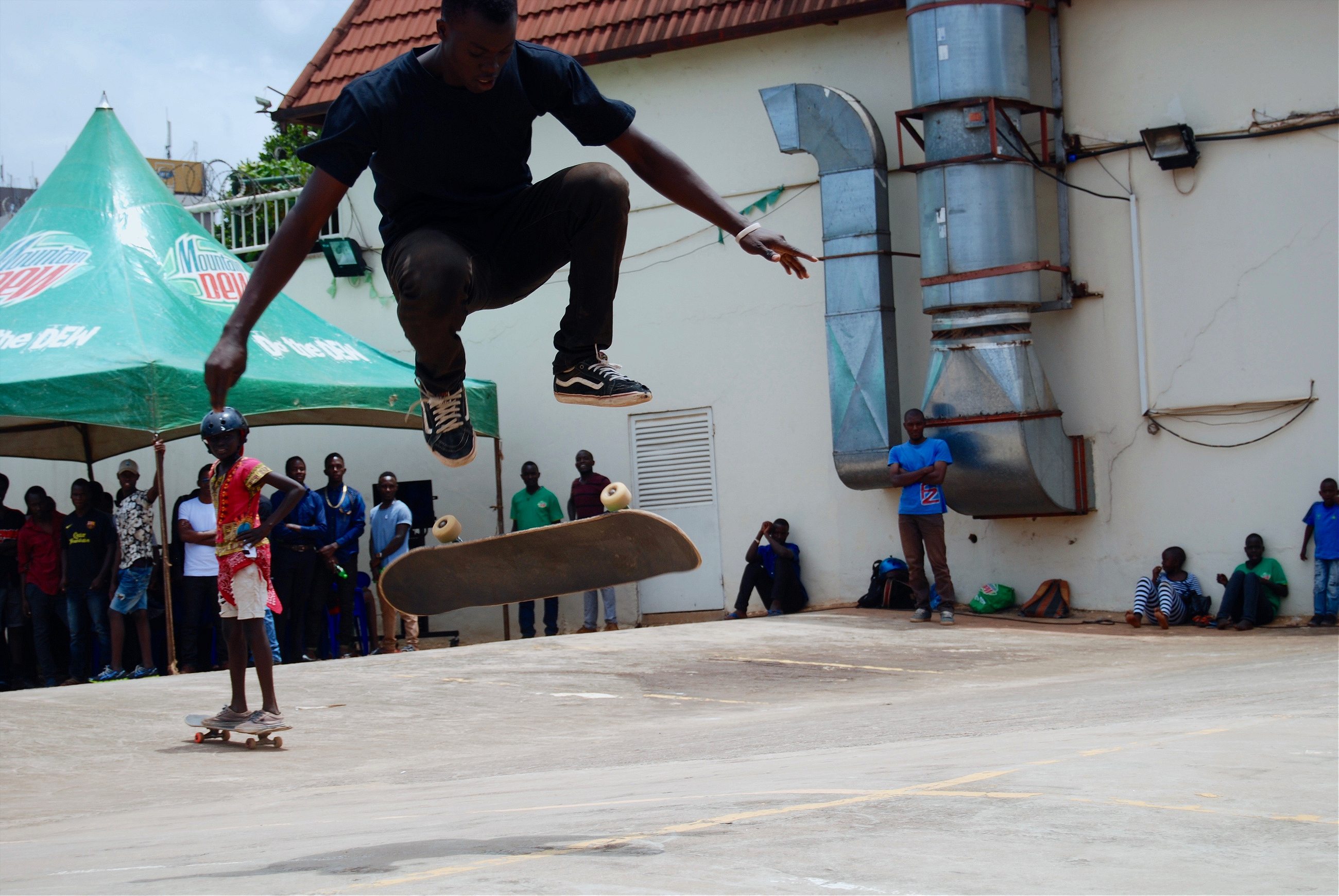 Shortly after Gose began skating for Mountain Dew, Mubiru accepted a 5,000-euro award from Skate Aid for promoting youth development. Kizza wanted the money to be distributed among several of the skaters, so they could sustain themselves as they grew older and started families. Instead, Mubiru promised Skate Aid that the money would go towards building a storage room and a small office next to the park.
After that, the two sides split for good and the hostility became more overt. The last time the two brothers visited Mubiru's park, the police were called and they were chased away.
In response, they built their own park, which is used almost exclusively by new skateboarders in Mukono, most of whom had never visited Mubiru's original. In coming years, the brothers harbor dreams of building parks across the country.
"For us, we want to build the sport," says Kizza, who accuses Mubiru of being desperate to maintain his singular role as the godfather of the region's skateboarding scene. "The game has been in Kitintale for almost 12 years, but in 12 years the sport is still in that very place. The pioneers of skateboarding, most of them are same age like me. Most of them quit. They are fathers, they are doing other things, which means that the game has no future."
"Jack's intention is to destroy this thing," he says, referring to his own park. "He doesn't want skateboarding to be this side."
SKATERS IN UGANDA DREAM OF BEING ABLE TO COMPETE IN THE OLYMPICS
As part of his work as a brand ambassador, Gose this year traveled around Uganda for a Mountain Dew-sponsored nationwide skateboarding and BMX tour. Wearing a bright green t-shirt, he did tricks over Mountain Dew logos on a moveable ramp in several towns to advertise 30-cent bottles of soda. His performances were the first time many Ugandans got to see skateboarding in person.
In August, the tour came to Kampala for a day-long championship competition on the roof of a mall parking lot, billed as the first of its kind in the country.
"We're here not only to sell Mountain Dew, not only to promote Mountain Dew—we're here to introduce a new game," an emcee yelled to hundreds of teenagers standing in the glaring Saturday afternoon sun. "And knowing that skateboarding is very alive in Uganda."
Despite his general distrust of corporate interest, Mubiru came to the Mountain Dew championship that day. He didn't skate himself, instead likening his current role to a trainer in the style of famous soccer coaches.
Gose did tricks throughout the afternoon but, as a Mountain Dew spokesman, was ineligible to participate in the competition. The winner, who took home a $600 reward, was a shy 14-year-old pupil of Mubiru's named Siraje Munyagwa who represents the future generation of the sport. Munyagwa was just a baby when Mubiru's original park was built. Kizza came in third, with a prize of roughly $150.
"I told the guys, I'm really happy," Mubiru says of the brothers. "I don't have any enmity with them. For me, I am here training."
The real test will come in the next three years, as the world looks forward to the 2020 Olympic games in Tokyo. Skateboarding will be featured as an official event in the games for the first time, in a significant milestone for a sport once maligned for an association with gawky burnouts in California.
The skaters in Uganda dream of being able to compete in the Olympics, despite the serious obstacles they face. For them, the Olympics represent an opportunity to legitimize their sport and gain nationwide recognition. The chance for national pride might even prod the government to build a new skate park, they hope.
First, they'll have to figure out how to work with each other.
"What we need is to come together and we will make a national team," says Mubiru. "That national team, it will not include Kitintale skate park only," he says. "We shall be moving all over Uganda."