In a tranquil village more than 600 miles from Ukraine's front line, locals feel the war.

DZEMBRONYA, Ukraine—
It was not long after dawn and a slim bank of cloud ran through the valley like a trail of quicksilver. I had awoken in a wooden cottage deep in the Carpathian Mountains of western Ukraine and was peering out from the bedroom window. Dark, majestic peaks rose above the morning mist, framed by pine forest and rounded haystacks.
At first, the hazy alpine pasture seemed totally silent. Listening closer, I heard the gentle knell of a cowbell drifted across the fields, wagtails chattered in the nearby woodland and a dog's occasional bark echoed up the slopes. My hosts—talking in an obscure dialect that even my Ukrainian friends struggled to decipher—were already outside preparing for a full day's work. The farm, after all, was not going to run itself. There were vegetable patches to tend, cows and chickens to feed, apples to harvest. For them, this vista was nothing remarkable. For me, it was a window onto old-world Europe. A lost age.
I had spent the previous month reporting around the front line that cleaves the country's industrial Donbas region, more than 600 miles to the east. Two-and-a-half years have passed since armed conflict between government forces and Russian-backed separatists erupted there. Despite two formal ceasefires and numerous attempted truces, the fighting grinds on, adding almost daily casualties to a total death toll of over 10,000.
Not to put too fine a point on it, I was ready for a break. The peaceful west was beckoning and nowhere in Ukraine, surely, could be further from the war than these serene, far-flung mountains.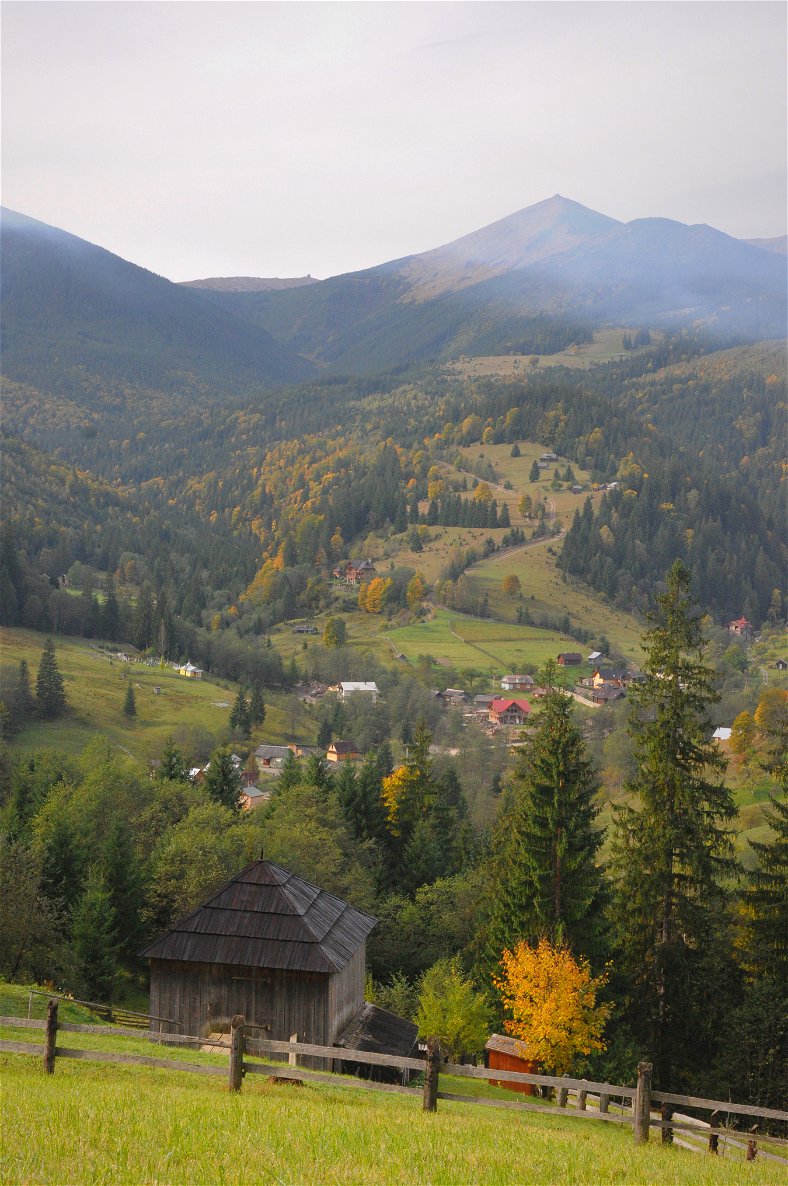 A journalist friend in Kiev had heard of an elderly woman called Maria Illyuk—better known as Pani (Mrs.) Maria—who ran a bed-and-breakfast from her cottage on the slopes high above the tiny, bucolic village of Dzembronya. This was not the kind of guesthouse to be found in a guidebook or by the mere click of a button on Airbnb. Word-of-mouth was its sole publicity and contact could only be made if her daughter happened to have phone signal at the time of calling. We struck lucky. A voice answered at the other end of the line. There was room at the inn.
The following evening, our night train pulled out of Kiev's main station as golden light flooded past the capital's grey, concrete blocks and into our cabin. The day passed to dusk, and then to darkness. Shots of cognac were poured, salty snacks were nibbled, and it was soon time to sleep. At sunrise, an entirely new landscape greeted us. Rugged peaks and rural homesteads appeared on either side of the track as the locomotive chugged through a valley of breathtaking beauty.
We arrived at Vorokhta, a pleasant but somewhat touristy town, and proceeded to squeeze onto a crammed, Soviet-era bus, rumble down a bumpy road past meadows and woodland, jump off at a small junction, flag down another, even more overcrowded bus, and bounce down a potholed dirt track just yards from the rushing Black Cheremosh River, deeper into the mountains.
The Carpathian Mountains hold a special place in the country's collective, cultural consciousness. These are the rustic heartlands of the Ukrainian national spirit, where an untamed, soaring landscape stands apart from the broad, rolling steppe and a vivid folklore points to an era far more ancient than the Soviet empire that once encompassed the region.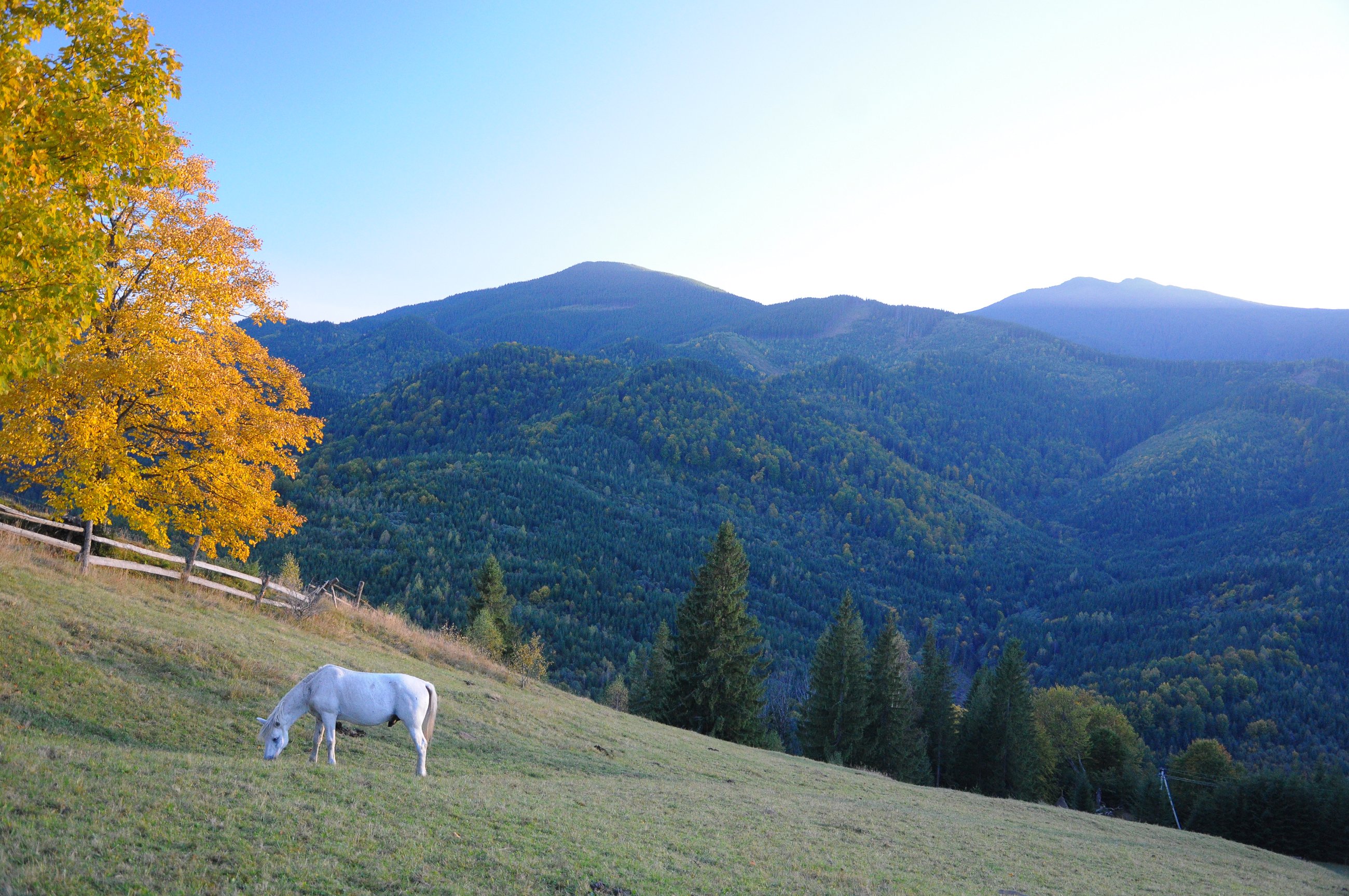 This dramatic patchwork of highlands and virgin forest, braided by pristine streams and garlanded by wildflowers, is home to Europe's large carnivores—brown bears, wolves, and lynx. Amid these increasingly threatened habitats dwell elk and bison, too, as well as smaller creatures, from fox, marmot and minx to mountain wagtail, two-tailed owl and golden eagle. Village life continues much the same as it has for centuries and deep-rooted traditions endure. Here, the bowls of borscht are bounteous, the mountain air is crisp, the views boundless. It is a land with its own poetry.
The bus eventually stopped beside a miniscule, white-washed church, hemmed in by a steep-sided, forested gorge. We got out, hoisted on our rucksacks, and trekked onwards for a few more miles before the scene opened onto a wide, rolling vale. Snow would begin falling within a matter of days but, for now, it was the height of an Indian summer. We were faced with one final push up a steep rocky trail, enclosed by impenetrable stands of pine and flashes of blazing, autumnal color. Our mouths were parched, legs aching, faces sweating in the unseasonably warm afternoon heat. The steep path seemed endless and there was no sign of the guesthouse; it felt as if we had taken a wrong turn. I was hungry, thirsty, tetchy and beginning to question if such a slog was worth it.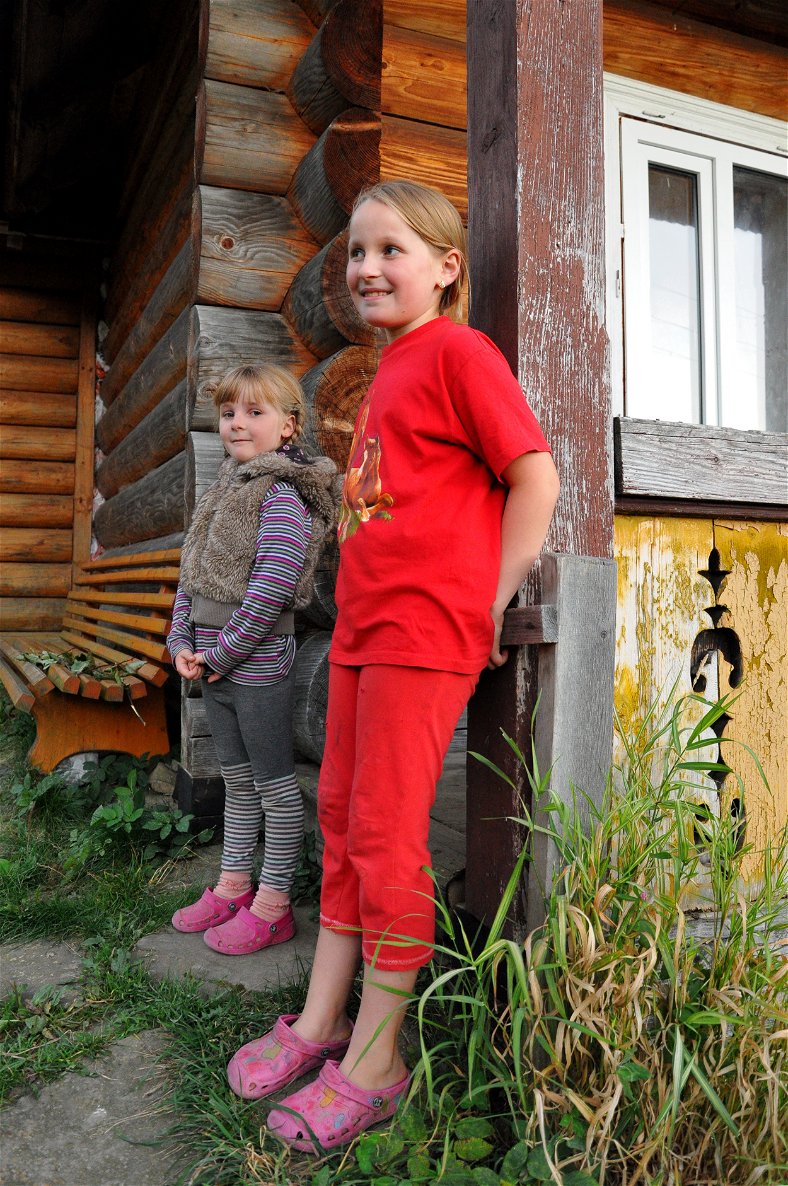 And then the cottage appeared on the brow of the hill. A little girl called Solomiya headed down to join us. She was eight years old, one of the youngest members of the family. Blonde hair pulled into a loose ponytail, she brimmed with grace and poise that belied her years as she led us through the orchard to the family home.
We entered and stood in the central hall. The walls were plastered with paintings, every available surface covered in a pleasant jumble of knick-knacks. Pani Maria shuffled in and embraced us. She was clad in a headscarf and a colorful woolen jumper, stained from a morning of gardening and cooking. "Welcome," she said with a smile. "You must be ready to eat."
Born 73 years ago in the nearby village of Verkhovina, Pani Maria is the ebullient matriarch of the Illyuk family. She has lived through a world war, Communist rule, the turmoil of post-Soviet independence, raising one daughter, two sons, nine grandchildren and nine great-grandchildren in the process.
Her family home was built in 1953 by her father-in-law before she and her husband, Oleksa, moved in eight years later as a pair of newlyweds. Aged just 52, Oleksa died in 1988 from a heart attack after a life working the land on their smallholding.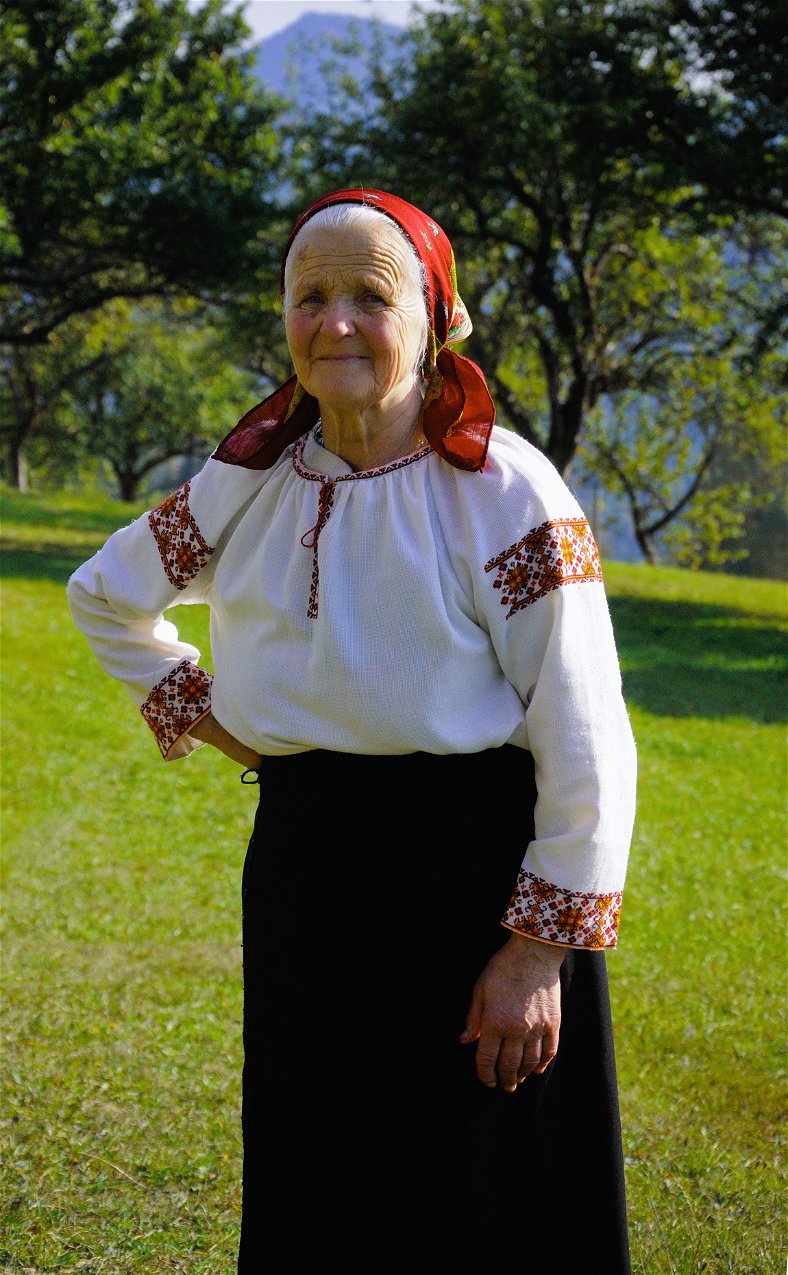 Electricity pylons were installed in the late 1960s, a mountain spring was connected to the taps around ten years ago and firewood burned in an enormous, ornate hearth provides the heat. I asked Pani Maria what else had changed during the half-century of life here. "All the farms were collectivized under the Soviets so it was nice to get our land back in the 1990s," she replied. "And since Communism ended, we can start going to church again." Apart from that, Pani Maria's pastoral life had pottered on the same as ever.
Delicious, belt-expanding portions of home cooking were placed on the long wooden table dominating the dining room. Forest mushrooms prepared in a cream sauce; buttery mamaliga (maize grits) served with crumbly chunks of bryndza (a tangy sheep-milk cheese); the obligatory borscht—neon with purple beets and smetana sour cream—rounded off by wild berries, chocolate cake and endless cups of revitalizing tea brewed from a blend of herbs and wildflowers plucked from the foothills.
Pani Maria's family are Hutsuls, Ukraine's proud highlanders. Traditional dress is embroidered with distinctive diamond shapes in earthy tones while their dialect is a swirl of old Ruthenian, Romanian, Magyar and their own esoteric expressions. For centuries, sheep herding has provided Hutsul families with food, clothing and income in the mountain pastures. This ethno-cultural group was immortalized in Shadows of Forgotten Ancestors, a classic of Soviet cinema by Sergei Paradzhanov, whose film crew stayed at Pani Maria's home during the shoot in the early 1960s. To this day, the cottage serves as a retreat for artists from the city of Lviv. In terms of refuge and complete peace, there seems no better bolthole than this.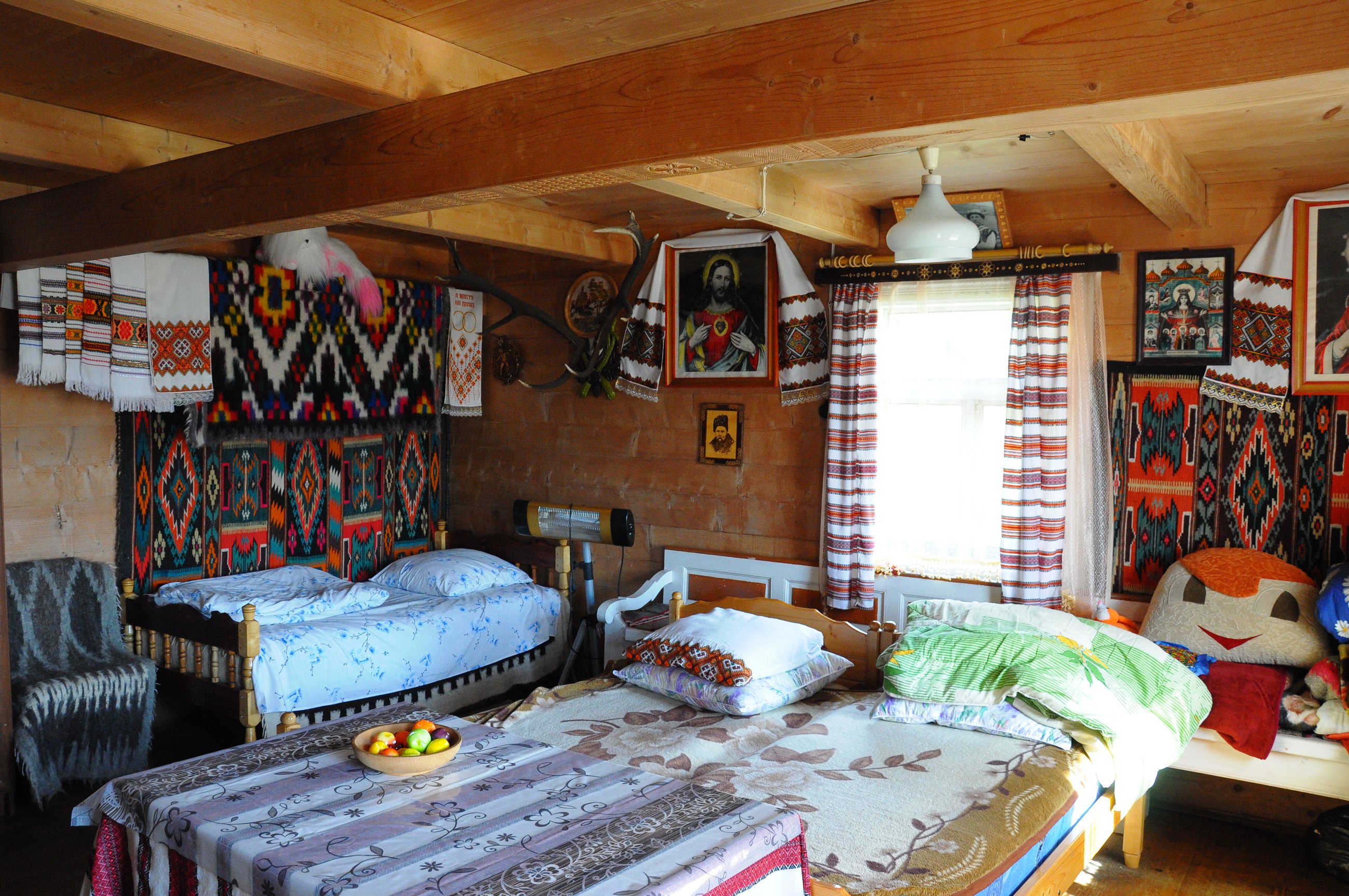 And yet, this is not the whole story. A bad leg has prevented Pani Maria from leaving the mountainside for more than a year, forcing her to rely on her vegetable patch, livestock and supplies from relatives for sustenance. I asked her if boredom was a problem. "I have no time to be bored," she laughed. "There is too much work, and I read a lot." With a more serious look, she added: "In the evenings, I pray for peace in Ukraine. I pray that the war will end soon, that the enemy will leave us."
It was an unexpected reference that caught me off-guard. Even in this secluded idyll, hundreds of miles from the eastern front, it is impossible to escape the specter of war.
Pani Maria's granddaughter, Helena, is pregnant. Her husband Vasil recently quit his job as a border guard and signed a new contract to fight in the war. While Helena raises their three-year-old girl, Vasil is stationed with government forces in the notorious hotspot of Mariinka on the outskirts of Donetsk, a stronghold of Russian-backed separatists. "Every day we are waiting for him to return," Pani Maria sighed. "I watch the news every afternoon to find out what is happening in the east. Just yesterday the news said there were fifty attacks on our positions."
Last year, one boy came back in a coffin
Villagers in the valley below still pack up jars of food to support the war effort, sending them to Ukraine's under-supplied soldiers at the front. Even now, more than two years since the conflict began, conversations here often center on the fighting. "We feel the war, even here," Pani Maria said. "I'm afraid of our people dying, Even now, I fear that war may still spread further west."
Later that day, as Pani Maria peeled a heap of potatoes in her cluttered kitchen ahead of the next meal, I noticed a calendar hanging on the wall. The back page featured dozens of black-and-white pictures of local men who had died in combat in 2015. She noticed me reading their names. "Last year, one boy came back in a coffin. He was shot to pieces." She exhaled sharply and looked at the floor. "It was very difficult—we all felt the tragedy."
The weekend passed and it was time to leave. Two days earlier, we had hiked to the craggy summit of Mount Smotrych that lay in the shadow of the mighty Pip Ivan, the third highest peak of the Chornohora ('Black Mountains'). Pip Ivan is crowned by an abandoned, Soviet-era observatory. Ukrainian partisans had fought around this area in World War Two; trenches dug into these slopes are a reminder of this past, and of the present.
We rose before daybreak and said goodbye. Hospitality here is not some mere performance; it is an impulse. Pani Maria relentlessly haggled over payment, not in an attempt to get more money from us, but less. We had been charged under ten dollars a day for the room, including three massive meals each day, and yet our remarkable host was determined to push the price down even lower. We handed over a bundle of Ukrainian Hryvnia, kissed her on the cheeks and began the journey home, hitching a lift out of the valley in a battered old jeep driven by an affable neighbor.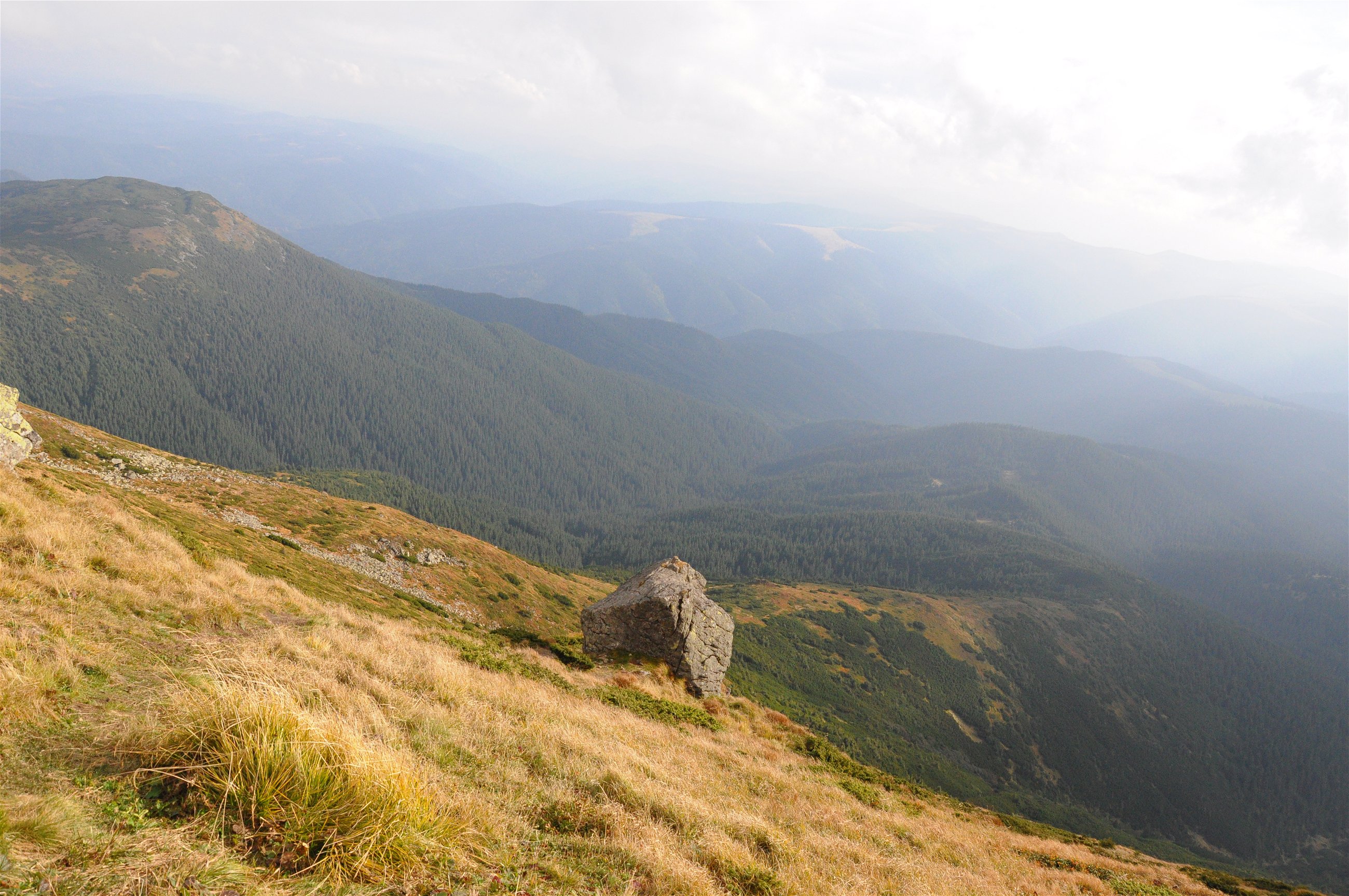 Later on, while waiting for our bus, we bumped into five soldiers sitting at a picnic table. They were outside a roadside grocery shop that doubled as an unofficial bar. Still wearing their army uniforms, pinned with medals, the men had been demobilized just days earlier and were heading back to their villages from a distant battlefield–a scene repeated down the ages.
Just past 11:30 a.m., they were three bottles of vodka into their homecoming session. A bowl in the middle was filled with slices of sausage and a dollop of ketchup. Some of the men were boisterous and seemingly in high spirits. Others betrayed a withdrawn and troubled air. One, Misha, in his 30s, had run a little museum of local history in the nearby village of Smotrych before the last wave of conscription had borne him to the front.
He had cropped hair and an intelligent face. I asked him how his compatriots here compared to those in the east. "They are different from us, they are suspicious," answered Misha. "It is a different land. Here, we feel as if we are among our own countrymen. There, not so much."
The soldiers topped up their shot glasses and raised a toast. This one was dedicated to the fallen. No words were spoken, several moments of silence passed and the men poured a few drops of vodka onto the dusty ground. A gift for the missing and the dead.
I turned to the soldier on my left. Ivan, in his 40s, had formerly worked as builder in nearby Verkhovyna and would soon be reunited with his wife and children. He was half-drunk and I wondered how fractious his return home would be once the initial excitement had ebbed. Was he happy to be back, or was there a part of him that missed the war?
"For many, it is hard to leave the warzone, especially for single men who find a family in the army," he replied. "As for me, I have a family here and I'm happy to be back. In fact, I've had enough. I saw far too much. I'm ready to come home."