Ancient buildings, raucous youth, and mountains of jamón: A survival guide to one of Spain's most charming cities.


Go West. Castilla y León, on the western border of Spain, pressed up against Portugal, falls outside many visitors' itineraries, but this is España Profunda, Deep Spain, where Cervantes and Columbus and Isabel and Ferdinand spent a good portion of their lives. Salamanca is the cultural capital (Valladolid to the north is the political capital), a mid-sized city with some of the country's oldest buildings and youngest citizens (see #2). The Plaza Mayor is one of Spain's finest, the Cathedral one of its largest, and everywhere you turn you will be surrounded by cured pork of staggering quality. You'd be wise to settle in for the long haul.

Feel young again. Salamanca is home to the Universidad de Salamanca, one of Europe's oldest (founded in 1218) and largest universities, where 30,000 of the bright stars of tomorrow feed their minds. Engage in one of the student body's sacred rituals: Legend has it that if you can spot the frog on the Fachada Rica, the university's mind-bending façade (which houses carvings of Carlos V, Venus, and Hercules, among hundreds of others), you'll pass all of your courses. Or, in your case, have a damn good time while you're in town.

It's not español; it's castellano. Salamanca is one of Spain's oldest intellectual centers, home to many of Spain's most famous writers—from Luis de León to Carmen Martín Gaite. They speak one of the purest forms of Spanish, which here (and throughout Spain) is commonly referred to as castellano–a nod to its birthplace on the central planes of Castilla. Spanish courses for foreigners abound, as do young Americans and Europeans studying abroad. Why not join them?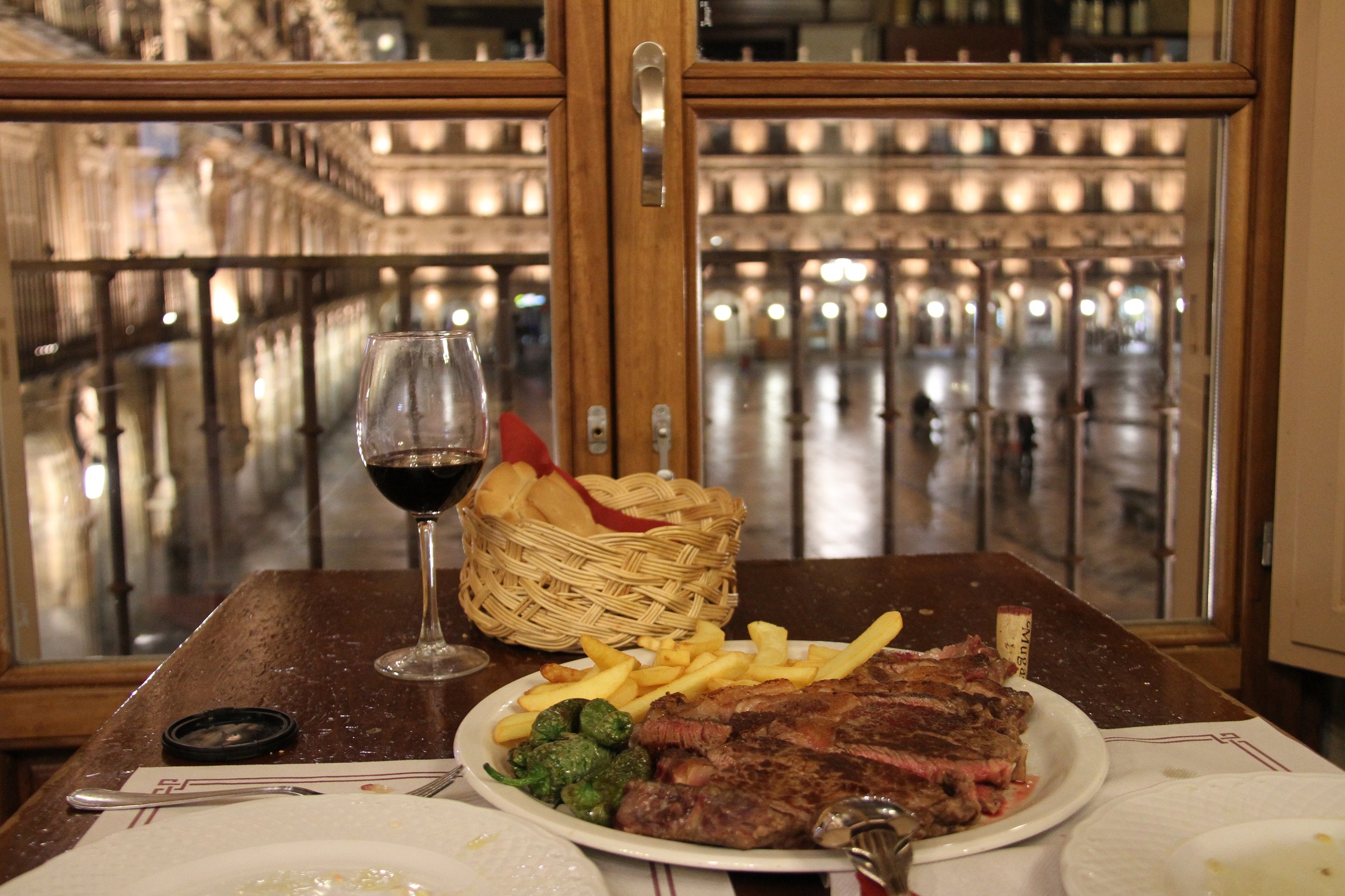 This is a meat town. It's not to say that an herbivore can't find something decent to eat in these parts, but the best of local cuisine leans heavier on fauna than flora. The herbivores dilemma is the carnivore's delight: Meathounds will find classic restaurants serving wood-roasted suckling pig (cochinillo), crispy-skinned milk-fed lamb (lechazo), and thick-cut steaks cooked rare and served with roasted piquillo peppers. For the most potent expression of Castilian protein prowess, try chanfaina, a slow-cooked stew of lamb organs, blood, garlic, and spices.

Salamanca is golden. The city is know as La Dorada—the golden one, for the glow of its sandstone buildings. And when the sun goes down and the streetlights come up (Salamanca is one of Europe's best-lit cities), the glow is especially magnificent. Start across the Roman Bridge (preferably with a sunset bottle of local vino tinto), and work your way up towards the cathedral, past the university, and down as many back and side streets as possible before landing in the Plaza Mayor.

Don't sunbathe in the Plaza Mayor. This is one of Spain's largest and grandest plazas, and there is nothing locals hate more than to watch a cabbage patch of pale bodies bake themselves lobster red on a warm summer day. Stretch out, enjoy the plaza, drink a few beers, but keep your clothes on.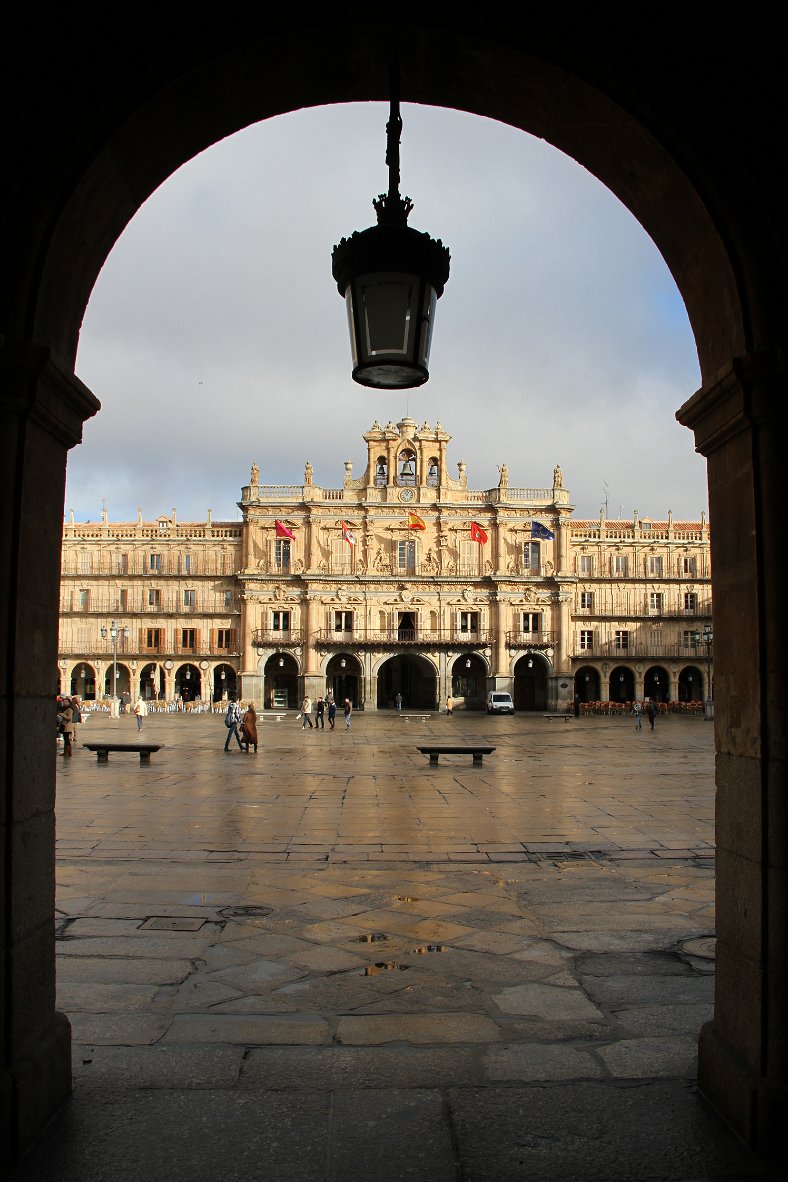 Bring your night game. Barcelona and Madrid may get most of the credit for Spain's reputation as an epicenter of all-night delights, but pound for pound, Salamanca can party with any city on the Iberian Peninsula. If you want to roll with the crisp-collared elite, check out the polished bars around Gran Via. If down and dirty is your thing, join the crush of young souls giving it their all along Calle Varillas at spots like Paniagua and Potenkim. This is a university town, so expect Thursday nights to be especially raucous.

Pork is for sinners and saints alike. In a city paved in pork, hornazo may be Salamanca's purest expression of porcine affection, a pork-fat pastry stuffed with chorizo, cured loin, and jamón. Hornazo fun fact: Centuries ago, this deeply Catholic city would banish the local prostitutes across the river during Lent to avoid any unnecessary temptations. On Monday, citizens would welcome the returning prostitutes with a wedge of hornazo. Easter Sunday and Monday, called Lunes de Aguas, remain special days for consuming hornazo, but you'll find wedges of this porky pastry available in any self-respecting bakery across the region year-round.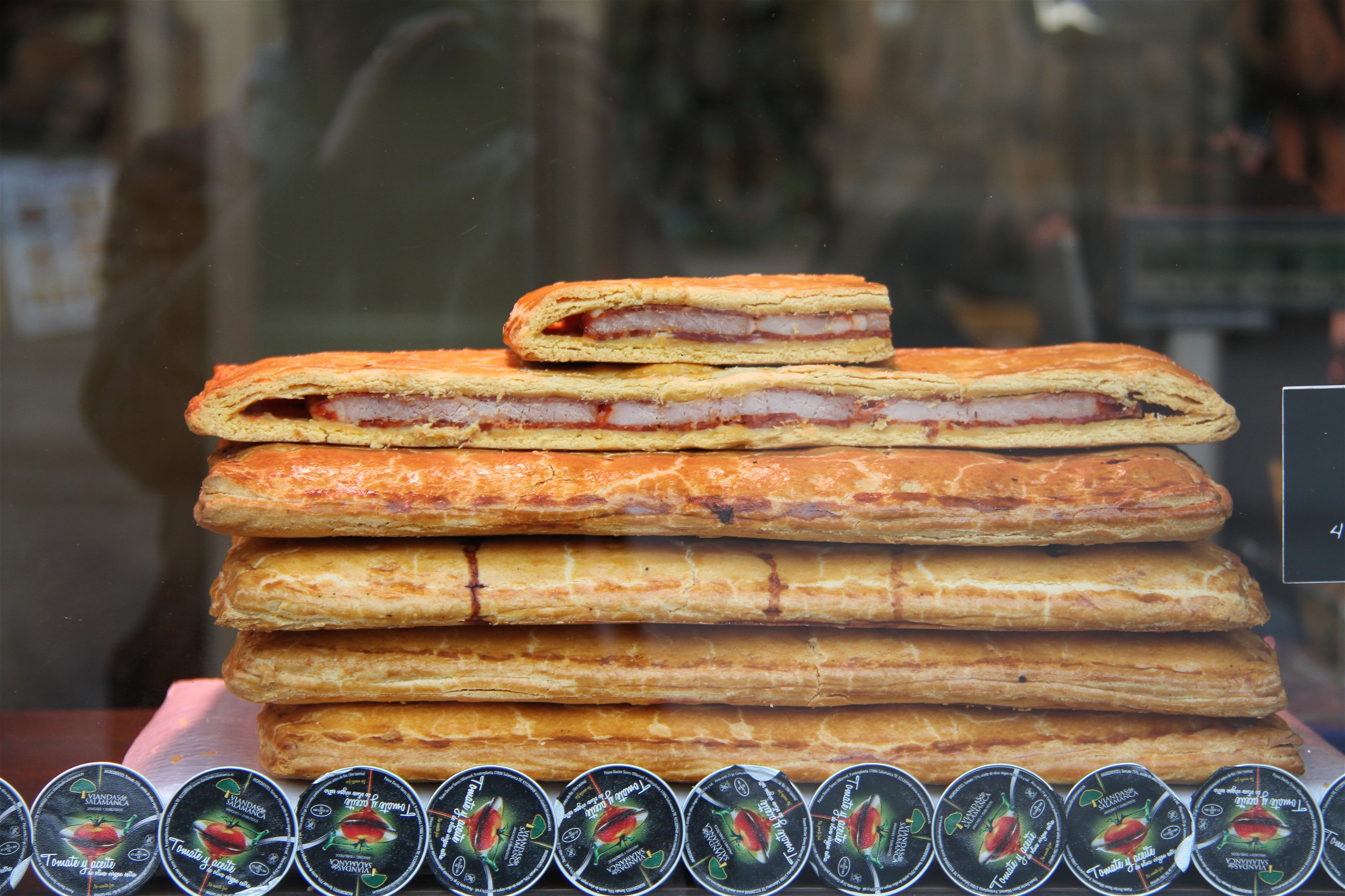 Choose your tapas crowd. Salamanca is one of Spain's best cities for a good old-fashioned tapeo, a moveable feast of small bites and drinks that will push your stomach and your stamina to the limit. There are two prime areas for tapas crawls in the city. Around Plaza Mayor, you'll find a wealthier clientele taking their tapas in more refined environs. For a younger, livelier (and more affordable) scene, head to Calle Van Dyck just outside the city center. The street is packed with restaurants serving grilled skewers of meat, open-faced sandwiches, and other solid booze food. A good evening would start out at Don Cochinillo Asado, with cold beer and the namesake suckling pig with crackling skin, and end with a few cubatas (mixed drinks) shared with a group of new friends.

Learn the language of ham. Spanish ham production is concentrated around three regions in the central and southwestern corner of the country: Andalusia, Extremadura, and Castilla y Leon. The nuances of the product vary depending on the region, but the parlance is consistent across the peninsula. Paletilla is made from the pig's front legs—the lower cost and higher intensity of porky flavor makes it a fantastic deal for serious eaters. Jamón serrano is made from hind legs salted and dried in the cool mountain air for around two years. Jamón ibérico is the next step up, undergoing the same salting and curing process as serrano, but made with the famous pata negra pigs—known for their black hoofs and the generous distribution of sweet, soft fat that ripples through its muscles. Jamón iberico de bellota, acorn-fed ibérico ham, made with prized pigs who spend their last months on earth fattening up on fallen acorns, which lend the meat a savory intensity and the fat a lingering sweetness. Jamón ibérico de bellota is the king of the Spanish pork world, the king of all cured protein. Eat as much as you can while you're here.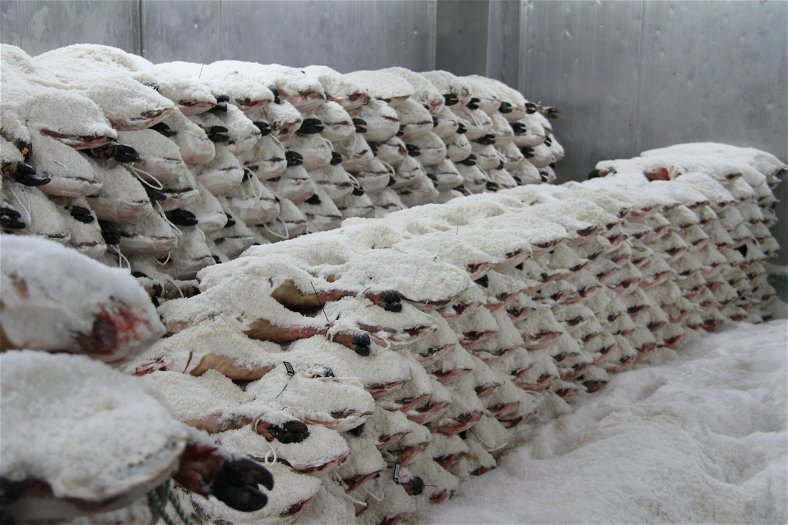 Bring home the bacon. If you live almost anywhere outside of the US, you have your marching orders: head to one of Salamanca's dozens of excellent cured-meat emporiums and buy everything you can fit into your bag. If fact, buy a second bag and fill it up, too. It's cured and vacuum-packed and lasts a very long time; you'll make friends real fast upon your triumphant return home. If you are from the US, beware: Those sinister border agents will seize your porcine bounty without the slightest tinge of remorse. (The FDA, despite centuries of years of evidence to the contrary, insists that products like jamón represent a clear and present danger to America). That's not to say chefs and serious eaters always listen. (I may or may not always travel with a kilo or two of pork in my luggage, depending on who's asking.) If you need a legal fix in the States, order some online at Despaña or LaTienda.

Hit the road. Head off into the rural areas surrounding Salamanca, where the rolling plains of acorn trees and the happy pockets of ibérico pigs make for excellent scenery. Beyond Salamanca, you'll find Ciudad Rodrigo, a lovely little cathedral town that comes alive during Carnaval. Parque Natural de las Batuecas makes for excellent hiking and picnicking—none better than Peña de Francia, a huge rock perched 5,600 feet up, affording staggering views across the region. My personal favorite is La Alberca, a charming, well-preserved medieval village 60 miles south of Salamanca. La Alberca is home to Fermín, one of Spain's finest cured-pork producers, and the town overflows with their chorizo, lomo, and jamón.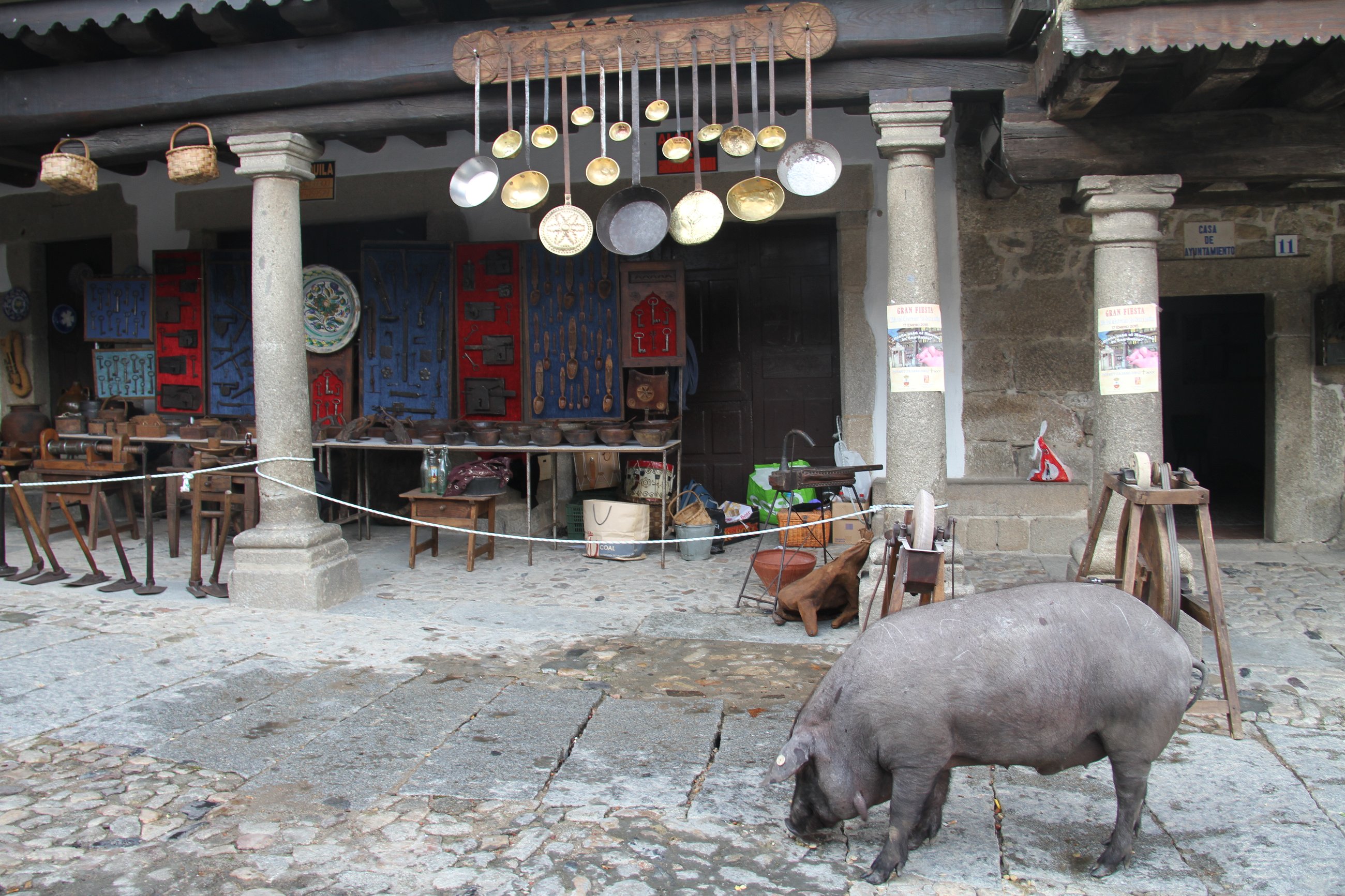 Win your own pig. Every year, the family behind Fermín donates one of its prized ibérico pigs to the village of La Alberca. For the next six months, he roams the rough cobblestone streets of the village, fattening up on the generosity of local citizens, who feed Antón grains and table scraps. This tradition goes back to the Middle Ages, and for most of its history, Antón would go to a poor local family. Now, the tradition takes on a new dimension: On the third Saturday of January, in the Festival de San Antón, all of La Alberca dresses up in traditional garb and throws one of Spain's greatest street parties, an all-day bacchanalia fueled by cherry-spiked firewater, chorizo and blood sausage demonstrations, and impromptu dance circles. Partygoers buy raffle tickets and the day concludes with one lucky soul taking home the pig. It's been my highest aspiration since moving to Spain to win Antón, but six years and dozens of raffle tickets later, it remains a dream deferred. (What I'd do with the 400-pound beast—set him free, bring him to live on my Barcelona balcony, or turn him into chorizo and jamón—remains to be seen.)