R&K Insider: China Edition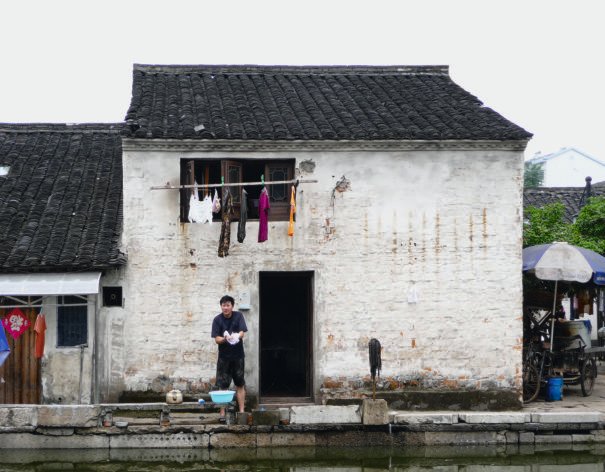 Living that soup dumpling life.
Hello! I'm Cara Parks, the new executive editor at Roads & Kingdoms. Each week, I'll be sending out a collection of the most compelling happenings in food, politics, and travel from across the web. On Tuesdays, we'll be sending out the best of our own coverage. We hope you like it! You can sign up here.
I had dinner with food writer Fuchsia Dunlop last week on the occasion of her new cookbook being released. We're somewhat familiar with her work here at R&K; when I solicited questions for her from my colleagues, it was like a roomful of tween girls learning that Justin Bieber was doing an AMA. ("Can you ask her a technical question about this rice cake I had in Ningbo?!" was the typical breathless level of food-nerding.)
Dunlop and I headed over to Chinatown for soup dumplings because I only think in clichés, apparently, and talked about the regional cooking of Jiangnan, as well as the rise of regional Chinese cooking around the world, the advantage of coming to a cuisine as an outsider, and my inability to properly use a cleaver. She had broken her wrist a few days beforehand but still made it through the entire meal using chopsticks with her non-dominant hand, which was extremely impressive. Anyway, read all about it! She has a really lovely way of making eating whole bunny heads sound entirely appealing.
Since I've been reading and thinking about Chinese culinary traditions, let's talk about China. Last week, in honor of the annual Chinese plenum of Party leaders, we had our intrepid correspondent watch hours of a Chinese state-television reality show. Not so fun for him, but fun for us. Befuddled Ai Weiwei on Trump supporters is the best. We are also fascinated by this somewhat crazy article on how the Chinese government took on loathsome multinational pharmaceutical giant GlaxoSmithKline for systematic corruption and general bad practices, like almost killing someone by unfairly marketing a drug. It's like a real-life film noir in which everyone is sort of terrible and morally ambiguous even though there's some very righteous bitch-slapping going on.
The richest man in China plans to invest billions in Hollywood, but more importantly, why the hell don't I read The Hollywood Reporter more often? And it's a crowded field, but this German politician gets the human garbage fire of the week award for using racial slurs against Chinese people, among many, many other things.
And, of course, let's talk about food. Let's make spicy Sichuan beef stew. Fish-fragrant sauce shouldn't sound appealing, but it does. Let's explore the captivating flavors of Teoswa cooking. Let's eat like a Chinese soldier. Let's eat pork. Let's go out for dinner.
We will now be joined by special guest Isaac Stone Fish, a senior fellow at the Asia Society and former Asia Editor of Foreign Policy. Isaac just got back on Monday after spending a couple of weeks in Beijing, so I asked him to share some thoughts for this Very Special China Newsletter. Isaac, take it away:
"What surprised me on my late October trip to China was the official desire to legitimize the Chinese Communist Party by emphasizing democratic elements in China. Several of the government officials I met with spoke of local elections and of inter-party decision making. (There are very limited local elections in China.) In Beijing, I saw several posters featuring an old man placing a ballot in a box. 'Cherish the power of democracy,' the caption read. 'Cast your sacred and solemn vote.'
Conjuring up the existence of democracy inside China's totalitarian system is nothing new: China's constitution regularly mentions 'socialist democracy,' and current Communist Party Secretary Xi's predecessor Hu Jintao also occasionally paid lip service to the concept: in a 2007 speech, he mentioned democracy more than 60 times, boasted an article in Xinhua, China's official news service.
What seems different now is a push for the legitimacy of Xi, who the Party in late October anointed 'core leader,' a symbolically significant title (beyond his main roles as China's president, the general secretary of the Party, and the chairman of the Central Military Commission, the body that oversees the military the People's Liberation Army.)
The thinking behind the propaganda seems to be, in other words, that the Chinese people chose Xi in a system with democratic elements: not an election, but a selection."
Thanks, Isaac! That's quite interesting. And I now realize that guest contributors mean a lot less work for me, so you can expect to see those on the reg, dear readers.
Less China: The Chicago Cubs won the World Series, and it is extremely satisfying to hear how the final play was called by broadcasters around the world. It's official: Zadie Smith could write about goddamn anything and I'd be so excited to read it, including dancing, something I cannot do and don't understand. Heartbreaking pictures of Iraqi children fleeing fighting in Mosul. Bison and the denizens of the internet stand with the protestors at Standing Rock. Steven Seagal was granted Russian citizenship, and The Guardian took this opportunity to make fun of all of his movies. Kudos. "What is a New York City rat, and where did it come from?" And I'll leave you with these outstanding photos of the only train from Baghdad.
See you next week for more food, travel, and politics stories from around the web. Tweet me stories you'd like to see here @caraparks.