How Do You Say "Starbucks Sucks" in Mandarin?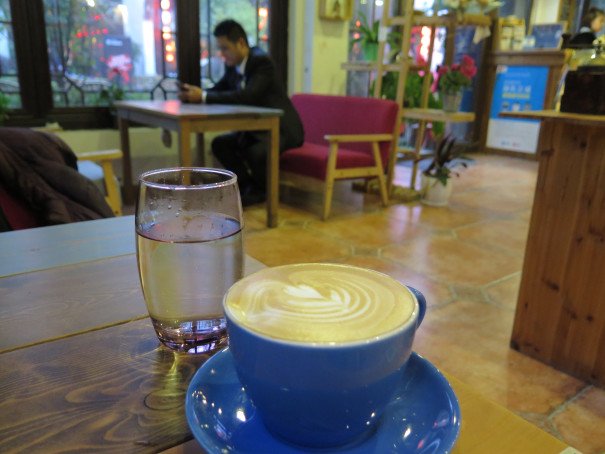 How Do You Say "Starbucks Sucks" in Mandarin?
Espresso in Suzhou
It's a typical gray winter weekday, and I'm wandering the streets of my new neighborhood, increasingly desperate, as I have been since I arrived in this city, for a quiet place with caffeine and a little space to work. In most directions from my apartment, the smog-choked streets offer little other than noodle shops and mini-marts, difficult places to write.
I've just moved to a new city in China: the sprawling, far eastern metropolis of Suzhou, just inland of Shanghai. After wandering in a different direction this morning, and lingering a little longer at the shop windows whose signs I couldn't read, I've had a stroke of luck and found a good coffee shop.
The place is called 36th Story, but its owner tells me everyone just calls it "Max's place." He's free to talk to me because, at 11 in the morning, I'm his only customer. In the last few years, coffee has become hugely popular in this tea-loving country, but mostly as a pricey trend for those who are hip to the Western world, rather than as a morning habit. And here, the hip only drink coffee in the afternoon.
This is Max Wang's third coffee shop in this ancient but essentially boring city. He kept building new ones because he needed more space, and his customers have followed him to each new location. This one is spacious – unafraid, like the industrial suburb it inhabits, to take up as much space as it wants.
Max tells me he serves more espresso than tea, and his sugary specialty recipes—blending such flavors as peach, rose, blue curaçao, and mango with espresso—are the secret to his success.
The corporate world has also caught on to the goldmine potential that is China's new taste for coffee. A Starbucks just opened down the street, kitty-corner from Max's place. There's already a Costa Coffee a block away in the other direction. But those uniform, corporate-branded, Western-style shops feel out of place here in messy China. While Max's place is undeniably a coffee shop, not a tea shop, its character is still undeniably Chinese.
In a few ways, Max's shop would seem at home anywhere in the world. He entices customers with wifi and a mostly English-language R&B playlist that varies from soothing to sappy-sweet.
But the similarities end there. Max's menu board is all in Chinese, which is surprisingly rare for a coffee shop in China, as most shops are foreign, corporate ones, and English writing carries definite cachet, even in places where the customers can't read it. As I take my seat after ordering a simple flat white, I have to shoo away a pair of cats (two of the seven whom Max allows free range in the shop) and find a new place for the giant teddy bear on my chair. (China has an endless appetite for cutesy decorations, and almost every seat comes decorated with a pastel stuffed animal the size of a kindergartener.) Instead of Western toilets, the bathrooms here have squat toilets (or ceramic holes in the floor) which are the norm in China, but are not to be found in any Starbucks or Costa on the planet. And when my drink arrives, it comes with a glass of warm lemon water, which is continually refilled by a nervous waitress who tells me she speaks no English.
I ask Max if he's worried about the new Starbucks. He chuckles, looking shy but confident, and says no.
"It's hard for me to explain in English," he says. "Starbucks is a machine. That machine is only good for Starbucks. But here, people are more important."