A Cocoa Puff Latte and a Box of Diabetes, Please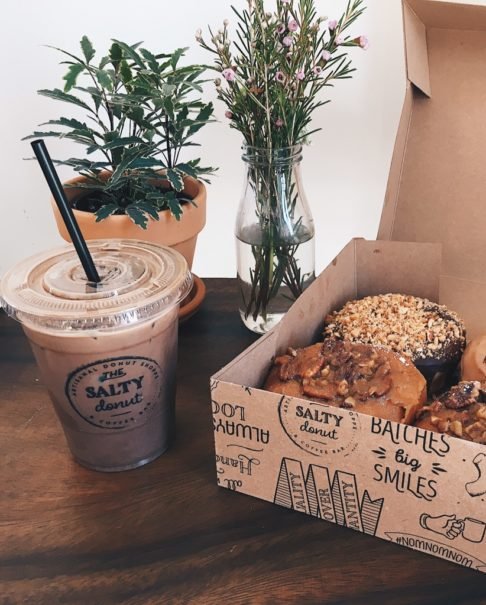 A Cocoa Puff Latte and a Box of Diabetes, Please
Coffee and Donuts in Miami
Not that long ago, rows upon rows of abandoned warehouses made up Miami's Wynwood Arts District. Now it's a haven of street art, galleries, and bars, and the area has become what most of Miami is not: walkable.
Tucked in the backstreets away from the foot traffic of 2nd Avenue is The Salty Donut, a coffee and donut shop peddling flavors like Nutella, Maple Bacon, and Cinnamon Toast Crunch—endless options of oversized doughy goodness.
I dragged my mother along for her first Wynwood experience. I wanted a Cocoa Puff latte and box of donuts for my family. As I tasted the soggy, chocolatey puffs in the latte, I thought of summer camp and PBS reruns of Arthur. My mom's first bite into a Cinnamon Toast Crunch Cannoli neutralized her accusing glare in my direction. She's not usually one for sweets or alcohol, but the whiskey caramel and RumChata white chocolate erased all protest.
As it turns out, we had chosen a special day to visit the Salty Donut: they were unveiling a highly coveted new product. The newest donut on the menu was an even bigger hit of nostalgia: a Knaus Berry Farm cinnamon roll wrapped carefully in the arms of a brioche donut, topped with caramelized pecans. Deep down south in Homestead, FL, Knaus Berry Farm is a well-known strawberry farm where families can pick their own produce. Together with fresh strawberry smoothies, their cinnamon buns are a staple for any South Florida native.
Biting into my Knaus Berry Farm Sticky Bun Donut, I recalled a time when the sun was high overhead as I ran, clad in overalls, through the strawberry rows. With this donut and another sip of my sugar cereal-latte, I was in memory lane heaven.
Sitting at the communal table, I glanced at the never-ending line filing out the door. There were people clad in army uniforms, women clutching papers and chatting on their cellphones, and others holding expensive cameras with long lenses and eager expressions, everyone yearning for a mid-day sweet treat.