A Dispatch from the First Hours of Miami's Post‑Castro World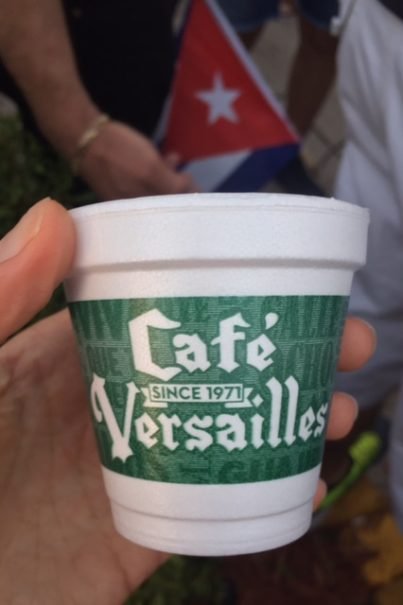 A Dispatch from the First Hours of Miami's Post‑Castro World
Cuban coffee in Miami
I am late for the party.
Almost 15 hours late to be precise. Yet even before I see the celebration, I hear it, smell it, walking toward the epicenter alongside fellow attendees, flags and kitchenware in hand.
Tiny, empty styrofoam cups line 8th Street—Calle Ocho, if you ask a local—leading toward the iconic green sign framed by the glow of an orange sunset. Versailles Restaurant is—and has been since 1971—as much of a political emblem as it is a culinary one.
This is the place I insisted we battle an hour of traffic to get to for my birthday dinner last year. Butter-soaked white bread arrives before drinks do and eavesdropping on politicians is likely. In 1996, Bill Clinton was photographed here holding a t-shirt reading "No Castro/No Problem"; Donald Trump said their colada was strong during a visit on his campaign trail. Their ropa vieja is one of the few reasons I can't honestly call myself vegan.
Almost everyone on the street outside the restaurant is holding something: tiny cups of black coffee, children, handmade signs, lit cigars, flags—Cuban, American, Trumpian—and dented saucepans-turned-noisemakers that clink inharmoniously from blocks away. The symphony of the senses is a celebration of culture; it's a celebration of death.
I ached to be here since I read the news in the wee hours of the morning. Sleep was elusive. I was eager to observe this unfold in my own hometown, down the street from my alma mater. Since I was young I wondered about this day, knowing I lived 90 miles from a country I might never see. It was animated by stories from friends, their parents, the taxi driver who "made it over" eight years ago and whose dad spent two years in a Cuban jail in the 1990s after being caught miles from shore.
Impassioned chants of CUBA LIBRE! fill the air. Honking is suddenly a sign of solidarity—a reason to wave at and high-five strangers. Here, now, bumper-to-bumper traffic is a convenience, an opportunity to buy paraphernalia from sellers weaving through the traffic on foot. Stacked atop a makeshift cardboard box, a woman sells white t-shirts on the sidewalk reading VIVA! CUBA LIBRE! presumably printed shortly after the announcement, or perhaps long ago in preparation for it.
As the sun sets, the celebration shows no sign of slowing. Instead, a makeshift dance floor forms in the middle of the street, around speakers blasting Havana-born "Queen of Salsa" Celia Cruz, beside police cars and cops snacking on Cuban sandwiches.
The line at the coffee counter is steady; the celebration is far from over.