Coffee, Cigarettes, Coffee, More Cigarettes, More Coffee, Alcohol, and Cigarettes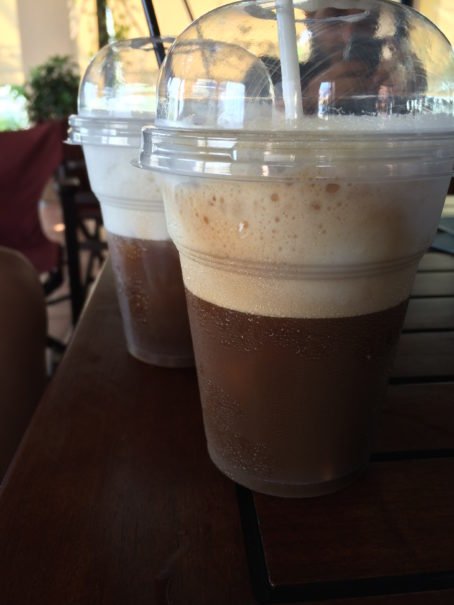 Coffee, Cigarettes, Coffee, More Cigarettes, More Coffee, Alcohol, and Cigarettes
Freddo espresso in Greece
In the weeks before departing for a four-month trip to Europe, I tried to wean myself off coffee. I didn't want to be dependent on finding coffee each morning or risk the blazing withdrawal headache. Though I've been to Europe before, I feared the worst: a continent devoid of consistent ways to get my caffeine fix.
The first country on our itinerary was Greece and as it turned out, I had nothing to fear. Over the course of seven days sailing among the Ionian islands west of the mainland, I became a devout crusader in search of only one drink: the freddo espresso.
Giorgos, a skipper on a neighboring boat, explained that Greeks survive each day on a diet of "coffee, cigarettes, coffee, more cigarettes, more coffee, alcohol, and cigarettes." An exaggeration, but not much of one. The freddo espresso is the primary coffee drink I saw consumed, a concoction perfect for summer, for sailing, for curing the raging headache after a 4am beach party for the third night in a row.
A freddo espresso is surprisingly simple: a single or double shot of espresso (depending on the headache) poured over ice and mixed with sugar using a handheld or standing mixer. Blended to create a frothy head, most people drink it straight; I cut mine with milk to ease myself back into coffee.
From the first sip, it was love, and by the third morning, I was the first above deck and wandering each port to find my fix. From the corner bakery in Vathy to the portside cafe of Fiskardo where boats knocked together an arm's length away, every coffee shop makes freddo espresso, and nearly everybody drinks it.
Most importantly, a freddo espresso isn't part of the morning meal: it is the morning meal. Not once did I see someone eating pastries, yogurt, or eggs alongside it, and I never considered committing so grave a mistake myself. When the freddo espresso were finished each day, only then would lunch be a topic of consideration.
Whether in port or anchored in a natural harbor, you could tell who was awake by how many freddo espresso crowded the wooden table in the main cabin of our yacht. From the first rays of blazing sun, the heat made plastic cups of icy freddo espresso sweat. As we sailed, empty freddo espresso cups would catch the wind and fly backwards toward the sea. We all became adept at catching them before they became small buoys in the pristine blue. No doubt the fish would have enjoyed the sugared film dried into each cup at the start of their day, too.