An Especially Important Meal If You Have Just Crawled Out of a Slow Cooker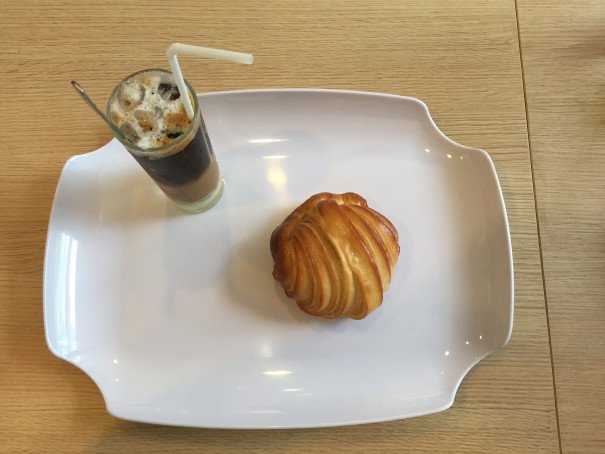 An Especially Important Meal If You Have Just Crawled Out of a Slow Cooker
Croissants in Ho Chi Minh City
I have always found that my appetite suffers when it's hot. The hotter the day, the less I feel like eating. When I returned to the relentless heat of Ho Chi Minh City from the nearby beach town of Vũng Tàu, where I picked up a full-body, tomato-red sunburn, this was truer than ever.
On my first morning back in Ho Chi Minh, I woke up feeling raw and depleted. Despite my body's calls for calories, however, I had almost no urge to eat. But being an avid believer in the old "breakfast is the most important meal of the day" adage—particularly for those who look like they just crawled out of a slow cooker—I showered, got dressed, and set out in search of food.
As I navigated the city's hectic streets, dodging scooters and waving away street hustlers selling everything from sunglasses to cigarettes to motorbike rides to maree-wanna, I ran through a list of breakfast options, eager to come up with something that would go down easily. Any variation of the classic Western breakfast—eggs, bacon, sausage, et cetera—seemed entirely too heavy. Vietnamese dishes like pho or xôi (a steamed rice dish), meanwhile, struck me as too hot. And so, having narrowed down the choices, I wandered into ABC Bakery & Café, a backpacker favorite on Pham Ngu Lao Street in the city's tourist riddled District 1. This turned out to be the perfect choice.
The bakery's shelves were lined with dozens of freshly-baked treats: donuts, éclairs, muffins, cookies, croissants, and more. They also offered slices of Hawaiian pizza and baguette sandwiches, though neither appealed to me at the time of my visit. After some deliberation, I grabbed a butter croissant, though I would hesitate to call it a croissant, because it was not crescent-shaped. I also ordered an iced coffee, a staple of Vietnamese mornings and a must-try for any visiting coffee lover. It all cost just 55,000 Vietnamese Dong—less than $2.50 USD.
A few minutes later, I was enjoying my purchases in the air conditioning of the café's upstairs dining area, as a strange but endearing playlist of Disney songs played through the overhead speakers. First, Let It Go, then Reflections, then Can You Feel the Love Tonight, then I stopped paying attention.
The croissant's flakey exterior pulled away in perfect strips to reveal a delicious, doughy interior. The coffee, which I ordered with condensed milk, despite my preference for coffee that doesn't taste like dessert, was cold and sweet. Before long, all that was left on my plate were a few crumbs, and I was sipping the last drops from a condensation-coated glass, feeling entirely revivified and ready for another day in Vietnam's largest city—sunburn and all.